Climbers, hikers, and outdoor adventurers of all types have enjoyed Patagonia's Down Sweater for years. It's a go-to piece that has defined a jacket category, as any new down sweater is compared to this legendary benchmark. It's warm enough to be used as a comfortable midlayer during wintertime skiing, but also plenty compressible to bring along on summer alpine adventures. And though we wouldn't call it a bargain, the price is still competitive for what you get: quality down, dependable construction, and reasonable weight—not to mention the whole Patagonia brand cachet. Below we break down the Down Sweater's performance. To see how it stacks up to the competition, check out our articles on the best down jackets and best midlayers.
 
---
Table of Contents
---

Performance
Warmth
Lightweight and comfortable warmth is what the Patagonia Down Sweater is all about. It's a slightly warmer jacket than even its more expensive sibling, the Micro Puff, and stacks up very well to the other down sweaters on the market. Worn as an outer shell, the windproof fabric performs well, keeping you warm even in inclement weather. Throw it on under a shell and it's a near-perfect resort skiing midlayer, provided you keep it protected from moisture.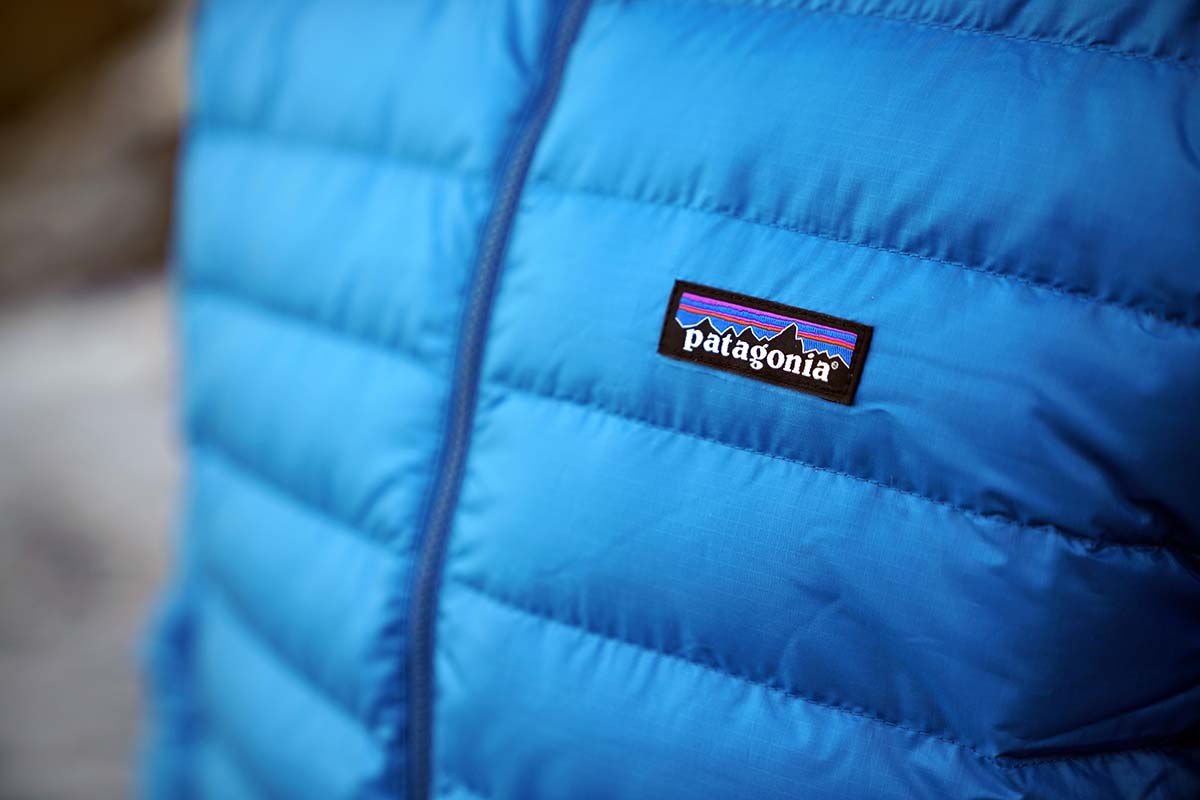 The warmth-to-weight ratio is where this jacket excels in the down sweater group. Patagonia stuffs high-end 800-fill-power goose down into the Down Sweater, giving it great loft and compressibility relative to its weight. Fill weight is the actual amount of down used inside the jacket, and the Down Sweater has 3.4 ounces, which, for a non-hooded jacket, is solidly in the middle of the pack. Outdoor gear companies are quick to promote fill power but less so fill weight, and you really need both pieces to get an accurate indication of how warm the jacket will be. As an example, the REI Co-op 650 Down Jacket has an additional 0.8 ounces of down, but the lower 650 fill power contributes to making it less compressible and warm as the Down Sweater.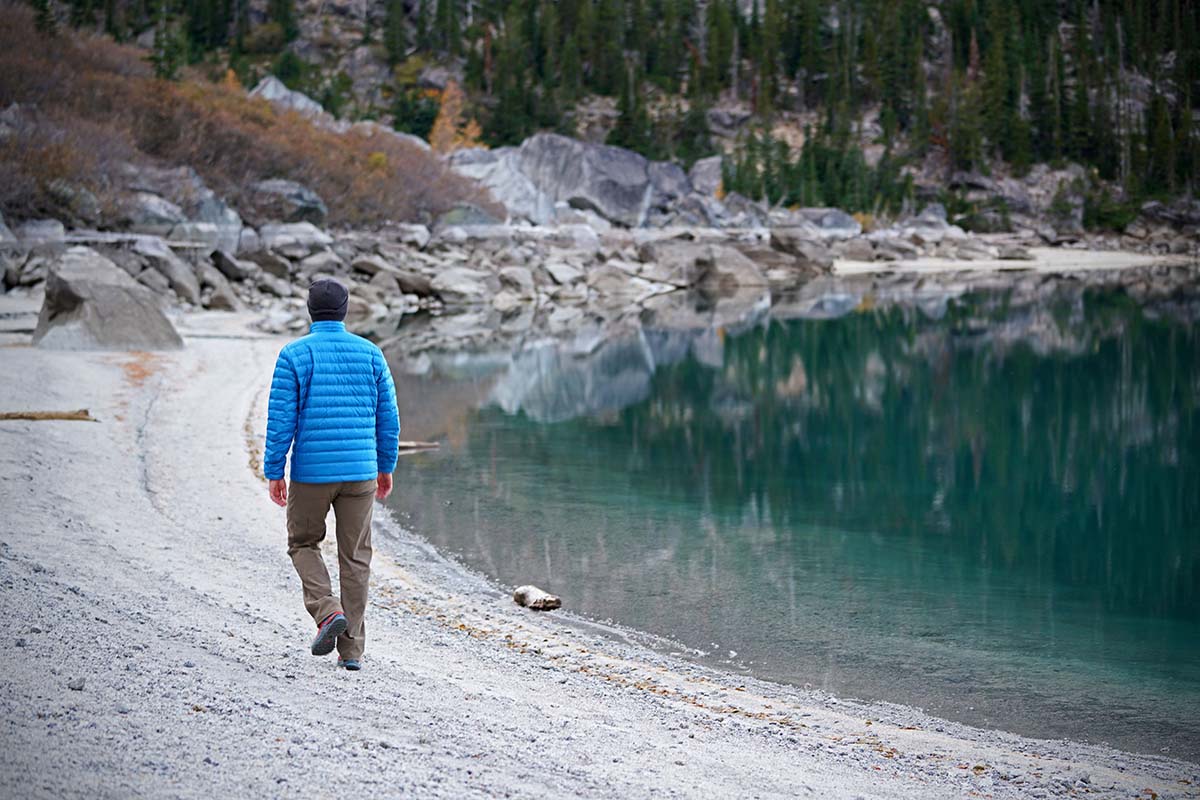 Weather Resistance
The Down Sweater's shell and lining are both treated with a DWR (durable water repellent) finish. While this allows the jacket to withstand light precipitation, the Down Sweater is by no means waterproof. In sustained precipitation, down wets out and begins to clump, losing its insulating power. And in heavy wind, the stitched baffling allows gusts to sneak through. Simply put—especially with the host of more weather-resistant alternatives out there—we don't recommend this jacket for use in wet or severe weather without a shell overtop. Patagonia's synthetic alternatives like the Nano Puff and Micro Puff are better options (although the latter is largely unavailable at the time of publishing preceding an update later this year). That said, whether you opt for the Down Sweater or a synthetic alternative, it's always smart to bring an outer layer that's designed specifically for harsh conditions.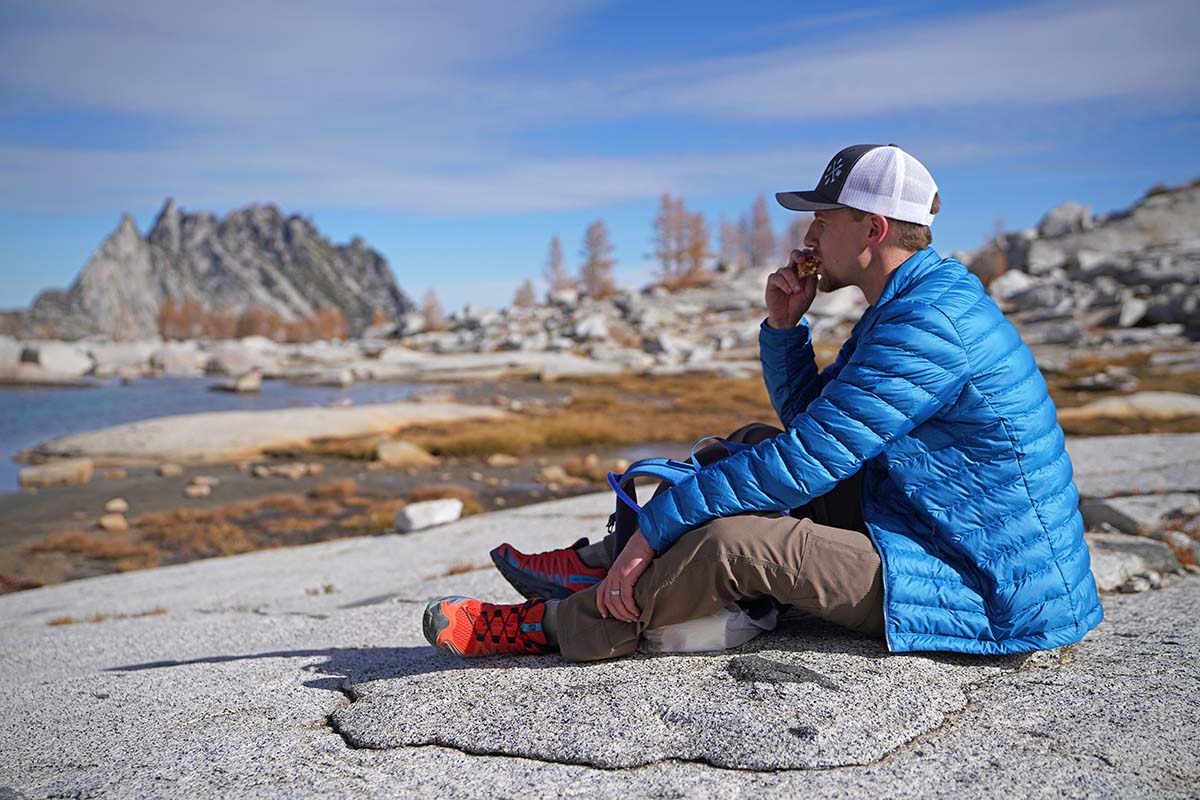 Weight and Packability
Weighing in at 13.1 ounces in a size medium, the Down Sweater is competitively lightweight. We tested the Down Sweater alongside a large group of over a dozen down jackets, and while it's not ultralight by any means, it does fall in the middle of the down sweater category. For comparison, the less-insulated REI Co-op 650 Down Jacket 2.0 is 11 ounces, and Cotopaxi's popular Fuego Down Jacket is similar to the Patagonia at 14 ounces. If you're looking for a true ultralight down piece, the Arc'teryx Cerium LT weighs less than 10 ounces for the non-hooded version and is comparable to the Down Sweater in terms of warmth.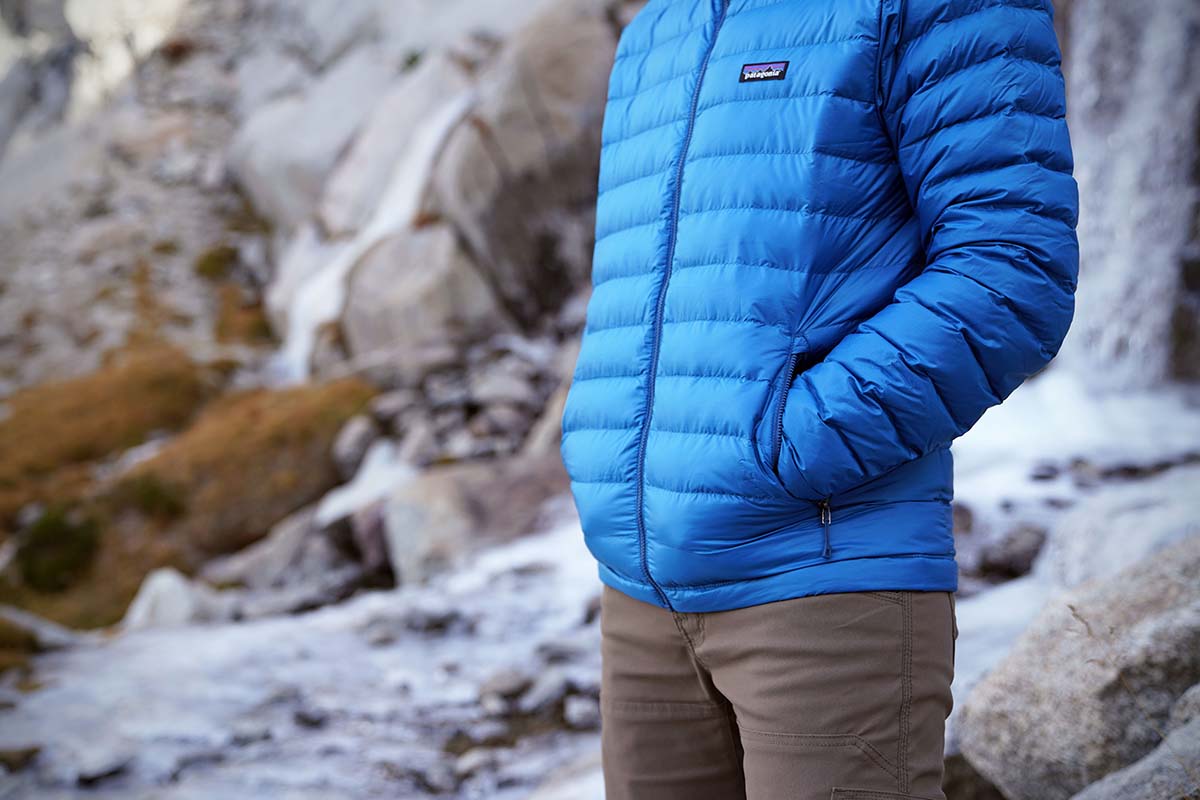 Patagonia keeps the packing process simple, using the interior chest pocket that has a two-sided zipper. Thicker fabrics and the inner liner do make the stuffed size a bit larger than hooded ultralight jackets, but it's still a plenty respectable size of approximately 9.5 x 7.25 x 4.5 inches (LxWxH). And as with all down products, try not to store the Down Sweater stuffed for extended periods of time, as it will compromise the down's loft and longevity.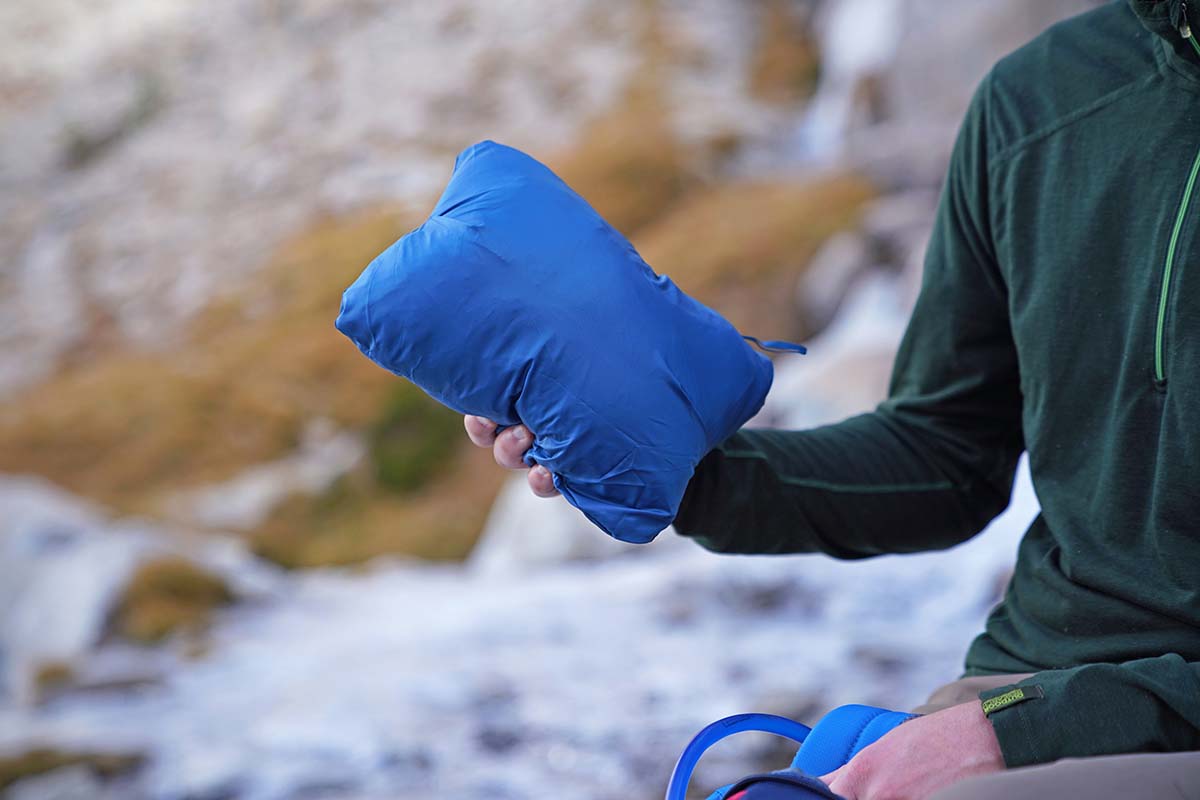 Construction and Durability
Fit and finish is a Patagonia hallmark. A down sweater that's likely to be worn on a daily basis, backcountry or not, should be warm and inviting. Soft-touch materials are a plus, and the construction needs to be reliable. These are the pillars that have made the Patagonia Down Sweater such a longtime favorite. Both the shell and interior lining have a nice feel, and the top part of the zipper is covered by a small flap of fleece for comfort against your face when the collar is up. A DWR coating sheds snow and light rain and is well integrated into the fabric, not affecting its soft feel. The horizontal stitching for the quilted-through construction is very straight and shows good workmanship. We've experienced very minimal down shedding throughout years of use.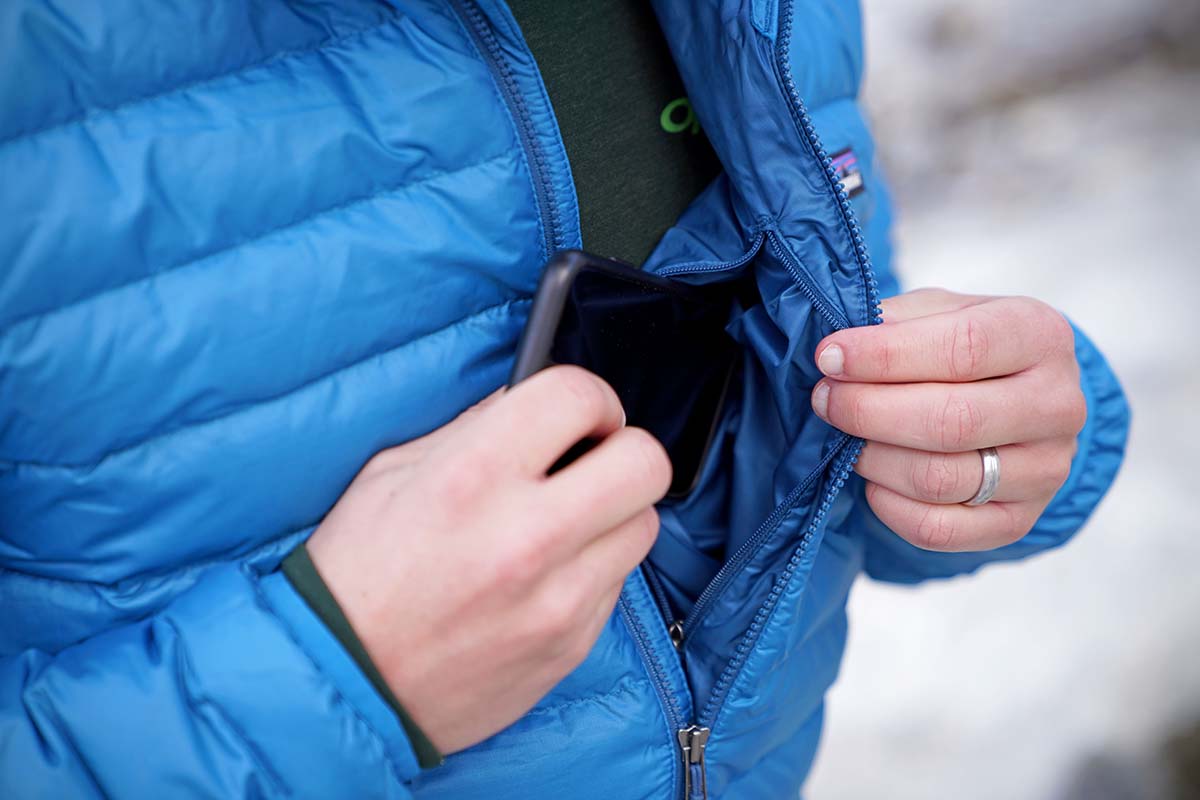 The weight of a thread is measured in denier (abbreviated with a "D" or "d"), and the lower the number, the lighter the weight at the compromise of durability. The outer shell of the Down Sweater has a blend of 20x30D fabric—within the down sweater category, that's on the lighter side. The jacket has a bit more of a delicate feel as a result. However, compared to jackets made with ultralight 7D and 10D fabrics (like the minimalist Mountain Hardwear Ghost Whisperer/2), the Down Sweater feels much more ready for vigorous use. The interior of the jacket has a separate, sewn-in 20D liner, which nicely balances lightweight and sufficient protection if you happen to have a zippered layer underneath. Topping it off are nice and burly zippers for the main zip and two hand pockets. They've been consistent performers over our entire time with the jacket, and have a smooth and positive action even in freezing conditions.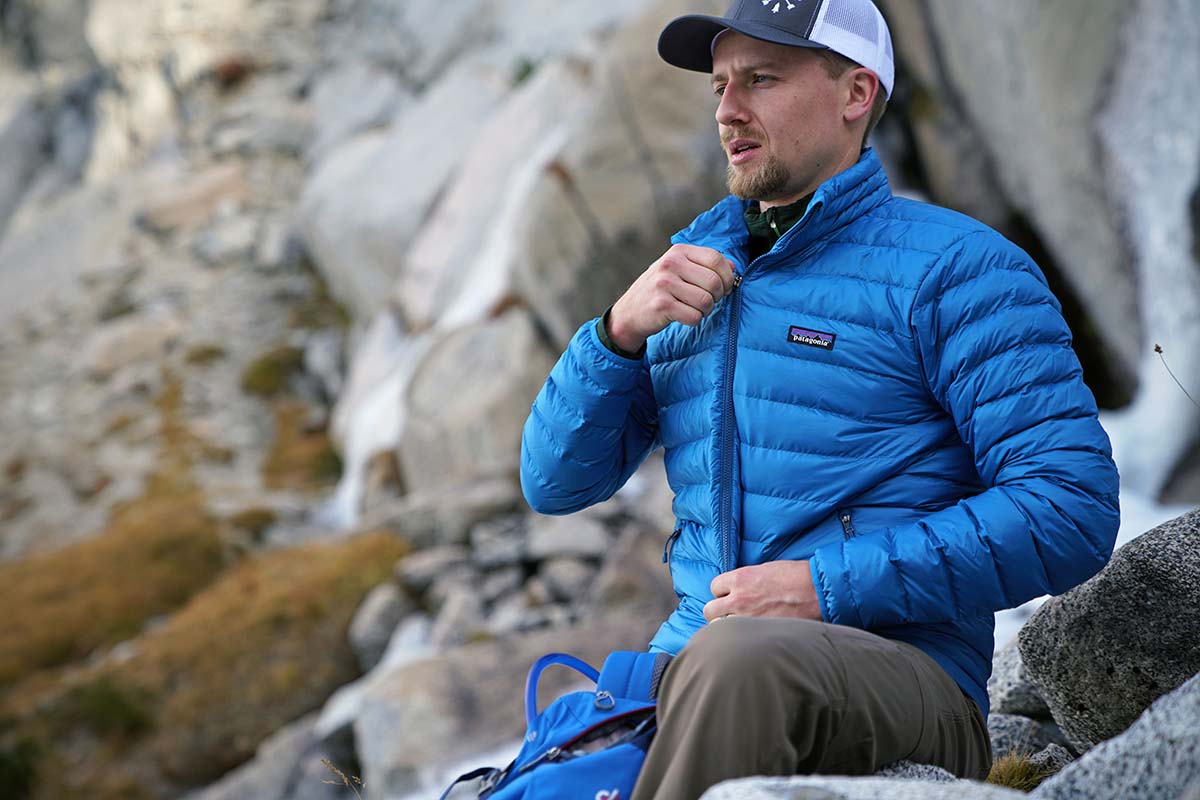 Fit and Sizing
Our previous Down Sweater had a boxy fit, but Patagonia seems to have refined the cut with this latest version (purchased in 2018). We ordered a medium, and our two testers (5'10" and 6'1" with slim builds) felt the fit was spot-on for its intended use. The jacket isn't bulky or loose and layers nicely under a shell, but it also doesn't have the trim, athletic cut that you get with a jacket like the Arc'teryx Cerium LT. This multifunctional fit had us grabbing the Down Sweater for snow sports or as an extra layer for cold-weather hiking, as well as over a dress shirt (or a suit coat—it's been done!) in the city.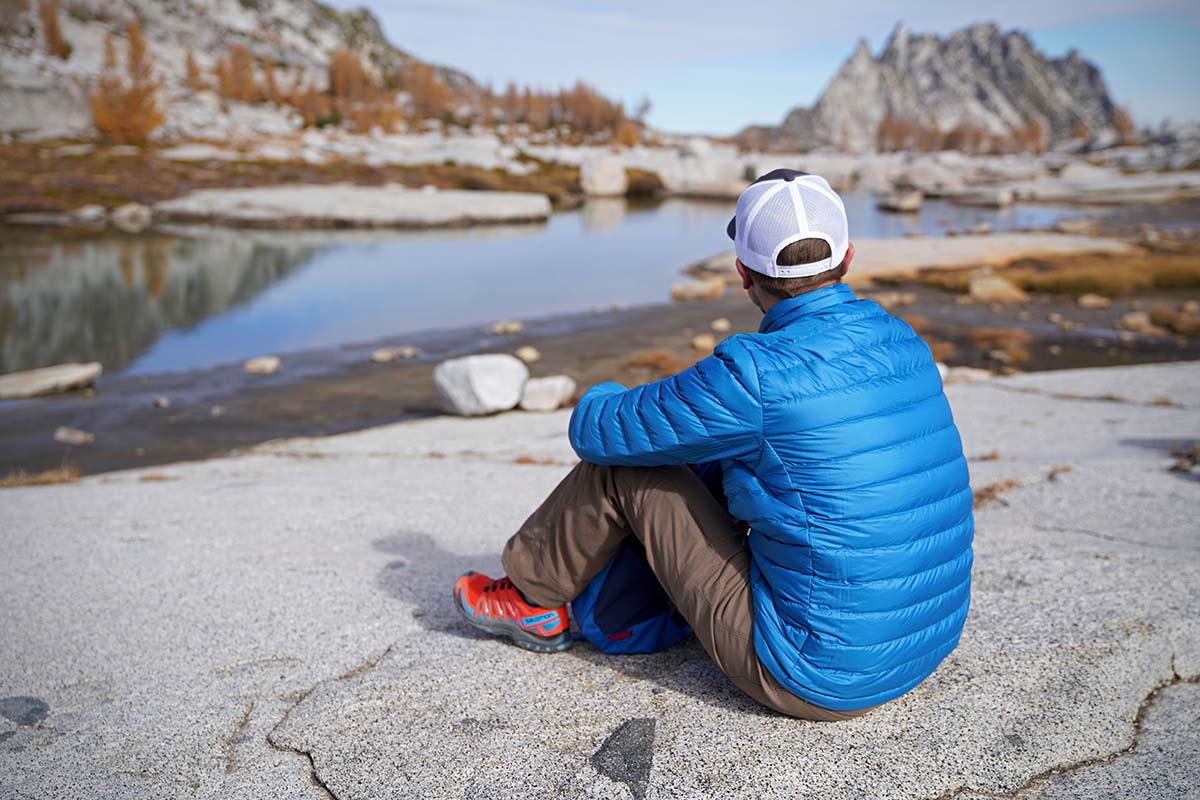 The back length measures 26.25 inches in a medium—long enough to be worn by itself and doesn't ride up if you're doing something active, but isn't so long that it pokes out the bottom of a hardshell jacket. Two front cinches pull the hem in evenly, and can be adjusted from inside the two hand pockets so your freezing digits don't need to be outside for even a moment. It's not our favorite system because the string pulls take up space in your hand pockets—if we're nitpicking, we prefer an unobtrusive cinch system at the sides of the hem, like that on the Mountain Hardwear Ghost Whisperer/2. The cuffs have a little stretch, and, while fitting a little loose over smaller wrists, are plenty comfortable and glove-friendly.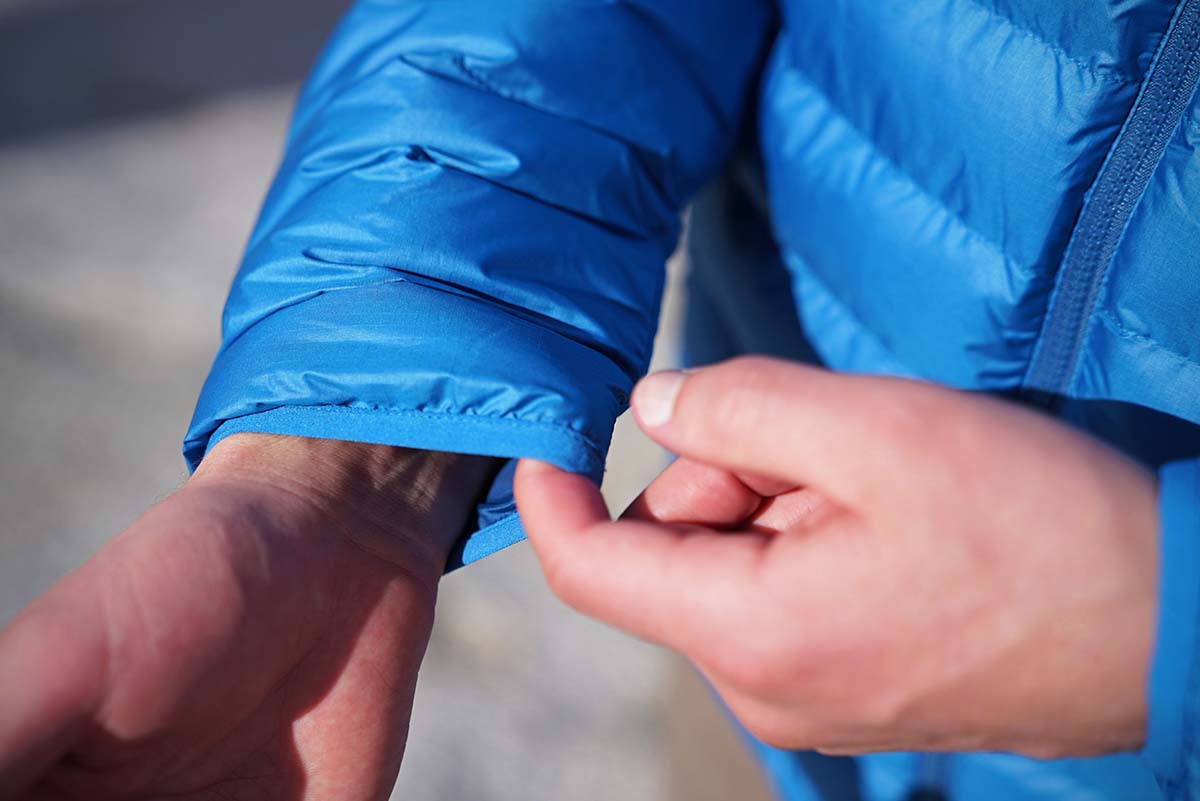 Sustainability
Patagonia uses responsible sourcing for their down products, and the 800-fill-power goose down found in the Down Sweater is 100-percent traceable. This means Patagonia can show that all the down used in the jacket is from birds that were not force-fed or live-plucked. Instead, they were raised humanely, and the feathers were collected after the birds were slaughtered for food. The Down Sweater also uses recycled polyester and bluesign-approved fabrics, which means that Patagonia took steps to reduce negative impacts on the environment, workers, and consumers during the jacket's production. These practices are not industry-wide (although more brands are jumping on board), and we applaud Patagonia for taking a leading role here. It's the kind of ethos Patagonia is well known for and has led to brand loyalty, with folks willing to spend a little more for a heightened level of transparency.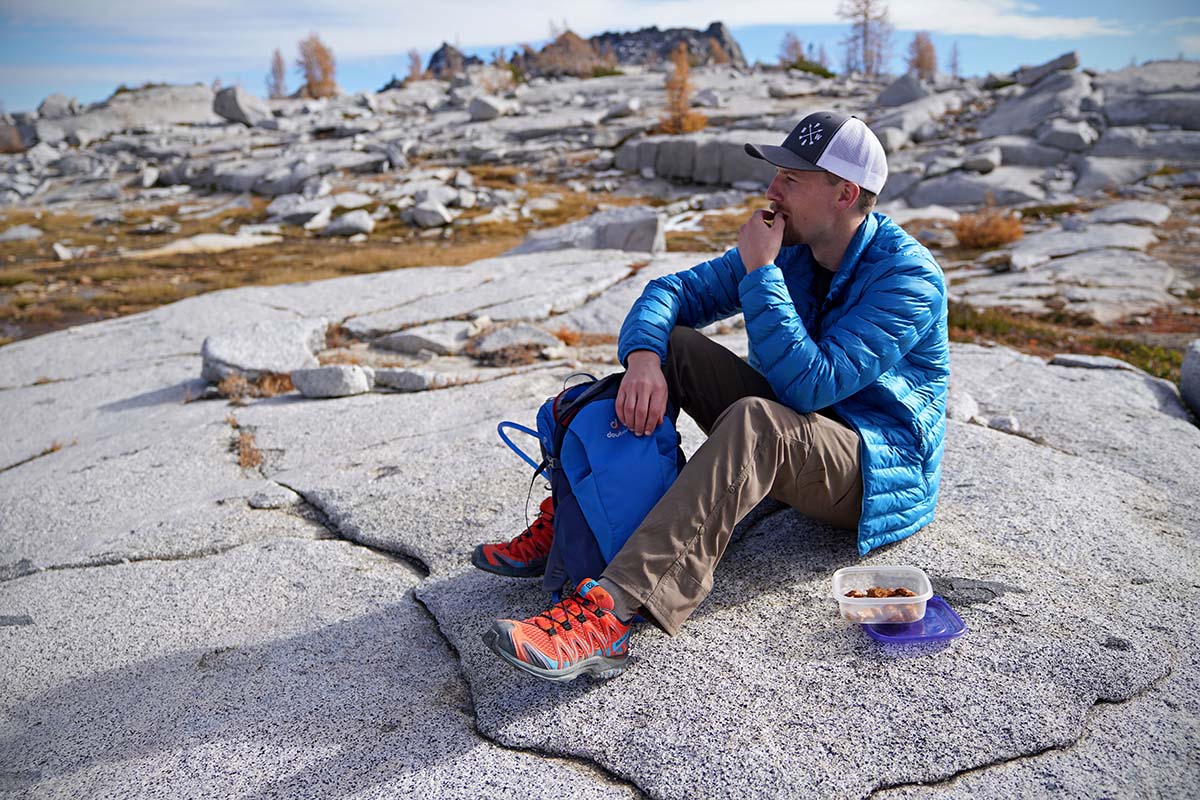 Other Versions of the Patagonia Down Sweater 
We had the non-hooded jacket for this test and prefer this style for casual use and as a midlayer for skiing (a puffy hood can get in the way), but this largely comes down to personal preference. For those who want the added coverage, Patagonia also makes the jacket in hoody variations for both men and women, which costs an extra $50 and weighs an additional 2 ounces while sharing the same materials and features. Finally, given the jacket's popularity, there are kids' and baby Down Sweaters available, as well as a Down Sweater Vest for men and women ($179).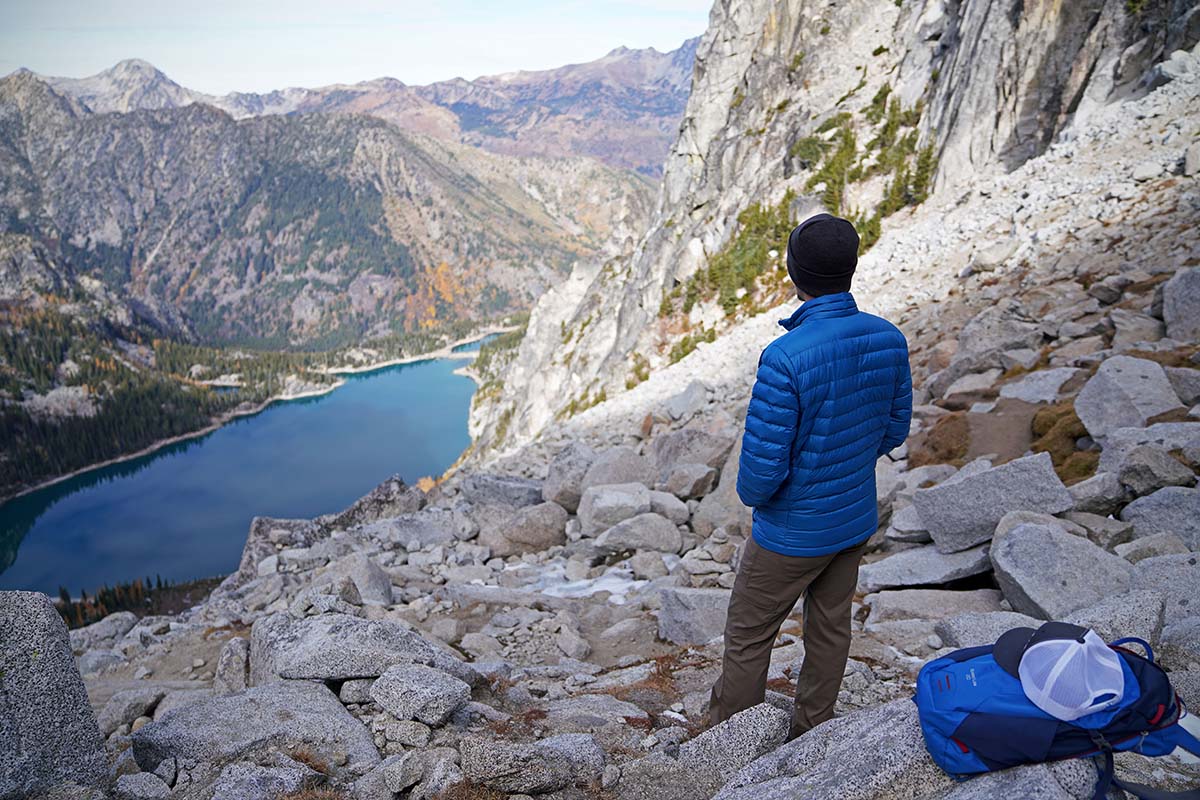 What We Like
It's the best down sweater on the market. Excellent materials, high-end build quality, and cozy 800-fill down warmth.
Reasonably light and packable for backpacking and climbing (although you can go much lighter with true backcountry-focused pieces).
Classic styling and a lot of color options.
 
What We Don't
For the warmth, you can find cheaper options.
Patagonia's synthetic Nano Puff outperforms it in terms of wet-weather protection.
These jackets are really, really popular, so it's likely you won't be the only one sporting a Down Sweater.


Comparison Table

The Competition
Patagonia's Down Sweater is a legendary down jacket that looks good and performs well for a range of activities. But there's no shortage of competition, and Cotopaxi's Fuego Down Jacket has garnered serious popularity over the last couple years. On paper, the Fuego checks all the boxes we look for in a well-rounded down sweater, including the use of quality and lofty 800-fill down that's responsibly sourced and water-resistant, a reasonably low weight (14 oz.), and functional storage in the form of two interior stash pockets and two zippered hand pockets. And many people love the retro styling and multi-colored baffles, which add a fun pop of color. That said, in testing the Fuego, we were fairly unimpressed with the overall feel, including noticeably plasticky and slippery fabrics that belie the $230 price tag (for more, see our in-depth Fuego review). For the same amount, the Down Sweater is noticeably softer and better-built, and Patagonia now offers it in a couple multi-toned colorways that rival Cotopaxi's vibrant patterns.
Moving onto a more performance-oriented piece, the Arc'teryx Cerium LT is one of our favorite down jackets on the market. It's lightweight at 9.9 ounces, and the use of Coreloft synthetic insulation in areas prone to getting wet is a nice addition. The Cerium's 3.2 ounces of 850-fill down in all other areas kept us warm throughout all our testing, and we can't argue with the look and feel of Arc'teryx products. That said, they do come at a price—$349 for this one, to be exact. If you need a down jacket for everyday wear and weekend skiing or hiking trips, the Down Sweater is an excellent choice. But for the highest levels of performance and design for the weight, the Cerium LT is tough to beat.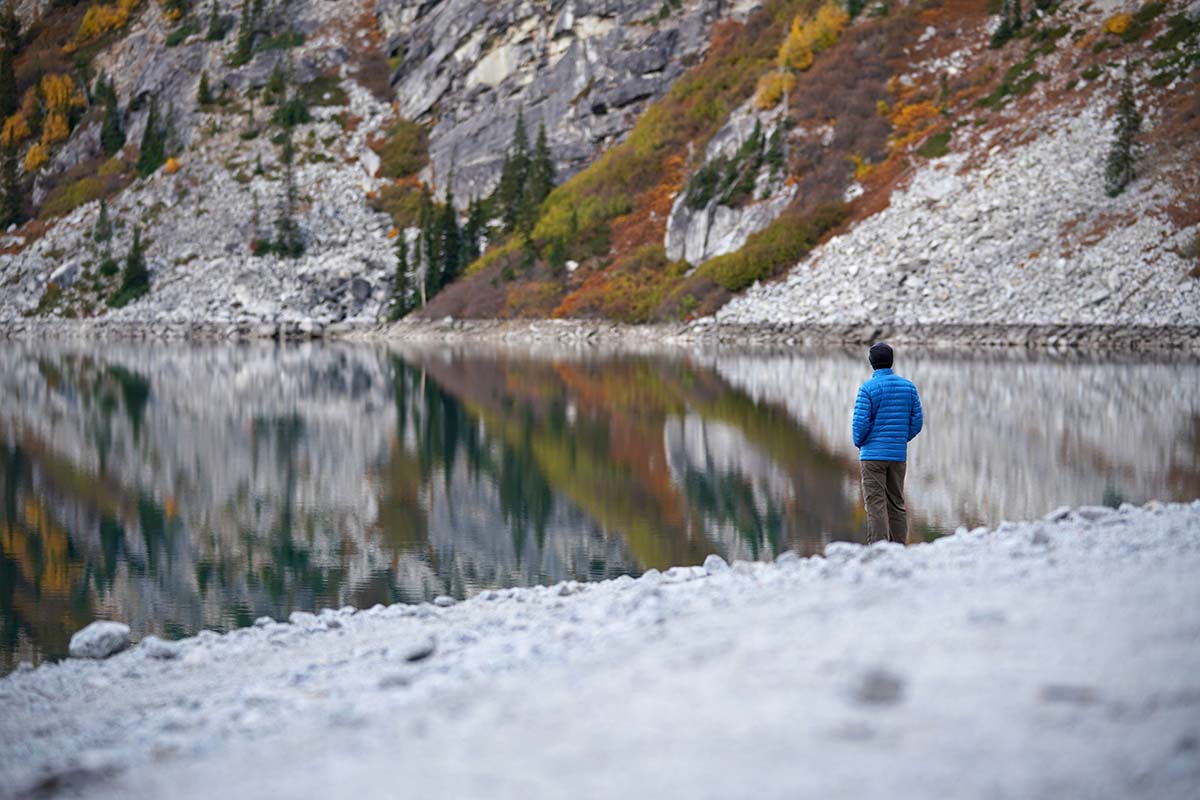 Seattle-based Outdoor Research is another brand with a quality insulation lineup, and their Coldfront Down Jacket is a solid competitor to the Down Sweater at a good price. Stacked up against the Down Sweater, the Coldfront is warmer with 6 ounces of down, although it's a lower-quality, 700-fill variety that's not as lofty for the weight or compressible. As a result, the OR is relatively hefty for performance use at 1 pound 3.4 ounces, although we appreciate the addition of synthetic insulation at the shoulders and cuffs, which adds a nice boost in protection in moisture-prone areas. At $30 cheaper than the Down Sweater and with a decidedly comfy and classy-looking build, we think the Coldfront is a great value for a midweight piece. But performance-wise, we give the nod to the lighter and more compressible Down Sweater.
Last but not least is one of Patagonia's synthetic alternatives to the Down Sweater: their Nano Puff Jacket. Right off the bat, we'll note that the Nano Puff isn't as soft or warm as the Down Sweater, but it performs better in wet conditions thanks to its synthetic PrimaLoft insulation. Its 20D shell is similarly durable, and it shaves off about an ounce and $30 compared to the Down Sweater. But despite these advantages and the boost in wet-weather assurance, nothing beats the warmth-to-weight ratio and coziness of real down.
If you're thinking about buying gear that we've reviewed on Switchback Travel, you can help support us in the process. Just click on any of the seller links above, and if you make a purchase, we receive a small percentage of the transaction. The cost of the product is the same to you but this helps us continue to test and write about outdoor gear. Thanks and we appreciate your support!
Depending on the seller, most products ship free in the United States on orders of $50 or more. International shipping availability and rates vary by seller. The pricing information on this page is updated hourly but we are not responsible for inaccuracies.
Learn More About Outdoor Gear