When the days get shorter and the mercury drops, it's time to reach for a winter jacket to guard against the cold. Lightweight puffies have their place for three-season use, but you'll want a well-insulated, serious piece for truly frigid conditions. The women's jackets and parkas here are among the warmest available and use down (and sometimes synthetic) insulation and tightly woven shell fabrics to trap warmth and resist howling winds. We've included a range of options from casual mid-thigh parkas to performance-oriented puffies and expedition-grade jackets. For background information, see the comparison table and buying advice below the picks.
 
---
Our Team's Women's Winter Jacket Picks
---

Best Everyday Winter Parka for Women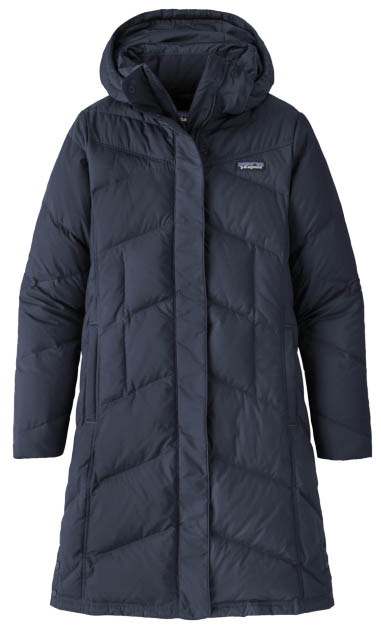 Fill: 8.3 oz. of 600-fill-power down
Center back length: 40 in.
Waterproof: No
What we like: Patagonia's typical performance and quality in a cozy and stylish parka.
What we don't: Average-quality down and no waterproofing.
For everyday activities like running errands, dropping the kids off at school, or taking a walk around the block, it's hard to beat the warmth and styling of a down parka. There's no shortage of options (including many of the picks below), but Patagonia's Down With It Parka stands out for its combination of premium build quality, attractive colorways and finishes, and thoughtful feature set, including a two-way front zip (vital for riding a bike or sitting in a parka) and removable hood. For insulation, you get a generous 8.3 ounces of 600-fill down—enough warmth for all but the most frigid winter conditions—and an extra-long 40-inch center back length. All told, it's no secret why the Down With It Parka has become one of the most well-loved winter jackets, year after year.
Parka-length jackets offer a sizable boost in warmth, but the style isn't for everyone. Luckily, the Down With It also comes in a hip-length cut ($199), which lines up nicely for city wear but can also pull double duty for light adventuring like snowshoeing (bonus: it also takes up a lot less room in your suitcase or duffel while traveling). There are a few minor shortcomings to both styles: For one, the 600-fill duck down doesn't offer as much warmth for weight as a jacket like the Stormhenge below (the higher the fill number, the loftier the down), but this should be of little concern to most casual users. Second, while the DWR finish resists light moisture, it's by no means a waterproof jacket like the Tres or Patera below and should not be worn when wet weather is in the forecast. But the Down With It is all you need for dry or sub-freezing conditions, and it's hard to beat the polished fit and finish of a Patagonia piece... Read in-depth review
See the Patagonia Down With It Parka  See the Patagonia Down With It Jacket
Best Budget Women's Winter Parka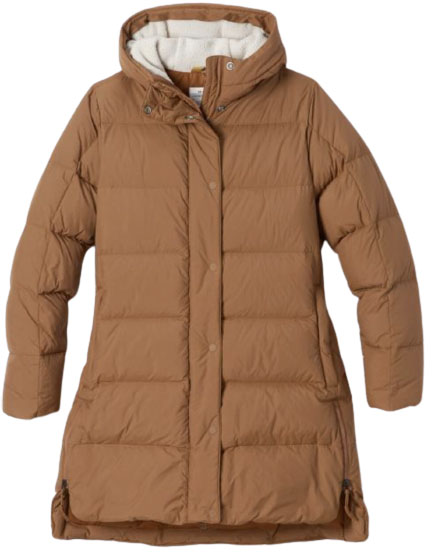 Fill: 650-fill-power down
Center back length: 36.5 in.
Waterproof: No
What we like: A warm and stylish down parka for just $199.
What we don't: Boxier than most parka-length jackets.
REI Co-op is known for making quality gear that considerably undercuts the competition, and their winter-ready Norseland Insulated Parka follows suit. At just $199, REI's down parka saves you around $100 (or more) compared to similar jackets without sacrificing much in the way of performance. In terms of specs, you get mid-range 650-fill down (even loftier than the insulation in our top-ranked Down With It), a DWR-coated shell, and additional features like a fleece-lined hood, stylish knit cuffs, and an insulated storm flap over the front zip.
Our biggest gripe about the Norseland has to do with fit: While most mid-thigh-length parkas feature a stylish, A-line design, the REI is definitively on the boxy side. This does translate to greater mobility and room for layering, but the Norseland lacks the more flattering, tailored fit of jackets like the Down With It above and Marmot Montreal below. That said, we like what REI has done with the side zips, which extend 6 inches up each side to allow for better freedom of movement while sitting, walking, or biking (they also provide venting should you work up a sweat). Added up, the Norseland is a competitive option for value seekers and those who don't mind the roomier shape. And for even more savings, REI also offers their 650 Down Parka, but it falls short of the Co-op's usual standards in terms of durability and build quality.
See the REI Co-op Norseland Insulated Parka
 

Best Waterproof Winter Parka for Women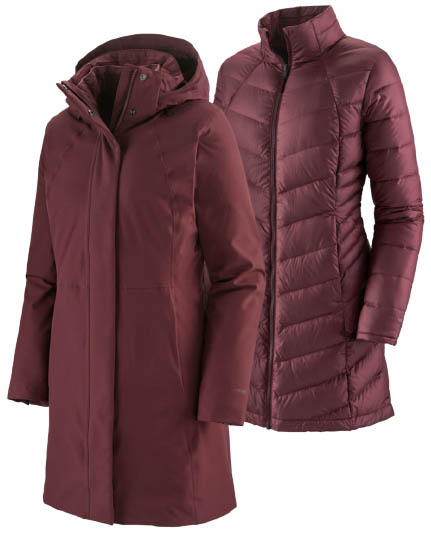 Fill: 5.3 oz. of 700-fill-power down
Center back length: 35.5 in.
Waterproof: Yes
What we like: Waterproof protection and the option to add or subtract warmth.
What we don't: Expensive.
Not everyone will need a waterproof winter jacket, especially in regions where winter weather is particularly dry or cold. But for mild and wet conditions (we're looking at you, PNW), a waterproof shell can be a really nice feature to have. Within this category, we're big fans of the 3-in-1 jacket: Wear the insulated layer on cold and dry days, don the waterproof shell in rain, and pair both for protection against the most wintery of weather. Patagonia's Tres 3-in-1 is a runaway favorite, with a 2-layer waterproof shell and moderately insulated down jacket on the inside. Tack on Patagonia's typical good looks and top-notch build quality, and the Tres is a well-made and attractive design for moderate winter temperatures and drippy conditions.
What are the downsides of the Patagonia Tres? First and foremost, it's pricey at $599, even considering the versatility of the 3-in-1 design. In addition, the liner isn't super warm with just 5.3 ounces of 700-fill down (Patagonia's Frozen Range 3-in-1 offers twice the insulation), although the Tres is perfectly suitable for temperatures right around freezing. And last but not least, fit can be tricky with parkas—and particularly with this coat given all the moving parts—and the Tres is known to be on the slim side (we recommend trying it on before you buy). But we love the package deal and option to easily tailor your layering, which is why we have the 3-in-1 ranked here. For an all-in-one solution with a similar aesthetic, check out the Arc'teryx Patera Parka below, but in the end you'll pay more for less versatility.
See the Patagonia Tres 3-in-1 Parka
Best Heavyweight Performance Down Jacket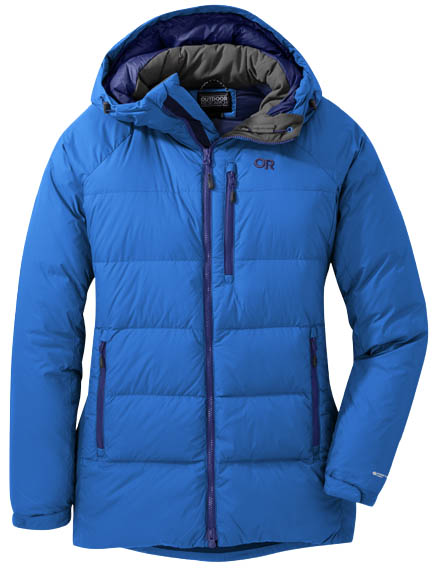 Fill: 7 oz. of 800-fill-power down
Center back length: 32.5 in.
Waterproof: No
What we like: A warm and water-resistant parka with a host of technical features.
What we don't: Heavy and not everyone will love the longer length.
The picks above are great for casual and around-town wear, but there are a number of more technical offerings for demanding backcountry pursuits. Taking warmth, features, and value into consideration, our favorite option for 2022 is the Outdoor Research Super Alpine Down Parka. First and foremost, you get a whopping 7 ounces of 800-fill hydrophobic down, which is considerably more bang for your buck than most casual jackets here. The OR also sports a water-resistant Pertex Quantum Pro shell with a DWR finish that offers impressive protection against dripping ice and wet snow, along with functional extras like internal stash pockets and adjustments at the hood, hem, and cuffs.
All that said, the Super Alpine isn't for everyone. The parka has a fairly technical look, and the longer hem won't appeal to some climbers and skiers. Second, the 30-denier shell fabric is respectable in the performance category and keeps weight low, but the jacket is more fragile than most casual options on this list, especially jackets with robust shells like the TNF Arctic Parka and Fjallraven Nuuk below. Finally, the Super Alpine is heavy compared to similar jackets—Rab's more affordable Neutrino Pro (largely unavailable at the time of publishing) weighs over 7 ounces less for just as much insulation; and for a big step up in price, the Patagonia Grade VII ($899) and Arc'teryx Alpha Parka ($999) are also warmer and lighter. But the OR is the most well-rounded heavyweight puffy for its combination of warmth, price, and availability, with all the performance most winter adventurers need.
See the OR Super Alpine Down Parka
Best Women's Winter Parka for Extreme Cold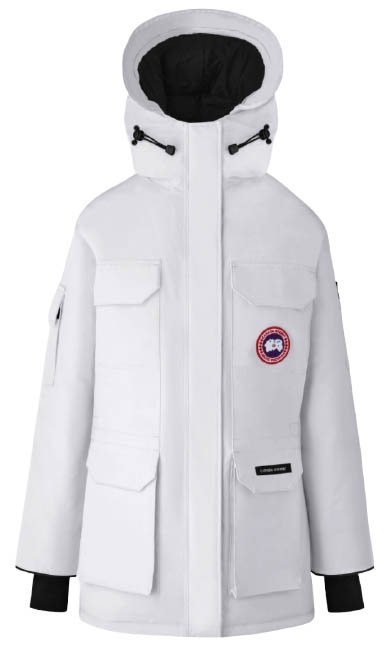 Fill: 625-fill-power down
Center back length: 32 in.
Waterproof: No
What we like: Stylish and rated for temperatures as low as -22˚F.
What we don't: Very expensive.
At the premium end of the spectrum is Toronto-based Canada Goose. These jackets are the real deal: They're extremely warm, well-built, and downright fashionable. Originally developed for scientists working at McMurdo Station in Antarctica, the Expedition Parka is one of Canada Goose's most formidable jackets and one of a select few to receive their "Extreme" temperature rating (-22˚F or lower). Features like a fur-lined brim and secure waist cinch keep drafts at bay, while a water-resistant Arctic Tech shell surrounds the generous dose of 625-fill duck down (it's ironic that the company uses mostly duck down and not goose). On the style side, a mid-thigh cut, drop-in utility pockets, and durable shell create an aesthetic that can play the part in Brooklyn or Breckenridge—you choose.
It's hard to argue with Canada Goose's awesome warmth, craftsmanship, and looks, but these do come at a price—in this case, it's a staggering $1,495. In addition, prepare yourself to overheat in all but the coldest conditions: Canada Goose even includes built-in backpack straps that allow you to hang the jacket over your shoulders when not in use. And finally, the Expedition Parka is the heaviest and bulkiest offering here, which can be a challenge for travel (you'll need a bigger suitcase) or during long stints on your feet. But if you run cold, need the extra insulation, or appreciate the styling, Canada Goose has a valuable corner of the market.
See the Canada Goose Expedition Parka
Best of the Rest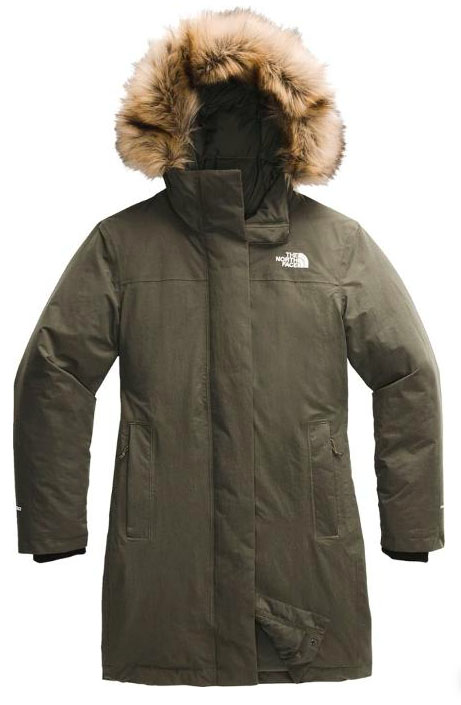 Fill: 550-fill down & 150g Heatseeker
Center back length: 35.75 in.
Waterproof: Yes
What we like: Durable shell fabric and a great value.
What we don't: Heavy and has a boxy fit.
Winter weather is more than just freezing temperatures: It can also mean snow or rain, biting winds, and lots of slush. For affordable protection in whatever Mother Nature throws your way, we love the Arctic from The North Face. This parka is both nicely insulated and weather-ready, with 550-fill-power down and TNF's Heatseeker synthetic insulation wrapped in a 2-layer, waterproof DryVent shell (it's also seam-sealed). The above-the-knee cut extends coverage down the legs without being too restrictive, and a removable faux fur brim adds warmth and style. Added up, the Arctic is a great value at $300, and the durable shell and overall construction mean you can expect a long lifespan out of the jacket.
But while the Arctic Parka is great for everyday use, it's not a standout in versatility. Compared to the Super Alpine above, for example, it's considerably heavier and more restrictive. And held up against options like the Canada Goose Expedition Parka, you get a lot less warmth—in fact, despite its name, we don't recommend the Arctic for temperatures below freezing. Finally, in terms of fit, we've found the Arctic to be slightly boxy from the waist down and recommend sizing up if you have broad shoulders. But these gripes aside, the Arctic nevertheless is a nice option for those who need the waterproofing and are looking to stay in the $300 price range. Finally, it's worth noting that TNF updated the jacket recently (it's now lighter and lacks synthetic insulation), but we've kept the more weather-ready iteration here while supplies last.
See The North Face Arctic Parka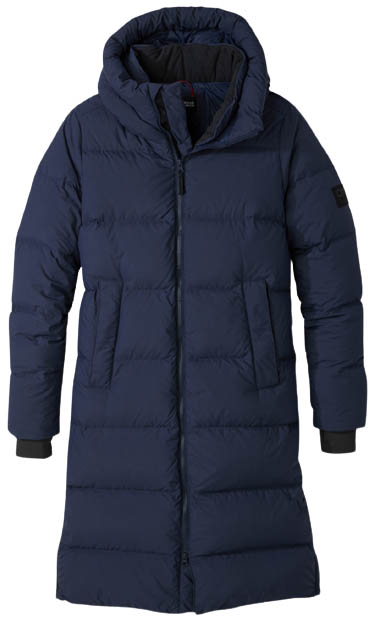 Fill: 8.3 oz. 700-fill-power down
Center back length: 43 in.
Waterproof: No
What we like: A true knee-length parka with a durable woven shell. 
What we don't: Expensive and sizing can be tricky.
We often turn to Outdoor Research for reasonably priced technical outerwear (as evidenced by the Super Alpine above), but the Seattle-based company has gone fully casual with the Coze Down Parka here. And we like what they've done, combining high-quality materials with an elegant urban style. The knee-length Coze is by far the longest parka on this list, touting a 43-inch center back length that's a full 10 inches longer than jackets like the Marmot Montreal and Mountain Hardwear Stretchdown below. On top of that, you get a soft and durable 70x90-denier plain weave shell—great for withstanding the rigors of city use—and side zips that make it easy to sit, bike, or drive.
There are a lot of reasons you might want the extra coverage of the Coze, especially in particularly frigid winter climates. For one, the length eliminates the need for insulated pants on quick jaunts around the block. Second, you're ensured insulation under you when sitting, which you don't always get with a parka-length jacket. And finally, the style is undeniably classy, whether you're walking the dog or going out on a Saturday night. Keep in mind that sizing can be tricky—we recommend finding a way to try on the Coze or purchasing from an online retailer with a good return policy—and unlike many parkas, you don't get a cinch at the waist. But for top-notch coverage from a trusted brand, the Coze is an attractive option. It's also worth noting that Patagonia now makes a similar jacket in their Silent Down Long Parka ($399), which is a bit longer at 44.5 inches and checks in at a similar weight and warmth.
See the Outdoor Research Coze Down Parka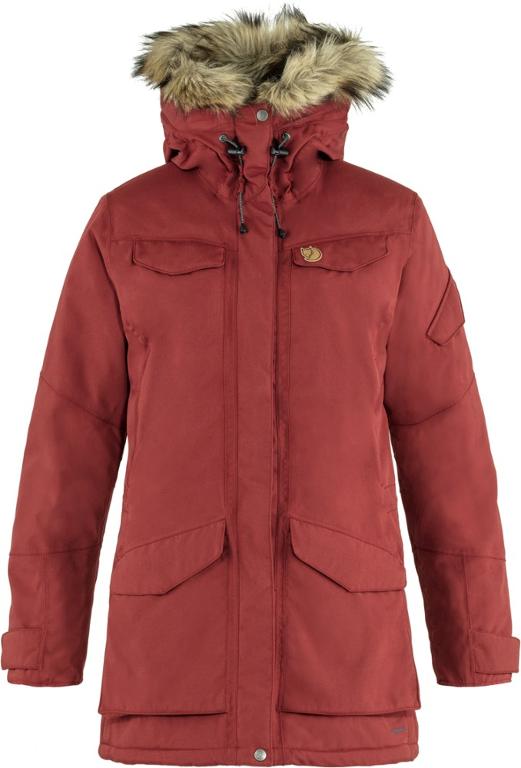 Fill: 8.8 oz. of Supreme Microloft synthetic
Center back length: 33.9 in.
Waterproof: Yes
What we like: Good looks and excellent build quality. 
What we don't: Decidedly casual and pricey for a synthetic piece.
Similar to Canada Goose, Fjallraven makes good-looking outdoor gear that toes the line between casual and performance (at least casual levels of performance). The Nuuk Parka is a durable piece that offers solid warmth and weather resistance with 8.8 ounces of Supreme Microloft synthetic insulation, a water- and windproof outer shell, and clean lines representative of the company's Scandinavian heritage. You also get a well-rounded assortment of storage and features, including a fleece-lined and fur-brimmed detachable hood, a whopping 11 total pockets, and ribbed knitting at the neck to seal out drafts. All in all, it's a refined, weather-ready winter parka with a high attention to detail. 
If you like Fjallraven's styling (we do) and don't need the low weight or impressive packability of down insulation, the Nuuk Parka is a fine option. That said, it's too heavy and bulky to bring into the backcountry and lacks the lofty, cozy feel of down-stuffed alternatives like the Patagonia Down With It above. And for $500, the Nuuk doesn't strike us as a particularly great value, costing considerably more than most other synthetic options (their Kiruna Lite and Kiruna Padded parkas are cheaper at $365 and $350 respectively but less warm and feature-rich). That said, the fashionable build and well-appointed design set the Nuuk apart from the rest of the market, earning it a spot on our list. And if you prefer down insulation, the Singi Down Jacket has a similar design but uses 7.4 ounces of 500-fill-power down for $100 more.
See the Fjallraven Nuuk Parka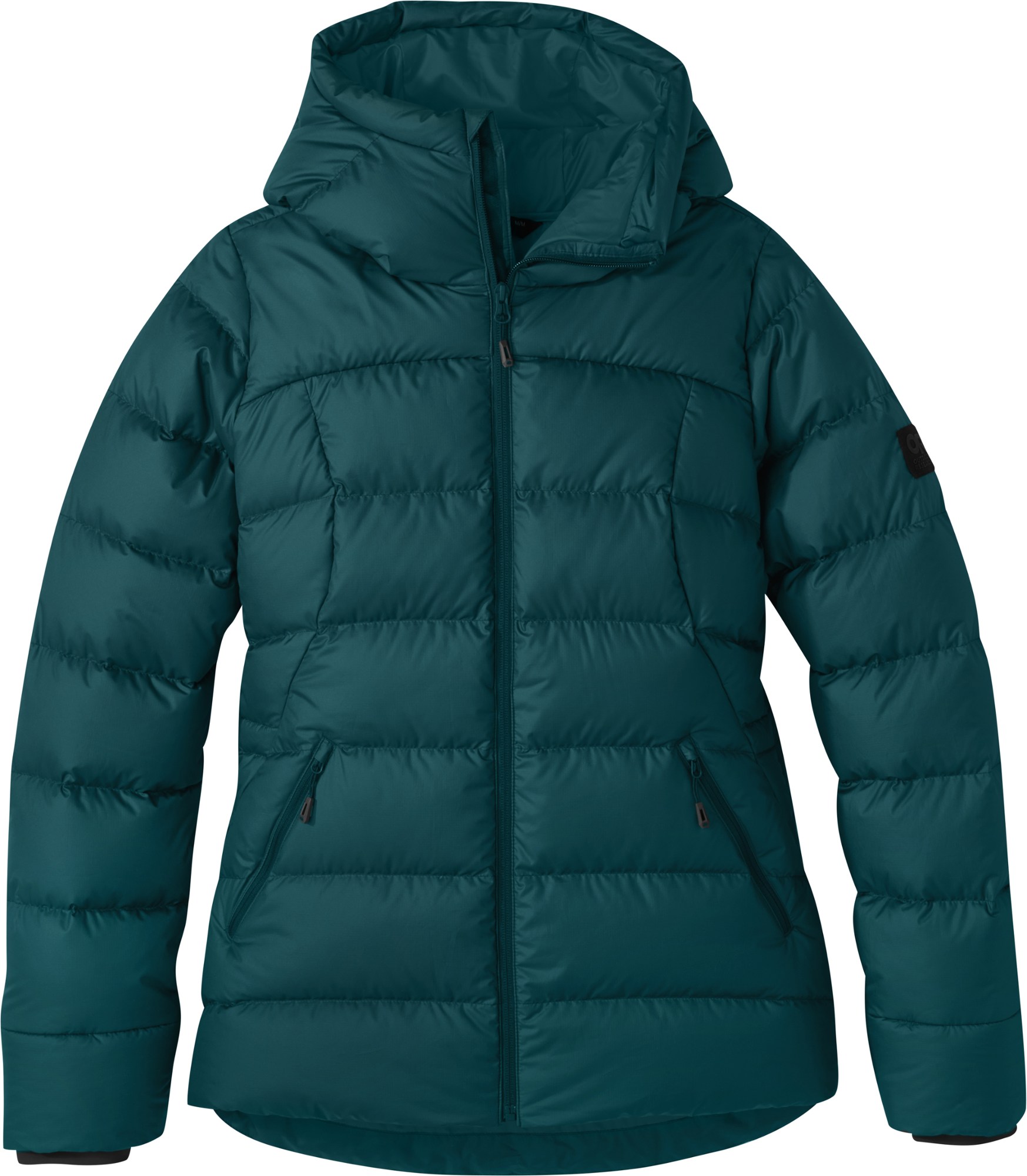 Fill: 6.3 oz. of 700-fill down; 150g VerticalX ECO
Center back length: 29.5 in.
Waterproof: No
What we like: Comfortable, versatile, and affordably priced for what you get.
What we don't: Not a standout in warmth or coverage. 
Like REI, Outdoor Research is known for providing a lot of bang for your buck, and their new Coldfront Down Hoodie does just that. For $229, the hip-length Coldfront offers a competitive mix of protection and warmth with weather-ready VerticalX ECO synthetic insulation at the shoulders and cuffs and quality 700-fill-power down everywhere else. In trying on the jacket for the first time, we were struck by the soft-yet-rugged shell and thoughtful touches like fleece lining in the hand pockets and snug-fitting cuff gaiters with thumb loops. All told, it's a well-rounded choice for everyday use and outdoor adventuring in most moderate winter conditions.
That said, it's important to note that the Coldfront contains less down than some of our picks above, including the Down With It (jacket) and performance-ready Super Alpine. It's not exactly an apples-to-apples comparison given the differences in fill power, and the Coldfront certainly looks the part with its puffy build, but don't expect Antarctic-ready warmth. Also keep in mind that despite the generous hip-length style (back length is listed at 29.5 in.) there's no below-the-butt coverage, which detracts from overall protection and won't keep your legs warm like the longer parkas on our list. With the right layering, however, or if you plan to mix in hiking or snowshoeing, the Coldfront is a perfectly serviceable option with attractive styling that boosts its all-around appeal (you can wear it around town or in the backcountry).
See the Outdoor Research Coldfront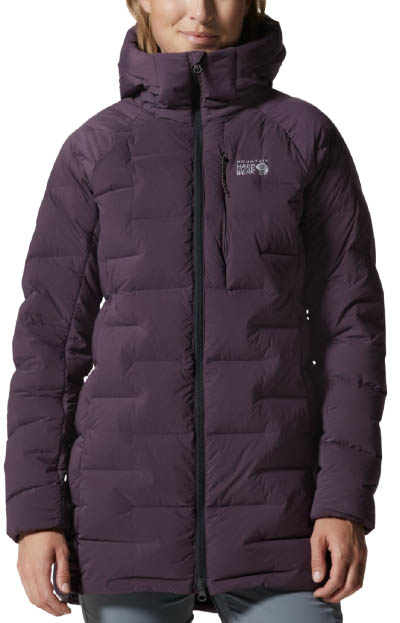 Fill: 700-fill-power down
Center back length: 33 in.
Waterproof: No
What we like: Attractive and versatile styling; shell fabric is stretchy and durable.
What we don't: A bit shorter and boxier than most parkas.
Upon first glance, it's easy to see that the Stretchdown Parka looks a little different from your standard down jacket. Instead of the typical shiny fabric and horizontal baffles, Mountain Hardwear uses welded seams and a stretchy material (hence the "Stretchdown") that's almost softshell-like in nature. The net result is comfortable down insulation that moves with you, is remarkably durable, and doesn't leave you looking like the Michelin Man. The Stretchdown collection features a range of styles, and the Parka here delivers the most coverage and warmth for true winter weather. 
After wearing the Stretchdown Parka for most of the winter, we're strong proponents of the jacket with a few small caveats. First is the shape: Compared to most parkas it's a bit shorter at just 33 inches (on par with the Marmot Montreal below but 5 in. shorter than the Patagonia Down With It Parka) and has no taper in the waist. This no-frills fit makes the Stretchdown slightly more versatile for performance use (with a two-way front zip, it functions great over a harness as a belay jacket) but will limit its street appeal for some. Second, it doesn't offer quite as much warmth as heavyweight pieces like the Coze above. But we're big fans of the versatile design, and it's hard to beat the durability and hand feel of the soft and stretchy shell.
See the Mountain Hardwear Stretchdown Parka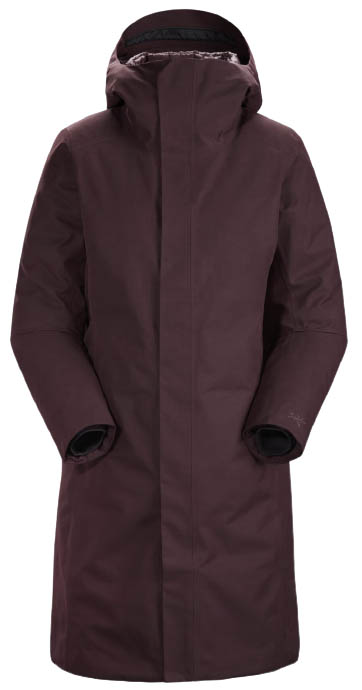 Fill: 5.5 oz. of 750-fill down; 60g & 100g Coreloft
Center back length: 36.75 in.
Waterproof: Yes
What we like: Waterproof, top-notch construction, and looks great. 
What we don't: One of the priciest parkas here and not the warmest.
Many of the casual women's parkas on this list are in the sub-$300 price range, but nobody does jackets quite like Arc'teryx. The sleek Patera is the whole package: You get premium 750-fill goose down with synthetic Coreloft insulation added in areas most prone to getting wet, a proven 2-layer Gore-Tex shell for waterproofing, and a classic design that can be worn pretty much anywhere. Add in a nice variety of color options and the premium build quality that Arc'teryx is known for, and you have a fantastic winter parka that should stand up to cold and wet weather for years to come. 
The biggest hurdle in choosing the Patera Parka is price: At $649, it's more than double the cost of jackets like the Patagonia Down With It and TNF Arctic above without offering any additional warmth, which puts it out of reach for many people. However, you do get some serious return on your investment. The full waterproofing is a very nice feature, and few casual pieces use best-in-class Gore-Tex. You also get a tough-yet-smooth 75-denier shell, which can handle everyday wear and tear much better than the thinner options above. Finally, we appreciate the non-puffy style of the Patera, which manages to be reasonably insulated and weather-resistant while keeping a low-profile, almost rain jacket-like look. And for an even warmer waterproof option from Arc'teryx, check out their Centrale Parka... Read in-depth review
See the Arc'teryx Patera Parka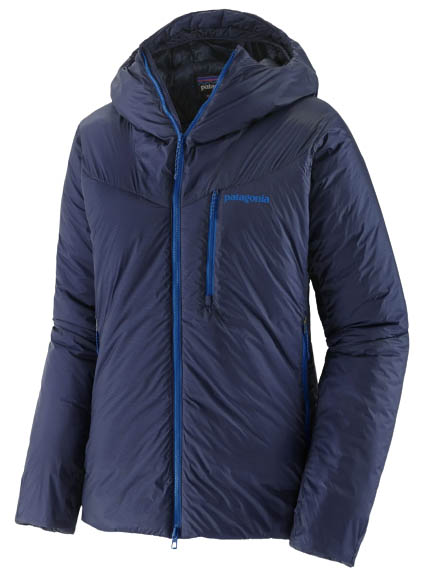 Fill: 133g & 40g PrimaLoft Gold Eco
Center back length: 30 in.
Waterproof: No
What we like: The wet-weather assurance of synthetic insulation. 
What we don't: Expensive and thin face fabric is very fragile.
The vast majority of jackets here use down fill, which is warmer (for the weight) and loftier than synthetic insulation. But there are undeniable benefits to synthetics: they continue to insulate when wet, breathe better, and provide a cruelty-free, vegan option for consumers (for more on the topic, see our article on down vs. synthetic insulation). One of our favorite cold-weather synthetic jackets, the Patagonia DAS Parka, is a high-performance piece that uses unique insulation mapping to pack in warmth while keeping weight on par with many technical down puffies (for reference, it's 7.5 oz. lighter than the OR Super Alpine above). To top it off, the DAS is mountain-ready with a robust Pertex Quantum Pro shell, helmet-compatible hood, and two-way front zipper with a protective wind flap.
In terms of downsides, the DAS Parka is a decidedly technical piece, with a very roomy fit and loud colorways that are polarizing for everyday use. And while there's no denying that the warmth is impressive for the weight, especially for a synthetic jacket, cost remains high at $449 (synthetics generally save you some money, but not in this case). In short, the DAS has limited daily appeal, but for the right environment—think drippy alpine belays or digging snow pits while backcountry skiing—it's a nice choice. And for drier conditions or when space is at a premium, Patagonia's down-filled Fitz Roy ($399) offers roughly the same amount of warmth at only 14.8 ounces... Read in-depth review
See the Patagonia DAS Parka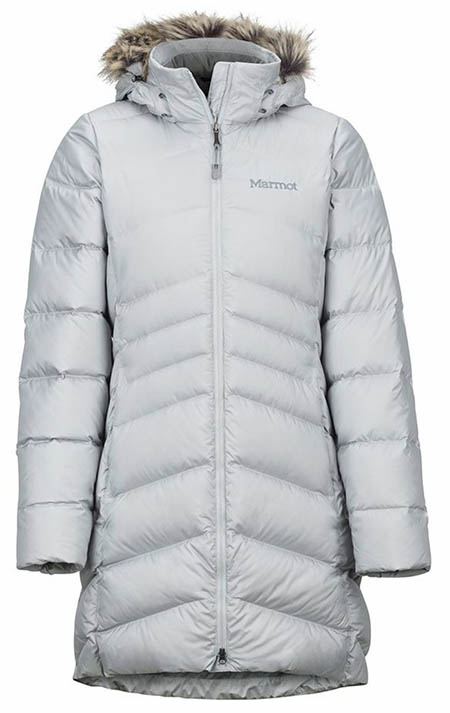 Fill: 7.1 oz. of 700-fill-power down
Center back length: 33 in.
Waterproof: No
What we like: Attractive styling and great mobility and comfort.
What we don't: Warmth falls short of many of the longer down parkas above.
Winter jackets come in a range of styles and vary considerably in terms of warmth, but the Marmot Montreal Coat strikes a nice middle ground for most winter environments. Reasonably priced at $285, you get a healthy dose of 700-fill-power down and a mid-thigh cut that keeps you covered without limiting mobility. Unlike most puffy jackets here, the Marmot is lined with a soft and supple fleece along the torso, cuffs, and hand pockets, and a removable faux fur liner around the hood keeps cold air out and tacks on an extra dose of style. Add in a durable water repellant finish, and the Montreal is a nice everyday defense against the cold and occasional precipitation.
We love the cut of the Marmot, which hovers about mid-thigh and offers a more mobile and playful feel than longer jackets like the Down With It above (33 vs. 40-in. center back length). This style is great for activities like riding a bike and shoveling the driveway, but you do give up a significant amount of coverage and warmth. Further, the parka's overall build quality is a bit less impressive than the aforementioned Patagonia, with a thinner shell that won't hold up as well over time. All gripes aside, we've found the Montreal to be sufficient for temperatures above 20 degrees Fahrenheit, which is a good match for the majority of winter conditions in most of the U.S (keep in mind that Marmot also offers the warmer Montreaux, which features a 6 in. longer hem for just $15 more). And like many casual parkas, it does have a trim fit, so consider sizing up if you plan to layer underneath... Read in-depth review
See the Marmot Montreal Coat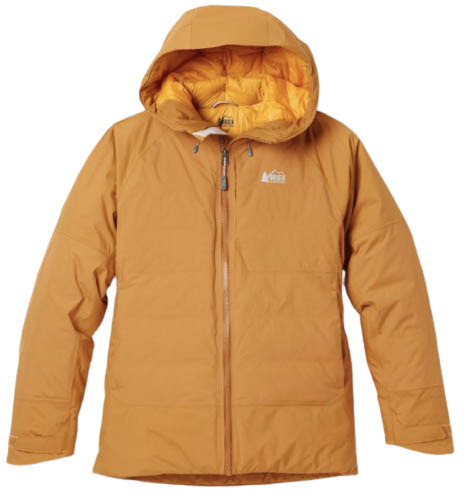 Fill: 850-fill-power down; 180g & 80g synthetic
Center back length: 28.25 in.
Waterproof: Yes
What we like: Great warmth and weather protection at an affordable price.
What we don't: Not as warm as performance options like the Super Alpine above.
Parkas have great casual appeal and their warmth is unmatched, but we love the versatility and mobility of a standard-length winter jacket. More than most, the REI Stormhenge hits a great balance between everyday and performance use, coupling clean lines and classy colorways with a laundry list of technical features. In terms of warmth and weather protection, you get body-mapped 850-fill goose down, recycled synthetic insulation in areas prone to moisture and sweat, and a 2-layer waterproof shell. The Stormhenge also features a fully adjustable hood with draft collar, Velcro cuffs, and pit zips to further seal out (or let in) the elements. The result is an insulating jacket that does a decent job keeping out weather, ideal for everything from drippy ice climbing and backcountry skiing to—our personal favorite—35-degrees-and-rainy. 
The Stormhenge got a nice update this year, including a longer cut (by over 2 inches), more sustainably produced fabrics, two additional internal pockets (including a drop pocket for stashing gloves and skins), and the aforementioned synthetic insulation. REI still doesn't provide a fill-weight spec, but we've found the previous model to be warm into the low 20s Fahrenheit with only a light baselayer underneath (the new version is 4 oz. heavier, so it's likely just as insulating). Of course, it's important to have reasonable expectations when shopping from REI's in-house collection, but the Stormhenge is impressively high-quality and well-designed for the price. If you're on the lookout for a jacket that can deliver equal parts weather protection and warmth, it's well worth a look. 
See the REI Co-op Stormhenge Down Hybrid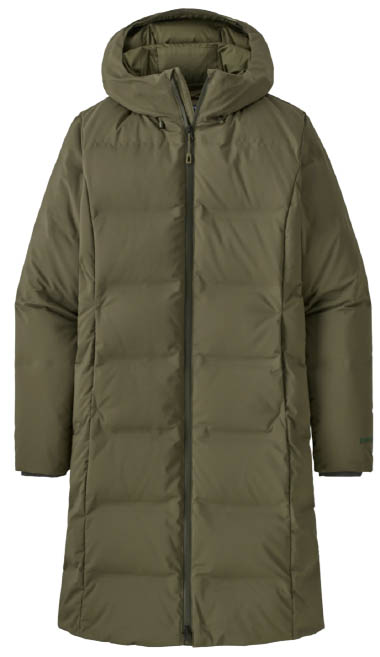 Fill: 6 oz. of 700-fill-power down
Center back length: 38 in.
Waterproof: No
What we like: Great mix of style and performance.
What we don't: Expensive yet not fully waterproof.
Patagonia's waterproof Tres Parka above is a great option for those who want the versatility of a 3-in-1 design, but for slightly less protection and a lot of savings, the Jackson Glacier is a capable alternative. Available in both a jacket and a parka version, the Jackson Glacier features a 2-layer shell with DWR finish for ample protection against most winter weather, along with a healthy dose of down insulation that's nicely cozy without adding too much bulk. The Patagonia also features storm cuffs, a water-resistant main zip, and stitch-free (bonded) baffles, all of which help trap warmth and seal out wind (in our testing, the parka proved to be fairly windproof). Tack on a mid-thigh cut (38 in.) and a soft face fabric, and the Jackson Glacier is equal parts functional and attractive jacket for everyday use.
All that said, the Jackson Glacier Parka drops out of our top 10 picks for a few reasons. At $399, it's not the best value—OR's Coze Parka above, for instance, provides considerably more warmth for around $50 less. Second, its weatherproofing measures increase the price without adding too much to performance—we've found the 2-layer shell to be protective enough for odd dashes between the car and the grocery store, but the polyester face fabric will begin to absorb moisture in sustained rain (unlike the Tres, you don't get a waterproof membrane). But for the right climate, there's a lot to like about the Jackson Glacier, and it doesn't hurt that it's made with both recycled down and shell fabric—a testament to Patagonia's continued focus on sustainability. And as we touched on above, the Jackson Glacier also comes in a hip-length jacket version for $50 less... Read in-depth review
See the Patagonia Jackson Glacier Parka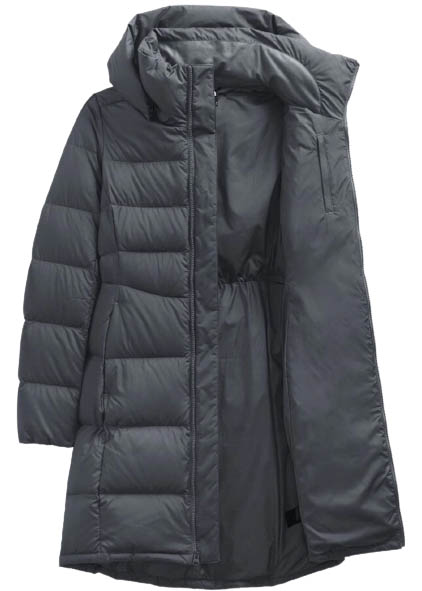 Fill: 550-fill-power down
Center back length: 37 in.
Waterproof: No
What we like: Great city style in a lightweight package.
What we don't: Not the best value.
If your top priority is fashion and you don't anticipate needing many technical features, The North Face's Metropolis fits the bill. The Metropolis is one of the most ubiquitous winter parkas on the market, combining the style of a down puffy with a knee-length cut (37 in.) and dramatic drop-tail hem. And at well under 2 pounds, this jacket manages to keep weight low despite its generous coverage, keeping you feeling light and unrestricted (the two-way zipper helps, too). Tack on a tall collar, removable hood, and DWR finish, and you get fully serviceable protection for mild winter days.
However, despite its reasonable price tag, the Metropolis is not a great value compared to jackets like the Marmot Montreal and REI Co-op Stormhenge above. The 550-fill-power down is fairly disappointing in terms of warmth for its weight, making the Metropolis one of the least insulative winter jackets we've tested (we wouldn't take it into below-freezing temperatures). Further, The North Face's quality and attention to detail leave much to be desired (we experienced leaking feathers and a sticky front zip), and especially considering you can get Patagonia's well-built Down With It Parka for the same price. In the end, the Metropolis doesn't stand out from a performance perspective, but if you like the style, it'll get the job done in most casual environments.
See The North Face Metropolis Parka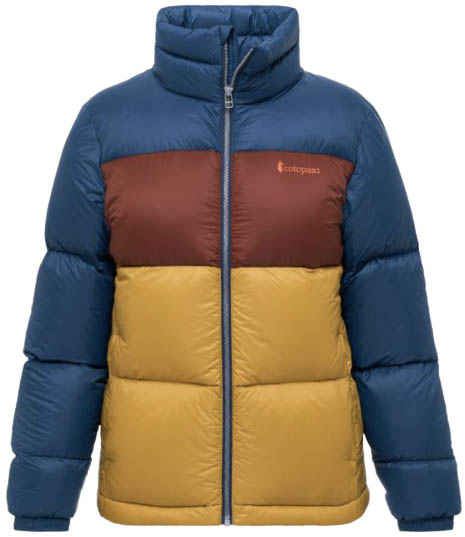 Fill: 650-fill-power down
Center back length: 27 in.
Waterproof: No
What we like: Affordable, cozy, and sustainably made.
What we don't: Fragile shell and minimal weather protection.
Cotopaxi has become a runaway favorite with their retro color blocking and commitment to making "Gear for Good," and the Solazo puts it all together in a winter-weight down jacket. With a fairly simple hoodless design, the Solazo features responsibly sourced 650-fill-power down (the fill weight is not specified) in a thin 20-denier ripstop nylon shell. The result is a lightweight jacket (Cotopaxi puts it anywhere from 12 to 16 oz. depending on the size) with a generous amount of loft, which adds up to give you that coveted sleeping-bag-like feel.
The Solazo can certainly get the job done during cold nights of camping or even on chilly days on the slopes, but it can't measure up to performance-oriented jackets like the Super Alpine and DAS Parka above. With only a light DWR coating, you won't want to be caught out in sustained rain in the Cotopaxi, and the hoodless design isn't great for technical use. What's more, the 650-fill down doesn't compress as well as more premium insulations (the jacket also excludes a stuff sack or stuff pocket). And finally, the Solazo has a fairly boxy fit, which could be a pro or con depending on your style preferences. But at just $220, it's one of the most affordable jackets here and a versatile choice for both in-town and light backcountry use.
See the Women's Cotopaxi Solazo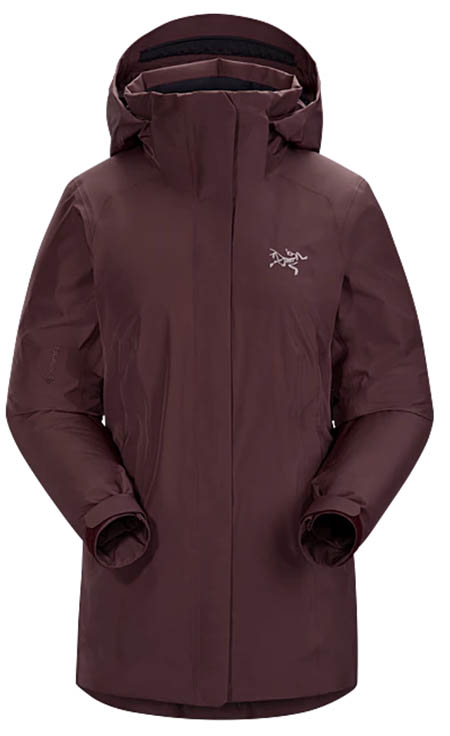 Fill: 2.1 oz. of 750-fill down; 80g & 100g Coreloft
Center back length: 26 in.
Waterproof: Yes
What we like: A waterproof and warm jacket that doubles down for resort skiing. 
What we don't: Pricey and not as long as more casual parkas. 
The Arc'teryx Andessa is a unique addition here: it's designed as a resort ski jacket but arguably is just as functional (if not more so) for daily wear. To start, it's waterproof and very warm with a combination of 750-fill down, synthetic insulation in moisture-prone areas, and a nearly impervious 3-layer Gore-Tex Pro fabric. We love the sleek look, and Arc'teryx even opted for features like flaps over the pocket zippers to keep it clean. Last but not least, the interior is smooth, cozy, and reminiscent of a high-end down puffy. You certainly can ski with the Andessa and many people do, but the hood and powder skirt are removable, and it makes for a great dual-purpose option.
Compared to the more casual winter parkas on the list, there are some shortcomings with the Andessa. First, the cut is shorter and offers less coverage than a model like Arc'teryx's own Patera above, which also happens to be significantly cheaper at $649. Second, the Andessa is fairly burly and has a fortress-like feel, which is great for those who run cold but can be overkill for moderate winter conditions (we have had a tendency to overheat while skiing hard). That said, we love the versatility of the Andessa, and its two-for-one nature makes the cost easier to swallow. For more of our recommendations for both lift-served and backcountry skiing, check out our article on the best women's ski jackets. 
See the Arc'teryx Andessa Jacket
Fill: Polyester
Center back length: 34 in.
Waterproof: No
What we like: A great value and clean overall design.
What we don't: Not as warm or soft as a down jacket. 
Winter jackets are an expensive bunch, but budget-oriented brand Columbia offers some intriguing alternatives that save you a good deal of cash. Our favorite is the Heavenly Long Hooded Jacket, which checks many of the boxes we look for in a cold-weather piece while coming in at a very reasonable $150 price point. For warmth, you get a healthy amount of Columbia's in-house polyester fill (although a fill weight isn't provided), along with a shiny Omni-Heat reflective lining, water-resistant shell, comfortable hood, and surprisingly good fit and design for the price. Despite the name, the Heavenly certainly isn't as pillowy soft as down, but it's a good-looking jacket and one heckuva value. 
What are the downsides of a jacket like the Columbia Heavenly? It won't pack away into a suitcase nearly as small as a comparable down jacket (synthetic insulation is much less compressible), and you don't get the same warmth for the weight either. The jacket does get reasonably high marks for being cozy in cold conditions, but you likely will want to layer up when the temperatures get truly frigid. These issues aside, the jacket looks the part for both outdoor and urban use, comes in a variety of nice colorways—and given the price—remains popular year after year.
See the Columbia Heavenly Long Hooded Jacket
Women's Winter Jacket Comparison Table​

Women's Winter Jacket Buying Advice
Casual vs. Performance Winter Jackets
When deciding on a winter jacket, the single most important factor will be its intended use. Casual winter jackets are designed for everyday wear around town and are characterized by their urban styling, excellent coverage, and typically heavy builds. Thigh- and knee-length parkas fall into this category and are very popular among women for their warmth and classy looks. Performance jackets, on the other hand, are more technical in nature, built to handle mountain weather (be it cold or wet), and often lighter in weight due to the use of premium down and thinner shell materials. These models are designed for activities like mountaineering, climbing, and other cold-weather backcountry use.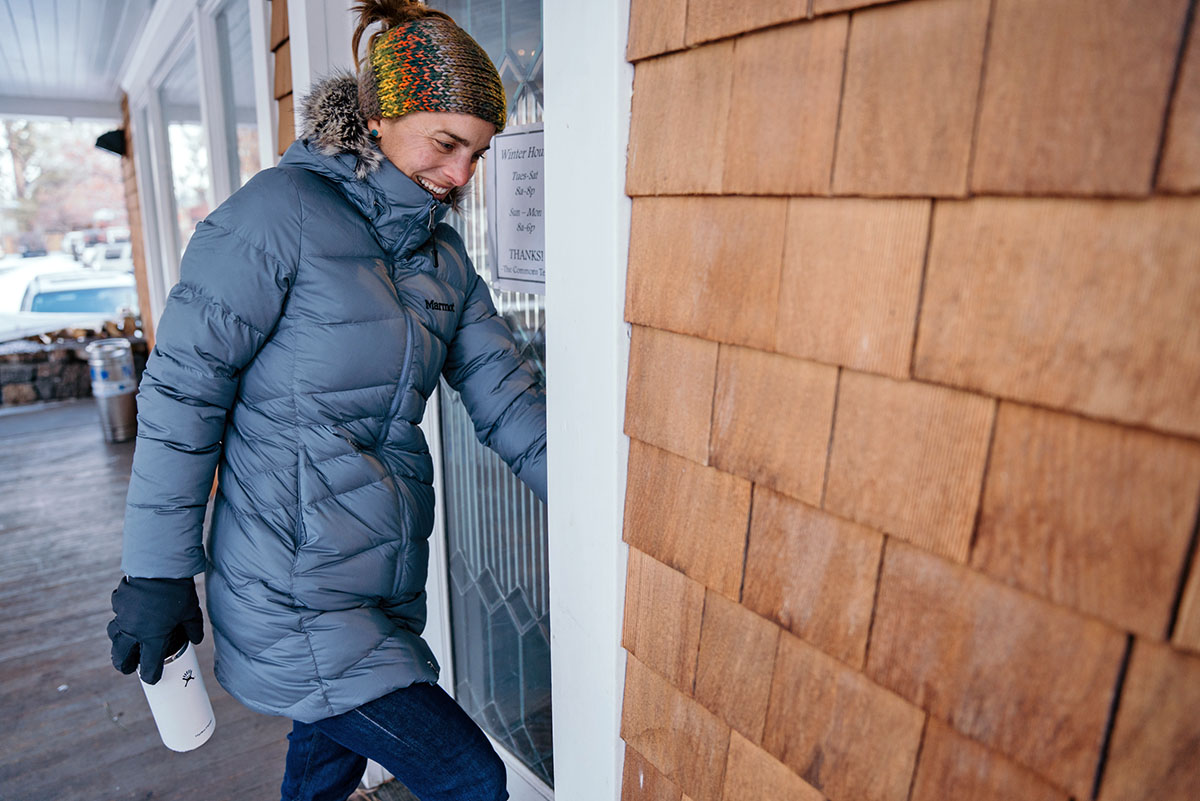 The good news is that going with a casual coat generally saves you a good deal of money. Two of our top casual picks, The North Face's Arctic and the Patagonia Down With It Parka, are around $300 yet offer ample warmth and weather protection for most people. The compromises come in weight, packability, and range of movement, which matter if you're climbing mountains but not so much for the morning commute. And for casual users drawn to the look of jackets in the performance category, be sure keep in mind that these are generally less durable and won't hold up as well to everyday wear. 

Insulation Types
Nearly all the jackets on this list have down fill, which is the warmest, lightest, and most compressible type of insulation. A few jackets, including the Columbia Heavenly Long, are made with synthetic, which is heavier and not quite as lofty but does a superior job at insulating when wet. It's also cheaper than down, which is why you'll find it inside some of the budget-oriented designs above like the Columbia Heavenly. We love both types of insulation and each has its purposes, but down wins out in pure warmth and coziness for winter.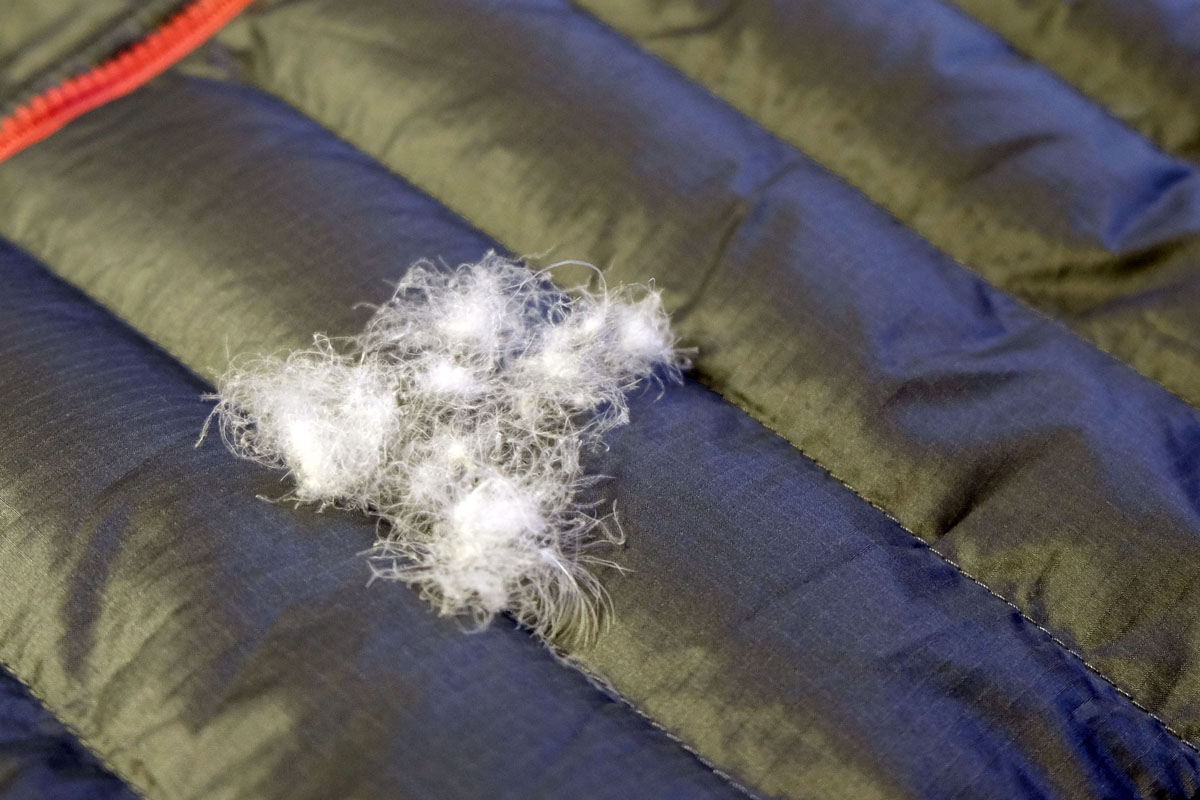 The ethical debate between down and synthetic insulation is an important one, but not as cut-and-dry as some might wish. Down is easy to scrutinize, with concerns around sourcing feathers and humane treatment of animals. On the other hand, most synthetic fills are petroleum-based, which results in greenhouse gas emissions and potentially unsafe work environments. Further, they can release micro pieces of plastic into the water during each wash. Thankfully, programs like the Responsible Down Standard ensure the use of ethically sourced down, which makes it a much easier sell for us. Not to mention, down generally has a longer lifespan than synthetic insulation. For more background on this topic, see our article on down vs. synthetic insulation.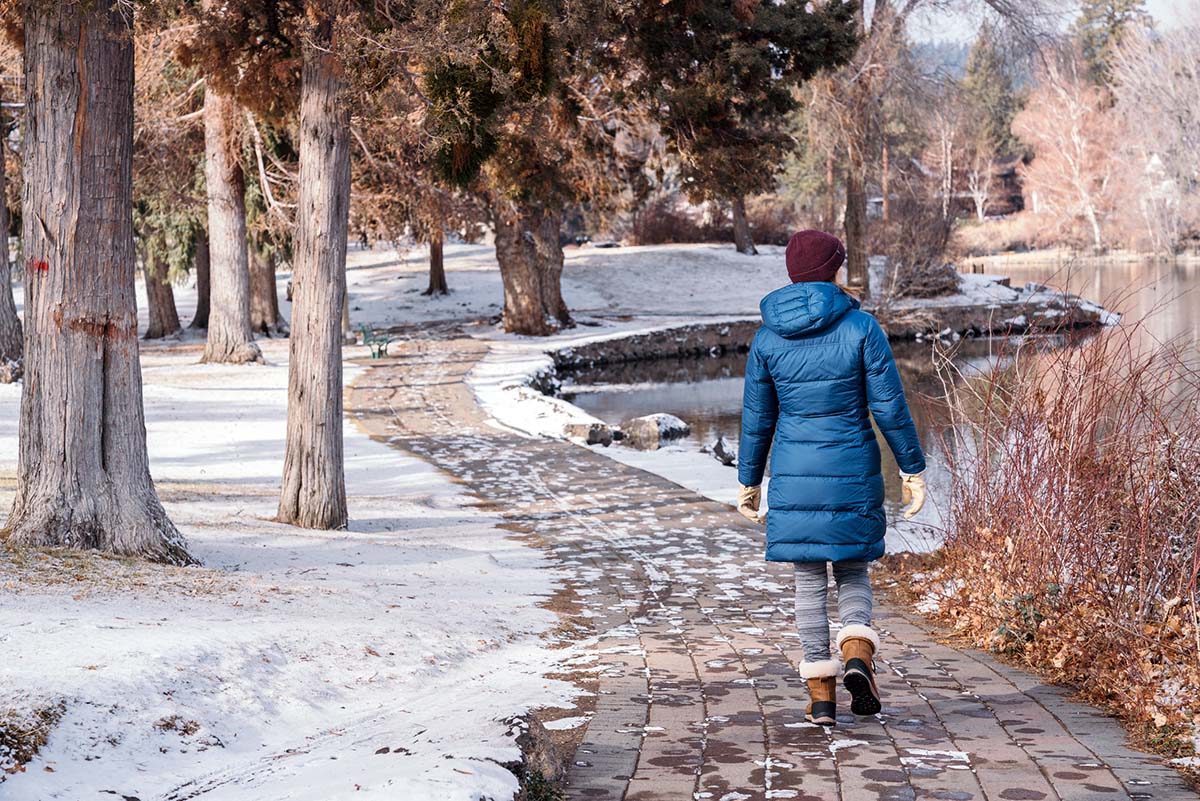 Warmth
Warmth is a function of many variables: insulation type and weight, shell fabrics, wind, layering, level of exertion, and how warm or cold you run personally. But all other factors being equal, the two most important specs to look at when determining the warmth of your jacket are fill power and fill weight.

Fill Power
Fill power is the most heavily marketed spec among winter jackets and parkas, and it refers to down specifically. The higher the number (600-fill, 700-fill, 800-fill, etc.), the more loft and warmth the down will provide and the more easily it will compress when packing the jacket away. Premium down is the most expensive, which is why you'll see this number loosely correlate with price. Performance winter jackets usually are around 800-fill or higher, and casual pieces run from 450-fill to 700-fill.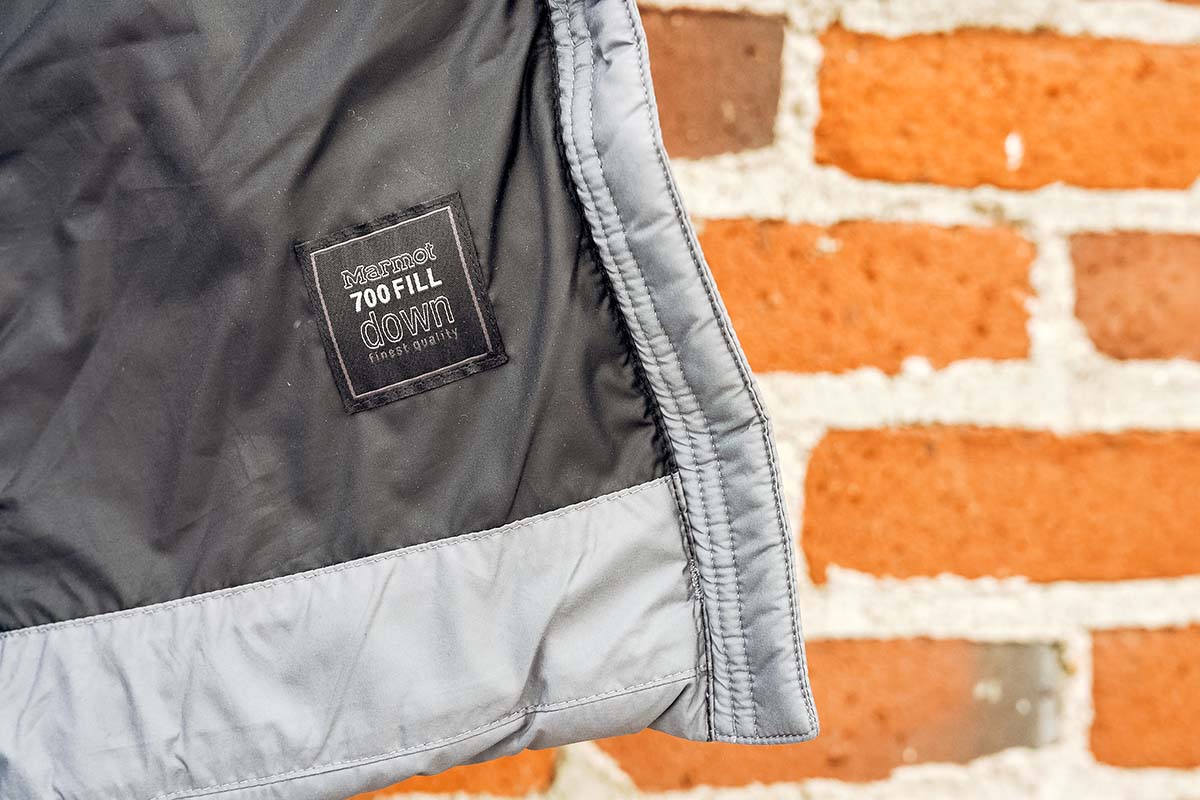 Fill Weight
Fill weight is often overlooked but just as relevant as fill power. Instead of measuring the quality of the down, fill weight indicates the total weight of the down inside the jacket. For example, the Rab Deep Cover Parka (not listed above due to issues with stock) has a whopping 12 ounces of 700-fill down, while the Patagonia Jackson Glacier Parka has only 6 ounces of 700-fill, which represents a significant difference in warmth. The calculation becomes more difficult the greater the gap in fill powers: comparing 850-fill down to 500-fill down is like comparing apples to oranges, so it's most helpful when the fill powers are at least similar.
Unfortunately, fill weight isn't always provided by manufacturers, particularly for casual pieces. We've done everything within our power to acquire that number—including spending seemingly endless periods of time on hold and explaining to customer service reps that fill weight is different than fill power—and include it in our comparison table when available. Around half the jackets on this list provide fill weight, which is more helpful than not.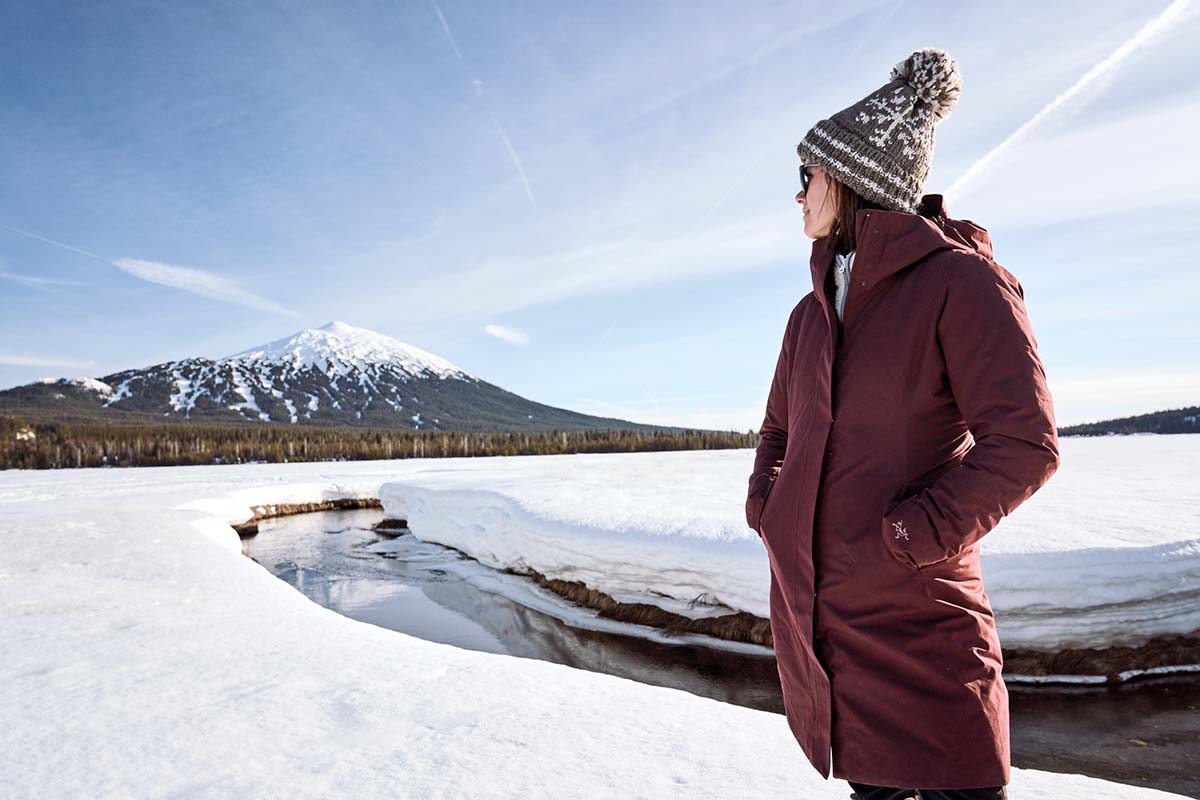 Temperature Rating
Winter jackets don't have a uniform method of measuring warmth like the EN system for sleeping bags, but there are some good clues. As discussed above, make sure to take both fill power and fill weight into account. In addition, the shell of the jacket matters, as do the layers underneath.
By our best estimation, the majority of the jackets on this list are designed to go well below freezing for use in the heart of the winter months in cold climates like the Midwest and East Coast of the United States. Some jackets are capable of even more extreme conditions (the Canada Goose Expedition Parka is given a -22°F rating by the manufacturer), while others are less insulated and designed for active use (REI's Stormhenge Down Hybrid). Of course, layer well and don't take any chances, but this article presents that warmest jackets that we cover on this site. For more lightweight and midweight jacket options, see our articles on the best down jackets for women and best synthetic jackets.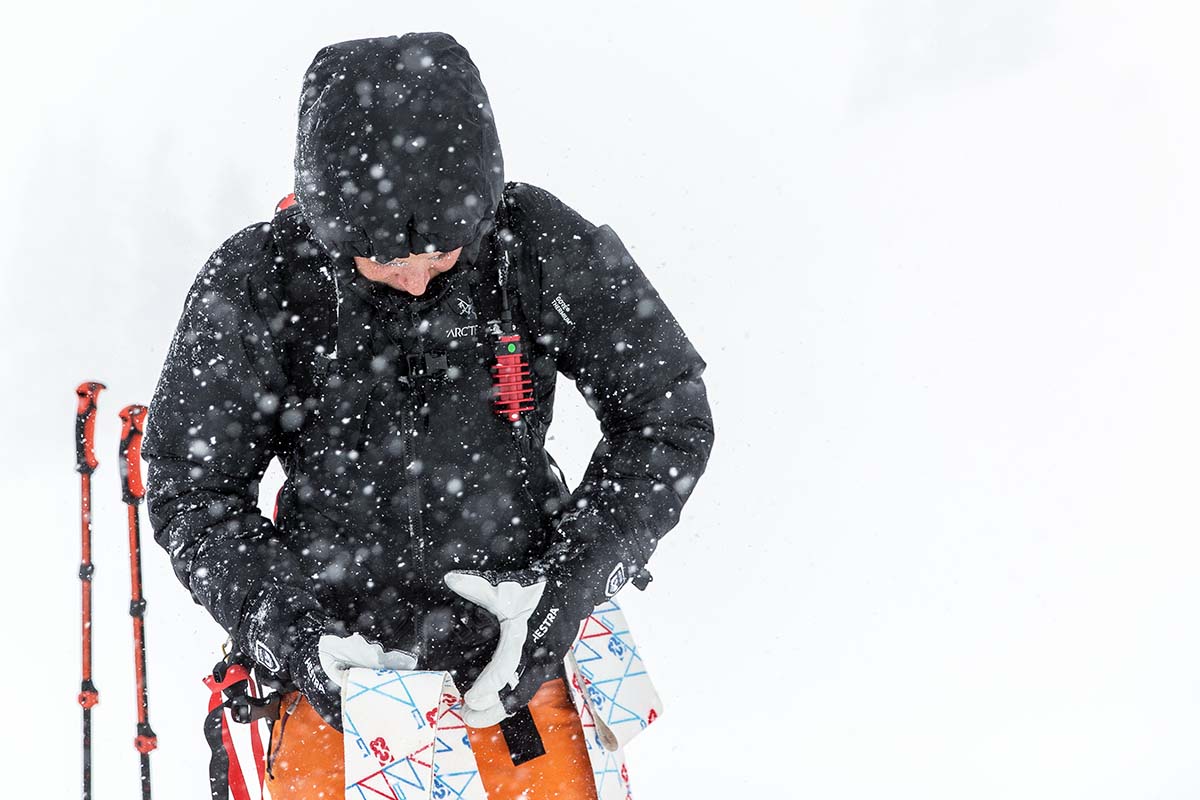 Center Back Length
The jackets on our list above come in a variety of lengths, ranging from 26 inches for the Arc'teryx Andessa to 43 inches for the Outdoor Research Coze Down Parka. In the vast majority of cases, this measurement is taken down the center of back, where a jacket is at its longest (some hems are uniform all the way around while others feature a drop-tail in the back). Hip-length jackets check in anywhere from 26 to about 30 inches, below-the-butt parkas are around 33 inches, and mid-thigh to knee-length parkas range from about 35 to 43 inches in length. The center back length can be an important consideration when you're shopping for a jacket, as it has a big impact on style, warmth, and coverage. Keep in mind that if you opt for a longer jacket, you'll want to look for features like slits (these can be in the front, back, or at the sides) and two-way zippers, which help to keep range of motion high.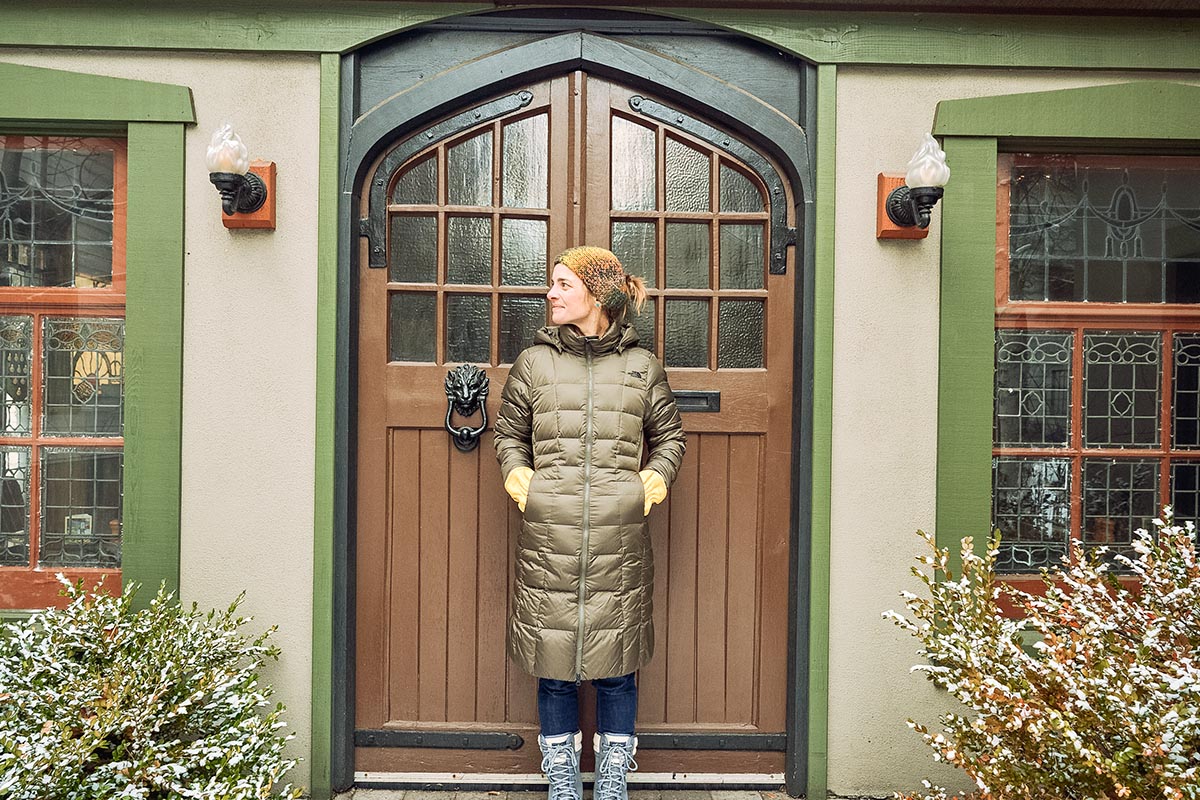 Fit and Sizing
Winter jackets can be all over the place in terms of fit. Some, like the Marmot Montreal, are rather trim, while others, and particularly performance jackets like the Outdoor Research Super Alpine Down Parka, provide ample space for freedom of movement and layering. It's a strong generalization, but expect casual pieces to run a bit small (we've often found the need to size up) and performance pieces to be roomier. When applicable, we've called out sizing discrepancies in the write-ups above, but there's really no substitute for going into your local gear shop and trying on jackets in person.
When it comes to the parkas above, keep in mind that these come in a variety of lengths ranging from just below the butt (the Mountain Hardwear Stretchdown and Marmot Montreal, for example) to above-the-knee designs like the Outdoor Research Coze. While parkas are the clear winners in terms of warmth and coverage (and arguably style), it's important to understand where these designs fall short. In general, the longer the hem, the more restrictive a parka will be—we've had to pull up jackets around our waist while biking—and many of these designs have a tendency to bunch up on your lap while sitting. We've found that slits like those on the REI Co-op Norseland (side) or Arc'teryx Patera (front) go a long way in solving this problem, and you'll want to be sure the design features a two-way zipper.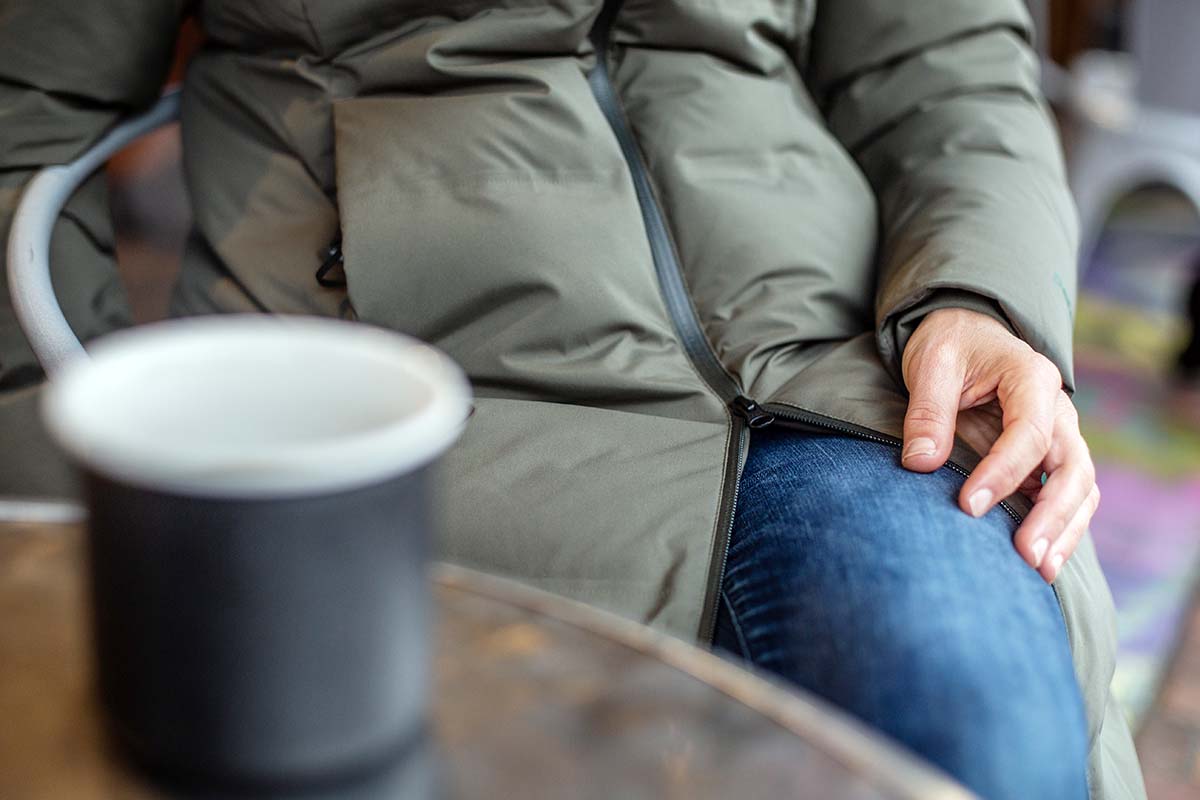 Layering
A major contributor to warmth is which layers (or lack thereof) you wear underneath your jacket. Due to the hefty amount of insulation inside most of the jackets above, a simple baselayer will do the trick in cold weather that hasn't yet reached frigid status. Depending on the parka, when the temperature really drops (think well below freezing), you may want to add a lightweight down or synthetic jacket as a midlayer. This would be a lot of insulation, but it's an easy adjustment to make so long as you have the extra gear and the jacket has room for layering. Warmth is a lot about personal preference and the specifics of the activity and conditions, but it's always a good idea to carry an extra layer or two should you get cold or the conditions change.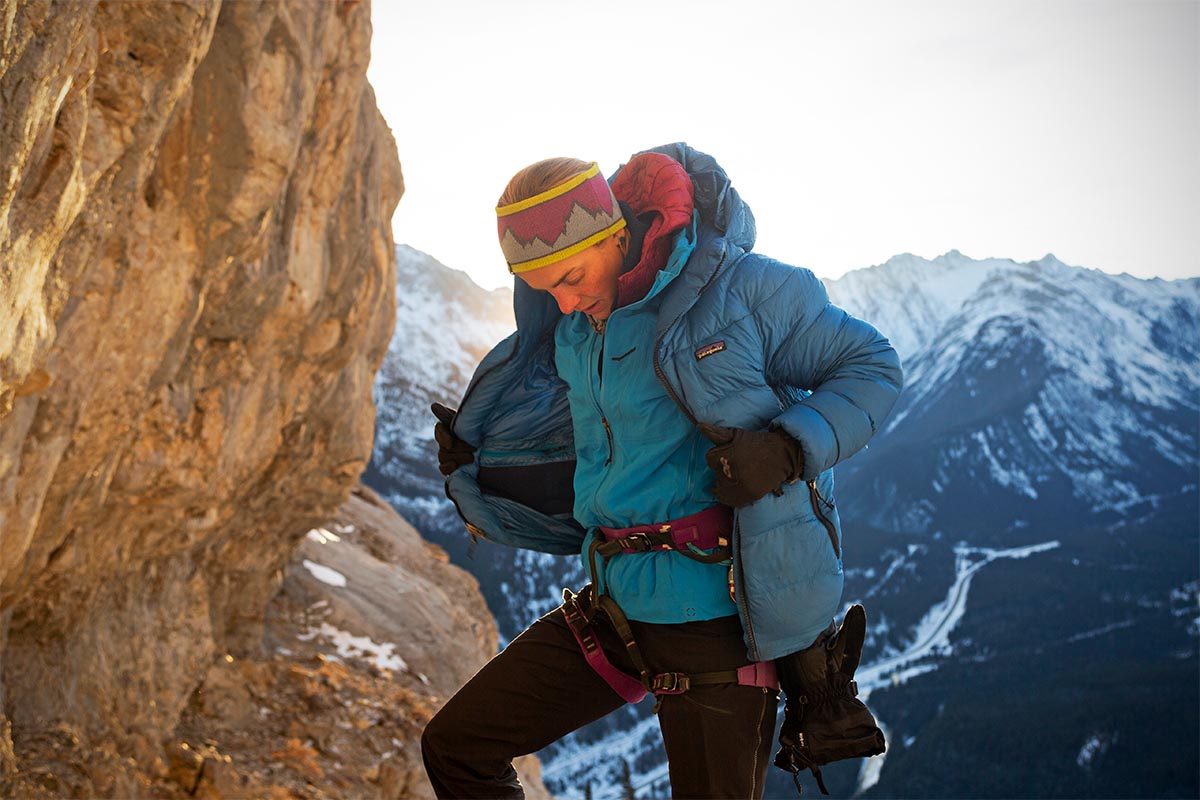 Weight and Packability
The importance of weight in your buying decision depends largely on intended use. For those looking in the performance category (mountaineers, climbers, winter explorers, etc.), jackets with large amounts of premium down will be the warmest, lightest, and most packable. Our top pick in this category is the OR Super Alpine, which checks in at 1 pound 2.7 ounces. For those buying at the casual end of the market, weight matters much less—you most likely won't be carrying your down jacket in a backpack and don't care as much about shaving ounces. Many casual winter jackets and parkas push the 3-pound mark and higher (Canada Goose lists their Expedition at 4 lbs. 3 oz.) and won't pack down as small with lower-fill-power down.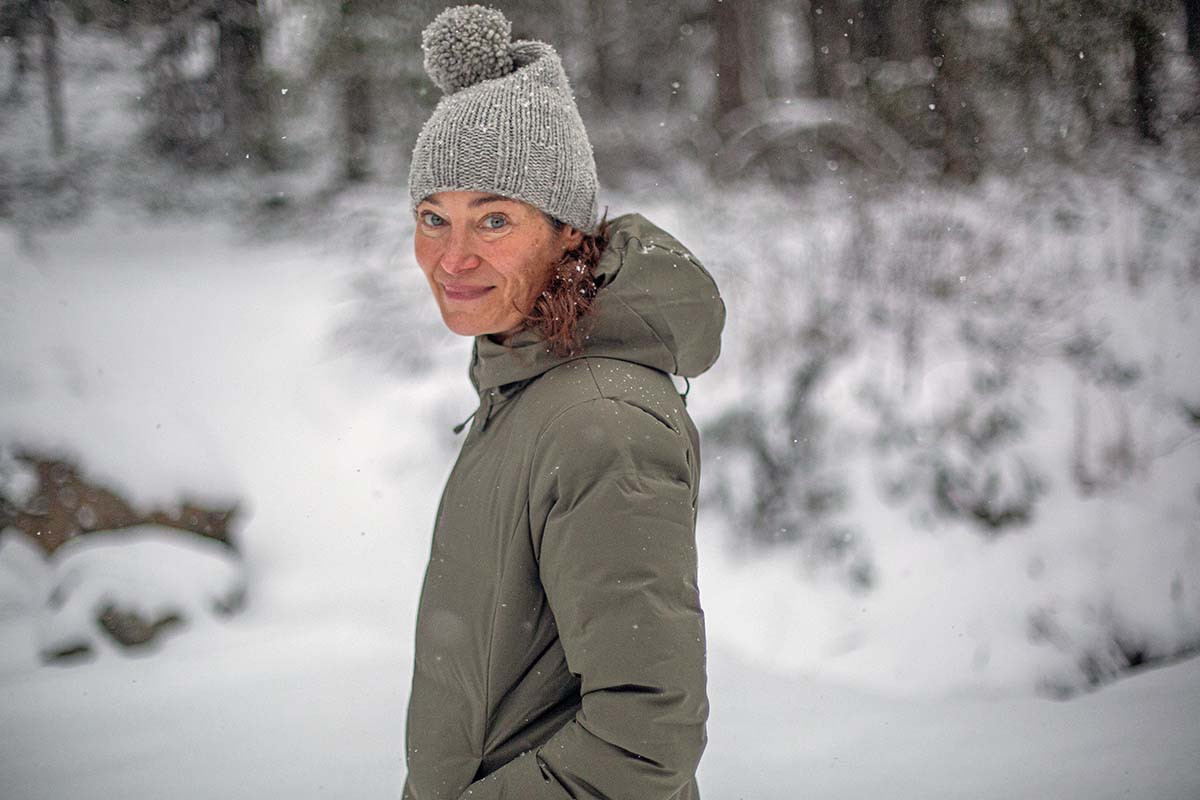 A jacket's weight and packability often go hand in hand, so taking a look at the weight spec should give you a fairly accurate idea of how compressible each jacket is. Like weight, packability is paramount for performance use but won't matter too much for most casual users—although it does have implications for stuffing in a duffel when traveling. A packable jacket (like the Patagonia Down With It and DAS Parkas) will be much easier to stuff away in a checked bag or overhead bin, whereas the 4-plus-pound Canada Goose Expedition Parka will fill up an entire carry-on suitcase. If packability matters, we recommend opting for a hip-length jacket or a simple down parka with thin shell fabric like the Marmot Montreal. And as we mentioned above, down is much more packable than synthetic insulation.
In addition to the type and amount of insulation, a jacket's shell fabric has a big influence on its weight and packability. Performance jackets tend to use technical fabrics that are light and thin, while casual pieces use more durable and heavier shells that add weight. On the upside, the thicker shells are much better at avoiding tears and small abrasions and therefore should last longer. Lightweight down jackets require quite a bit of care and attention and are not our first choice for everyday use (unless you don't mind the odd patch here and there).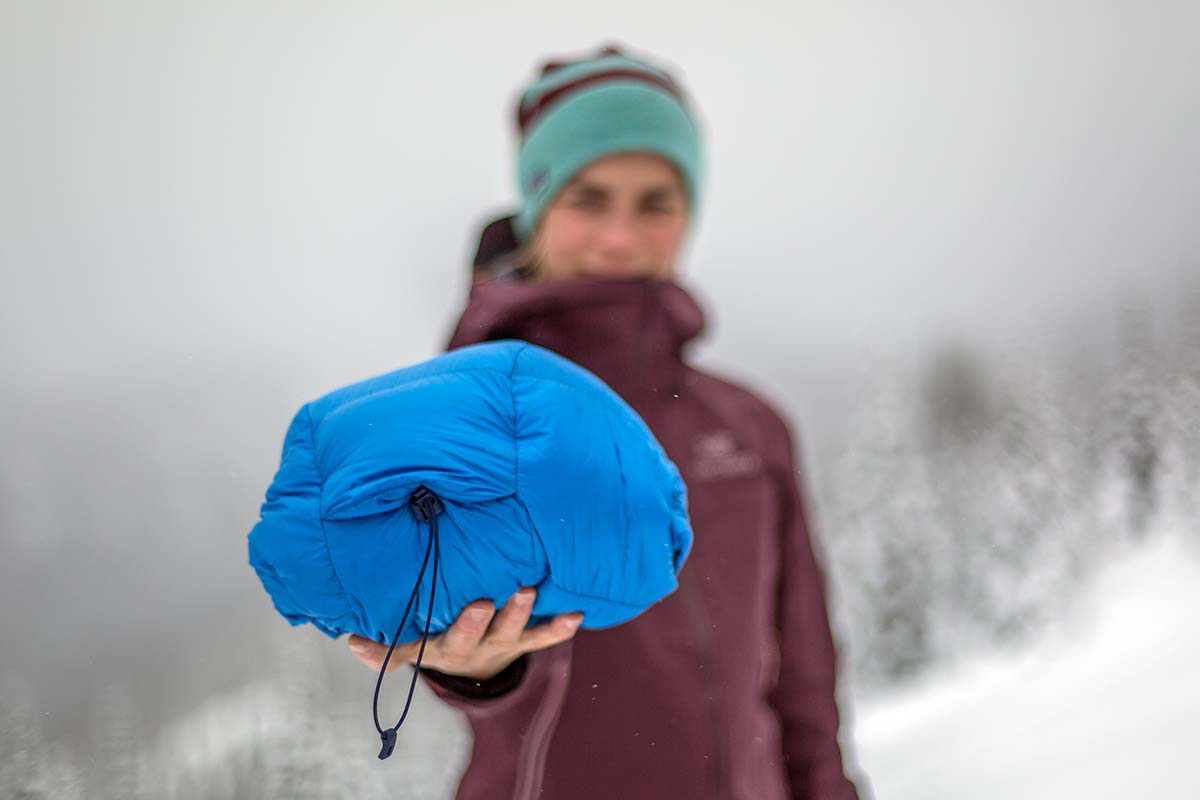 Water-Resistant vs. Waterproof
Down loses its ability to insulate when wet, and therefore all jackets on this list offer some protection against precipitation. Most jackets are water-resistant or water-repellant, meaning they have a tightly woven face fabric and durable water repellant (DWR) coating that will bead up and shed light moisture. If you combine that with treated or hydrophobic down—a treatment added to the down itself that reduces water absorption and helps it dry faster—you have yourself a pretty effective system even in wet and heavy snow.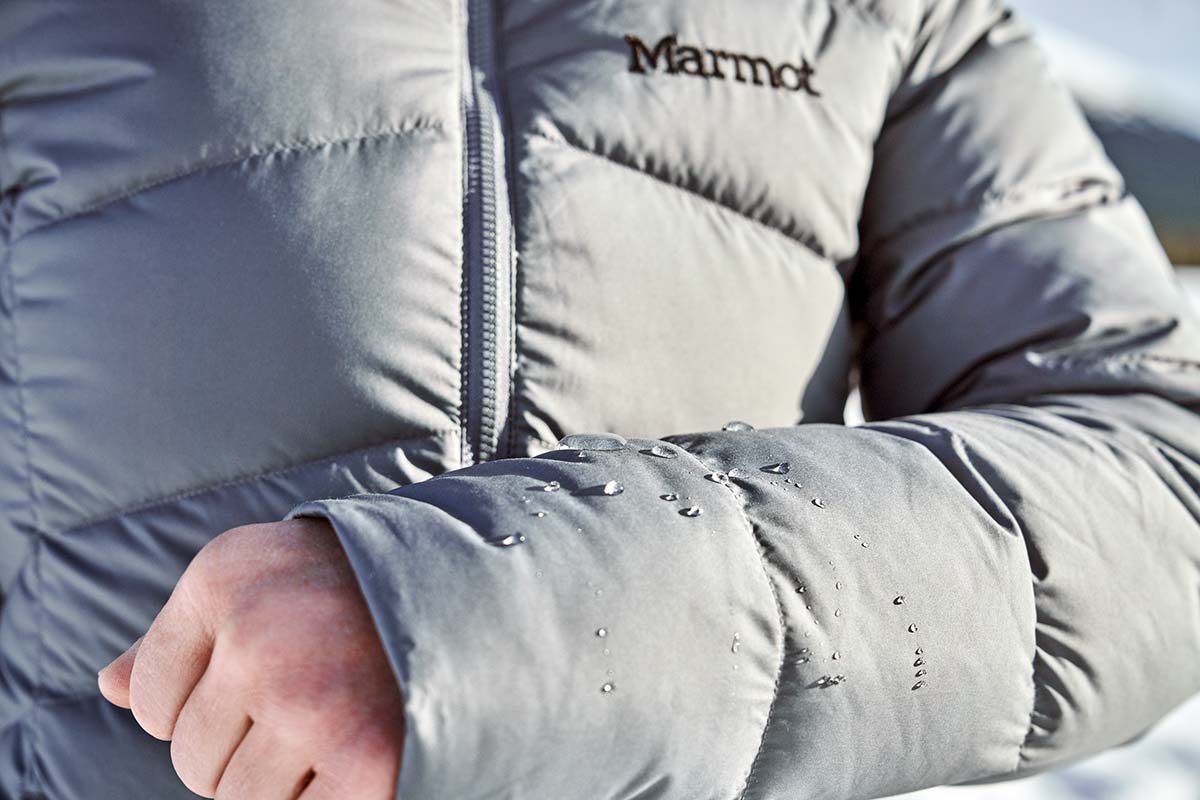 The reality is that if you'll be wearing a full-on winter jacket, it's unlikely you'll require complete waterproofing. Water-resistant shells, like what you get with the Marmot Montreal and Patagonia Jackson Glacier Parka, offer plenty of protection in freezing, snowy conditions. If you do need complete waterproofing, however, there are some options on the market including the Arc'teryx Patera and The North Face Arctic. The Patera has fully taped seams and a waterproof Gore-Tex shell for staying dry if it happens to be 34 degrees and pouring rain.
 
Wind Protection
Exposure to wind can make an otherwise freezing winter day even more unbearable. In terms of the wind resistance of a winter jacket, a number of factors come into play including the type and thickness of the shell, amount and distribution of the insulation, and fabric of the liner. In particular, the shell itself matters most: on performance jackets, you'll see names like Gore Windstopper or Pertex for excellent wind resistance at low weights, and casual coats often block the wind by the sheer thickness of the face fabric. In the end, the truth is that all of these jackets do a respectable job at keeping wind and the other elements at bay. Midweight and lightweight jackets are much less substantial, and you run the risk of catching a cold breeze through the jacket itself, but this list is composed of heavyweights that all should be considered highly wind-resistant.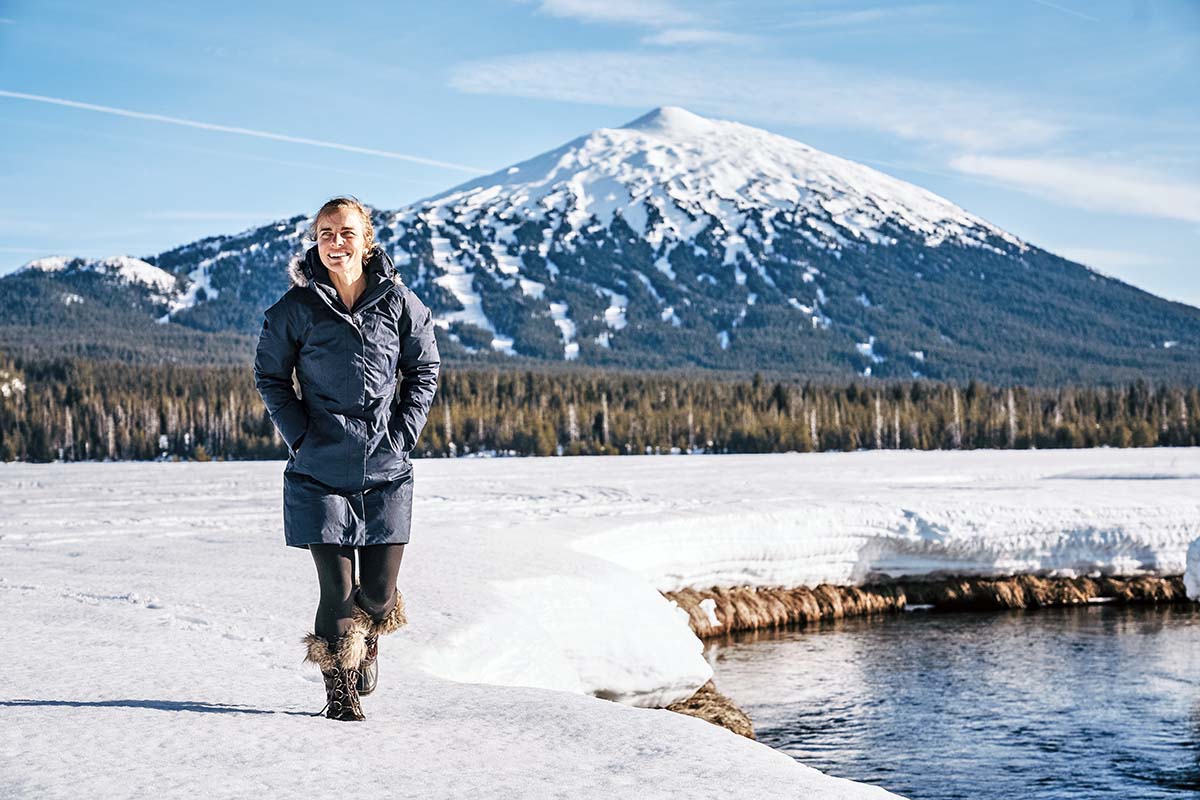 Hood
Perhaps more than any other type of jacket, the hood matters a lot with a winter coat. First, the hood almost always is going to have the same type of insulation as the rest of the jacket, so premium down in the body of the coat means excellent warmth for the weight in the hood. Second, a good cold-weather hood can be adjusted and tightened around the head snugly so that wind doesn't enter or blow the hood off your head (many casual jackets will have an additional fur brim—often removable—for sealing in warmth, while most technical models have storm flaps around the collar to block out cold air). Finally, many performance-oriented jackets have helmet-compatible hoods, which are necessary for mountaineering and climbing. Helmet compatibility makes the hood larger and slightly less desirable for wearing without a helmet, but it isn't a deal-breaker for us as long as the hood cinches down evenly.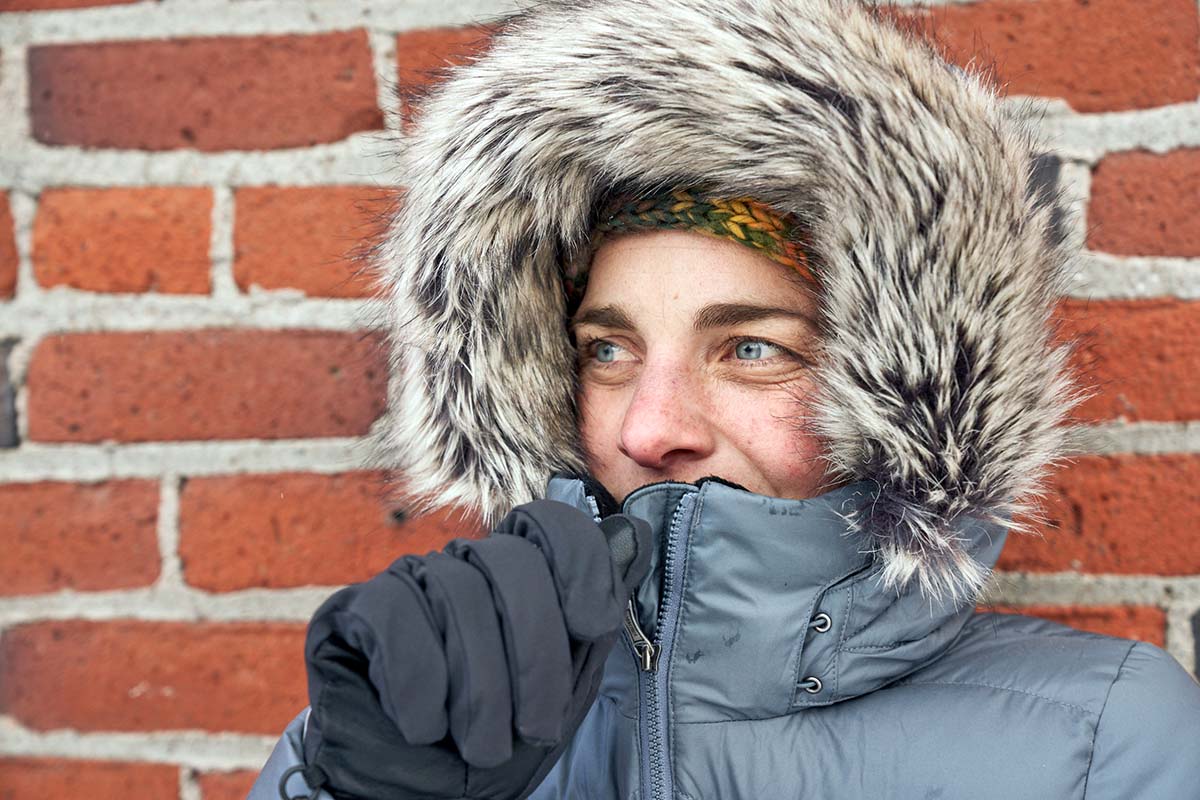 For use on mild-weather days, some prefer the option to remove the hood from their winter coat altogether. Simply put, these hoods are bulky and can be annoying if they're just sitting along the back of your head. Most designs have a zipper located just below the collar to make it easy to both remove and put back on. The feature does add weight and bulk, so you'll typically find it on casual winter jackets. Whether this is a priority will come down to personal preference, but it could be a difference maker in the jacket you select. For example, the Marmot Montreal has a removable hood, while the Canada Goose Expedition Parka does not (however, you can remove the fur ruff).
Back to Our Women's Winter Jacket Picks  Back to Our Women's Winter Jacket Comparison Table
Read More From Switchback Travel