Let's face it: it rains, and sometimes it pours. Thankfully, a good rain jacket can provide a solid layer of defense against the elements. The women's options here range from $60 to $400 and run the gamut from everyday models with urban styling to breathable jackets for hiking and more. We've divided our picks into three categories—daily use, hiking, and performance—but regardless of their end use, all of these rain jackets have what it takes to perform well in a rainstorm: waterproof membranes, seam sealing and DWR coatings, and secure hoods. For more information, see our comparison table and buying advice below the picks.
 
---
Our Team's Rain Jacket Picks for Women
---

Best Overall Women's Rain Jacket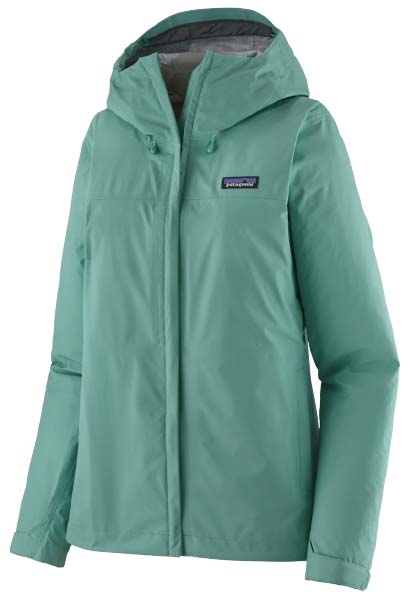 Weight: 12.5 oz.
Category: Daily use/hiking
Waterproofing: 3L H2No Performance Standard
What we like: Affordable 3-layer performance in an everyday jacket.
What we don't: Heavier than the competition and no waterproof zippers.
The best overall rain jacket balances premium weather protection, versatility (for both everyday use and hiking), and great quality and durability—all at an affordable price point. By all measures, the Patagonia Torrentshell 3L stands out among the crowd. On one hand, the Torrentshell is clearly intended for everyday use with a reasonable $149 price tag, roomy fit, and feature set that doesn't skimp on convenience. On the other, it boasts a 3-layer H2No Performance Standard construction, putting its weather protection on par with true performance pieces. To top it off, Patagonia claims the Torrentshell 3L "never gets old," which speaks both to its classy, clean styling and ultra-durable 50-denier face fabric. 
The Torrentshell 3L is remarkably versatile, but it's certainly not the most technical option here. You don't get hipbelt-compatible pockets or sleek water-resistant zippers, and the 12.5-ounce weight is on the heavy end. Plus, while the fit of the Patagonia is slightly trimmer than full-on casual models (like the REI Co-op Rainier below), it's roomier than performance-focused jackets like Arc'teryx's Beta LT. But all in all, for $149, you'd be hard-pressed to find a more protective and breathable jacket that looks this good. Keep in mind the Torrentshell 3L is available in a parka-length "City Coat" version too, which offers even more coverage and has great urban styling.
See the Women's Patagonia Torrentshell 3L
Best Casual Rain Jacket for Women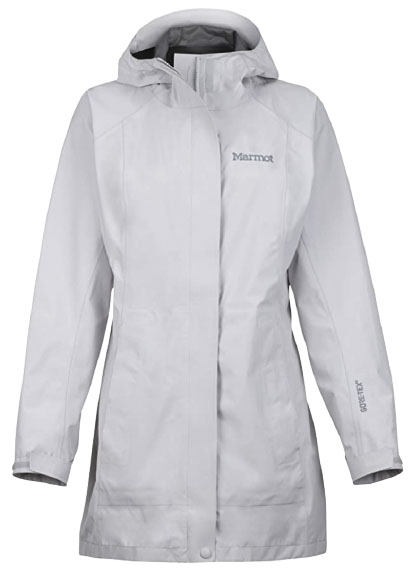 Weight: 15.2 oz.
Category: Daily use
Waterproofing: 2L Gore-Tex Paclite
What we like: Urban style with few sacrifices in performance.
What we don't: Not versatile and fairly short for a parka-style jacket.
For those who live in wet climates like Washington's west side or the coast of Maine, a rain jacket is a wardrobe staple for at least half the year. While some women appreciate the versatility and savings of a one-quiver design like the Torrentshell 3L above, others will find the added coverage and style of a thigh-length jacket to be well worth the investment. Unless we're counting ounces or need to stay highly mobile, we love the extra protection for walking in the rain, sitting down on wet surfaces, and pairing with clothing like bulky sweaters, blazers, and dresses. And despite their casual intentions, many parka-style jackets don't sacrifice much in the way of performance, with fully waterproof constructions and high-quality finishes. 
The Marmot Essential is one of the most well-loved parka-style raincoats around, and for good reason. The styling of the Essential is top-notch, with a trendy mid-thigh cut (33-in. center back length), flattering shape, and simple hood with a single adjustment. The two-way zipper is great for sitting without fabric bunching in your lap, and the jacket holds its own in terms of technical features too, with three large pockets, a premium Gore-Tex Paclite membrane, a supple face fabric, and sub-1-pound weight (impressive for the amount of coverage you get). You can save a lot of money with a jacket like the REI Co-op Rainier Long Line, but for the best mix of elegance and performance, the Marmot Essential gets our vote. And if you're looking for something a little longer, check out the KÜHL Jetstream Trench or The North Face City Breeze below.
See the Women's Marmot Essential
Best Performance Rain Jacket for Women
Weight: 12.3 oz.
Category: Performance/hiking
Waterproofing: 3L Gore-Tex
What we like: Strong combination of weight, breathability, and comfort.
What we don't: The priciest rain jacket on our list at $400.
Based in British Columbia's rain-soaked coastal mountains, it should come as no surprise that Arc'teryx specializes in waterproof clothing. Their Beta LT is a high-end offering that blurs the lines between the hardshell and rain jacket categories. Featuring a high-end, 3-layer Gore-Tex construction, the Beta LT delivers trustworthy all-around protection for 4-season backcountry exploration. But with a trimmed-down and relatively thin 40-denier face fabric, small packed size, and useful features like pit zips, it can pull double duty for casual hiking, travel, and even around town (especially in a rainy area like the Pacific Northwest). And as we've come to expect from the brand, all of the Beta's details are nicely sorted, with premium seam taping and a fit that is reasonably trim but roomy enough for layering.
What's not to like with the Beta LT? Most significantly, the price: At $400, it's the most expensive rain jacket here and arguably overkill for many summer backpacking scenarios. By opting for the more casual Torrentshell 3L above, you save $250 with only small compromises in protection and long-term durability. But the Beta does undeniably offer a number of performance-related benefits and useful extras like a water-resistant front zip and a helmet-compatible hood. For those who get out a lot and aren't wanting to spring for a full-on Gore-Tex Pro hardshell, it's a nice middle ground. Finally, casual users will want to check out Arc'teryx's new Beta jacket, which checks in at just 9.5 ounces and features a 3-layer Gore-Tex with a C-KNIT backer, low-profile hood, and more relaxed fit.
See the Women's Arc'teryx Beta LT
Best Women's Budget Rain Jacket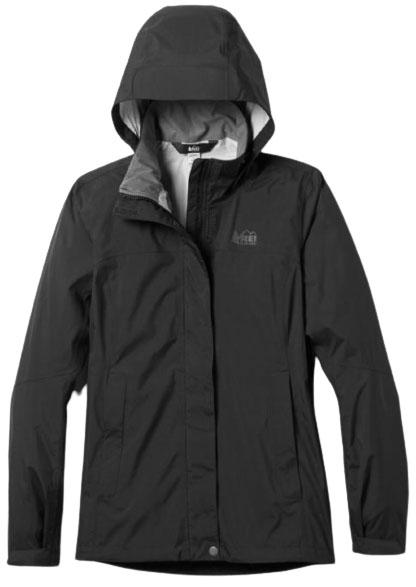 Weight: 11.4 oz.
Category: Daily use/hiking
Waterproofing: 2.5L Peak
What we like: A great value and also available in a parka-style design.
What we don't: REI's Peak membrane is no match for Gore-Tex.
Almost every manufacturer here offers an entry-level rain jacket that clocks in around the $90 to $100 price point, and REI Co-op's Rainier is the best-executed of the bunch. This is a great value for penny pinchers who don't want to sacrifice too much performance, with ample moisture protection and wind resistance via a 2.5-layer Peak membrane and nylon ripstop shell, pit zips to keep air flowing, and nice touches like a packable build and fleece-like liner at the collar. It's certainly not the lightest or sveltest jacket here, but for just $90 (and less if you hold out for one of REI's popular sales), the Rainier is truly a steal.
That said, there are a number of shortcomings that come baked into such a budget-oriented design. Most significantly, REI's in-house Peak membrane is no match for Gore-Tex's Paclite, meaning that the Rainier suffers in terms of breathability and is quicker to wet out in a sustained rain. What's more, most women will find the Rainier to be rather roomy (and even boxy), while premium jackets from brands like Arc'teryx and Patagonia feature more tailored patterning that's both more flattering and better for mobility. But for light showers and quick errands in a downpour, the Rainier will get the job done. And if you want more coverage, check out the Rainier Long Line ($119), which features below-the-butt coverage and fun accents like an adjustable waist cinch and snap vents at the hem.
See the Women's REI Co-op Rainier
Best Stretchy Rain Jacket for Women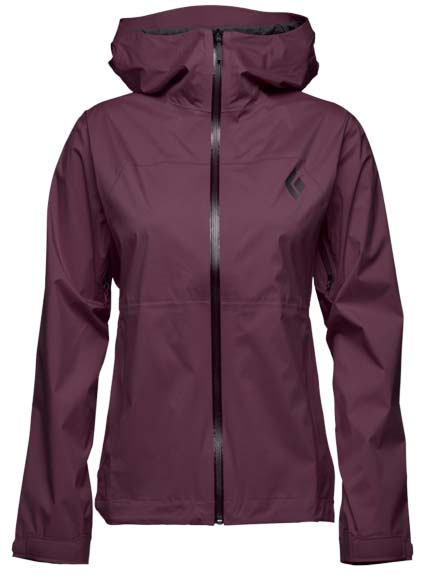 Weight: 9.5 oz.
Category: Hiking/daily use
Waterproofing: 2.5L BD.dry
What we like: Stretchy build offers great comfort and mobility.
What we don't: BD.dry is not as breathable as Gore-Tex.
Black Diamond's performance rainwear collection hasn't been around for long, but it's already expanded to include four high-quality jackets, ranging from the budget Treeline to the ultra-durable and protective Liquid Point. The mid-range StormLine Stretch is our favorite of the bunch, with a flexible 2.5-layer construction that offers a soft next-to-skin feel and more "give" than standard (read: non-stretchy) designs. We're seeing more stretch-woven waterproof shells hit the market each year and are big fans of this added tech for active pursuits like hiking, backpacking, and fishing. True to its adventure-ready intentions, the StormLine Stretch also comes well-equipped with two hand pockets, a coated front zipper, a helmet-compatible hood, and adjustable cuffs and hem.
Despite its impressive resume in terms of materials and features, the StormLine Stretch is still competitively lightweight (our women's XS was 8.3 oz.), and the price is right at just $159. In terms of fit, our female tester thought the shell was "spot-on," with just enough room for layers and slightly long sleeves that offer great coverage and mobility for biking (on the other hand, our male tester found the men's jacket to be notably large and boxy). Keep in mind that you give up a bit of breathability with BD's 2.5-layer proprietary membrane, but unlike more streamlined jackets, you do get pit zips for venting. And if you like the integrated stretch but want an even more streamlined piece, BD's FineLine is over 1.5 ounces lighter but gives up valuable features like hand pockets, adjustable cuffs, and pit zips... Read in-depth review
See the Women's Black Diamond StormLine Stretch
Best of the Rest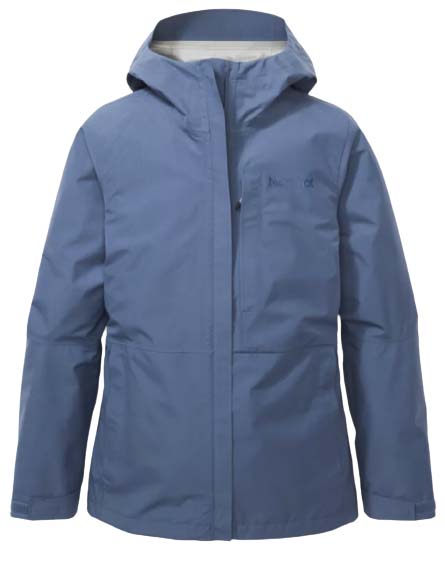 Weight: 12.7 oz.
Category: Hiking/daily use
Waterproofing: 2.5L Gore-Tex Paclite
What we like: Great value and 100% recycled face fabric.
What we don't: Heavy, boxy, and doesn't dry out quickly.
A versatile rain jacket at a great price, the Marmot Minimalist has hovered near the top of our list for years. The shell has a premium look and feel that immediately sets it apart from entry-level designs, and you get a substantial hood and bill that can withstand heavy rain and wind. On the inside, the lining is less plasticky than most and doesn't feel as clammy if you start to get warm while walking or hiking. And just about all of the features are reliable and trustworthy, from the burly and confidence-inspiring zippers to the thick cinch cord and easy-to-use toggles at the hem and hood. Finally, it's worth noting that the Minimalist now features a 100-percent-recycled polyester face fabric and PFC-free DWR, making it a strong contender for those prioritizing a sustainable design.
All that said, the Minimalist has started to show its age, especially among newer jackets like the Patagonia Torrentshell and BD StormLine Stretch above. We would prefer a water-resistant main zipper at this price (you even get one with the $159 StormLine Stretch), and the Minimalist's fit is much more similar to the Rainier above (read: boxy and loose) than most trim, modern designs. Finally, while the Minimalist got an ounce lighter with the most recent update, it's still too much jacket for most weight-conscious hikers. But for a tough, outdoor-ready rain shell that wears well every day of the week, the Marmot has proven itself reliable, year after year.
See the Women's Marmot Minimalist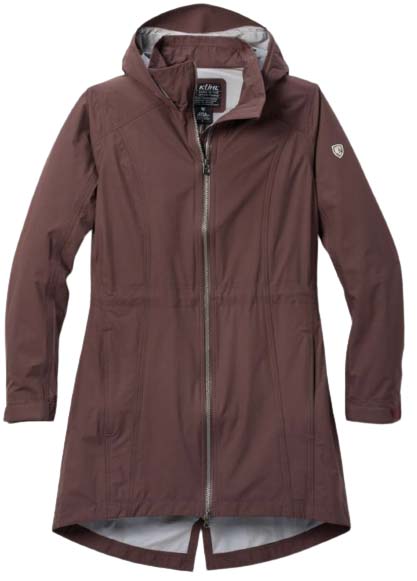 Weight: 10.6 oz.
Category: Daily use
Waterproofing: 2.5-layer laminate
What we like: A great value and fun styling.
What we don't: Kuhl's in-house membrane isn't super premium.
You can spend upwards of $350 on a parka-length rain jacket, but the KÜHL Jetstream Trench Coat can get the job done for just $199. This jacket checks the boxes for casual users, including high marks for both style and performance. With a 2.5-layer construction, taped seams, and a DWR finish, you get ample protection from steady rain, and features like a two-way zipper and split hem offer great mobility whether you're sitting, standing, or riding a bike. KÜHL also nailed the fashion part of the formula with the Jetstream, which features an elegant drop-tail hem, cinchable waist, and 34-inch length that falls just above the knee.
What do you give up with the low-priced Jetstream Trench Coat? Most notably, the KÜHL can't match jackets like the Patagonia Torrentshell City Coat and Arc'teryx Codetta (below) in terms of premium finishes, and its materials fall short with a generic 2.5-layer membrane. This translates to compromised weather protection and breathability, although most casual users will find the Jetstream to be fully sufficient for running errands or commuting in the rain. Finally, we appreciate the ability to tailor the waist cinch, which means the KÜHL should accommodate a variety of body shapes. All told, the high-value Jetstream offers a great combination of both style and protection for daily use.
See the Women's KÜHL Jetstream Trench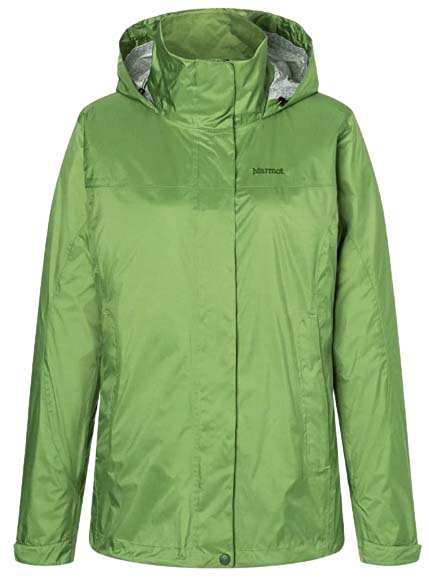 Weight: 9.2 oz.
Category: Hiking/daily use
Waterproofing: 2.5L NanoPro
What we like: Great price for a solid all-around design; wide range of colors and sizes.
What we don't: Few performance features and delamination issues are common.
In the world of rain jackets, Marmot just seems to get it, delivering good quality and performance at reasonable price points. The PreCip is their leading entry-level offering that's reached iconic status among hikers, backpackers, and everyday wearers. For years, the formula has stayed largely the same: a proven 2.5-layer waterproof construction that does well in light to moderate conditions, seam taping, and a decently low weight. You also get useful backcountry features like pit zips and a stuff pocket, and the adjustable hood provides full coverage in a rainstorm. Finally, the aptly named PreCip Eco now features a 100-percent recycled nylon shell and a PFC-free DWR finish. For $100, there's not much more you can ask for from a rain jacket.
Where does the PreCip Eco fall short of the also-budget-friendly REI Rainier above? The two jackets share a good number of features, including similar hood designs, pocket layouts, and even smaller touches like mesh-lined pockets and Velcro covering the center zipper. We give the edge to the $10-cheaper REI for its more substantial face fabric and fleece-like collar lining, but it's a close call between the two, and many hikers might prefer the Marmot's lighter and quick-drying build. Again, keep in mind that you get what you pay for with these budget designs—those prioritizing features like breathability, durability, and fit will need to spend up. But for an affordable daily driver that's proven itself time and time again, it's hard to go wrong with the PreCip Eco.
See the Women's Marmot PreCip Eco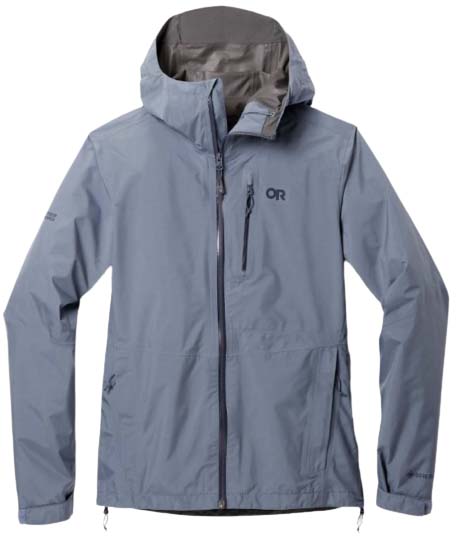 Weight: 11.7 oz.
Category: Hiking/daily use
Waterproofing: 2.5L Gore-Tex Paclite
What we like: Performance-oriented fit and features at a decent price.
What we don't: Not everyone will love the TorsoFlo vents.
We love what Outdoor Research has done with the Aspire II—it's a do-it-all rain jacket that can even work as a lightweight shell for spring skiing. Like the Marmot Minimalist above, it features a Gore-Tex Paclite membrane, offering the clean feel of a 3-layer jacket (read: no hanging liner) in a thinner and more supple 2-layer design. But unlike the Minimalist, the Aspire takes on a bit more of a performance-oriented slant, with a water-resistant front zip, trimmer fit, and reasonable 11.7-ounce weight. The jacket's truly unique feature is its full-length side zips that extend the standard pit zips all the way to the bottom hem. When fully unzipped, this creates a poncho-like opening that can ride over your backpack hipbelt, allowing unencumbered ventilation while still retaining full waterproof coverage.
The Aspire was updated for this spring, with modernized colorways, a slightly longer hem, and availability in a larger range of sizes (from XS to 3X). All told, this jacket slides into a nice middle ground in terms of cost and design, offering a much more performance-oriented fit and feature set than budget offerings without the premium price point of jackets like the Beta LT and Storm10. It's true that 2.5-layer Paclite construction is still slipperier and more prone to clamminess than a true 3-layer shell, but this won't be too much of an issue for those layering over a long-sleeved baselayer or midlayer. If you don't mind the polarizing nature of the TorsoFlo vents, the new Outdoor Research Aspire II is a great value and an excellent quiver-of-one jacket for backpacking, spring skiing, and daily use.
See the Women's Outdoor Research Aspire II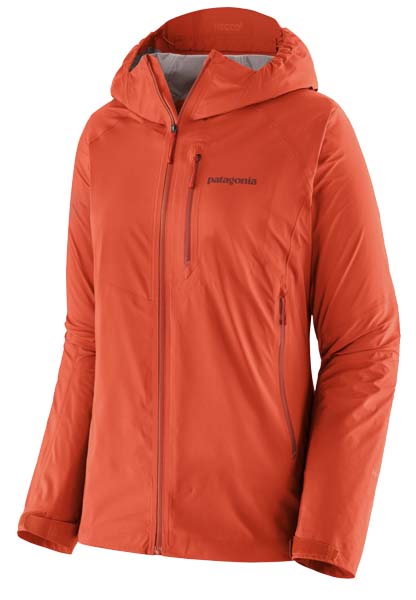 Weight: 7.4 oz.
Category: Performance/hiking
Waterproofing: 3L H2No Performance Standard
What we like: Great performance in a minimalist package.
What we don't: Not great for daily use and less of an all-rounder than the Beta LT above.
Patagonia's Storm10 jacket uses the same 3-layer H2No Performance Standard membrane of our top-ranked Torrentshell, but that's about all that the two jackets have in common. At double the MSRP, nearly half the weight (it's 5.1 oz. lighter, to be exact), and a significantly thinner shell (20D vs. 50D), the Storm10 is an entirely different beast. This is a performance rain jacket at its finest: it's impressively waterproof, breathable despite the lack of pit zips (the 20D shell fabric helps), and features an alpine-oriented design with watertight zippers, a helmet-compatible hood, hand pockets that are accessible over a harness or hipbelt, and a slim fit.
The Patagonia Storm10 gives the Arc'teryx Beta LT above a run for its money as our top performance pick, but in the end, the two jackets have slightly different intentions. Whereas the Beta features a hard-wearing 40-denier shell and prioritizes a stylish aesthetic that translates well to daily use, the Storm10 is trimmed down and more suitable for alpine environments. You don't get a ton of room for layering (we can fit a thin midlayer or insulated jacket underneath, but not much more), the 20-denier shell isn't built for everyday use, and the sticky interior places function first and comfort second. In the end, the Beta LT is the more well-rounded pick for most performance-oriented hikers, but the Storm10 is worth a look for those focused more on weight and packability.
See the Women's Patagonia Storm10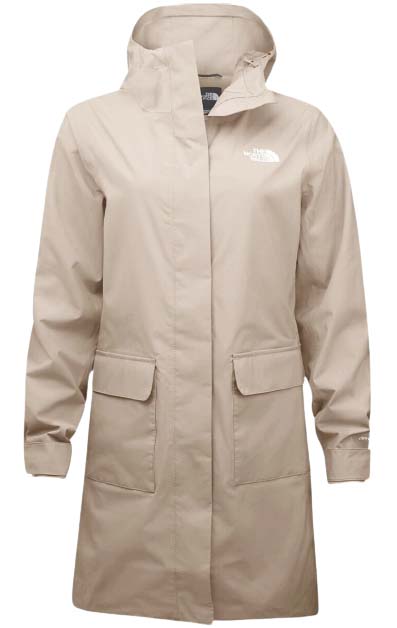 Weight: 10.9 oz.
Category: Daily use
Waterproofing: 2L DryVent
What we like: An inexpensive yet stylish parka for casual use.
What we don't: Poor breathability and too warm for mild climates.
If the Marmot Essential and KÜHL Jetstream above caught your eye, it's also worth checking out The North Face's City Breeze Rain Parka II. This is a much-loved parka-length design from a respected outdoor brand, merging performance and protection with everyday appeal. The City Breeze features a slightly longer cut (35.75 in. vs. the Essential's 33 in. and the Jetstream's 35 in.), along with classic touches like front patch pockets with flap closures, elastic at the back waist, and an oversized placket covering the front zip. It all adds up to a super stylish and decidedly casual design for rainy days around town.
The City Breeze Rain Parka II is a steal at just $179, but it's important to know what you give up with such a budget design. In this case, the primary sacrifice is breathability: The 2-layer DryVent membrane can't compete with higher-end offerings from Gore-Tex, and the jacket's hanging polyester liner further impedes airflow away from your body. Further, the jacket will be much more prone to wetting out in consistent rain than some of the more premium designs here. As a result, we wouldn't recommend the City Breeze for anything more than casual walks around the block, nor is it a great choice for rainy days in warmer climates like Hawaii or the south. But for wet and cold commutes, errands, and dog walks, it's all the protection most people need in a stylish, easy-going design.
See the Women's The North Face City Breeze II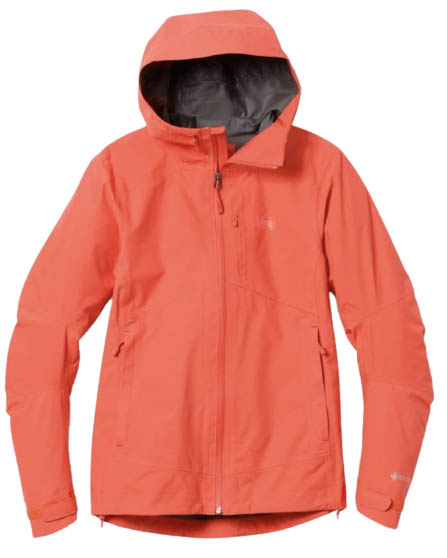 Weight: 10.6 oz.
Category: Hiking/daily use
Waterproofing: 2L Gore-Tex Paclite
What we like: Excellent price for a Gore-Tex shell.
What we don't: Can't match the everyday appeal of the Marmot Minimalist above.
Joining the budget-oriented Rainier above, the performance-minded XeroDry GTX is our second and final pick from REI's rain jacket collection. The Co-op's in-house offerings are often great values, and the XeroDry is no exception, boasting a well-regarded Gore-Tex Paclite construction for just $159. What's more, its 2-layer build helps keep weight in check at 10.6 ounces without compromising on useful features like two hand pockets and a chest pocket, adjustable cuffs, and a climbing helmet-compatible hood. All told, the XeroDry is a nice option for anything from daily commuting to extended hiking trips.
We mentioned that the XeroDry is a great value, and for reference, the next-most-affordable Paclite model is Marmot's Minimalist above at $189. However, in saving $30, you do give up some of the Minimalist's everyday appeal, as the XeroDry's exterior lacks the classy looks and premium hand feel of the Marmot. And from a performance perspective, the hand pocket vents on the REI aren't as effective for dumping heat as the Minimalist's pit zips (plus, opening them up means you can't rely on the pockets for storage). These downsides are enough to drop the XeroDry a bit on our list, but we still like its combination of features, protection, and price... Read in-depth review
See the Women's REI Co-op XeroDry GTX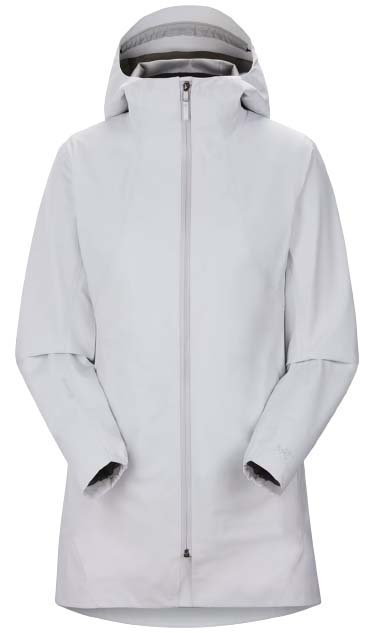 Weight: 13.6 oz.
Category: Daily use
Waterproofing: 3L Gore-Tex 
What we like: Premium quality and style.
What we don't: Expensive; noted issues with non-adjustable cuffs.
We can always count on Arc'teryx for top-notch raingear, and their urban-inspired jackets are no exception. The Codetta Cinch here merges premium 3-layer Gore-Tex waterproofing with a stylish parka-length design, giving you the utmost in protection for rain-soaked days close to home. Unsurprisingly, the fit and finish are impeccable, including a playful cut that falls below the hips, drop-tail hem, cinched back, and a trench-coat-style flap that adds style and ventilation. And with a tricot fleece backer, the Codetta is soft next to skin and surprisingly easy-wearing, especially compared to the more plastic-y feel of many rain shells.
However, like many Arc'teryx products, the Codetta Cinch is no small investment at $349. It's hard to knock the premium feel of 3-layer Gore-Tex, but it's decidedly overkill for most casual uses, and you can save a lot of money by going with a 2 or 2.5-layer design like the Jetstream or City Breeze above. Even Patagonia's Torrentshell 3L City Coat is significantly cheaper at just $229. And finally, many women have noted issues with the Codetta's fit, including the non-adjustable cuffs being too tight and strange arm sizing (in general, parka-length designs can be a bit more finicky in terms of fit, so we recommend trying this one on before buying). But if you're in the market for an elegant parka to wear on rainy days in the city, you'd be hard pressed to find a more premium design.
See the Women's Arc'teryx Codetta Cinch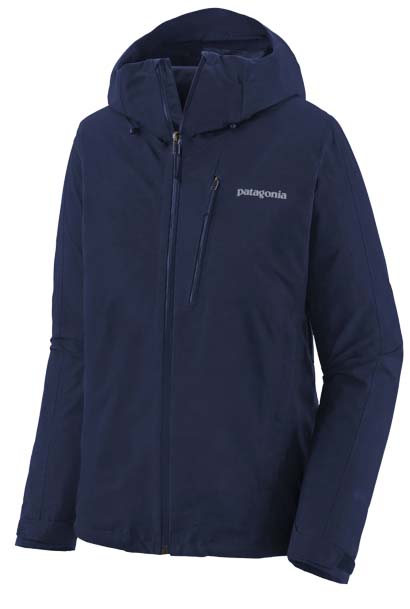 Weight: 13.1 oz.
Category: Performance
Waterproofing: 2.5L Gore-Tex Paclite Plus
What we like: Durable shell with premium waterproofing.
What we don't: Heavy and bulky.
The Torrentshell 3L tops our list with its impressively balanced design, but for a step up in performance it's worth checking out the Calcite here. This jacket provides a robust defense against mother nature, pairing Gore-Tex's 2.5-layer Paclite Plus with a durable 75-denier plain-weave polyester. And while the Torrentshell is decidedly casual, the Calcite tacks on an alpine-helmet compatible hood and a watertight front zip, making it a better choice for more technical endeavors. 
But is the Calcite worth its $249 price tag? To be sure, Gore-Tex's Paclite Plus is arguably the most premium membrane used in rain jackets, and more durable, comfortable, and breathable than standard Paclite (since the discontinuation of Arc'teryx's Zeta SL, the Calcite is the only jacket here with this technology). That said, the Calcite's performance focus is fairly overkill for everyday use, and summer hikers will with for a thinner shell. But for those looking for a robust, hard-wearing rain jacket that offers protection almost on par with a hardshell, it's hard to knock Patagonia's premium design... Read in-depth review
See the Women's Patagonia Calcite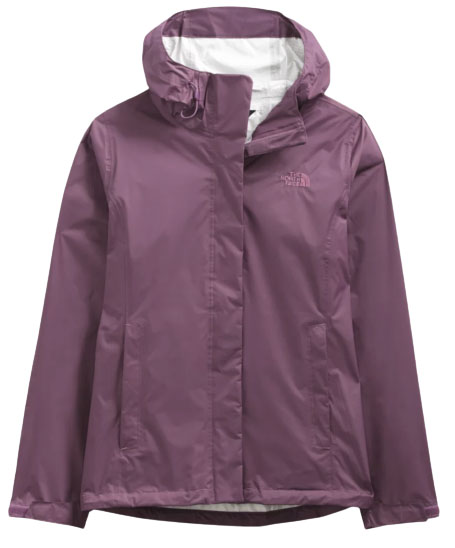 Weight: 10.6 oz.
Category: Daily use/hiking
​Waterproofing: 2.5L DryVent
What we like: Another versatile rain jacket for under $100.
What we don't: Falls a little short in hood design and zipper quality.
The North Face's entry in the popular $100 rain shell category is the versatile Venture. Like the Marmot PreCip Eco and REI Co-op Rainier above, the TNF features a 2.5-layer construction (in this case, their in-house DryVent technology), pit zips for ventilation, and an adjustable hood. In addition, they've covered the basics for mixed daily wear and hiking uses with a reasonable 10.6-ounce weight, stuff pocket, and layering-friendly fit. Offered in a wide range of colors and backed by the brand's impressive warranty, the Venture 2 is a well-rounded piece at a good price.
Why do we have The North Face Venture 2 ranked here? To start, it has our least favorite hood design among its competitors with less coverage at the top of the head due to its flimsy bill. Second, the main zipper has a coil design that lacks the smooth, confidence-inspiring action of the Marmot and REI. Finally, we've had consistent issues with the jacket wetting out fairly quickly in heavy rainfall (it's also slow to dry). To be fair, however, the Venture 2 is a fully serviceable emergency shell and a step in the right direction from the old Venture, which we found to be very cheaply made. 
See the Women's The North Face Venture 2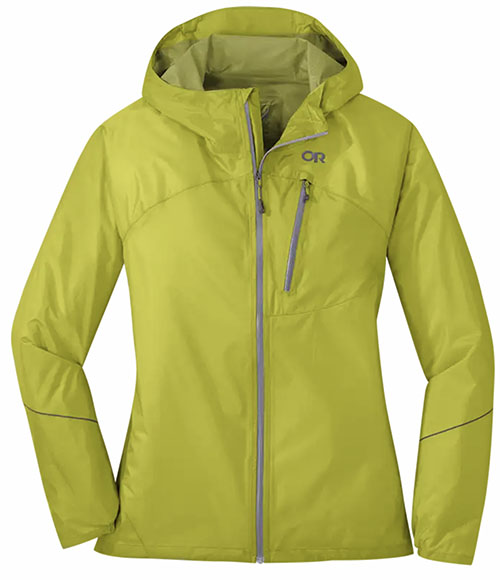 Weight: 5.6 oz.
Category: Hiking
Waterproofing: 2.5L Pertex Shield Diamond Fuse
What we like: A minimalist shell that doesn't compromise much on durability or weather protection.
What we don't: Very few features and the inside can get very clammy.
At a scant 5.6 ounces, the Helium is the lightest jacket here, geared toward performance athletes whose main objective is to move fast and light. As expected, the design is also highly packable: the Helium stuffs into its chest pocket—great for hanging from a harness—and easily disappears into a corner of your pack when not in use. We've tested various iterations of this jacket over the years and have been impressed with how well the Pertex Shield membrane and water-resistant main zipper keep the elements at bay. All in all, the combination of protection and minimalism make the Helium an attractive option as an emergency layer for weight-conscious hikers and backpackers, climbers, mountain bikers, and more.
With the most recent update, OR opted for Pertex Shield with Diamond Fuse technology, which added significant tear-resistance to the thin, 30-denier shell. But the Helium's streamlined nature still has its fair share of downsides, namely in the form of features and breathability. With a decidedly "less is more" mentality, the barebones design includes just one Napoleon chest pocket (no hand pockets), a single-pull hood adjustment, and simple elastic cuffs. Additionally, the lack of pit zips or vents and 2.5-layer construction mean the Helium can get clammy in a hurry. Given these drawbacks, we'll stick with a more traditional rain jacket like the Black Diamond StormLine or Patagonia Storm10 above when rain is in the forecast, but the feathery OR has its place as a dedicated "just-in-case" layer. And keep an eye out for the Helium AscentShell this spring, which ups the ante with a breathable and stretchy 3-layer construction and handwarmer pockets.
See the Women's Outdoor Research Helium Rain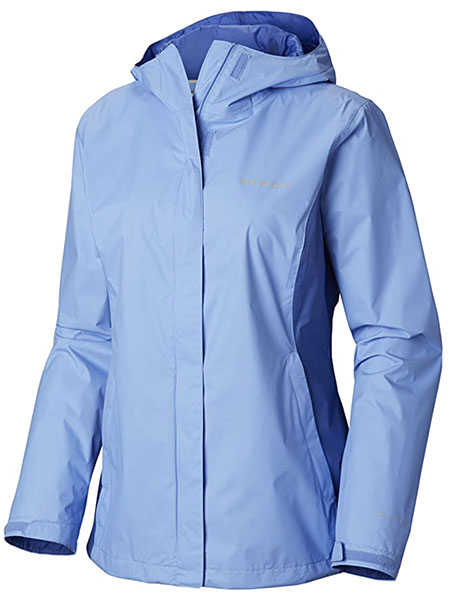 Weight: 14 oz.
Category: Hiking/daily use
Waterproofing: 2L Omni-Tech
What we like: Low price and lots of color options.
What we don't: Cheap construction has a plasticky feel.
Priced around $60, the Columbia Arcadia II is a leading budget rain jacket. While it can't hold a candle to the more performance-focused options on our list, the good seam sealing and a reliable build make the Arcadia a solid option for daily use or as an emergency shell when bad weather isn't in the forecast. The Portland-based brand does value-oriented gear better than most, and the Arcadia includes a number of features you don't often find at this price point: zippered hand pockets, Velcro wrist cinches, and an adjustable hood. It also can be found in a "casual" version, designed with a longer hemline for more coverage and protection against the elements.
How does the Arcadia II compare with designs like the REI Co-op Rainier above? With the Columbia's even cheaper construction, you get 2-layer waterproofing rather than the REI's 2.5 layers, which translates to more bulk and less breathability and durability. Further, while the Rainier has a clean interior that slides smoothly over layers, the Arcadia's hanging mesh liner has a distinctly budget feel and is more prone to snagging. But we wouldn't recommend either jacket for heavy, sustained rain, and it's hard to argue with the Columbia's price (at the time of publishing, it can be found on Amazon for $35).
See the Women's Columbia Arcadia II
Women's Rain Jacket Comparison Table
Women's Rain Jacket Buying Advice
Rain Jacket Categories
If you're in the market for a rain jacket, chances are you have a pretty good idea of how you want to put it to use. Whether you're planning for a summer backpacking trip, looking to replace your daily driver, or intrigued by the weight-savings you can get by stepping down from a hardshell, there's a variety of rain jackets well suited for the job. To help you narrow down your choice, we've broken down our picks into three separate categories: daily use, hiking, and performance. Most of the rain jackets here fit into more than one category, which can be good news for those looking for a versatile shell.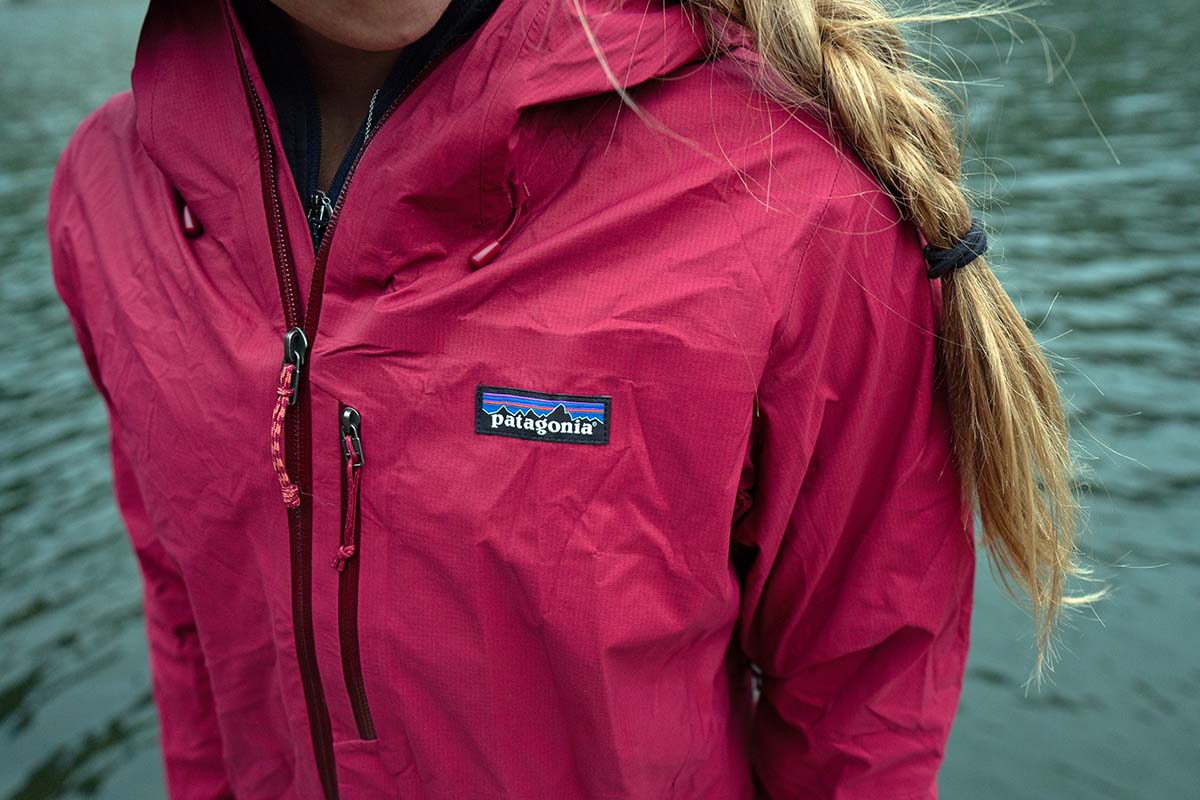 Daily Use
If you live in a wet climate like the Pacific Northwest or New England, a rain jacket is an indispensable part of your daily wardrobe. For everyday activities like commuting, running errands, or walking the dog, you'll likely want to prioritize a casual fit (better for layering over bulky sweaters or blazers) and useful features like hand pockets and Velcro wrist cinches. Your exposure to precipitation is bound to be brief, so many—but not all—daily use jackets use cheaper membranes and materials that prioritize affordability over all-out protection, and weight-savings and breathability can suffer here too. On the other hand, we often see thicker and more durable shell fabrics in these designs, great for withstanding day in and day out use. Our favorite daily use jacket is the Patagonia Torrentshell 3L, which crosses over nicely into the hiking as well. We also include parka-length jackets in this category, which offer a great combination of style and protection but don't parlay as well into backcountry use. 

Hiking
Jackets in our hiking category vie with those in our daily use category for the most common type of lightweight rain jacket. This designation includes big sellers like the entry-level Marmot PreCip Eco all the way up to the $400 Arc'teryx Beta LT. Hiking jackets are built to be light and packable to bring along on the trail, and their performance in sustained rain and wind is admirable—particularly the more substantial Gore-Tex and 3-layer Patagonia models. Fit can be a bit more streamlined than designs in our daily use category (less fabric means less weight) and breathability is generally good—much better than daily use designs but not totally up to snuff with the performance shells below (most models include pit zips, which helps). For day hikes and the odd overnight trip, these shells are a nice middle ground of price and performance.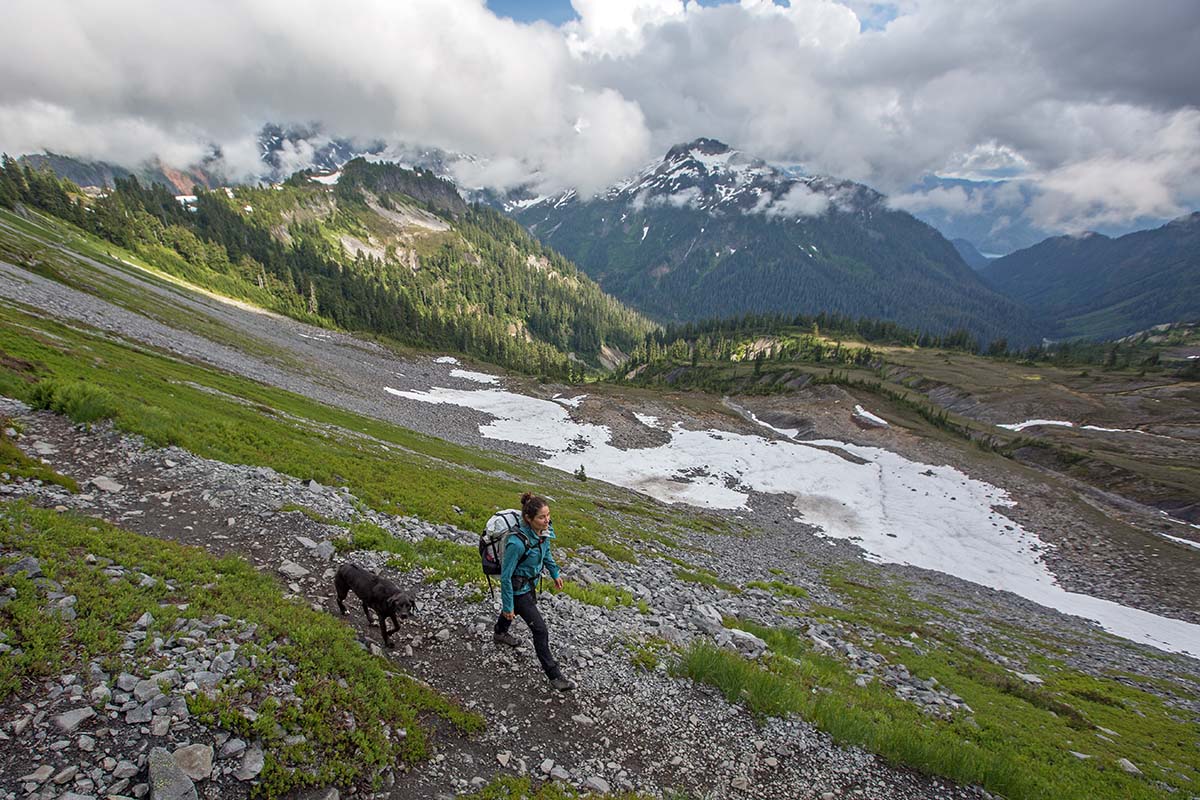 Performance 
Performance-oriented rain jackets are your focused outdoor pieces. One step down from a full-on hardshell jacket, they're made to withstand extreme conditions: the shell fabrics are tough, the waterproof membranes are great breathers, and the hoods are substantial (often helmet-compatible). The interior fabrics don't clam up like jackets in our daily use category, and they often have a premium, soft feel (integrated stretch helps). Notably, performance rain jackets won't wet out like some of the cheaper options, which makes them the best choice for sustained precip and extended trips. They're also impressively lightweight, but the tradeoff is streamlined feature sets (sometimes no pit zips) and trim silhouettes that don't allow much room for layering. Finally, pocket placement can be too high for daily use, but perfect while wearing a climbing harness or backpack. And as expected, price increases with these upgrades—jackets in our performance category are among the most expensive here.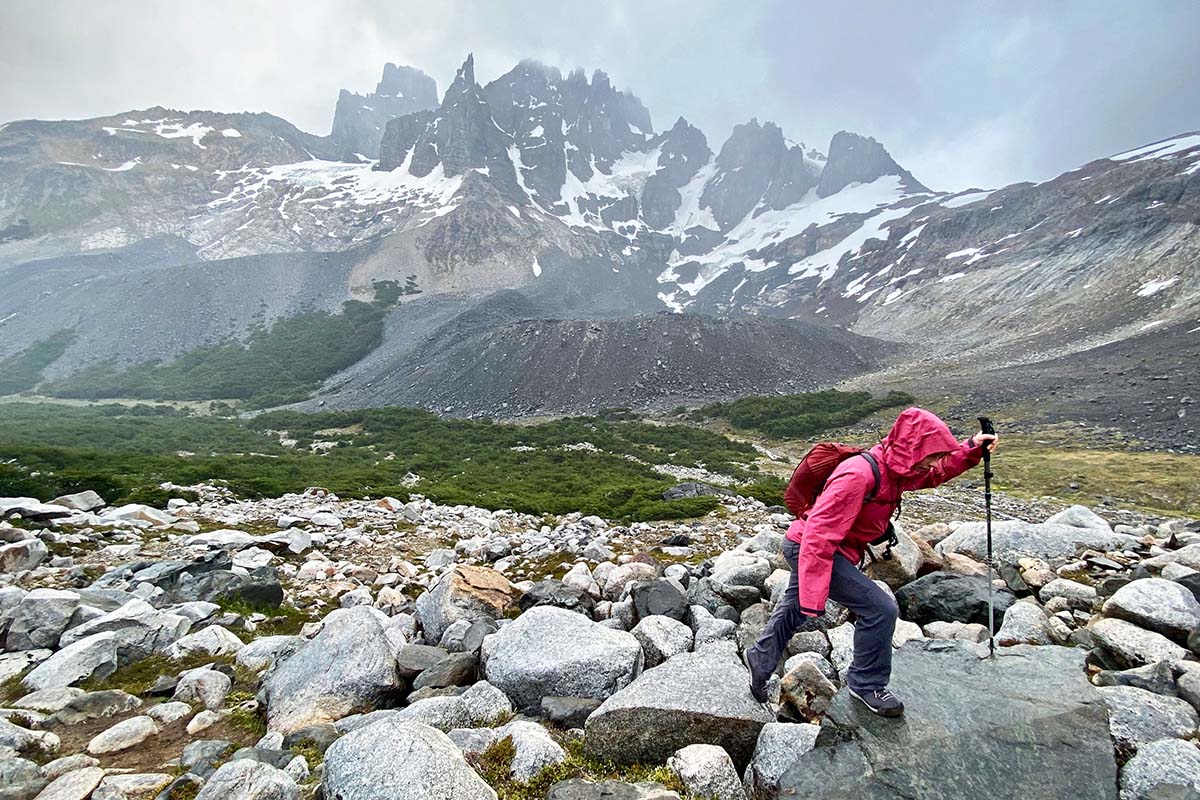 Rain Jacket Waterproofing Features
No piece of outdoor gear offers total protection from outside moisture, but a high-quality rain jacket should be able to keep out a serious squall. The most protective rain jackets (and all of our picks here) employ two main lines of defense against moisture. First is the shell fabric, which features a durable water repellent (DWR) coating that causes water to bead up and roll off rather than soaking through. Second, behind each shell is a waterproof membrane (such as Gore-Tex, BD.dry, and H2No) that is impermeable to water. Finally, some—but not all—jackets add a third next-to-skin layer for comfort, breathability, moisture wicking, and durability. As we'll discuss below, the quality of these features will determine how well your jacket protects against rain.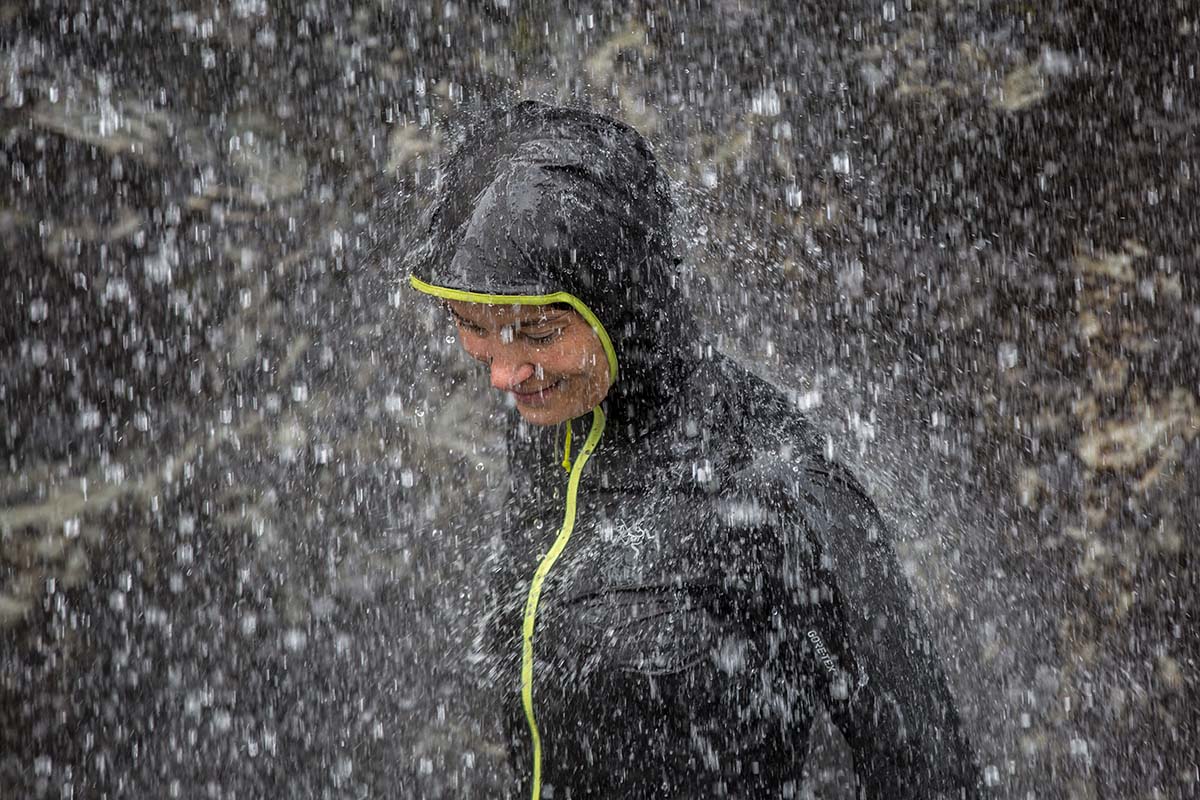 Durable Water Repellent (DWR)
The first line of defense is a rain jacket's durable water repellent finish (commonly referred to as DWR). This coating is applied to the exterior of most rain shells to prevent moisture from absorbing into the face fabric by beading up the droplets. A fresh DWR is an impressive thing and can offer excellent protection in light to moderate conditions, although heavy and sustained rainfall will eventually overwhelm the coating (that's where the waterproof membrane comes into play). Over time, the DWR finish will wear down, although you can keep it fresh by staying on top of maintenance (more on this in our "Care" section below).
A final note related to DWR is that there has been a recent push to move away from traditional coatings that use perfluorocarbons, which is a chemical that has been linked to environmental and health issues. It's still a developing technology and key brands like Patagonia haven't made the full switch yet (for more, here's Patagonia's breakdown of the process), but PFC-free options are becoming more prevalent on the market.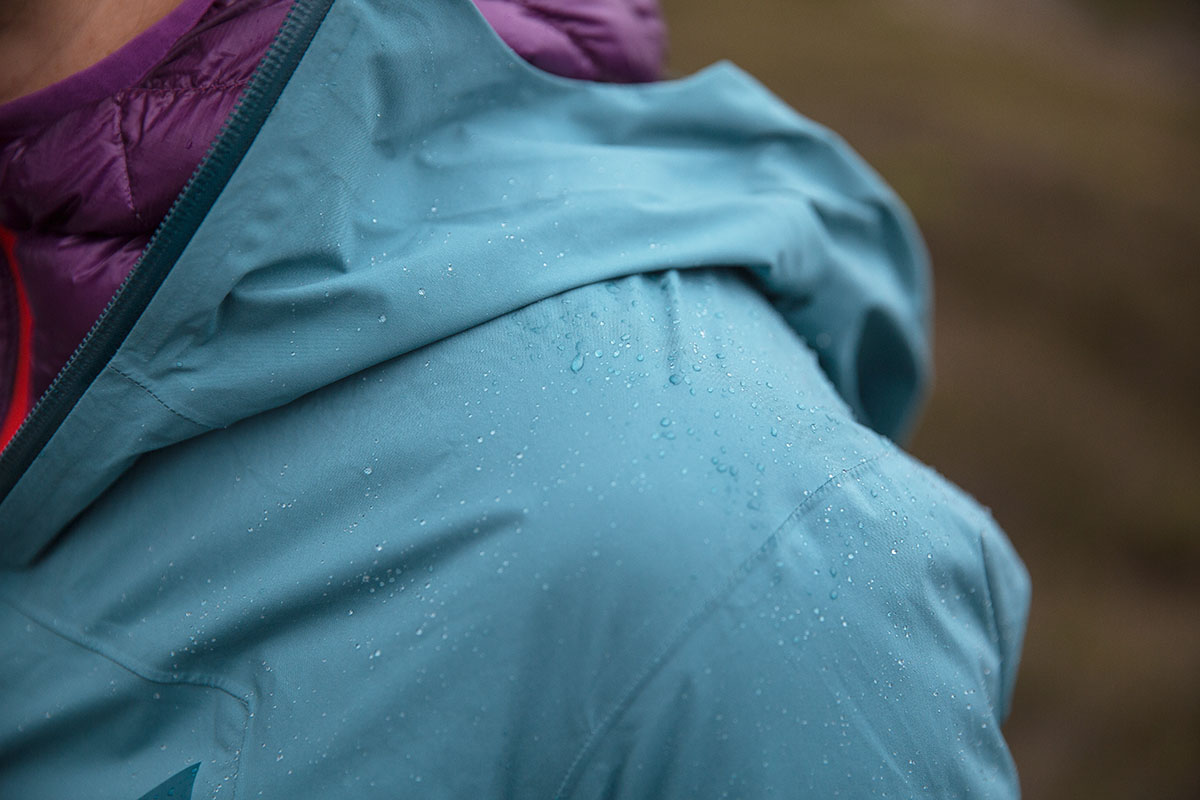 Waterproof Membrane 
More than any other factor, a rain jacket's performance in wet weather is dependent on the quality of its waterproof membrane. This is a fairly complex piece of tech, tasked with being both waterproof and breathable, along with needing to maintain a fairly streamlined build. As a result, we see a range of offerings, in terms of both performance and price. Typically, budget-oriented jackets will feature off-brand or proprietary membranes (like REI's Peak and TNF's DryVent) and simple face fabrics that perform well in brief moisture but can get overwhelmed in sustained rain. On the other hand, the most premium jackets use membranes from Gore-Tex (including Paclite and Paclite Plus), which can withstand a serious squall (Gore-Tex Pro is the most protective, but we only see it used in hardshell jackets). Technologies like Black Diamond's BD.dry, Outdoor Research's AscentShell, and Patagonia's H2No Performance Standard have also held up well in our testing. The quality of seam taping is also important to a membrane's performance, as any uncovered area could cause leaking.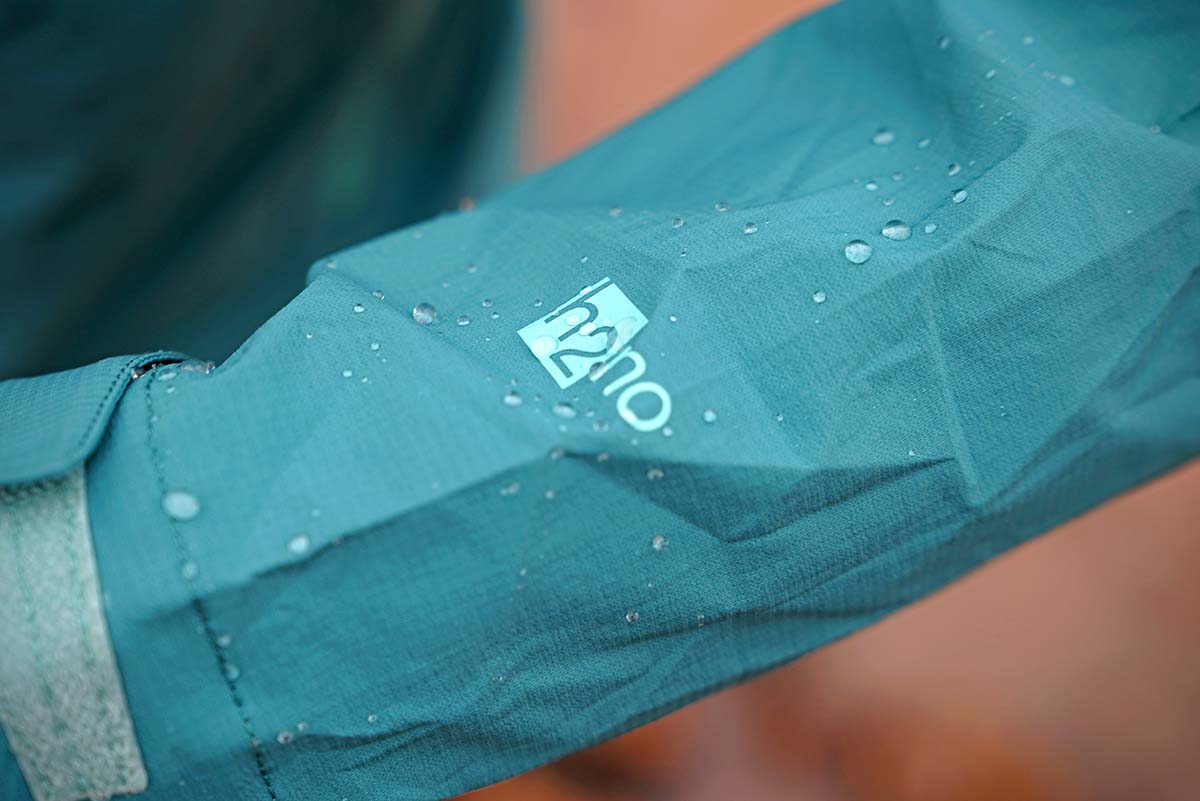 Fabric Layers: 2L, 2.5L, 3L
In assessing a jacket's performance in wet weather, the final factor to consider is the number of layers used in its construction. Waterproof jackets feature 2-layer, 2.5-layer, and 3-layer builds. We've already discussed the first two layers—a DWR-coated nylon shell backed by a waterproof/breathable laminate—which are responsible for most of the water resistance. These 2-layer jackets comprise the bulk of the rain jacket market, and range from clammy, budget-oriented models like the Columbia Arcadia II ($60) all the way up to the premium Patagonia Calcite ($249). Notably, technology has improved a lot over the last few years: 2-layer designs used to be thought of as cheap and plasticky, but more modern constructions have an impressively high-end feel.
Stepping up to a 2.5 or 3-layer jacket doesn't necessarily add any extra waterproofing, but it does provide an extra layer between you and the elements (similar to the theory of a double-wall vs. single-wall tent). A 2.5-layer jacket attaches a very thin coating or interior fabric to the waterproof laminate, which serves both as a protective layer (guarding the membrane from your body's oils or abrasion from your midlayer) and can help a bit with venting, too. 3-layer designs incorporate a more substantial liner fabric, which adds a bit of bulk over a 2.5-layer, but increases durability and further improves moisture wicking and next-to-skin feel. It used to be that 3-layer construction was used almost exclusively for performance-focused hardshell jackets (think climbing and skiing), but more and more we see exceptions to this rule in the rain jacket category. For example, Patagonia's Torrentshell is a daily use and hiking-specific rain shell with a 3-layer design.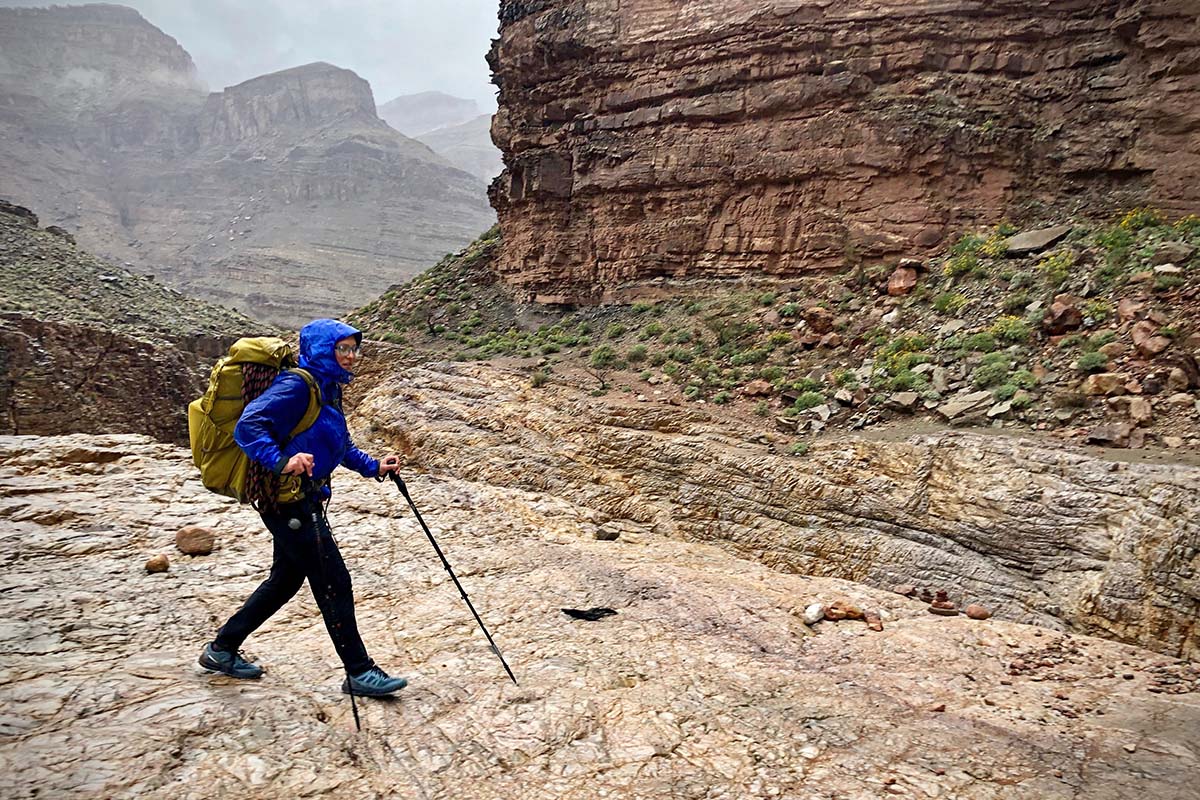 Breathability
One of the most sought after features in a waterproof rain jacket is breathability: the ability for perspiration and other moisture to exit the jacket without outside water coming in. And in general, breathability improves as the price tag increases. Some of the top-performing designs from our list above include the ventilated Outdoor Research Aspire II, hardshell-like Arc'teryx Beta LT, and Patagonia's thin Storm10. On the other end of the spectrum, simple 2- and 2.5-layer shells like the Columbia Arcadia, REI Co-op Rainier, and Outdoor Research's Helium all run hot when you're working hard. For some, this lack of breathability is a fine tradeoff for cost savings—and pit zips can help some to offset the lack of ventilation. But if you plan to wear your shell while on the move, it's worth investing in a higher-end, breathable design.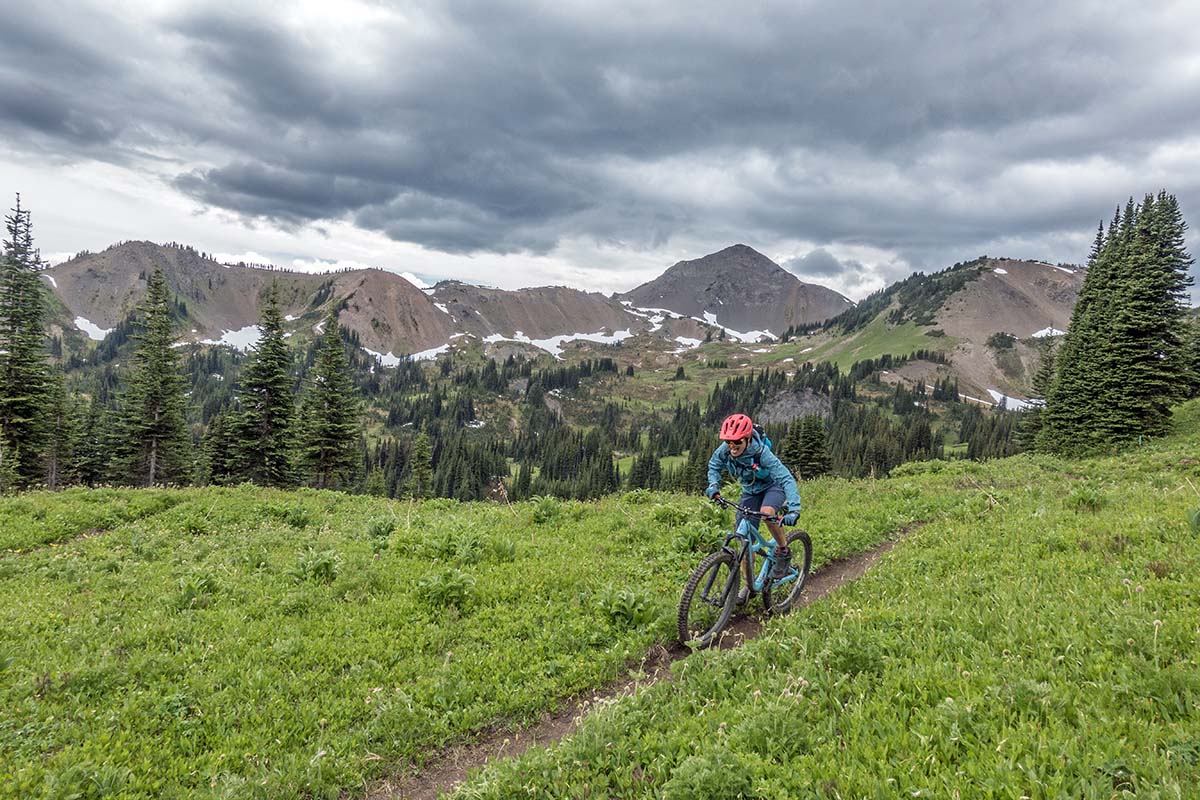 Weight and Packability
A quick look at our comparison table above reveals that rain jacket weights correlate closely with their intended use. On the lightweight end of the spectrum are hiking-ready shells like the Patagonia Storm10 (7.4 oz.), while designs that are more feature-rich and durable for crossing over for daily wear often add a bit of weight (including the 12.5-oz. Patagonia Torrentshell 3L). At the extremes are ultralight pieces like the streamlined Outdoor Research Helium, which compromises features and breathability to attain an extremely feathery 5.6-ounce weight, and everyday parka-length jackets like the 15.2-ounce Marmot Essential.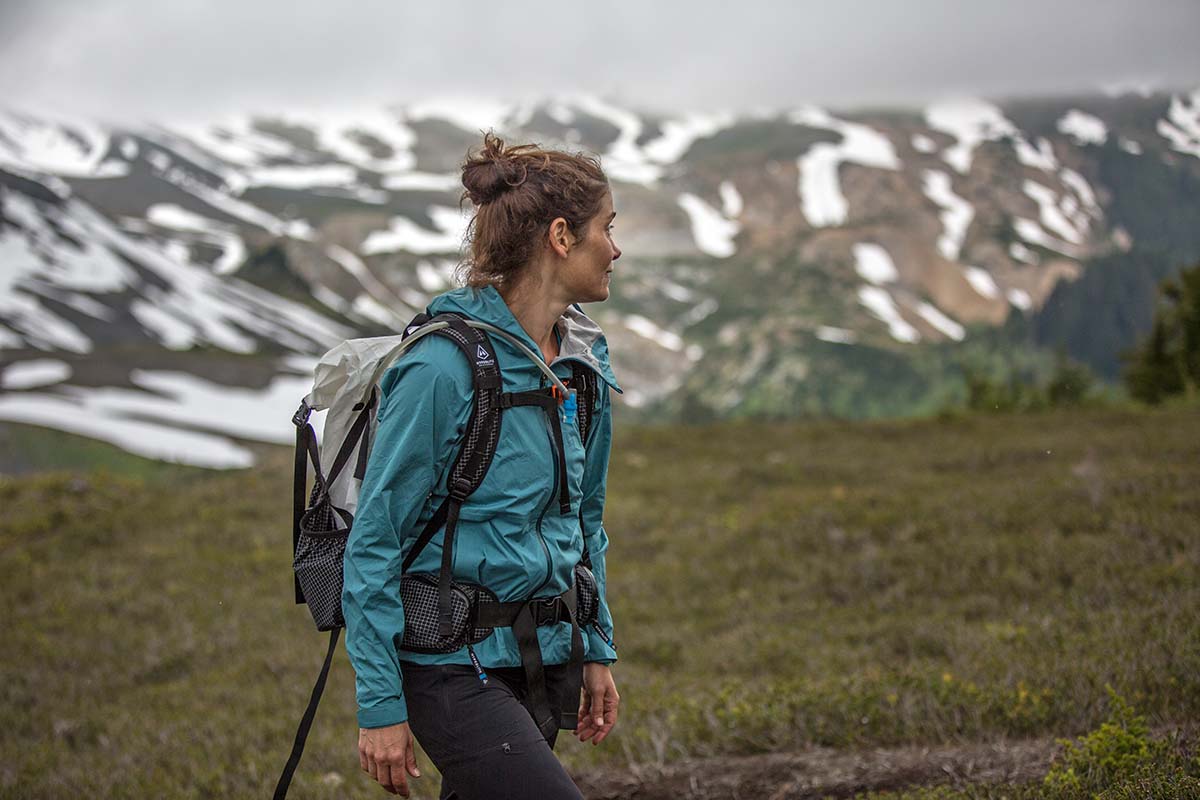 A jacket's packability can be looked at and measured in a couple ways. First, there are the jackets that stuff into their own pockets, which is great for clipping to a harness or stowing in a tight package for travel. That said, among shells that have this feature, their actual packed size can vary a lot. For example, the aforementioned OR Helium's tiny stuff pocket is about the size of a few energy bars, while the bulky Columbia Arcadia resembles a small loaf of bread. The other way of looking at packable rain shells is how compressible they truly are. In that respect, the sleek Arc'teryx Beta LT would still be considered quite "packable," despite lacking a stuff pocket: just roll it up into its own hood to protect the thinner fabric in your pack. In the end, the weight spec is a great place to look as an indicator of how packable a jacket truly is.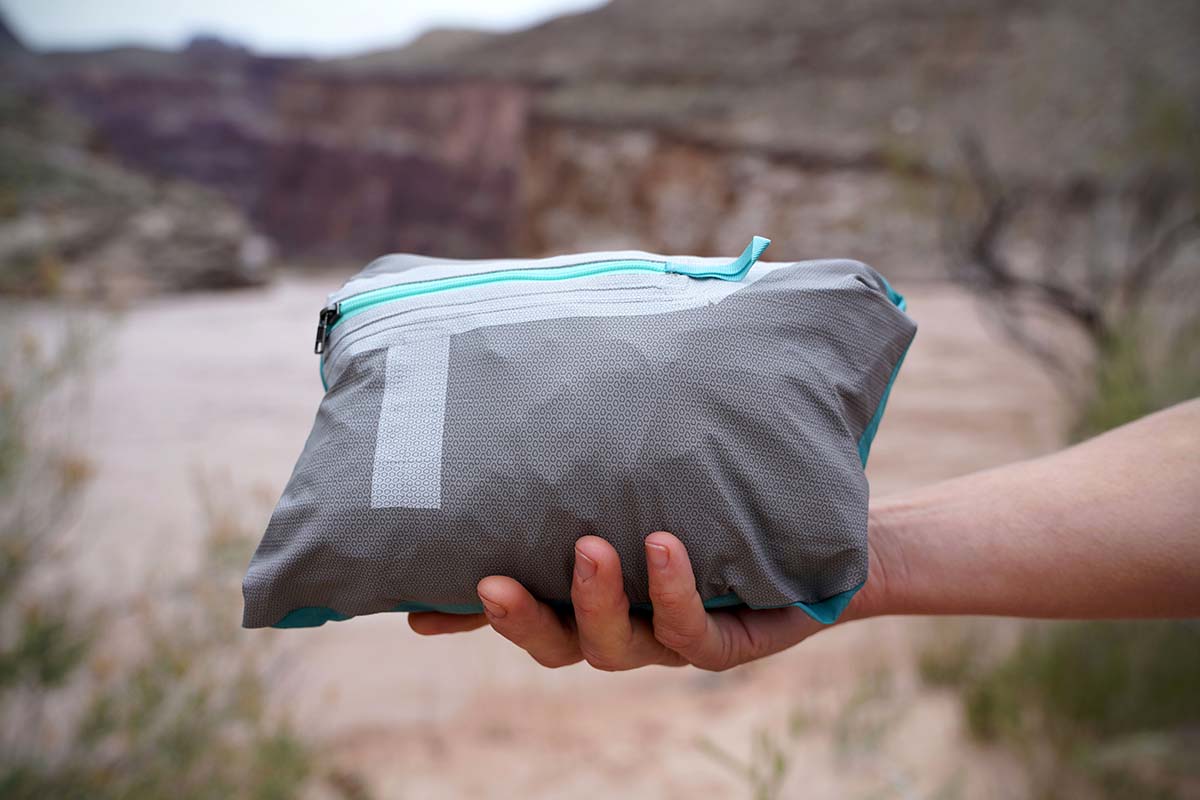 Features
Rain jackets don't offer as much variation in features as some other types of outdoor gear, but there are notable differences between models. Many ultralight jackets forgo pockets to cut down on weight, while other models sport them in abundance. Some rain jackets offer pit zips, core vents, or full side vents, while basic models do not. Almost all rain jackets have hoods included, and some are cut big enough to fit over a climbing or bike helmet and the style of the cinch varies significantly. Keep a close eye on features and try to match them to your intended use and budget.

Pockets
Casual users and hikers will appreciate a couple of hand pockets and a chest pocket (either on the inside or outside of the shell), which are handy whether you're carrying a wallet around town or stashing a bar for easy access during a hike. Hand pockets are one of the most notable omissions in ultralight shells, which often opt for a single chest pocket for storage. Pocket placement is another consideration: serious shells often place the hand pockets higher up on the torso to avoid interfering with your pack's hipbelt or climbing harness. What you gain in convenience for outdoor performance use, you lose in daily function, especially if you like to stand with your hands in your pockets. For this reason, most of the shells in our performance category do not parlay well into daily use.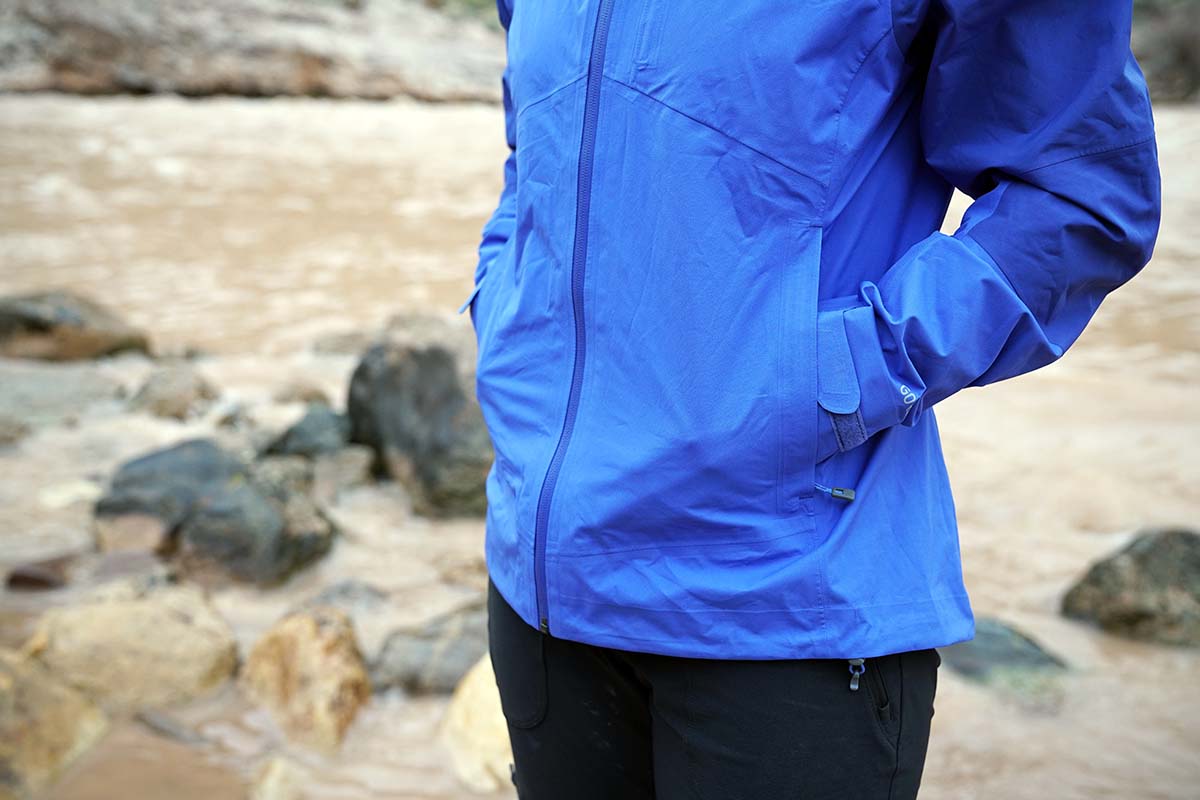 Hood
Hood size can be a big consideration when rain jacket shopping. If you plan to climb, bike, or even backcountry ski in your rain jacket, look for a helmet-compatible hood. These can reach over the top of most climbing helmets for added weather protection. For example, Patagonia's Storm10 is a great choice for climbers due to its large hood as well as its tiny packed size that can be easily clipped to a carabiner. For normal hiking and backpacking, it's often prudent to avoid a helmet-compatible hood as it can be unruly, not great for visibility, and require a lot of cinching down (read: bunched fabrics).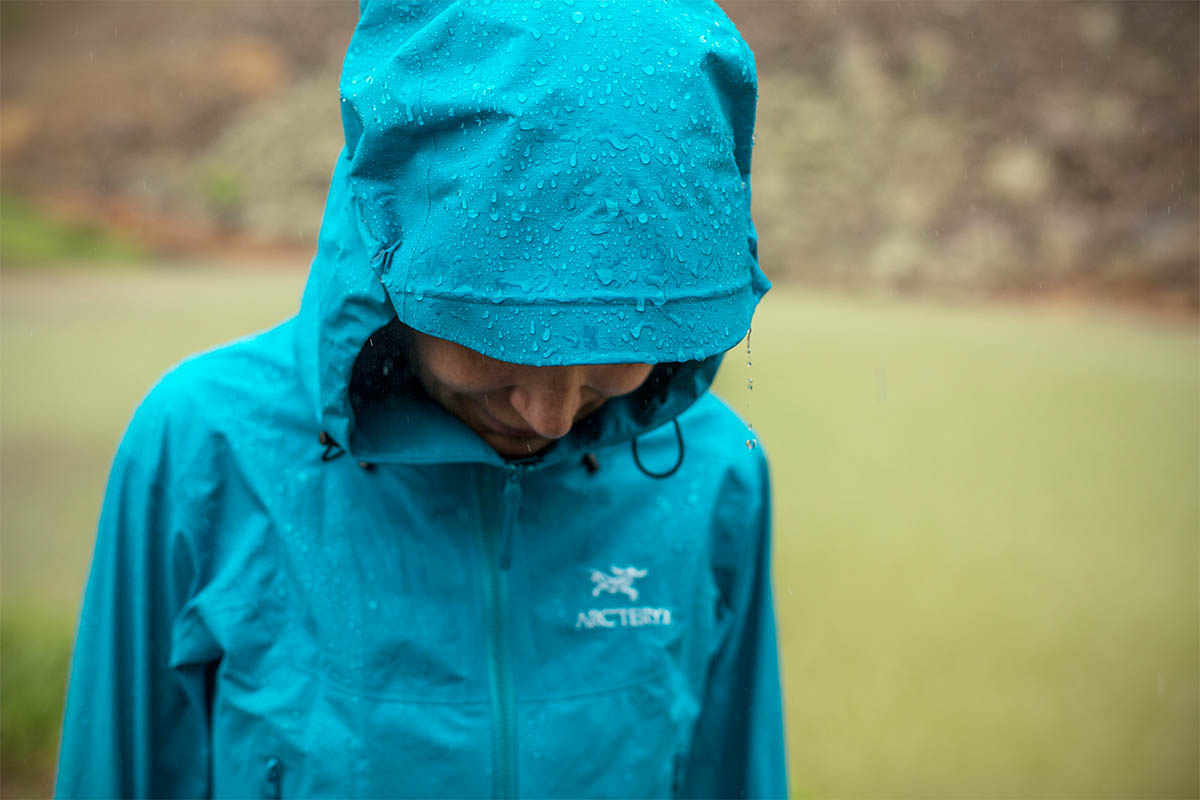 Adjustability of the hood also is key. When the wind is blowing, you want a hood that conforms to your head while retaining enough structure around the sides and the bill that you can still see out. Some manufacturers succeed better than others at this concept. One standout is Arc'teryx's StormHood: with a single pull at the back, the hood adjusts evenly around the sides and back of the head. Of the more budget-friendly options, we like the hood design of the Patagonia Torrentshell 3L, which has toggles at the back and front for quick and easy adjustments. We prefer the toggle for adjusting the back of the hood over a rip-and-stick Velcro tab, but benefits of the Velcro style are simplicity and weight: they don't require a cord or toggle, both of which add a bit of bulk.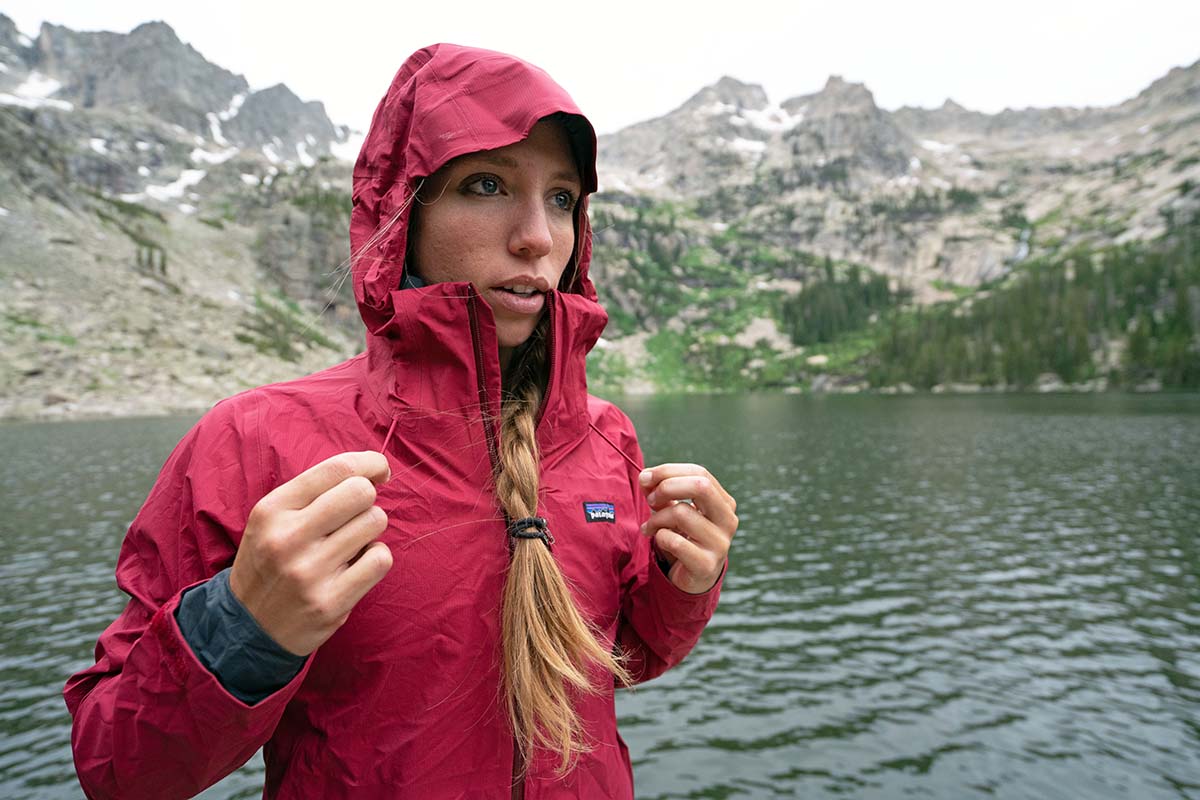 Pit Zips and Core Vents
In creating a waterproof jacket specifically designed to keep moisture out, letting air flow in the opposite direction (i.e. away from the body) can be a challenge. And when you're working hard, it can quickly become a necessity to dump some of that hot air rather quickly. Enter the pit zip. By opening up the jacket under the arms, you can release a lot of air without sacrificing the jacket's waterproof design. Many rain jackets include this feature, and models like Outdoor Research's Aspire II expand on it, with zips that extend all the way to the waist for exceptional ventilation.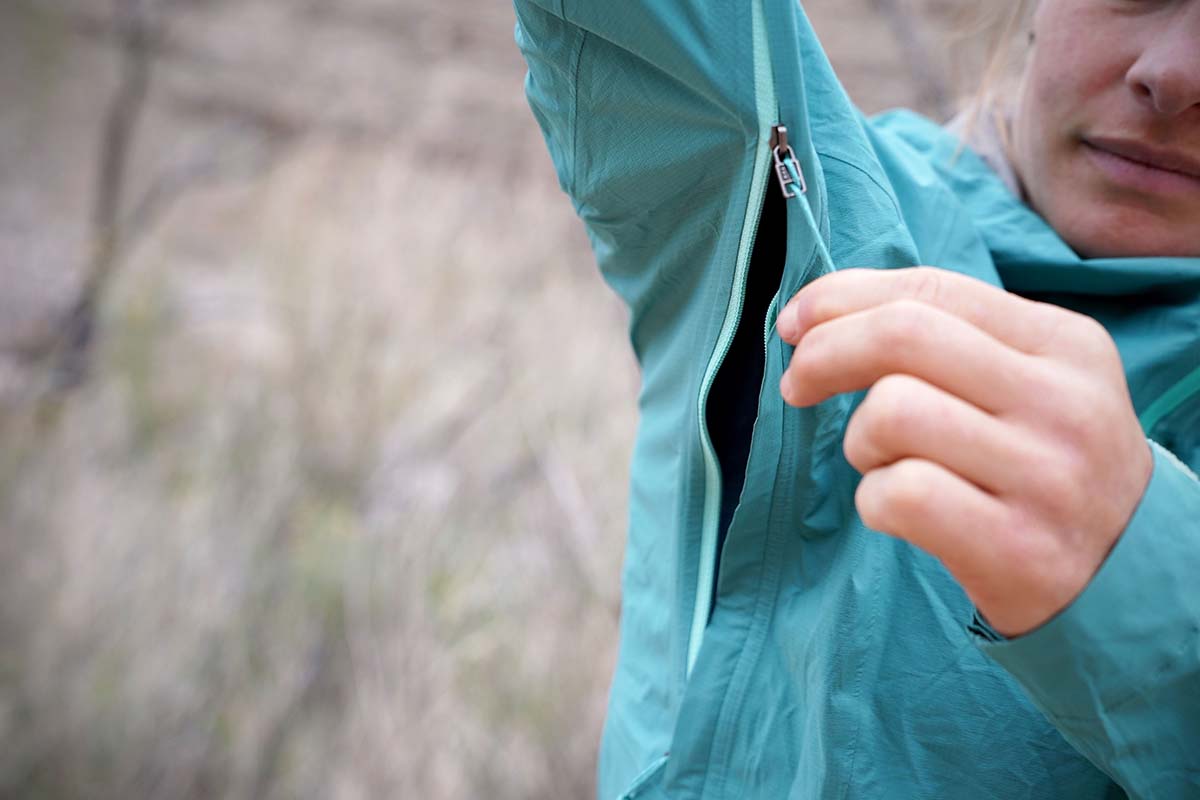 Because adding pit zips to a jacket inevitably results in a slight weight increase, manufacturers will often omit them in ultralight jackets. But without a way for air to escape, a jacket can grow clammy in a hurry (this is our experience with ultralight models like OR's Helium). REI, Marmot, and others have posed an interesting solution, pairing their hand pockets with an airy, mesh lining so they double as vents when unzipped (these are featured in the REI Co-op XeroDry GTX). It's not perfect—opening your pockets to vent means that anything stored inside could fall out—but it does save weight without sacrificing much in the way of ventilation.

Waist Adjustments
To give the best seal possible, most rain jackets that we recommend here have some sort of cinch system at the hem. Typically done with a cord and toggle, they're very user-friendly and can be pulled tight with just one hand. Most jackets have a cinch at each hip for an even fit, but some ultralight models use just one adjustment in an effort to cut weight. The single cinch does mean that the jacket will pull to one side when tightened, but it's often negligible and worth the weight savings.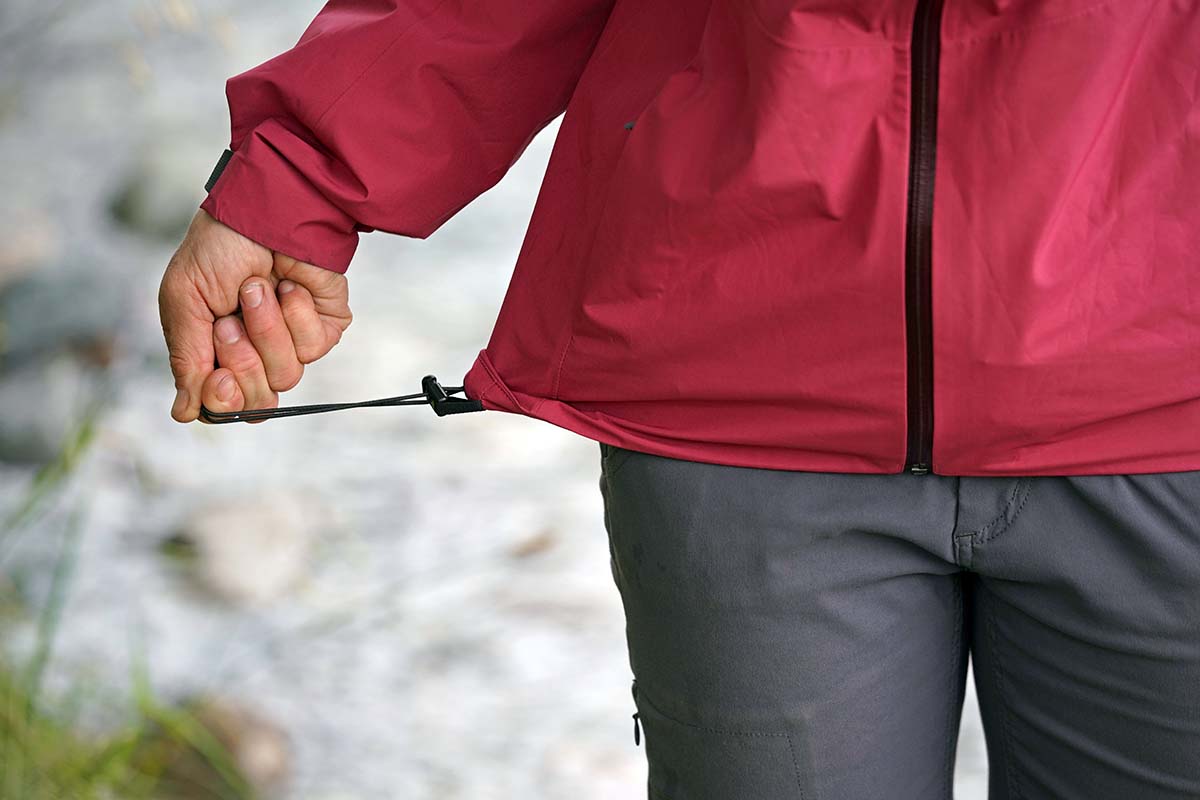 Fit and Sizing
Rain jacket fit varies across the board, from roomy daily use models that allow for ample layering to svelte performance designs that place a premium on mobility and weight-savings. If you're shopping for a rain shell to wear around town, we recommend looking for a regular fit that can accommodate bulky sweaters, scarves, blazers, and more. Parka-style jackets are also great for daily use, but fit can be tricky depending on your body shape, including where the contours land at your waist and whether or not the hem falls too far down your legs. If you can, we recommend trying on a thigh-length jacket before buying.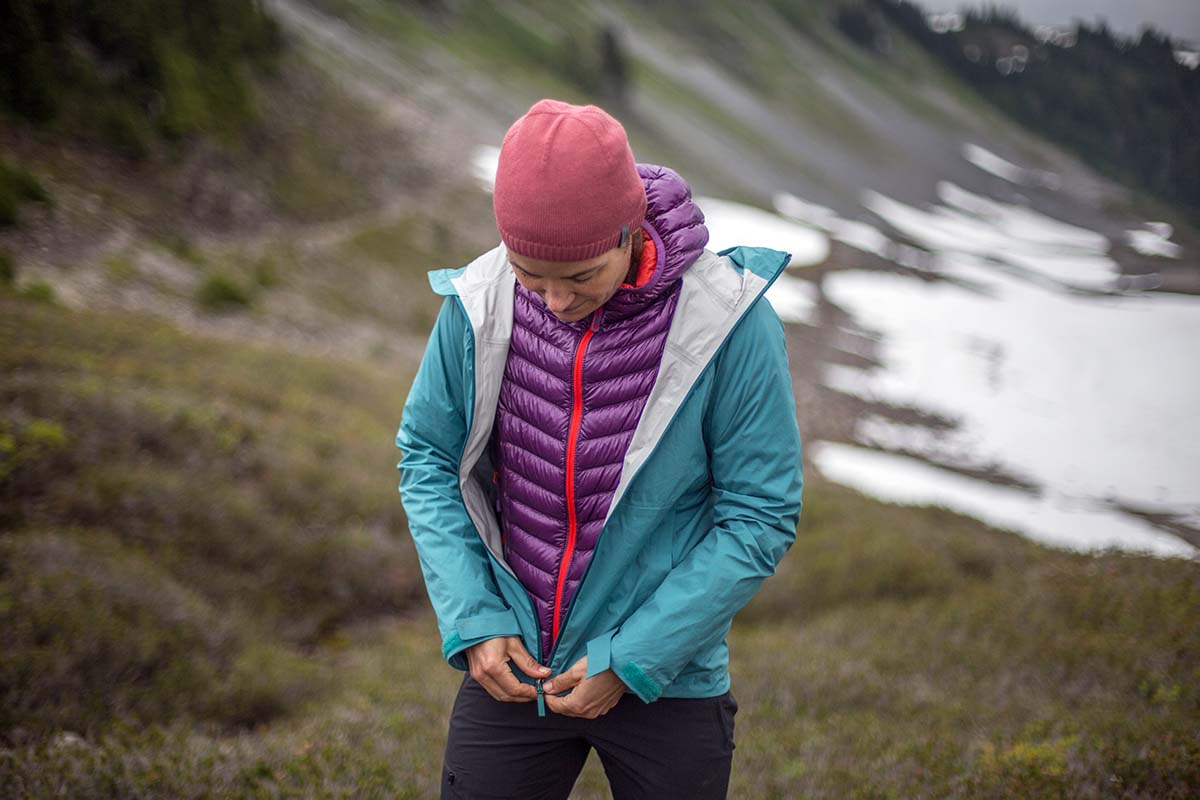 On the other hand, if you want to be able to move around in your jacket without excess fabric getting in the way (think activities like climbing and skiing), it's best to opt for a trim-fitting performance jacket. Most of the time, these feature premium patterning like articulated elbows and gusseted underarms to help with freedom of movement, and their streamlined designs are great for layering over a midlayer (such as a lightweight synthetic insulated jacket), but not much more. Jackets designed for hiking generally land in between the extremes (the Patagonia Torrentshell's sleek yet roomy fit is a great example), and as a result are some of the most versatile options here.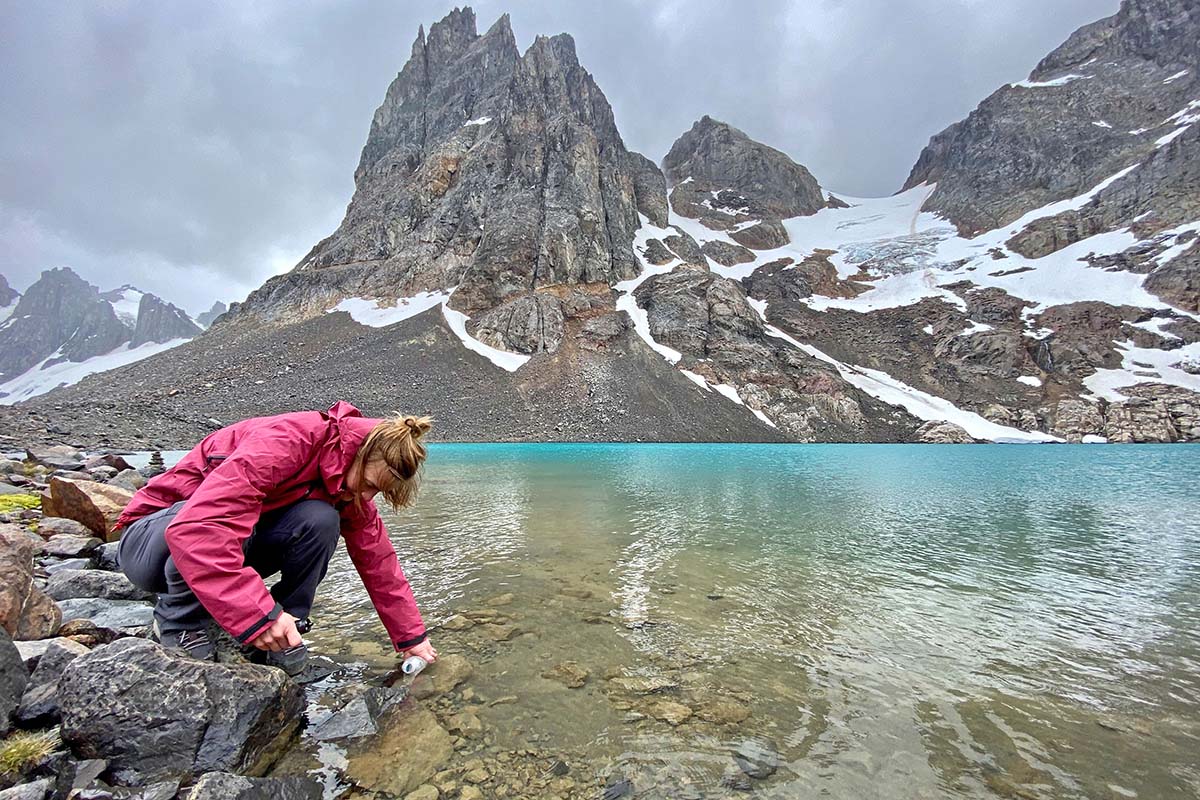 Rain Jackets with Built-In Stretch
Over the past few years, there have been a growing number of waterproof rain jackets featuring built-in stretch. Designs like Black Diamond's StormLine and FineLine incorporate fabrics and a waterproof internal membrane that flex surprisingly easily. For performance use, the benefits are obvious: while climbing, hiking, or other activities where you're moving your arms a lot, a stretchy jacket is less restrictive. What's more, we've also enjoyed the greater level of comfort and less crinkly feel for daily wear. In general, a stretchy rain jacket will cost more than a standard shell, but it's a nice upgrade that comes with plenty of tangible benefits.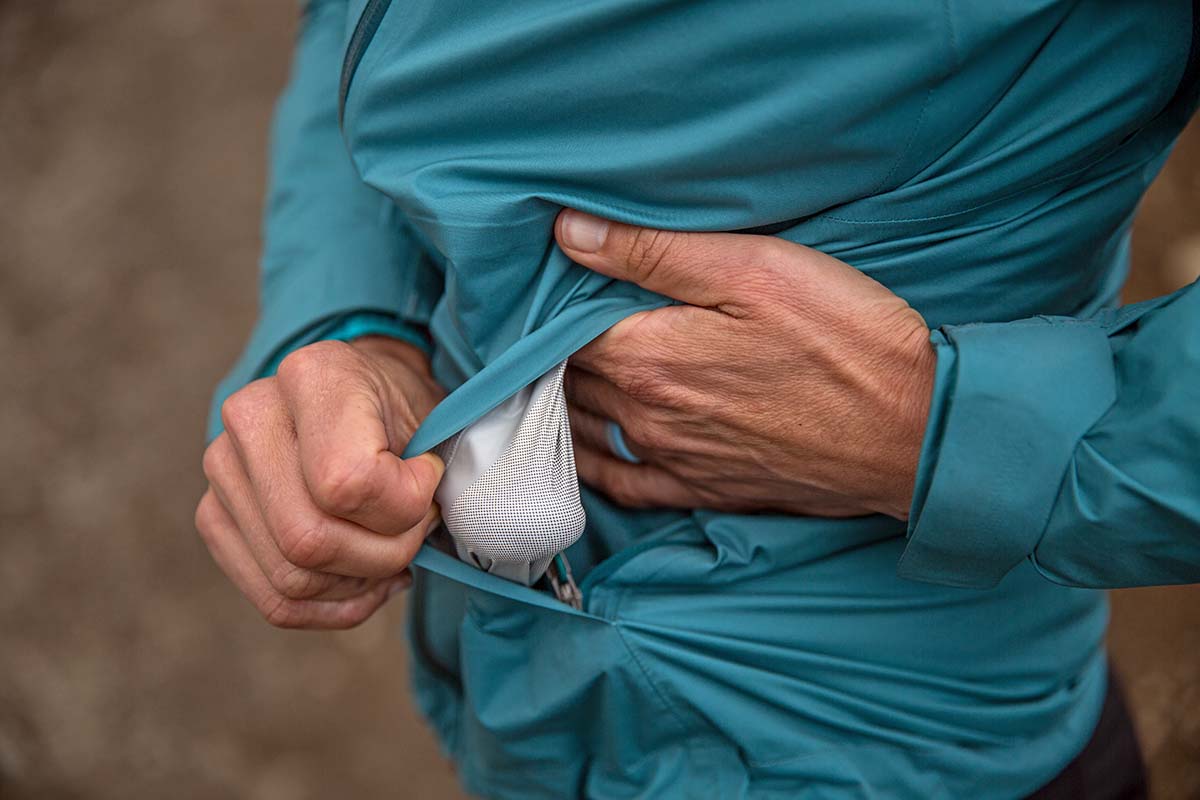 What About Softshells and Hardshells?
Traditional softshell jackets are not fully waterproof. While the outer fabric typically has a DWR coating, letting light showers bead up and roll off, the seams usually aren't taped and the fabric will eventually let water seep through. A softshell is also a bit thicker than a rain jacket, and offers a small amount of warmth as a result. Even as technologies have advanced and full waterproof softshells have become available, they still can't compete with the waterproofing performance of a traditional rain jacket. Instead, softshells remain a better choice for those looking for a breathable, but only water-resistant (i.e. not waterproof), outer layer. Popular applications include backcountry skiing and trekking in mild weather. For a list of our top picks, check out our article on the best softshell jackets.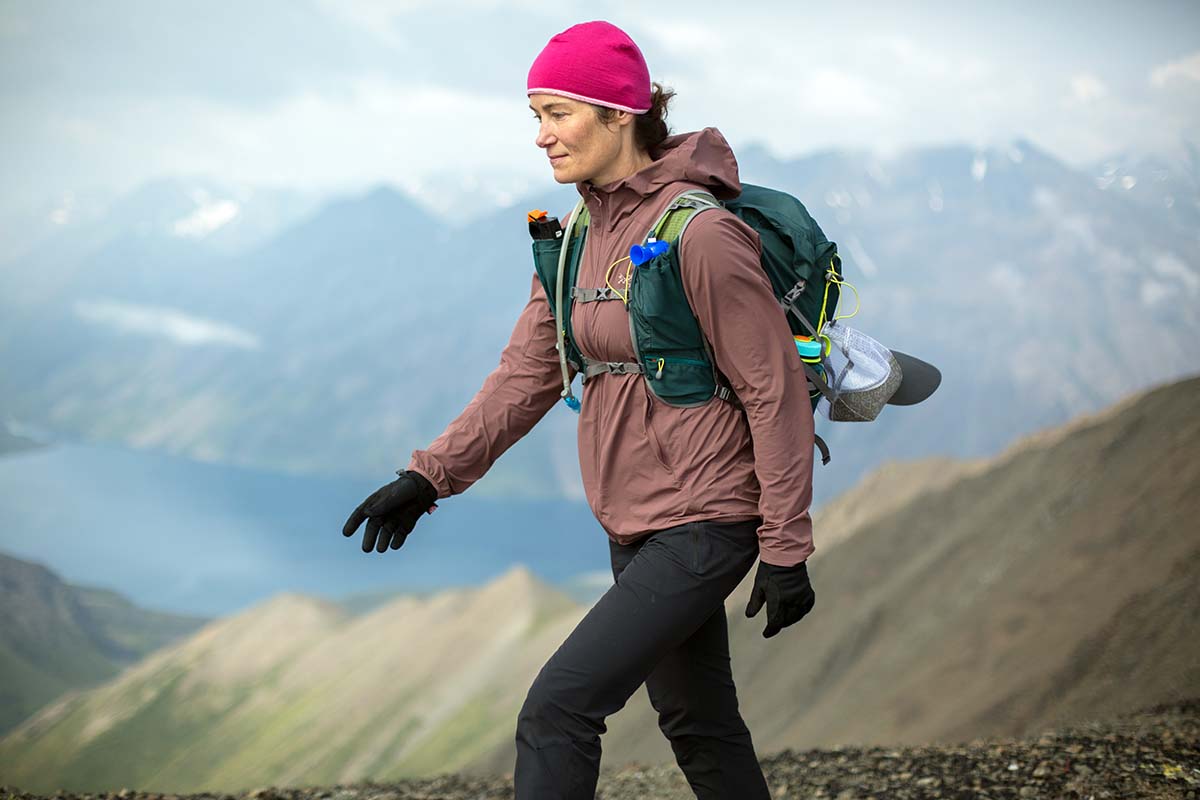 Hardshell jackets, in contrast to the rain jackets we've listed above, are made for truly extreme conditions. Built to withstand heavy driving rain and wind, the jackets are heavier and bulkier, and often feature more durable 3-layer construction. As a result, a hardshell is less prone to being soaked through under sustained rainfall, and is generally more breathable as well, which makes them a great choice for high-output activities like mountaineering and backcountry skiing. You'll also see prices skyrocket for these technical pieces, thanks to their high-end detailing and premium materials. Notably, the line between hardshell and rain jacket is growing grayer by the minute—the Beta LT above is on the thinner side for a hardshell (more akin to a rain jacket), while Patagonia's Torrentshell has a hardshell-like 3L build but lacks the category's technical feature set. For more, see our article Hardshells vs. Rain Jackets: How to Choose.
 
Rain Jacket Care
As we mentioned above, a rain jacket's waterproofing relies on a combination of factors: the durable water repellent (DWR) coating that beads up water, the waterproof membrane, and the fabric layers on either side of the membrane. It's important to keep all of these components clean so that they function properly, whether their job is to stop water or to let air through. This will vary based on use, but we aim for every few weeks with some of our more commonly used gear.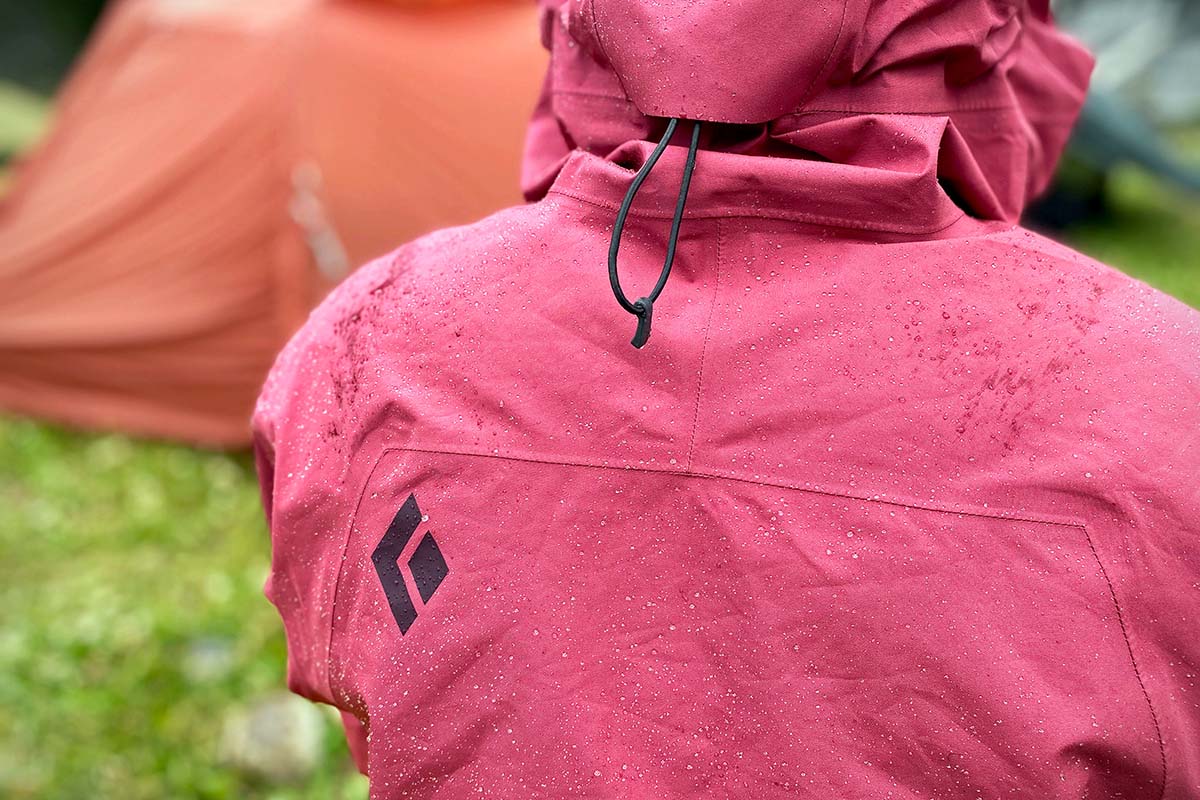 For washing, it's always best to start by checking the label on your jacket as the specific instructions will vary. As a general recommendation, the following works well for us: wash the jacket in warm water with liquid detergent, and run it through a second rinse cycle to clear out any detergent residue. We'll often line dry our outerwear (this helps to preserve its lifespan), until it's almost dry, and then tumble dry it on warm for at least 20 minutes to revive the DWR finish. And of course, make sure to check your garment's labels as this could vary based on the fabrics and technology.
If you're noticing that the jacket isn't beading up water anymore and putting it in the dryer for a short stretch doesn't fix the problem, you may need to reapply some DWR (this is common as the coating diminishes over time). A waterproof jacket without DWR won't protect or breathe as well in heavy rain because the water will pool up and soak into the exterior fabric layer. Reapplying the DWR is done through a fairly simple process, and we've found that the Nikwax TX.Direct Spray-On works well. Notably, some of the new PFC-free DWR finishes—like the one from Black Diamond—are ultra-durable and do not require a wash/dry cycle or reapplication in order to be revived.
Back to Our Top Women's Rain Jacket Picks Back to Our Women's Rain Jacket Comparison Table
Learn More About Outdoor Gear