No matter your ability level, picking up a helmet for skiing or snowboarding is a no-brainer. If you've been putting off replacing a helmet that's years old or are new to the sport, recent advancements have made them lighter and even safer, so now is a great time to take the plunge. The high-end models on the list offer advanced fit customization and venting, but those who only get up to the mountains a few times a year will be fine with a cheaper option. From the featured-packed and teched-out to the basic yet effective, below are the top ski helmets for the 2022 season. For more information, see our comparison table and buying advice below the picks. And to complete your ski kit, we've also written about the best ski goggles and ski gloves and mittens.
 
---
Our Team's Ski Helmet Picks
---

Best Overall Ski Helmet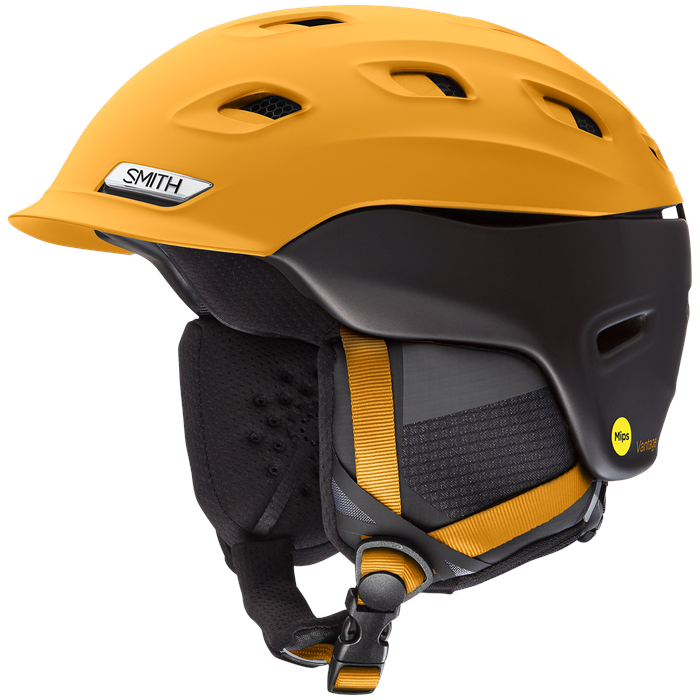 Construction: Hybrid in-mold
Weight: 1 lb. 2 oz.
Ventilation: Adjustable (21 vents)
What we like: The Vantage puts it all together: comfort, performance, safety, and looks.
What we don't: Pretty expensive.
We've tested a lot of ski helmets, and none is more impressive than the Smith Vantage. The quality and attention to detail are clear, with a soft but supportive liner, excellent coverage all around your head, and an easy-to-adjust Boa dial for fit. You simply put on the helmet and forget that it's there—the Vantage feels that comfortable and light. You also get superior ventilation with a total of 21 vents controlled by two separate sliders for easy customization. All in all, you won't find a helmet that is so comfortable and universally capable of frontside and backcountry use.
The Vantage also comes with all the safety bells and whistles in the Smith arsenal. Their distinctive honeycomb Aerocore construction is visible through the vent openings and intended to improve energy absorption in a crash. And the popular MIPS liner, designed to protect your brain in an angled impact, is included. These safety features are tough to quantify, but it's worth noting that the extra tech is integrated very well into the low-profile design. Whether the whole package is worth the steep $270 price tag is up to you. Editor's note: we've found the MIPS model does run a bit small, so those on the high end of the fit range may have to size up... Read in-depth review
See the Smith Vantage MIPS  See the Women's Smith Vantage MIPS
Best Budget Ski Helmet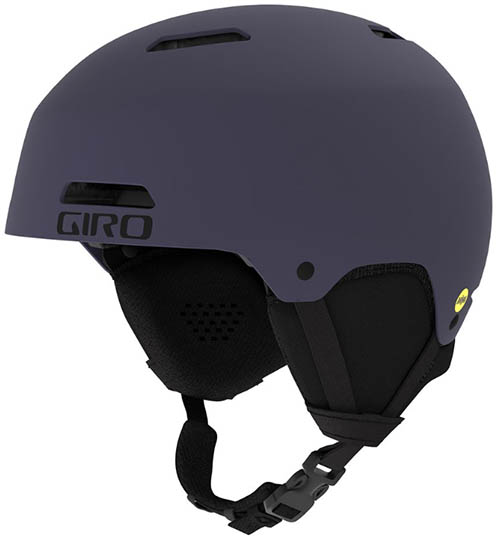 Construction: ABS
Weight: 1 lb. 2 oz.
Ventilation: Fixed (8 vents)
What we like: A tough, MIPS-equipped helmet for under $100.
What we don't: Not particularly plush or as lightweight-feeling as pricier alternatives.
Giro was one of the early adopters of MIPS technology, and their current snow helmet lineup is chock-full of MIPS designs. The Ledge is a standout and, at $90, is the most affordable helmet on this list that's equipped with the angled impact safety feature. Other than that, you don't get a lot of bells and whistles, but there's enough here to make most riders happy: a goggle retainer hook around back, removable ear pads, and a finicky but still very usable fit adjustment system. Anyone from casual riders to season-long rippers on a budget should give the Ledge MIPS serious consideration.
A number of Giro and Smith models go head-to-head, and the Ledge is a direct competitor with the popular Holt below. Both lids have very clean, skate-inspired designs, tough hardshells that can take a good knock, and are available in a wide range of colors. The Smith gets the edge in comfort for us with its slightly more intuitive fit adjustment system. On the other hand, the Ledge includes the added safety tech of the MIPS liner—the most affordable Smith offering with MIPS is the $105 Scout. That's enough for us to give the nod to the Ledge as our top budget pick, but the truth is both are quality entry-level options.
See the Giro Ledge MIPS Helmet
Best Mix of Comfort and Performance for Resort Use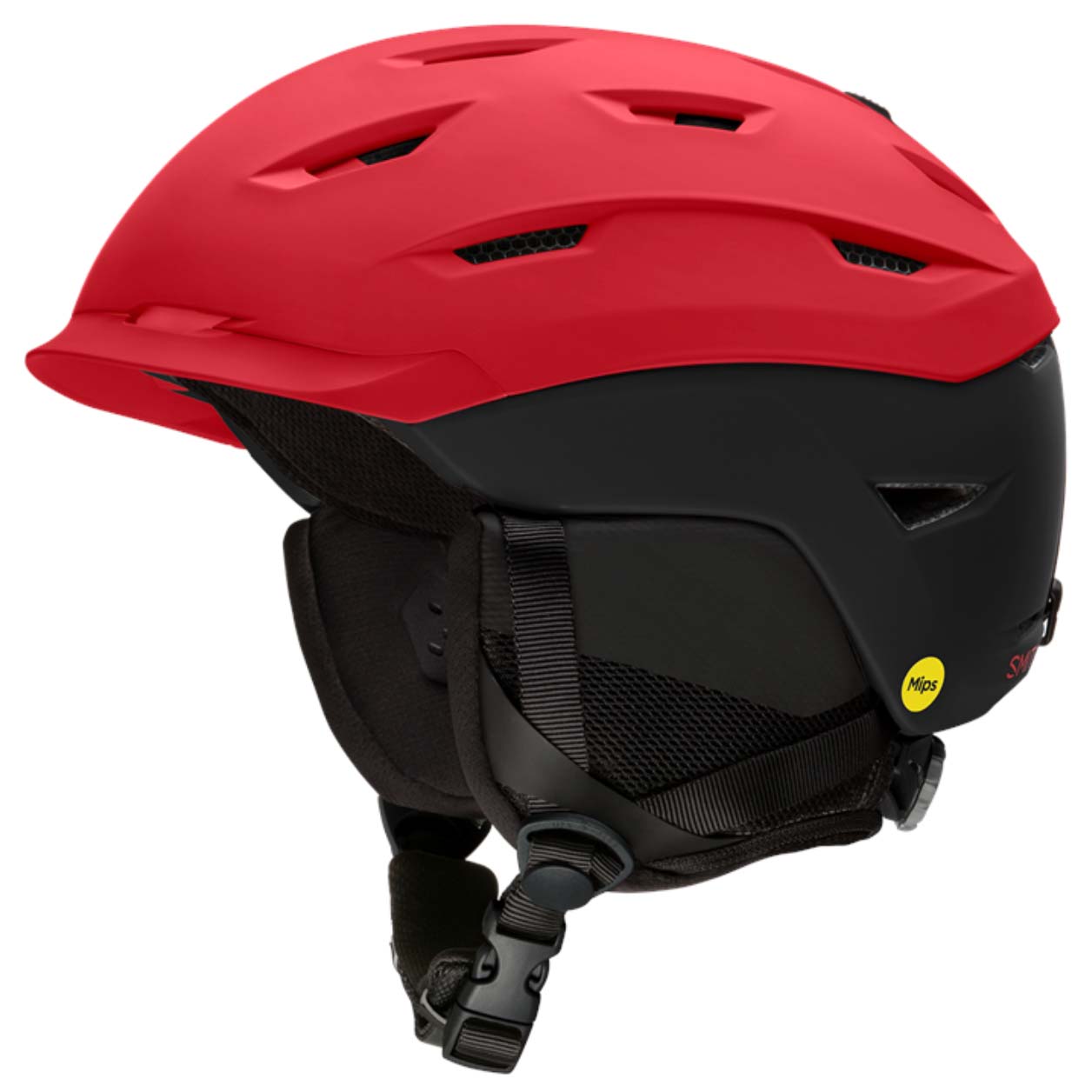 Construction: Hybrid in-mold
Weight: 1 lb. 3 oz.
Ventilation: Adjustable (20 vents)
What we like: High-quality and very comfortable build.
What we don't: Not as versatile as the Vantage above.
Smith replaced the popular Variance—one of our all-time favorite resort lids—with the Level MIPS. Right away, you can tell the latest model is a thoroughly modern helmet: Its sleek looks, generous ventilation, and hybrid shell construction closely resemble the pricier Vantage above. It also borrows that helmet's Aerocore design and includes a MIPS liner for solid crash protection. Throw in a soft and warm interior, and the Level (and women's Liberty) has all the right ingredients to pick up right where the Variance left off.
In saving $50 compared with the top-rated Vantage, you do make a few compromises. To start, the Level is a little heavier (by about 1 oz.) and has only a single adjuster for the top vents (the Vantage has two). Further, they've swapped the Vantage's premium Boa fit system for an in-house VaporFit design. That said, the level of customization is very similar, and we've had no complaints with our other VaporFit-equipped helmets. Overall, the lighter and airier Vantage is the better all-rounder, but we see little to complain about with the Level for lift-assisted use... Read in-depth review
See the Smith Level MIPS  See the Women's Smith Liberty MIPS
Best Helmet for Backcountry Skiing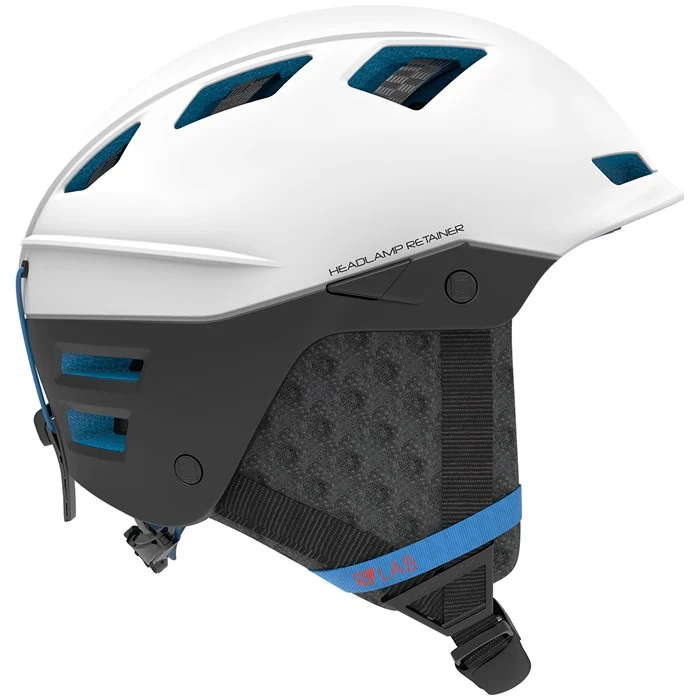 Construction: Hybrid in-mold
Weight: 13.3 oz.
Ventilation: Fixed (12 vents)
What we like: Super lightweight; rated for both skiing and climbing.
What we don't: Fixed vents can allow moisture inside.
Rated for both downhill skiing and climbing use, the Salomon MTN Lab is a backcountry standout. The helmet's feathery 13.3-ounce weight (our medium size with the heavier winter liner) is the second lightest on our list (behind the Petzl Meteor below) and makes it easy to wear all day or attach to a pack. Ventilation is also a strong point with 12 large cutouts distributed along the top and sides of the lid. And Salomon didn't skimp on features with the MTN Lab: The helmet integrates well with our Smith I/O Mag goggles, the adjustment dial at the back is easy to use, and the two included merino wool liners (one lightweight and one winter-weight) are soft and cozy.
Where the MTN Lab falls short is as an everyday helmet. Unlike the plush, resort-ready options above, the Salomon's minimalist padding is less comfortable and doesn't protect you as well from the cold. In addition, the vents are non-adjustable, and we found that moisture can work its way through the openings in heavy snowfall (putting our hardshell's hood over the helmet did alleviate this issue). These compromises make it a less than optimal choice for lift-assisted days, but it's as good as it gets when you head into the alpine.
See the Salomon MTN Lab Helmet
Best of the Rest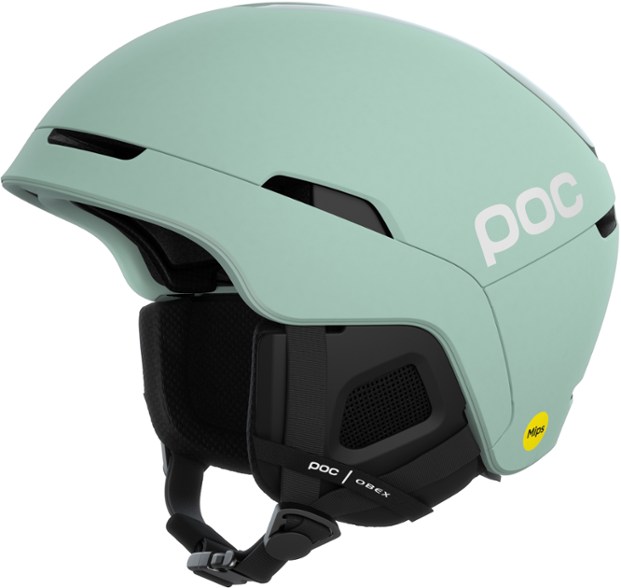 Construction: In-mold w/ABS shell
Weight: 1 lb.
Ventilation: Adjustable (11 vents)
What we like: Solid build and well-integrated safety features.
What we don't: A bit bulkier and less ventilated than the Smith options above.
Sweden-based POC has built a reputation around toughness and safety, and the Obex is their most well-rounded helmet to date. Mixing an in-mold construction with a tough ABS shell over top, the helmet is competitively light but can still take a knock (and limit cosmetic damage) thanks to the exterior layer of tough plastic. We also think it's a classy-looking design, and the wide array of color options help it stand out in the market. Rounding out the setup, the Obex has an easy-to-use fit system that secures evenly around the head, adjustable vents, and a new MIPS liner (previous models had the brand's in-house SPIN system).
What's not to like about the POC Obex? Despite their best efforts, the helmet still is bulkier and not as streamlined as Smith's Vantage and Level above. As a result, we found that it feels a little heavier than its 1-pound weight suggests. Further, the interior padding isn't as plush as the Smith designs, and we prefer more cushioning along the chin strap. Finally, only the top vents are adjustable, which means the helmet can run cold on frigid days. To be fair, these differences still are fairly minor, and the Obex's combination of a premium safety suite and reasonable $200 price point earn it a spot on our list for 2022.
See the POC Obex MIPS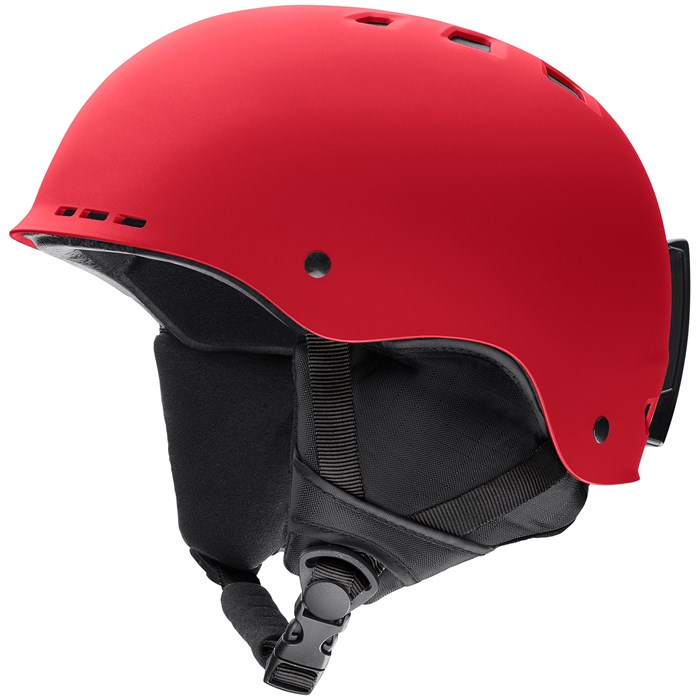 Construction: ABS
Weight: 1 lb. 4 oz.
Ventilation: Fixed (10 vents)
What we like: Great price for a well-rounded and surprisingly comfortable lid.
What we don't: No MIPS liner available; liner and foam are cheaper than pricier helmets.
Top to bottom in their snow helmet lineup, Smith just gets it. At $80, the Holt is their true budget offering and one of our favorite helmets in its price range. It's an exercise in smart design, and one of the Holt's biggest accomplishments is avoiding the bulky and off-putting mushroom look associated with cheap helmets. While not as low-profile or techy as the premium Vantage or Level above, it's a notable improvement over most of the budget field (Giro's Ledge above is similarly sleek).
One thoughtful touch on the entry-level Holt is its adjustment system. You don't get a dial to tweak the fit, but an elasticized band at the back of the helmet stretches to accommodate your head surprisingly well. Warmth and comfort also are competitive, although the foam, while thick and warm, feels cheaper and muffles sound more than we prefer. On the whole, we've found that it's often worth upgrading to a mid-range or premium ski helmet, and particularly for those who get in a lot of days on the mountain. But as long as you're willing to compromise a bit in comfort, don't have a MIPS liner on your must-have list (get the Giro Ledge MIPS instead), and aren't prone to overheating (the fixed ventilation is only mildly effective), the Holt is a real winner.
See the Smith Holt Helmet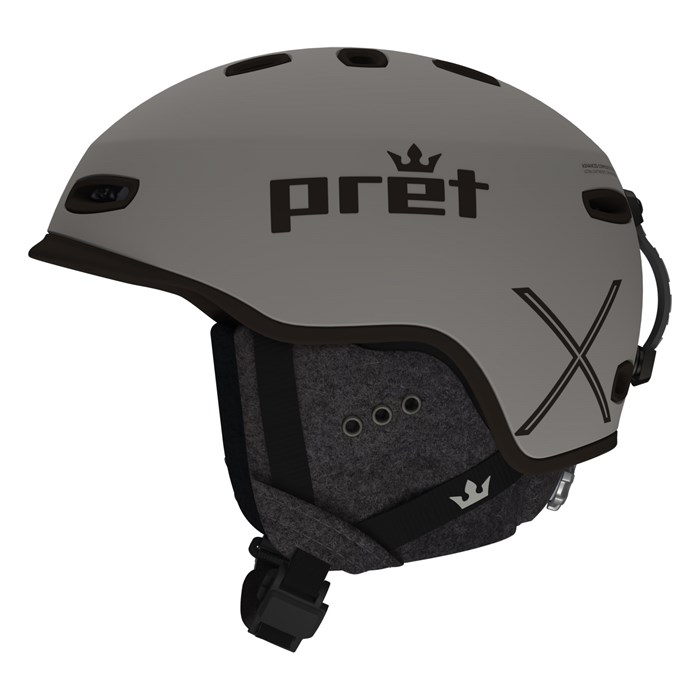 Construction: In-mold
Weight: 15.5 oz.
Ventilation: Fixed (12 vents)
What we like: Comfortable liner and fun styling.
What we don't: Non-adjustable vents.
Selecting the right $150 helmet is an exercise in prioritization. If your must-haves are liner comfort, adjustable fit, and sticking out from a sea of Smith, Oakley, and Giro lids, then the Pret Cynic X is a fine choice. Its wool-blend liner gives it one of the more comfortable interiors for under $200, and the easy-to-use fit system is comparable with a Boa design. We'd like to see adjustable ventilation at this price point, but the Cynic's fixed system with 12 vents and some open/close flaps along the interior do a pretty good job at temperature regulation.
The Cynic's in-mold construction keeps weight in check at under a pound for the medium size, and we appreciate that you get a little extra durability thanks to strategically placed panels of polycarbonate that thicken sections of the shell. Finally, looks are always subjective, but we like the styling of the Cynic and Pret's lineup in general (although some may find the large "Pret" along the sides a bit extreme). For a similar design that's been lightened by about an ounce for alpine touring use, check out the Cynic AT.
See the Pret Cynic X  See the Women's Pret Lyric X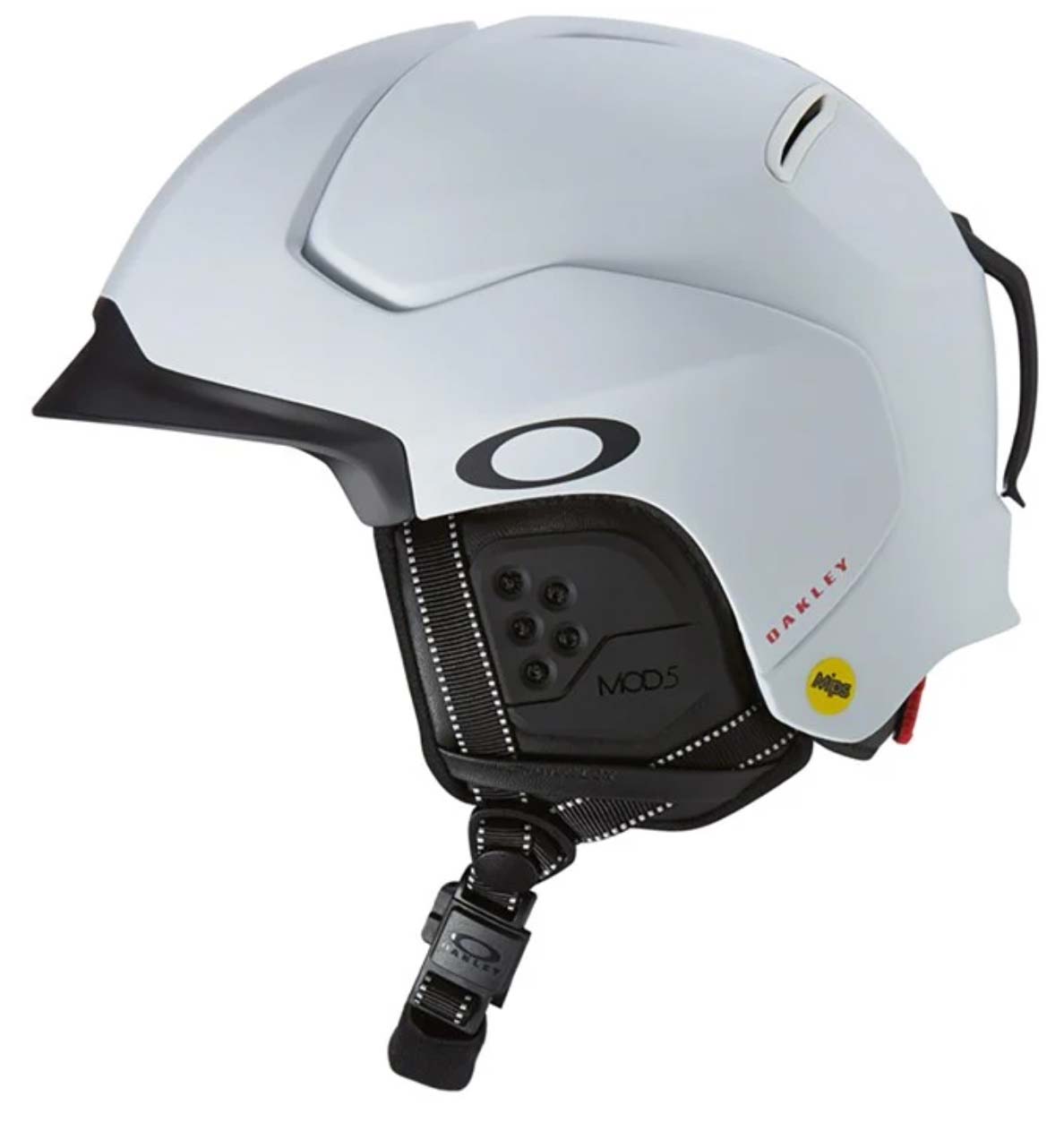 Construction: Hybrid in-mold
Weight: 1 lb. 4 oz.
Ventilation: Adjustable (8 vents)
What we like: Creative removable brim design for a good goggle fit.
What we don't: Not our favorite ear pad design.
Oakley makes some of our favorite ski goggles, but the company only recently jumped into the helmet game with the MOD series. From the current collection, we prefer their top-end "5," which has panels of tough ABS plastic for extra protection and adjustable ventilation. Further, its unique Modular Brim System (MBS) does a nice job eliminating the dreaded gaper gap by including two brim sizes (small and large). It's not a perfect answer—we found it favors Oakley brand goggles above others—but the option to swap out the brim makes it the most universal solution on the market in 2022.
The rest of the MOD 5 is typical Oakley quality. The helmet feels light on your head and comes with premium features like a magnetic chinstrap, Boa dial at the back, and removable liner. The ventilation design does rely on a chimney-like effect—drawing air up through the goggle and out the top—which means it can't dump heat as quickly as a helmet like the Smith Vantage above (a downside for side- and backcountry use). We also found that the liner is a little less cushioned, and the cutout ear pads make it difficult to wear headphones. But these complaints aren't deal breakers for most folks, and the design is very solid overall. Keep in mind that the MOD 5 is available with or without MIPS, and opting against the extra safety technology saves you $40... Read in-depth review
See the Oakley MOD 5 MIPS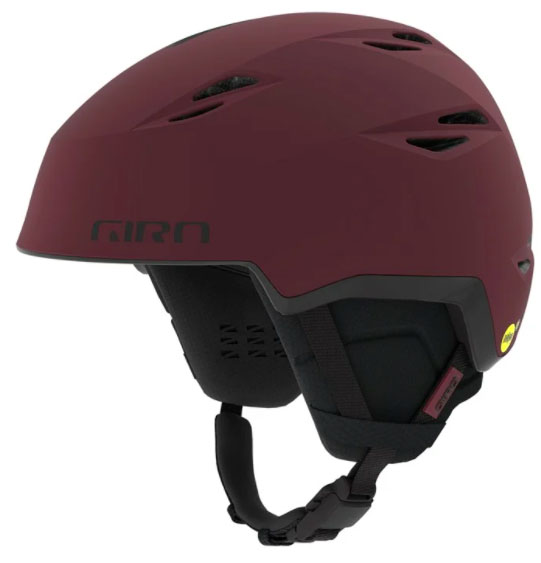 Construction: In-mold
Weight: 14.1 oz.
Ventilation: Adjustable (16 vents)
What we like: The lightest MIPS-equipped helmet here.
What we don't: Expensive and heavier than the MTN Lab above.
Salomon's MTN Lab above has been a top choice among ski mountaineers and backcountry riders for a number of seasons, but it finally has a formidable competitor in the Giro Grid MIPS. Clocking in at 14.1 ounces, the Grid combines a lightweight and well-ventilated design with newly developed MIPS Spherical for top-notch protection. This technology (unique to Giro and Bell helmets) uses ball-and-socket construction to mitigate weight and bulk while still guarding against rotational impacts, resulting in the lightest MIPS helmet on this list. And in terms of fit and finish, Giro held little back with the premium Grid, which features a plush removable liner, glove-friendly fit and vent adjustments, and a sleek magnetic snap buckle that we've found incredibly easy to use. 
In the end, the decision between the Grid and the MTN Lab comes down to a matter of priorities. The Salomon will save you a full $60, and its fixed vents and streamlined liner get the job done for most backcountry enthusiasts. Furthermore, the MTN Lab's mountaineering rating lends extra assurance for the uphill climb. On the other hand, with the Giro you get the angled impact protection of MIPS, and warmer insulation along with adjustable vents make it a more well-rounded option for resort skiing or especially cold days of touring. For those who bounce between the resort and the backcountry, we think the Grid (and women's Envi) is truly hard to beat. And if you're looking for Giro's premium resort offering, check out the Range.
See the Giro Grid MIPS  See the Women's Giro Envi MIPS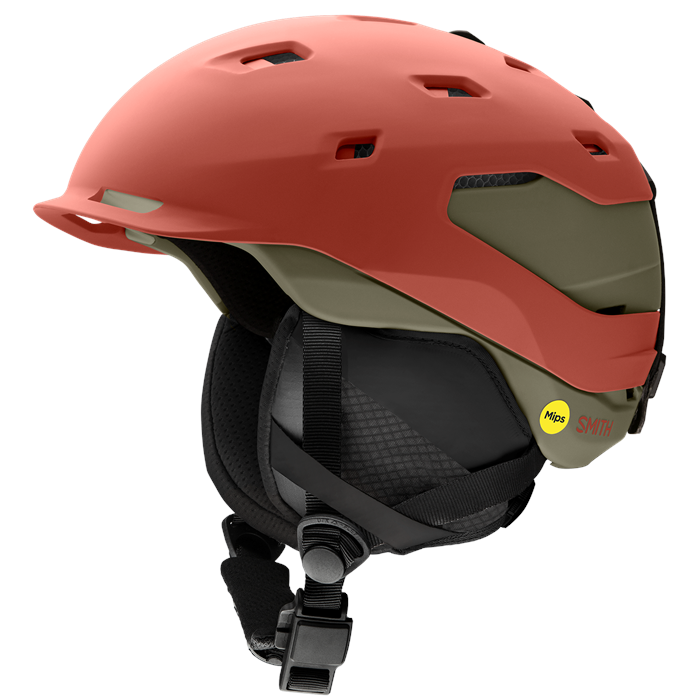 Construction: Hybrid in-mold
Weight: 1 lb. 7 oz.
Ventilation: Adjustable (22 vents)
What we like: Premium levels of protection and comfort.
What we don't: Very expensive and fairly heavy for backcountry use.
Smith makes a helmet for just about every type and style of skier and snowboarder, and their range-topping Quantum is tailormade for those tackling ambitious lines. This helmet includes the full arsenal of the brand's safety features: The energy-absorbing Aerocore construction used in portions of the Vantage and Level above is extended to the full shell, you get additional protection along the back of the head with a strip of ABS plastic, and a MIPS liner is included with all versions. And as expected from Smith, the Quantum is extremely comfortable with the right amount of padding and a highly tunable Boa fit system, plus its adjustable ventilation makes it easy to stay comfortable in nearly all temperatures.
What pushes the Quantum to a mid-pack finish is that the helmet is very expensive at $300 and its improvements over other designs are incremental at best. The Vantage above packs nearly as many safety features, weighs 5 ounces less, and comes in $30 cheaper. It also ventilates similarly and is a bit better for backcountry use due to its lighter weight. But if you want maximum protection and just about every available feature currently on the market, the premium Quantum MIPS is the one to get... Read in-depth review
See the Smith Quantum MIPS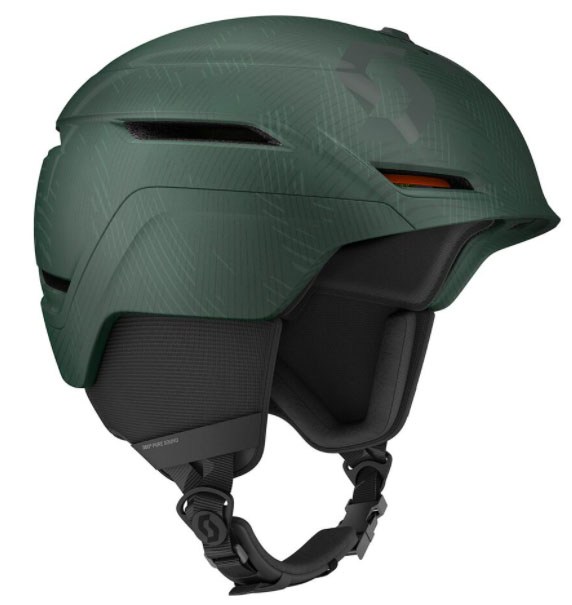 Construction: In-mold
Weight: 1 lb. 4 oz.
Ventilation: Adjustable
What we like: Feature-rich with great ventilation; 360° sound tech truly works. 
What we don't: Somewhat narrow fit; fairly heavy for an in-mold helmet.
With impressive safety tech and generous ventilation, the Scott Symbol 2 Plus D is our favorite helmet from the venerable outdoor brand. Released a few years ago, this second-generation model packs every safety feature Scott currently offers: The "D" in the name represents their shock-absorbing foam placed at the front and back of the lid for direct hits (known as D30 Technology), and a familiar MIPS liner helps with angled impacts. Tack on their unique earpiece inserts that maximize sound transmission and a venting system with dual adjusters (like the Vantage above), and the Scott is one of the most fully featured models on the market.
How does the Symbol 2 Plus D compare to Smith's popular Vantage MIPS? Both check the right boxes for safety tech with shock-absorbing materials and a slip-plane liner. In addition, the two designs can work for both resort and backcountry use with good ventilation as well as cozy interiors. The Scott saves you $50 but is missing the ABS plastic panel that sits on the top and sides of the Vantage, which is useful for limiting cosmetic damage and in lighter impacts. Combined with its weight advantage, rounder interior shape (the Scott runs a bit narrow), and more proven nature, we give the slight edge to the long-standing Vantage MIPS.
See the Scott Symbol 2 Plus D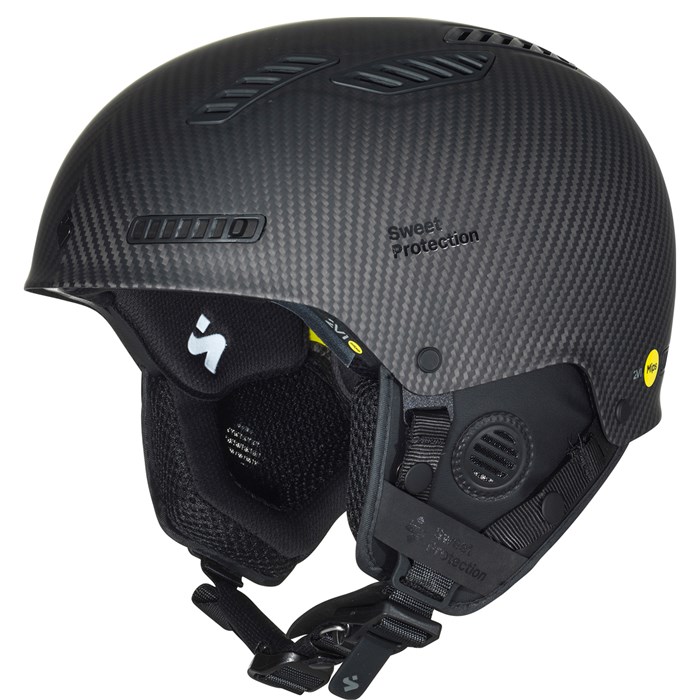 Construction: Hybrid carbon fiber shell
Weight: 1 lb. 6.2 oz.
Ventilation: Adjustable (10 vents)
What we like: A carbon fiber helmet!
What we don't: Super expensive and fairly heavy.
Right off the bat, it's readily apparent the Sweet Protection Grimnir 2Vi isn't your average ski helmet. The shell is made with gleaming carbon fiber—it's particularly impressive-looking in the "Natural Carbon" color—and the price tag is a whopping $400. That's $80 more than the next-most-expensive helmet on this list and puts it in rarified air for an all-mountain/freeride design. What the carbon fiber build and unique two-layer MIPS system get you, however, is incredible strength and pro-level performance. For those that hit big mountain lines with a lot of exposure, the Grimnir may be worth a look.
It probably won't come as a shock that the Grimnir 2Vi's appeal is very limited. For one, the riders interested in this helmet likely find themselves in hairy situations rather frequently, and they may need to replace it after a crash well before the liner has worn out (that's another $400). Moreover, there isn't a standardized test to prove that this carbon construction actually is safer than a similarly burly option like Smith's Quantum above (which happens to cost $100 less). In the end, the Grimnir remains a niche product, but Sweet Protection does make the $220 Igniter II MIPS, which shares a similar shape and fit but trades the carbon fiber for more practical ABS plastic.
See the Sweet Protection Grimnir 2Vi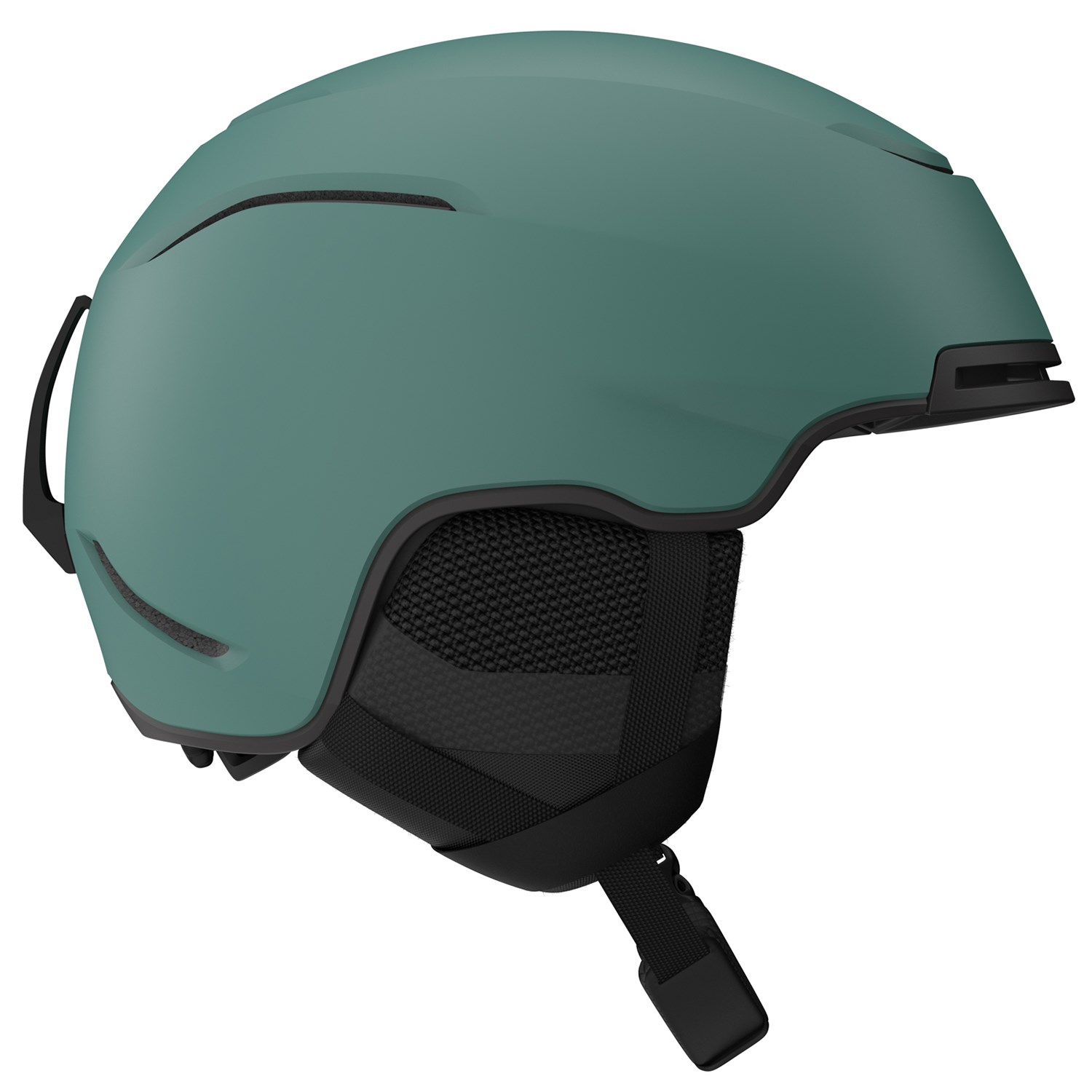 Construction: In-mold
Weight: 14.1 oz.
Ventilation: Fixed (8 vents)
What we like: Minimalist looks, lightweight, and competitive price.
What we don't: Non-adjustable vents means you can't fully seal out the cold.
Giro's Grid above is their high-end backcountry offering, while the Jackson MIPS here slots in below as a lightweight and more budget-minded option for resort and freeride use. They kept things pretty simple with a clean and minimalist exterior, low-profile in-mold construction, and lightly cushioned ear pads. But the details are really nicely sorted, including a highly adjustable fit system that can be shifted up and down to avoid a gaper gap with your goggles and the option to remove the aforementioned ear pads on warm days (or when touring). And with a weight of just over 14 ounces, the Jackson is light enough that you're prone to forgetting you're wearing it throughout the day.
Most fixed-vent designs do a bad job keeping you cool or dumping heat quickly, but the passive system on the Jackson is quite effective at drawing air from the front and out the back—even when standing still or working hard on a sidecountry hike. One limitation of the design, however, is that you can't seal it closed. As such, in frigid temperatures or if strong, chilly gusts are hitting you hard, the helmet runs cooler than a model with an adjustable venting system (like Giro's own Grid). In other words, the Jackson isn't a great match for those that run cold, but for active resort skiers or those looking for an affordable slackcountry/backcountry lid, it's well worth checking out.
See the Giro Jackson MIPS  See the Women's Giro Terra MIPS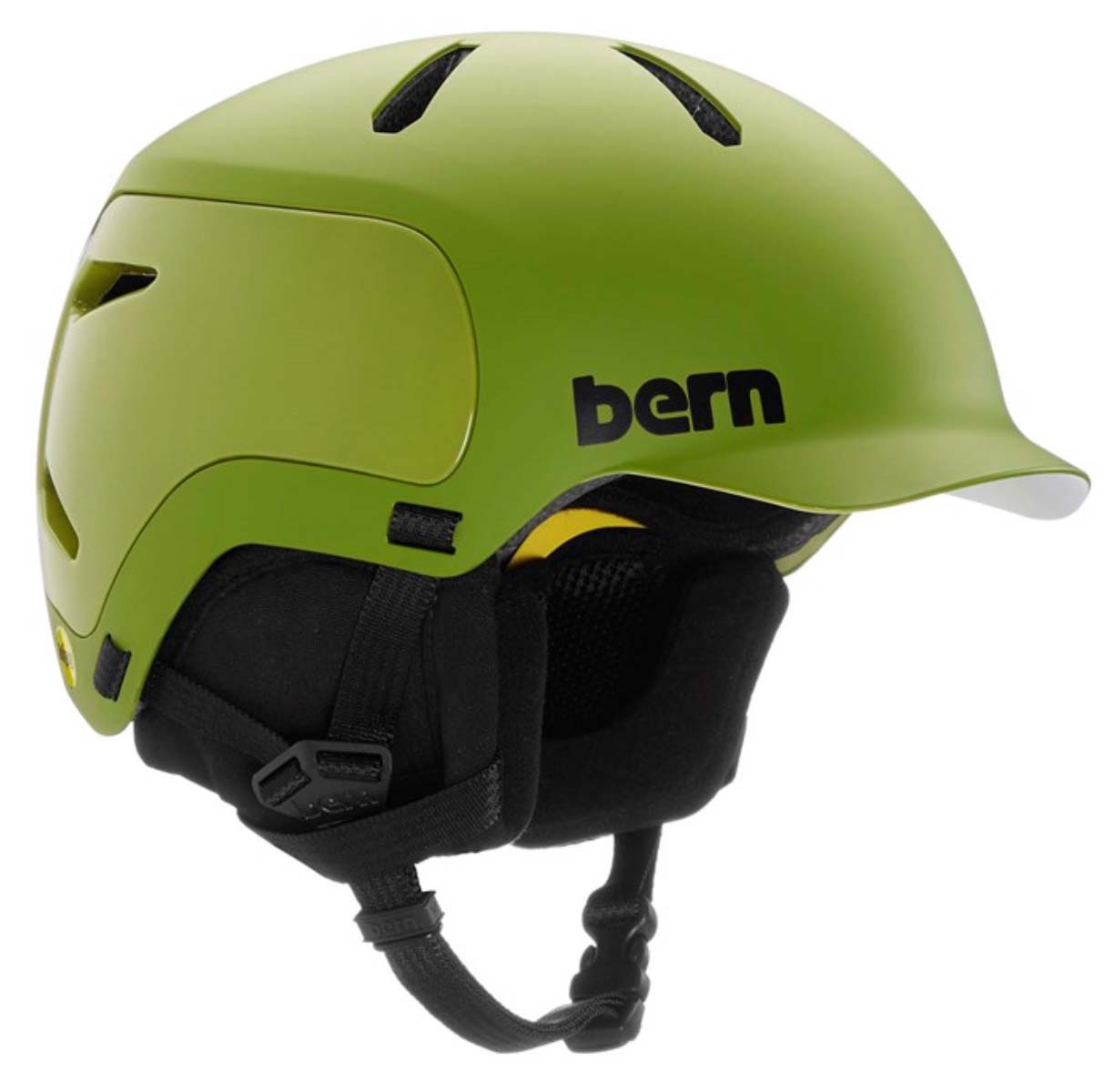 Construction: ABS
Weight: 1 lb. 2.5 oz.
Ventilation: Fixed (11 vents)
What we like: Very comfortable and good looks.
What we don't: Non-adjustable vents; angled bill gets in the way of large goggles.
Ski helmets is a category where we're often willing to spend a little extra. A nice lid is something that just works and you don't think about, whereas a bad one can ruin a ski day. But the $140 Bern Watts 2.0 earns a spot on our list because it's flat-out comfortable. Slide it on your head and twist the Boa adjuster, and you're in for all-day fun. A second major benefit is its 2-in-1 compatibility: The helmet is certified for bike, skate, and snow use, so you can multi-sport with it all winter. We often see this helmet around Seattle, and the dual-use aspect certainly is a reason why.
At this price there, will be compromises, and the big ones for the Watts are ventilation and goggle fit. To start, the ABS construction means there aren't as many vents as most other options on this list, and what vents it does have are non-adjustable. It's also a little tricky to find a pair of goggles that can squeeze under the angled, ballcap-like visor and avoid exposed skin. Medium-fit goggles like the Smith I/O Mag can work, but if you go too small or too large, it can result in discomfort or brain freeze on frigid days. If you're able to find a suitable goggle pairing, however, the Bern Watts is a good-looking, well-rounded option.
See the Bern Watts 2.0 MIPS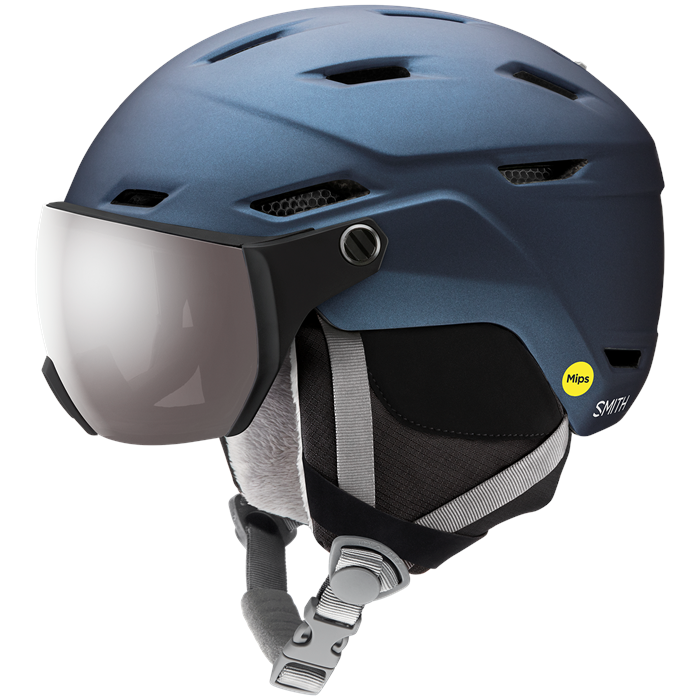 Construction: In-mold
Weight: 1 lb. 9 oz.
Ventilation: Adjustable (14 vents)
What we like: No gaper gap with the integrated goggle; quality Smith design at a good price.
What we don't: Polarizing looks. 
Now for something a little different. Smith's new-for-winter-2022 Survey breaks from the mold with its all-in-one helmet and goggle design. The helmet portion is a fairly standard Smith offering, featuring their lightweight in-mold construction, Koroyd for impact absorption, a nicely padded interior, and adjustable vents. But rotate down the built-in goggle—Smith refers to it as a visor—and you get a really well-integrated setup, complete with the brand's signature ChromaPop lens. For an all-in price of $260 for the MIPS model, the Survey adds up to a decent value for a combo kit. And the bonus: a zero-percent chance of a gaper gap between the helmet and goggle.
The main thing holding the Survey back is its looks, which are undeniably futuristic and polarizing. The helmet wouldn't be out of place in a galaxy far far away, which may be either be a positive or negative for you (we lean a bit towards the latter). In addition, we found the visor portion required a fair amount of downward pressure to fully lock into place, and even then, it didn't create as snug of a seal around our cheeks as a standard goggle. A final complaint is that the padding in the ears muffles quite a bit of noise, although you can remove the foam to help with that (at the cost of some insulation). Clearly, the Survey won't be for everyone, but we think the two-in-one solution is a nice addition to the market... Read in-depth review
See the Smith Survey MIPS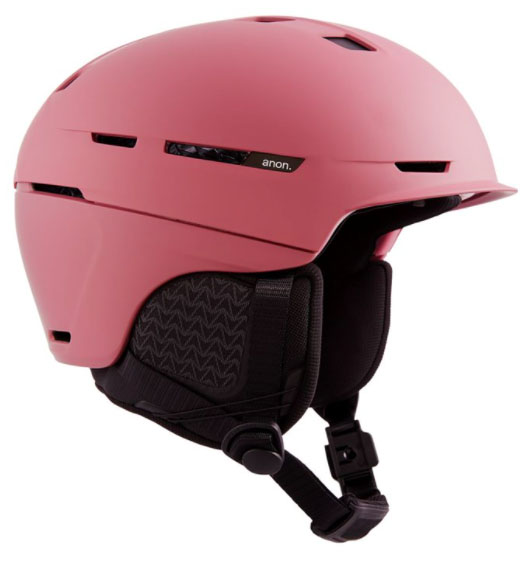 Construction: Hybrid in-mold
Weight: 1 lb. 4.5 oz.
Ventilation: Adjustable (19 vents)
What we like: WaveCel technology incorporated into a high-end build.
What we don't: There are cozier and more well-padded options available. 
First offered in Bontrager's line of biking helmets, WaveCel technology made the leap into snowsports last season. In short, the cell-like structure aims to provide two main safety benefits: shock absorption in direct impacts and reducing rotational forces in an angled hit (like MIPS). Anon is the first to incorporate the tech and have included in both their mid-range Logan ($240) and high-end Merak ($320) models. The latter design also packs a number of extras that you'd expect for the price, including a hybrid in-mold construction for good durability, magnetic chinstrap, Boa fit system, and an adjustable ventilation design. It's a little on the heavy end—our medium size tipped the scales at 1 pound 4.5 ounces—but it's a formidable option for serious downhill and big-mountain riding.
In testing the Merak, however, a few complaints have emerged. The most significant is the padding design, which doesn't protect you as well from the Boa fit system as we'd like. Cinching the helmet creates light pressure points at the sides of the head (the shape could've also been part of the issue, and the Merak seems to favor more of an oval-like head rather than round). Additionally, the minimalist padding meant the helmet ran on the cold side on frigid resort days, and the foam used around the ears muffles more sound than we prefer. Some will find these tradeoffs worth it for the advanced safety tech, but we'd like to see some of the finer details sorted out before moving it up our ranking.
See the Anon Merak WaveCel
Construction: In-mold
Ventilation: Fixed (6 vents)
What we like: Good value and feature set.
What we don't: Generic looks and minimal ventilation.
On the heels of the MOD 5 and MOD 3 is Oakley's latest build: the MOD 1. As the name indicates, this is their entry-level model with a simplified look, trimmed-down feature set, and budget-friendly $100 price. But Oakley managed to pack in a number of nice touches, including a magnetic buckle (something you rarely find on a sub-$200 lid) and Boa's proven 360-degree fit system. Comfort is also good for the mid-range category thanks to a beanie-like lining that has a soft feel and molds nicely to your head.
We're happy to see Oakley expanding their helmet lineup, but we think they missed the boat a little with the MOD 1. To start, its in-mold construction helps keep weight down but compromises in durability compared with ABS-built competitors like the Giro Ledge above. Those that spend time in the park or exploring the outer reaches of the resort will likely want a tougher design. Further, the MOD 3 and MOD 5 stand out in the market with their unique, futuristic looks, but the MOD 1 blends in with generic, skate-inspired styling. Despite our nitpicks, we can't knock the MOD 1's value, which earns it a spot on our list for this winter.
See the Oakley MOD 1 Helmet
Construction: In-mold
Weight: 8.5 oz. (M/L)
Ventilation: Fixed (23 vents)
What we like: Ultralight climbing helmet that's CE-certified for ski touring.
What we don't: Drafty and does not meet standards for resort skiing.
The Salomon MTN Lab and Giro Grid are two of the lightest ski helmets available, which make them prime suspects for backcountry skiers looking to keep weight low. But for ski mountaineering and long tours, these lids are still on the bulky side. Enter the Petzl Meteor, an 8.5-ounce climbing-turned-ski helmet that's truly in a class of its own. The Meteor is officially certified for ski touring (EN 12492), offering impact protection on both the top and sides of the head (most climbing helmets only guard against objects falling from above). It's also fully compatible with goggles—including a rear elastic band built specifically for the task—and features glove-friendly adjustments at the rear.
But before you hit the skin track with the Petzl Meteor, it's important to recognize its limitations. In particular, this helmet fails to meet standards for an alpine ski helmet, meaning that it doesn't provide ample protection for inbounds skiing, big lines in the backcountry, and even some skimo races. Second, with 23 fixed vents and no ear pads, it's decidedly drafty and lacks that cozy, secure feel you get with a standard ski helmet. In the end, the aforementioned MTN Lab and Grid are much more well-rounded options for all but the most weight-conscious of backcountry-goers. But if you ski tour in the winter and climb in the summer, the Meteor is a do-all helmet that excels in both worlds. Finally, keep in mind that Petzl's 6-ounce Sirocco is an even lighter ski touring-certified option, but it has less of a goggle-friendly shape and feature set.
See the Petzl Meteor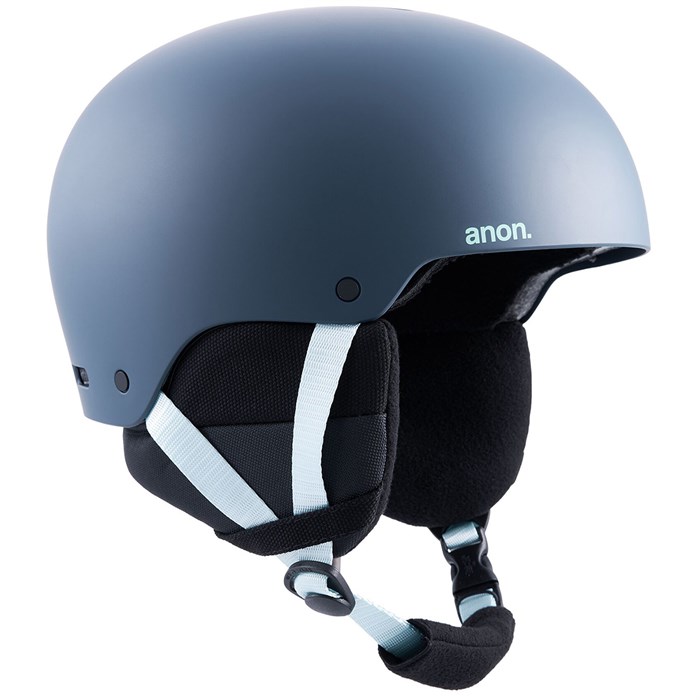 Construction: ABS
Weight: 1 lb. 5 oz.
Ventilation: Fixed (6 vents)
What we like: Good price, durable construction.
What we don't: Looks and feels bulky; no fit adjuster.
The Anon Raider is long-time budget favorite with its durable construction and skate park-ready looks. From a features standpoint, it's about as basic as it gets. There is no adjustable fit system, its ventilation system doesn't do a great job with temperature regulation or fog prevention, and it's among the heaviest models on our list at 1 pound 5 ounces. On the plus side, the interior padding has a fleece backer, which is much softer than we expected for the price, and the helmet has a nice, solid feel.
Its $85 price puts it into direct competition with the Smith Holt above, and between the two, we give the clear edge to the Holt. Smith has done a better job making a more livable helmet for the same price: The simple fit system works well and despite weighing about the same, it feels much lighter on your head and looks far less bulky. The Anon, however, is multi-season-certified, which makes it a nice deal for a snow and skate helmet.
See the Anon Raider 3  See the Women's Anon Greta 3
Ski Helmet Comparison Table
Ski Helmet Buying Advice
Helmet Construction Types
Construction styles for ski helmets can be broken into three general categories: ABS for the best durability, in-mold for the lightest weight, and hybrid in-mold for a great compromise between the two.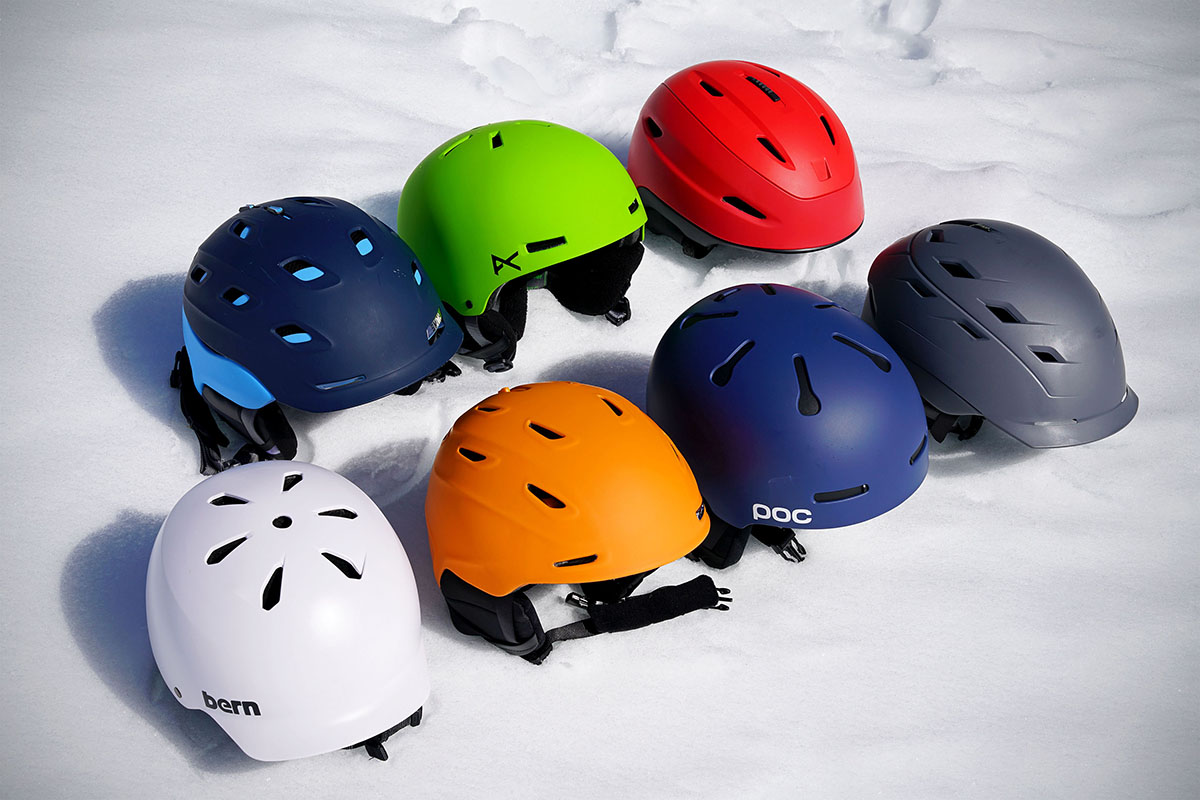 ABS
Diving a little deeper, ABS helmets like the Smith Holt are made in the traditional style with a hard plastic shell and a foam liner glued to the inside. The combination means it's tough, but at the expense of weight and bulk. Put on an ABS helmet back-to-back with an in-mold or hybrid design and the ABS model will look and feel more cumbersome. Its redeeming quality is price, which can lead to substantial savings over the other construction types. For skiers or snowboarders that are looking for a first helmet, are trying to save some bucks, or want the toughest option around for taking hard hits, an ABS-style helmet should do just fine.

In-Mold and Hybrid
In-mold and hybrid in-mold technology is found on many high-end and mid-range helmets. In-mold construction combines a thin shell (often polycarbonate) with an EPS foam liner right from the start, and they're molded together. What you get is an integrated piece, which cuts weight and lets the helmet work as a single unit to absorb impacts. Ventilation also improves with these models; how much it improves will vary by model and price.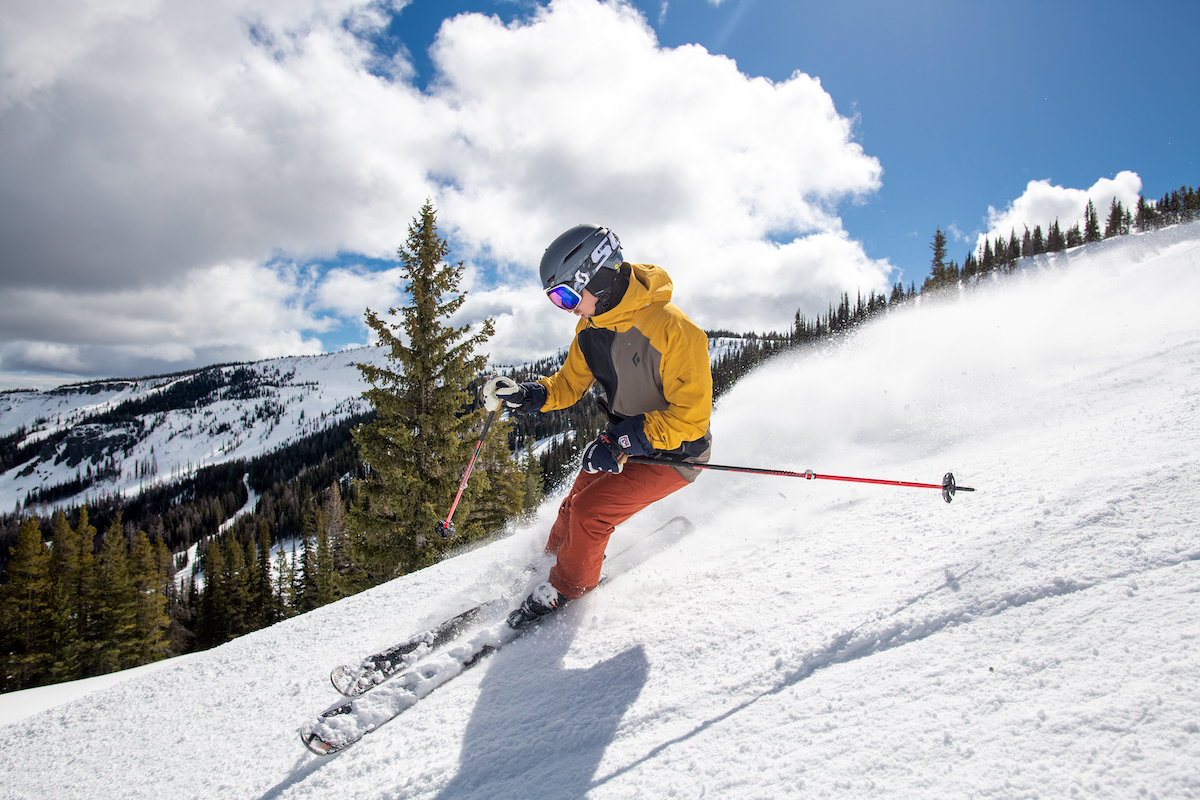 Durability is the primary downside to an in-mold helmet, particularly protection against cosmetic damage like dings and dents, which is why hybrid helmets have grown in popularity. Hybrid in-mold designs add a hardshell layer (often along the top) for improved aesthetic durability. We find hybrid designs to be the best of both worlds, but their price, which is often $175 or more, puts them out of reach for many occasional skiers. A number of our top picks use this type of construction, including the Smith Vantage and Oakley MOD 5.

Ventilation: Adjustable or Fixed
We place a high priority on ventilation. Throughout the course of an average ski day, we open and close our vents on multiple occasions as we hunker down on a windy lift ride or heat up on a sidecountry hike. The technology behind keeping you at a comfortable temperature isn't as simple as putting a bunch of holes in the helmet—that winter air is rather cold and can lead to dreaded brain freeze when you are trying to let out some steam.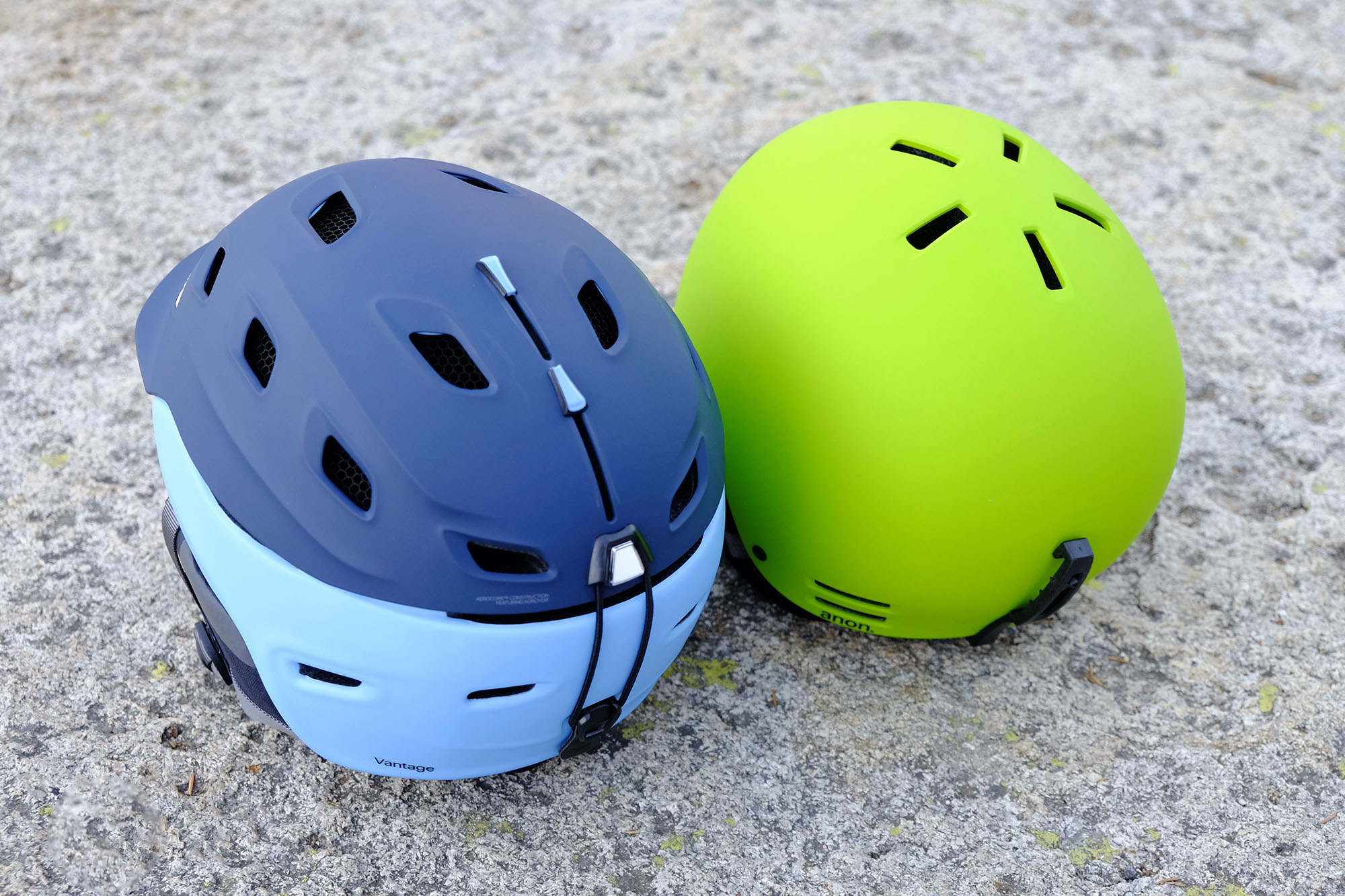 First, look at the number of total vents of the helmet (we've provided this information in the specs for each helmet and in the comparison table above). Not all vents are created equal, but this number gives you a good starting point as to how much ventilation the helmet offers. To be sure, there is a correlation between the number of vents and cost of the helmet. One of the best ventilators, the high-end Smith Vantage, has an impressive 21 vents, while a budget model like the Anon Raider 3 only has six small fixed openings.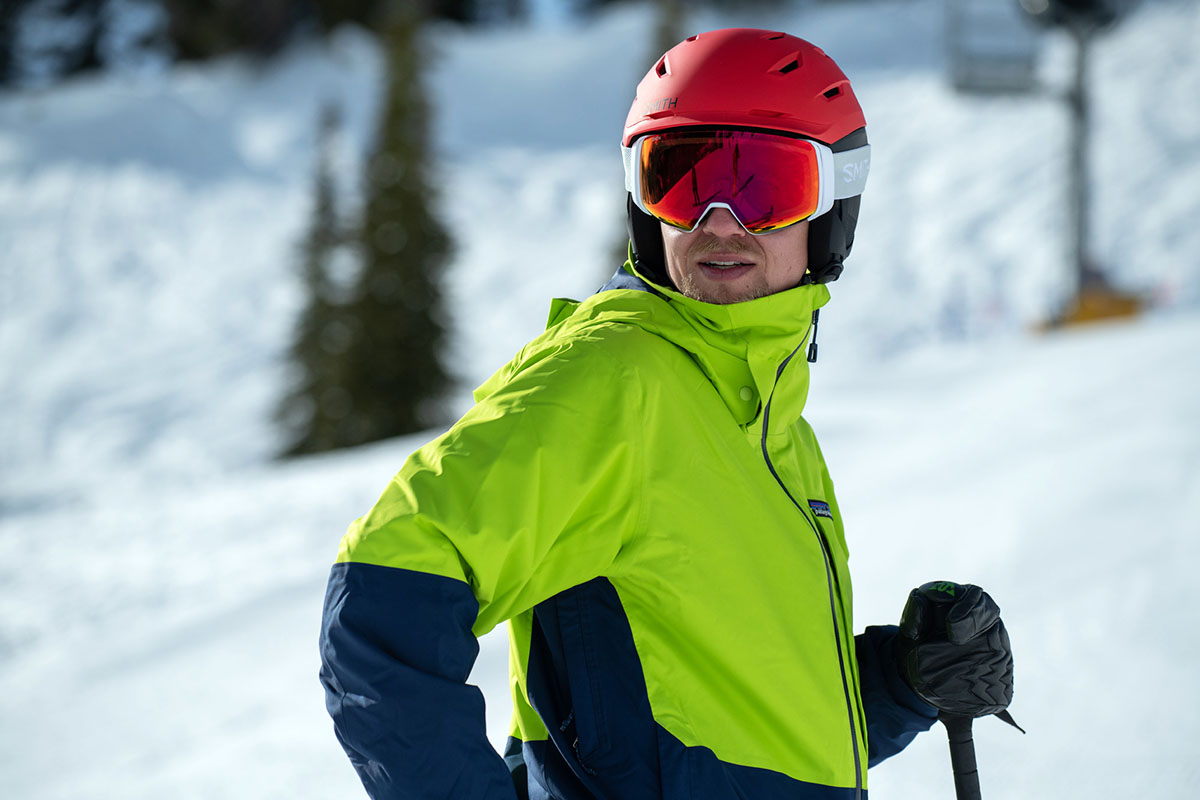 Then you have both adjustability and design considerations. Many premium and mid-range helmets have adjustable vents that can be opened and closed depending on the preferred amount of air that you want to let through. Adjustability is highly preferred over static vents. And effective designs direct air through intakes at the front and "exhaust" the heat out the top and back. Budget helmets often have fixed openings that cannot be shut, although a well-designed passive system can still do a decent good job regulating your body heat. For long uphill slogs, you may need to ditch the helmet altogether, although we always recommend dealing with the heat if there is a chance for rock fall.
Liners: Comfort and Warmth
Liner comfort is one of the most noticeable differences when comparing budget models (typically under $100) with mid-range and high-end ski helmets. Pricey options like the Smith Vantage, Oakley MOD, and POC Obex feature padding along the interior that balances softness with support, and if you nail the fit, you'll hardly notice the helmet throughout the day. Cheaper designs often have squishy foam that packs out over time, feels uncomfortable if you wear it all day, and muffles sounds (for the foam in the ear pads). For these reasons (and more), we recommend spending up if you plan to get out a lot in the winter. Like an uncomfortable pair of ski boots, you'll notice it if you don't.
In addition to comfort, your liner can be a great source of insulation. In our experience, a quality design like what's included with Smith's Level offers about as much warmth as a midweight winter hat (we've been comfortable wearing the Level down into the single digits). Spending up often gets you better insulation, while sticking with a cheap lid can lead to issues with warmth (especially around the ears). Finally, keep in mind for particularly frigid days or if you're prone to running cold, you can slip on a beanie underneath (just make sure to choose a helmet size that can accommodate the extra thickness).
 
Helmet Safety: MIPS and More
Tasked with keeping you safe from hard impacts on the hill, all helmets on our list have a non-motorized snow sports safety certification from US-based ASTM International. Despite construction differences referenced above, all follow a basic design with a hardshell exterior and foam interior to absorb some of the impact. There are helmets with additional certifications, like the Salomon MTN Lab (mountaineering) and Sweet Protection Ascender MIPS (mountaineering) but all are considered a safe choice for skiing and snowboarding, although careful reading of the certification only establishes their intent to keep you safe at low speeds. The onus is still, as it should be, on the user to ski or snowboard within your limits.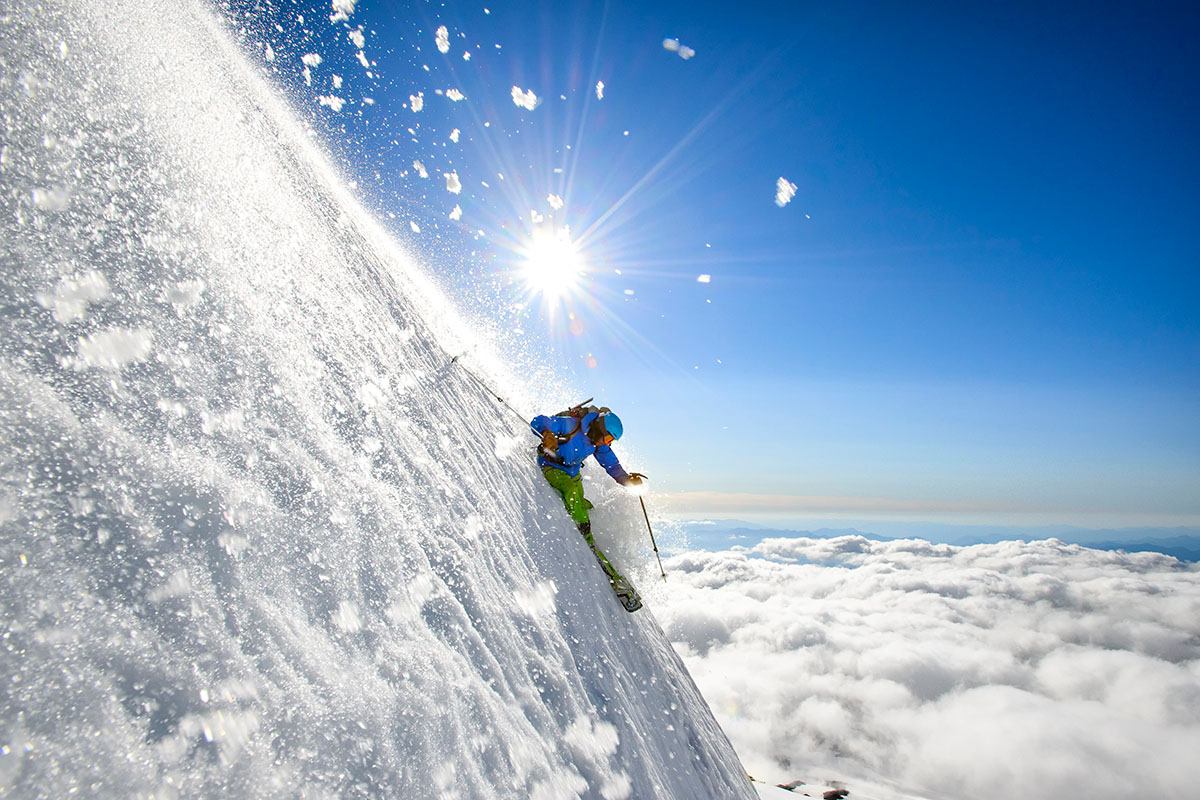 In an effort to increase safety, additional technologies have hit the market including POC's SPIN system, but none has been so universally adopted as the MIPS liner. In short, the technology is designed to reduce potential damage to the brain in angled impacts (Giro describes it as "certain impacts") through a liner that moves independently from the outer shell. We've taken the time to remove our MIPS liners and it's impressively simple: there's one thin plastic layer that connects to the helmet with a few small tabs.
Beyond the formidable research that has gone into MIPS and comparable technologies, the beauty of the designs are that they have essentially no impact on comfort or the profile of the helmet. As such, you see MIPS being adopted on anything from a premium $270 Smith Vantage all the way down to an $90 Giro Ledge. Some helmets we've tested do appear to fit slightly smaller as a result, but otherwise the impact is negligible. How often MIPS technology is a safety benefit is difficult to quantify and we haven't found any solid evidence-based research, but all indications point to it being a nice extra safety measure to protect your head (how much that's worth is up to you). For more information on MIPS, we've found the technology page of the MIPS website to be a helpful resource.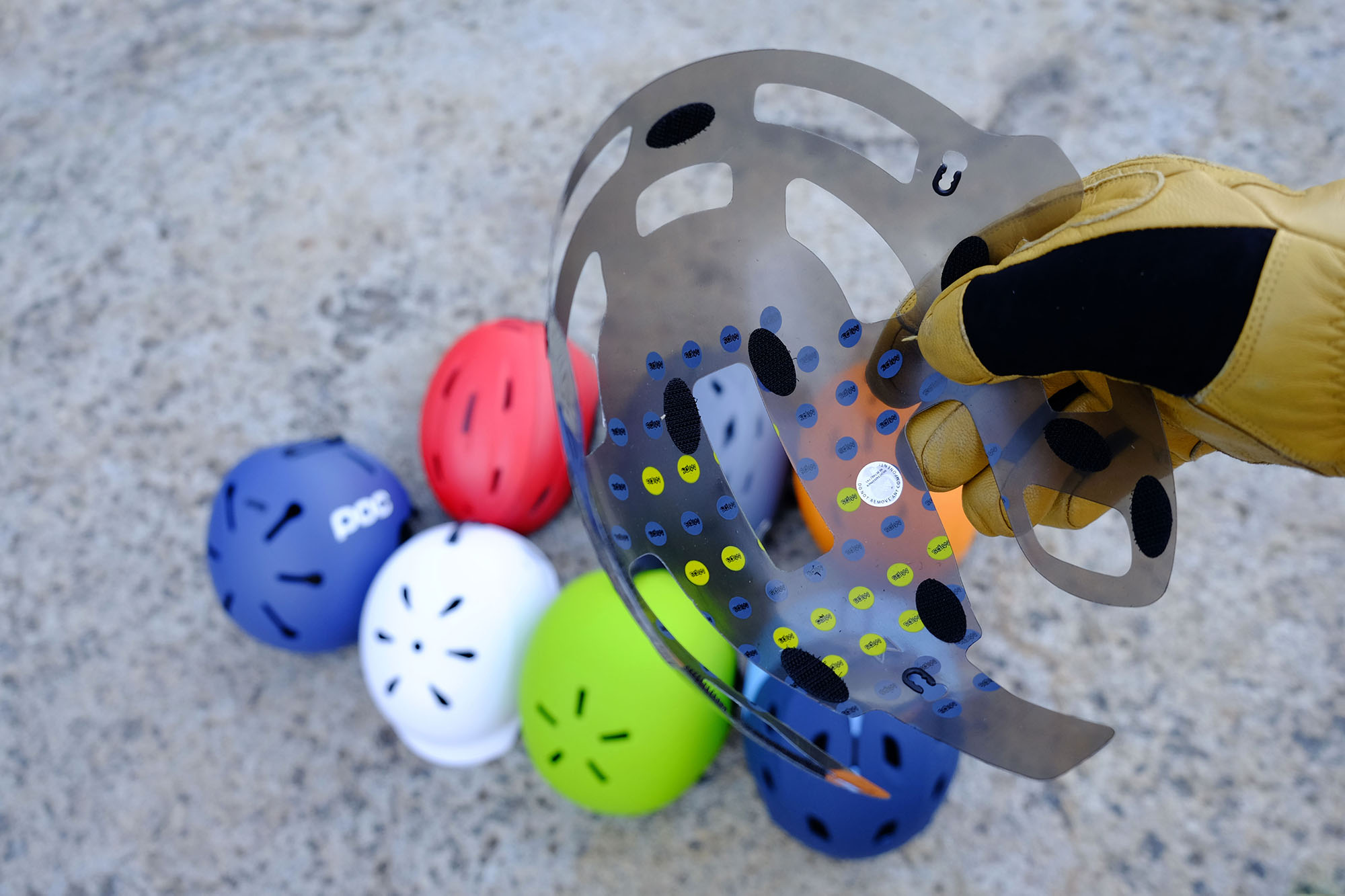 Weight and Bulk
Within their specific construction type—ABS, in-mold, or hybrid in-mold—most ski helmets weigh approximately the same. For our medium-sized helmets we tested, that's 14 to 16 ounces for in-mold, 17 to 19 ounces for hybrid, and 20+ for ABS. And between categories, there are noticeable differences in how they feel—in-mold and hybrid helmets are less prone to feeling heavy during a long day on the hill. However, simply putting a helmet on a scale won't tell you the whole story of how it feels on your head. Good padding and a snug but comfortable fit can easily make up the difference of a couple ounces. It's one of many reasons we love the Smith Vantage. It's not the lightest, but you'll quickly forget its there.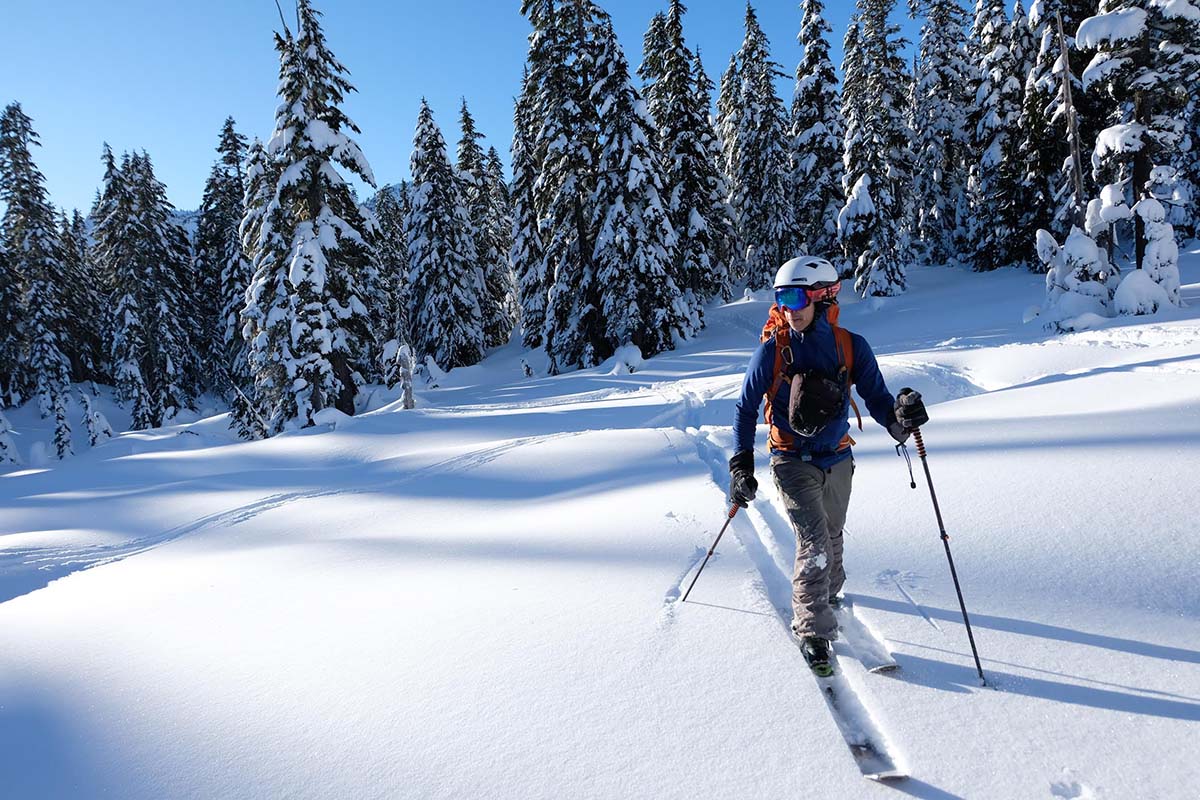 The bulkiness of a helmet plays into this perception of weight. Cheap helmets made with a basic ABS construction are thick and feel cumbersome. The Anon Raider was the worst offender from our list, but it's still much better than even cheaper helmet options (and it's no coincidence that no helmets under $80 made the cut). In contrast, our top picks all have a low-profile fit and don't feel like you're hauling around a heavy appendage.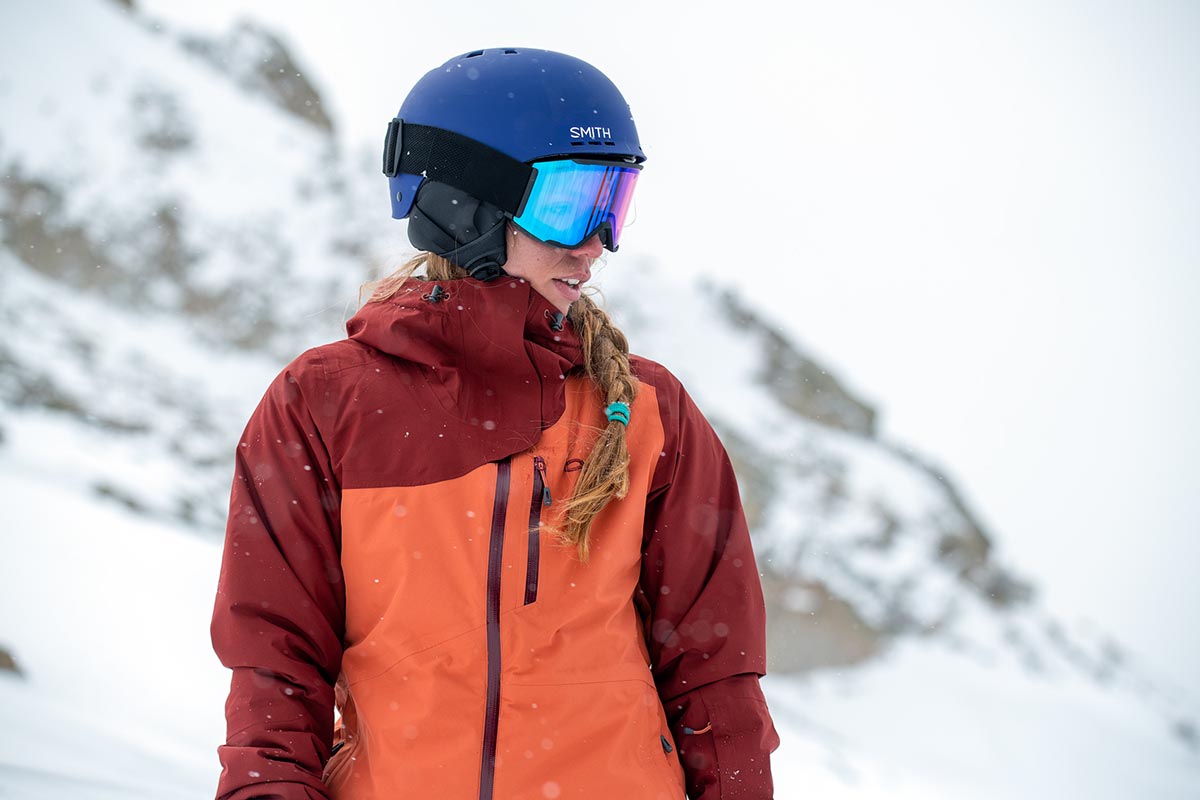 Ski Helmet Features 
Goggle Retainer Clips 
Goggle retainers are a simple but appreciated feature. The built-in clip holds goggle straps in place and helps reduce the risk of losing your ski goggles in a crash or otherwise. Designs do vary some—many budget helmets use a simple plastic piece that flips open, while higher-end helmets will have a more secure strap or cord design.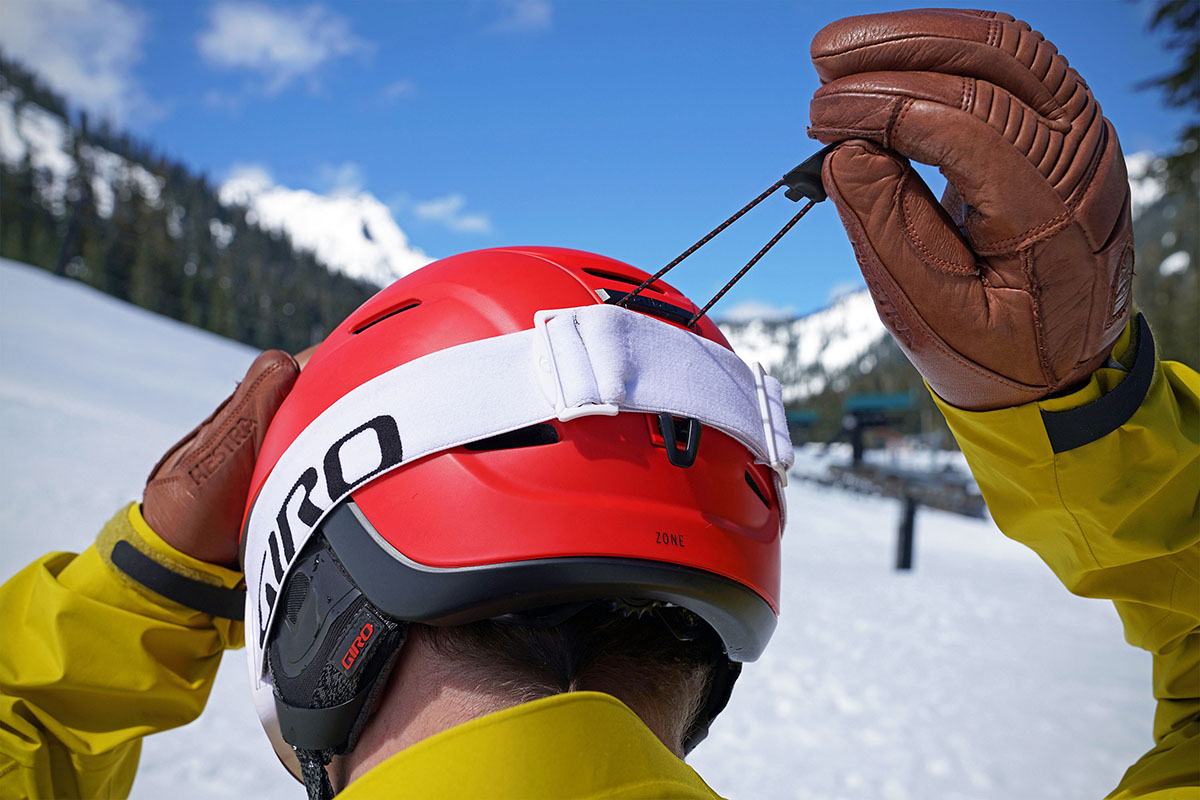 Audio Compatibility
Most helmets are compatible with some sort of audio system. For example: Smith and Giro work well with Outdoor Tech's Chip systems. In both cases, the ear cups have a built-in pocket that can accommodate speakers. "Audio" helmets like POC's Communication line will have integrated speakers and a cable to attach to a phone or music player. If you go this route, plan on spending a little extra to get quality speakers and reliable electronic hardware. Simply put, cheaper options don't sound as good and are prone to failing. While skiing, it's always a good idea to keep the volume down or have speakers that are non-noise cancelling for safety. While it may impact sound quality, the safety tradeoff of being able to hear other skiers or someone shouting at you is a net win.
Action Camera Mounts 
Skiing and snowboarding are two sports directly linked to the action camera's growth in popularity. Skiers quickly jumped at the opportunity to record ski runs, tricks, and just general fun on the mountain. The nice thing is that most action cameras come with adhesive helmet mounts that can be directly attached to pretty much any helmet on the market. Some models, such as Giro's Zone, go a step further and come with a GoPro-compatible mount to make it easier to take the camera on and off.
 
Sizing and Fit
Getting sized for safety gear isn't a good time for guessing, so if you don't already know it, measure your head circumference prior to making an online purchase. All you'll need is a soft-sided measuring tape or string: Wrap it around your head about an inch above your ears and eyebrows to get your number (in centimeters). As long as the manufacturer is close in their listings—the only discrepancies we've seen recently are the smaller-fitting MIPS helmets referenced above—this should get you a decent fit.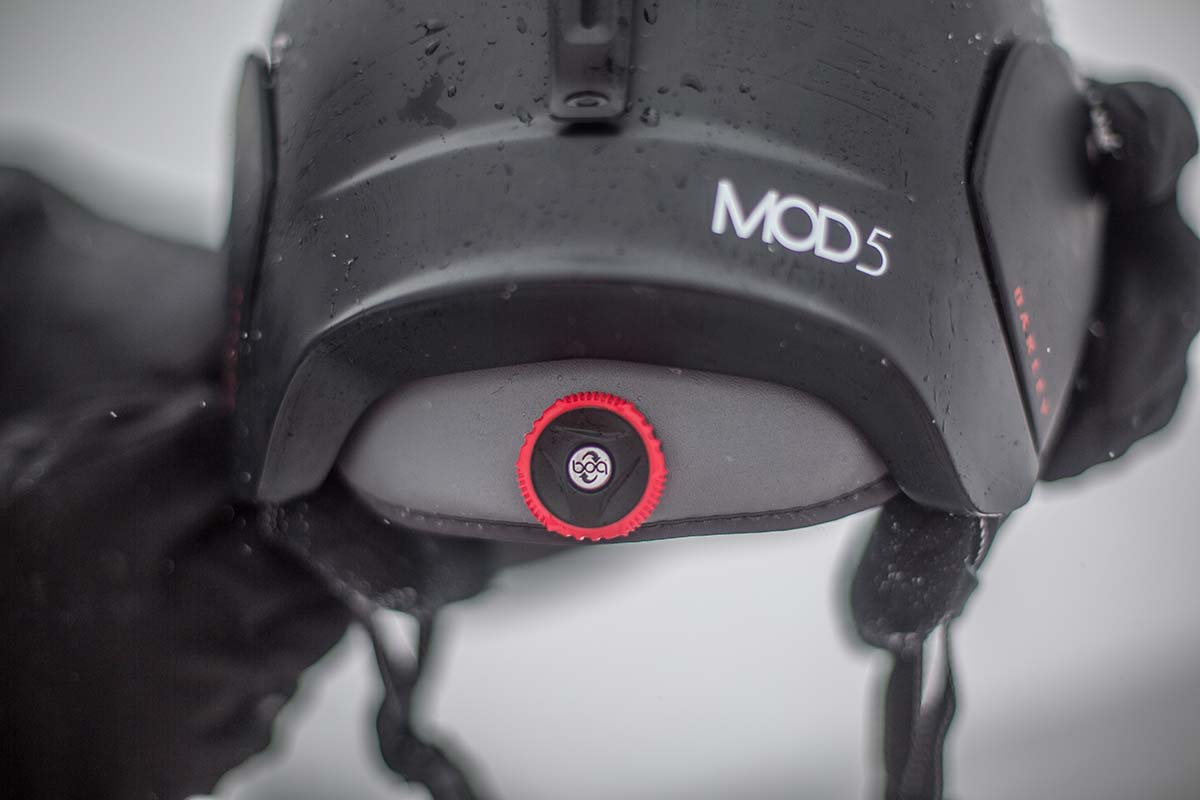 Being able to try on various helmets can take you from a decent to perfect fit, because, just like the heads we're stuffing them into, helmets come in different shapes. For example, the Smith Vantage is pretty well known for fitting folks with a rounder head shape best (although it's pretty close to universally compatible). On the other hand, the Scott Symbol 2 Plus D is more accommodating to a narrower profile. Unfortunately, we haven't found entire brands of helmets fit a certain way, so we can't make too many generalizations, but we have called out any issues we've had with the fit in our picks above. It's best to try on before you buy, but you can also make sure the online retailer accepts returns (all the ones we recommend do).
One final note on fit: If you see a helmet with a single size that claims to be one-size-fits-most, we advise steering clear even if your head circumference falls within the listed parameters. Something that adjustable just won't fit as well in the end.
 
Goggle Compatibility
As with getting that perfect helmet fit, goggle compatibility is something that's easiest if you can try them on. An ill-fitting helmet and goggle system can either be too tight, which pushes the helmet up and the goggles down your nose, or too open, leaving some of your forehead vulnerable to the cold air. The easiest way to guarantee a good fit is to stick within the same brand—Smith helmets work great with Smith goggles, and the same goes for Giro and POC—but we encourage you not to limit yourself if there's a goggle or helmet that's caught your eye.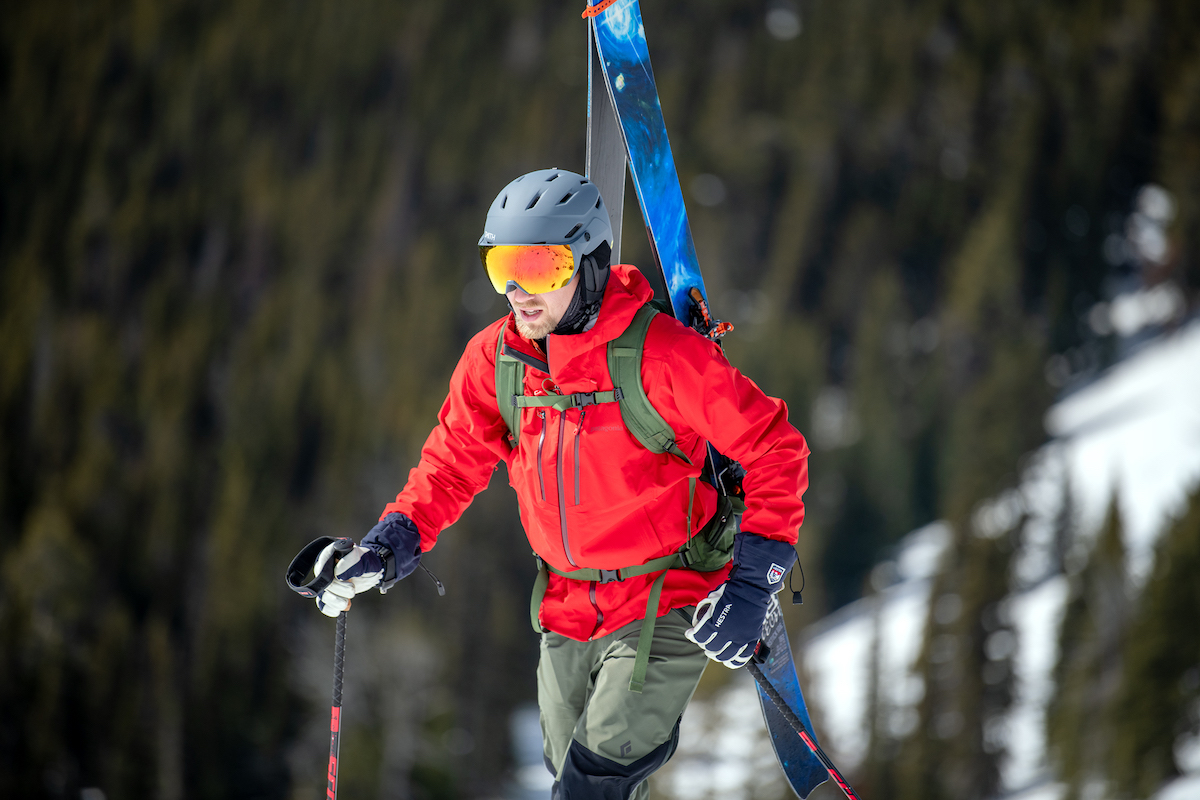 In testing, we've found some helmets are extremely accommodating of a variety of goggle types. The Oakley MOD 5's swappable brim makes it the most compatible with a range of brands and sizes. And Giro's helmets not only work well with all Giro-branded goggles, but we've also found that many provide an excellent fit for anything from the large Anon M3 or Dragon X2 to the classic Smith I/O. Smith's popular Vantage and Level helmets are also reasonably accommodating, fitting big-sellers like the Oakley Airbrake and Flight Deck, but we had issues with tall frames like the Dragon X2.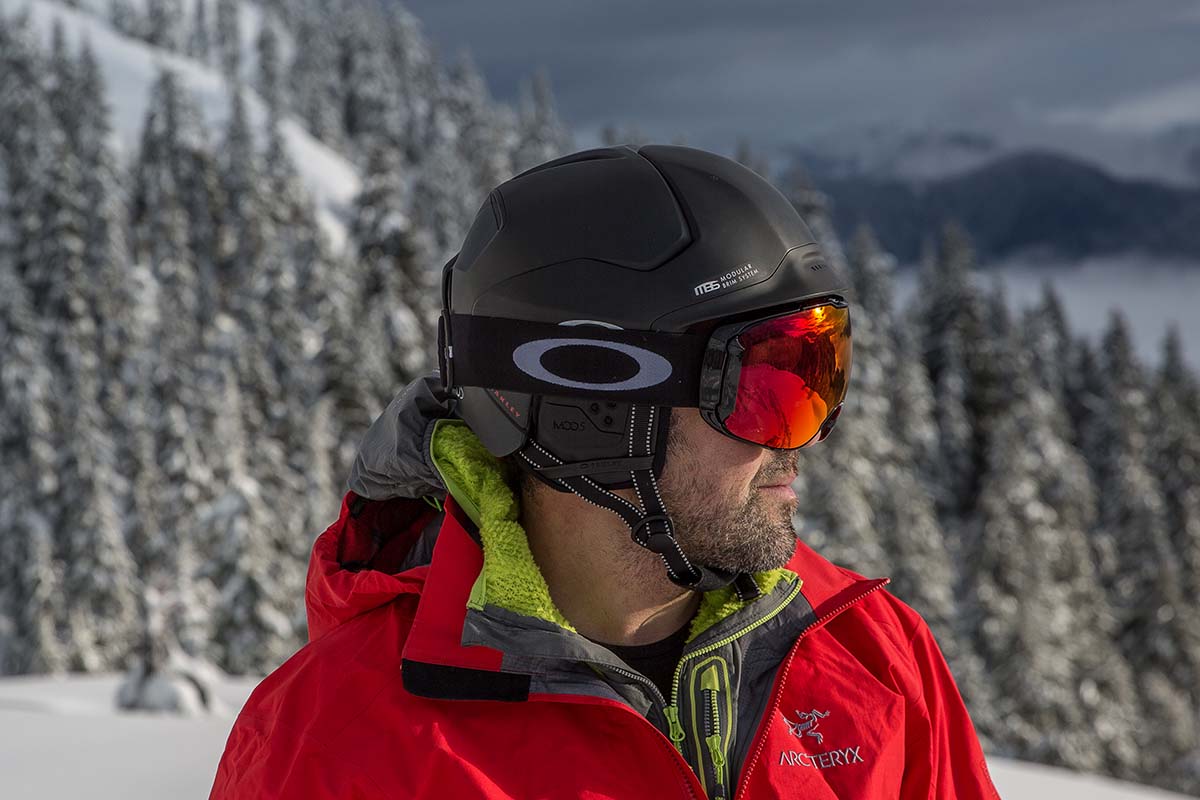 Women's-Specific Helmets 
While a number of ski helmets are unisex and are perfectly fine for either men or women, there is a wide selection of women's-specific snow helmets. These models are quite similar to men's versions, but with different colorways for the shell and liner, as well as having a smaller fit. There will often be a name change, but the technology is all the same—and so is the pricing. When applicable, we've included the link to both the men's and women's versions of the helmet.
Back to Our Top Ski Helmet Picks  Back to Our Ski Helmet Comparison Table
Learn More About Ski Gear