Nothing can kill a great day on the slopes like cold fingers, so make sure to choose a quality glove or mitten that fits the type of skiing you do most. The options range from gauntlet-style synthetic gloves to undercuff leather designs from powerhouses like Swedish manufacturer Hestra. Below are our picks for the best ski gloves and mittens for 2022, with price points from over $200 down to $20 or less for old-school Kincos. All gloves on this list are either unisex or include a link to the women's-specific version. For more background information, see our glove comparison table and buying advice below the picks. To complete your kit, check out our articles on the best ski goggles and ski helmets.
 
---
Our Team's Ski Glove and Mitten Picks
---

Best Overall Ski Glove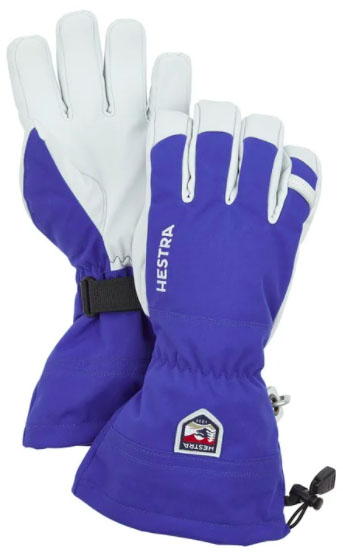 Cuff style: Gauntlet
Shell: Polyamide/goat leather
Insulation: Polyester fill
What we like: Beautifully made, cozy and warm, and good dexterity.
What we don't: Requires some maintenance to stay waterproof.
Ski professionals the world over have trusted Swedish manufacturer Hestra for decades, and the Heli is our top pick. This comfortable and highly functional ski glove has been around for years, but its hybrid leather and synthetic construction remains best in class. The Heli's premium build quality, warmth, and comfort all stand out at a price that undercuts other high-end ski gloves. For these reasons, we think the Heli is the perfect partner for keeping you warm on the mountain.
As with nearly all Hestra products, the Heli has liberal amounts of leather in its construction. The benefit is that the glove flexes easily and is very durable, but you will occasionally need to reapply a leather conditioner to the palm and fingers to keep moisture at bay (a small sample of Hestra's Leather Balm is included). Some prefer a glove with a nylon shell for better waterproofing, but we find the simple maintenance to be well worth the effort—even for skiing in the wet snow of the Pacific Northwest. This popular glove has spawned a couple variations, including a mitten for maximum warmth and a 3-finger glove that splits the difference. For a truly waterproof version without removable liners, check out the Hestra Army Leather Gore-Tex ($190).
See the Hestra Heli Glove  See the Women's Hestra Heli
A Close Second (With Better Waterproofing)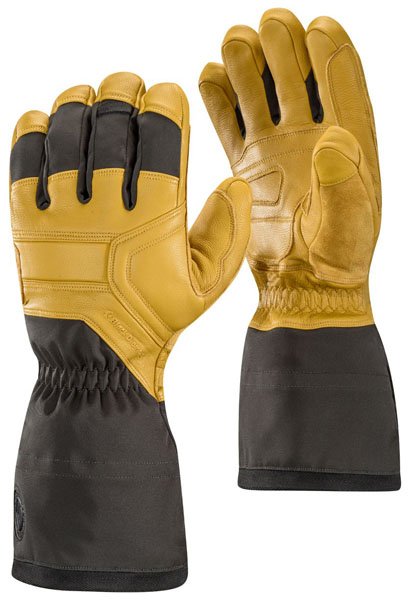 Cuff style: Gauntlet
Shell: Nylon/leather
Insulation: PrimaLoft One synthetic, wool
What we like: Very warm, long-lasting build, and comfortable.
What we don't: Takes some time to break in; below-average dexterity.
Black Diamond's Guide glove is legendary among hardcore skiers for its impressive warmth and durability. It's near the top in terms of hand protection on this list, and unlike the Hestra Helis above, the design is completely waterproof with a Gore-Tex insert. Inside its very tough exterior, Black Diamond uses both PrimaLoft synthetic and thick boiled wool in the removable liner for insulation. If your hands are consistently cold or you ski in frigid conditions, the Guide is hard to beat.
The downside of all this material is that the BD Guide can take some time to break in. And even after a few years of consistent use, ours still lacks the flexibility that you get right out of the box with the Hestra Helis that are similarly warm (one downside of the Gore-Tex liner). It's a compromise many are willing to make, however, and the Guide is among the most popular ski gloves on the market. If you run warm or only head out in mild conditions, you can save money by opting for a glove with lighter insulation and better dexterity, such as the Outdoor Research Arete or Marmot Randonnee below.
See the Black Diamond Guide Glove  See the Women's Black Diamond Guide
Best Budget Ski Glove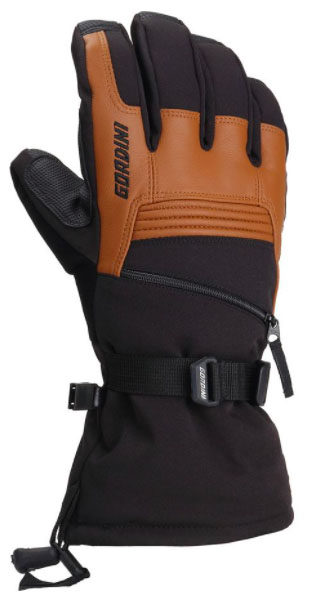 Cuff style: Gauntlet
Shell: Synthetic/leather
Insulation: Megaloft synthetic
What we like: Standout comfort and warmth for the price.
What we don't: Liner isn't removable.
If you only get out a handful of times each year or don't want to blow your ski gear budget on gloves, the Gordini GTX Storm Trooper II is a winner. You don't get the premium shell fabric of our top pick, but this glove is durable, waterproof, and just plain works. In addition, warmth and coziness is surprising good considering the $70 price—it's a step down from the Hestra Heli and Black Diamond Guide, but the difference isn't substantial and should be plenty for most days on the hill.
Both the Storm Trooper II and Burton Gore-Tex below are solid options at around $70 (and both often are on sale for less). The Gordini is a little warmer overall, although the removable lining gives the Burton more flexibility for warmer ski days. But the Storm Trooper is much softer on the interior and the best budget ski glove we've used to date. Its combination of comfort, good dexterity, and protection make it a standout in the sub-$100 price range.
See the Gordini GTX Storm Trooper II  See the Women's Gordini Storm Trooper
Best Mitten for Skiing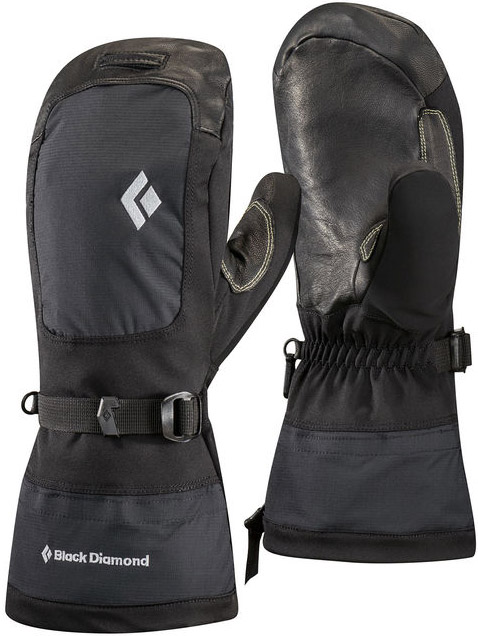 Cuff style: Gauntlet
Shell: Nylon/leather
Insulation: PrimaLoft synthetic
What we like: Warm, tough, and reasonably affordable mitten.
What we don't: Harder to grip a ski pole.
For keeping your hands as warm as possible, you just can't beat a mitten design. It may compromise dexterity for skiers trying to grip a ski pole, but by keeping your fingers together, you get extremely efficient warmth (your fingers warm each other). The Black Diamond Mercury is our favorite mitten option for offering the expected bump in warmth without a huge leap in price. It's also made with 4-way stretch in the shell and includes removable split-finger liners to make it very user friendly.
As with other BD ski gloves we've worn, it has a bomber construction that should hold up to plenty of wear and tear. Really, the only downside is whether or not you're comfortable wearing a mitten. We still find a glove to be more convenient and effective for skiing, but smart designs like the Mercury are a convincing reason for those prone to really cold hands to give mittens a shot. Unfortunately, stock has been limited lately for the BD Mercury. Those looking for a similarly warm design should check out Hestra's Heli Mittens and Swany's X-Cell 2.1 Mitten.
See the Black Diamond Mercury Mitten  See the Women's BD Mercury Mitten
Best Heated Ski Mitt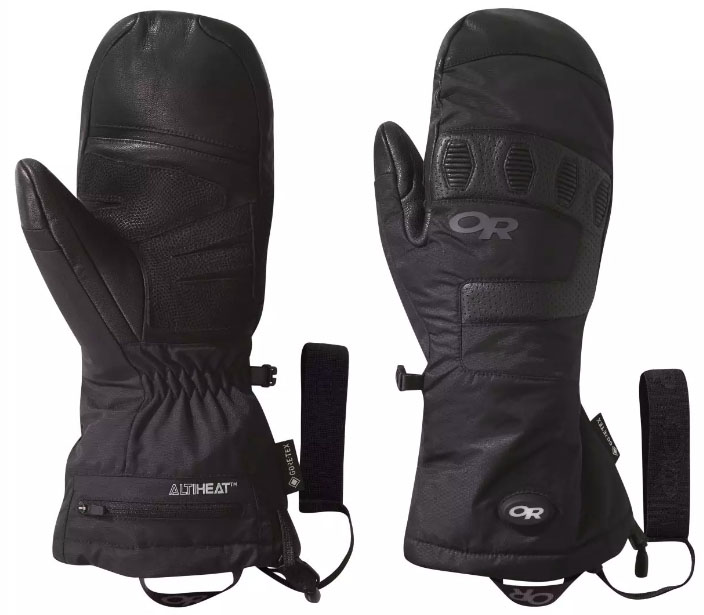 Cuff style: Gauntlet
Shell: Nylon/leather
Insulation: EnduraLoft synthetic and ALTIHeat system
What we like: Effective battery-powered heater for maximum warmth.
What we don't: Battery life diminishes on high setting; very expensive.
For sub-zero conditions or skiers who can never keep their hands warm, a heated mitten may do the trick. The ALTIHeat line from Outdoor Research is the most diverse on the market, and we like their Lucent Mitten best. To start, the mitten design gives you an edge in overall warmth by keeping your fingers together, and the built-in battery and heating element give you a rush of warmth that a heat pack just can't match. Pushing the button on the gauntlet switches between three heat settings (low, medium, and high), but it's important to note that the higher settings drain the battery much faster.
The largest impediment to a battery-powered design like the Outdoor Research Lucent Mitten is price. We understand that there's a lot of technology incorporated to keep the battery performing in frigid temperatures and reduce bulk, but $359 is a lot for a pair of mittens. If you need maximum warmth at all costs, however, the Lucent may be worth a try. Outdoor Research is a leader among heated gloves and mittens, but other quality options to consider include Hestra's Power Heater and Black Diamond's Solano.
See the Outdoor Research Lucent Heated Mitten
Best 3-Finger Ski Glove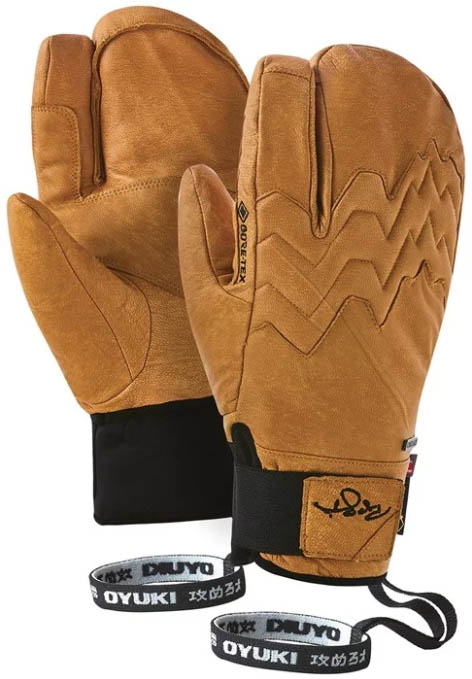 Cuff style: Undercuff
Shell: Leather
Insulation: PrimaLoft synthetic
What we like: Premium build at a reasonable price.
What we don't: Split-finger design still can't match the warmth of a mitten.
Japan-based Oyuki is a newcomer to the U.S. market, but we like what they've come up with in the Pep Trigger Mitts. As the "pro" model in their line—freeskier Pep Fujas played a role in its development—the undercuff glove comes with high-quality touches like a full goatskin leather shell, Gore-Tex insert for waterproofing, and warm PrimaLoft insulation (200g on the back and 133g on the palm). And Oyuki nailed the styling with a simplistic aesthetic and fun mountainscape sewn into the padded back of the hand.
In addition to its beautiful design, the Pep also stands out as the top split-finger mitt to make our list for 2022. On paper, this concept makes a lot of sense: by combining a mitten with a dedicated slot for your pointer finger, you get more thermal efficiency than a standard glove while retaining enough dexterity to pinch a zipper or secure a helmet strap. Downsides are that your pointer finger ends up being just as cold as it would be in a glove, and freedom of movement still falls short of a regular five-finger design. For more traditional options from Oyuki, their Sencho collection features both mitten and glove styles.
See the Oyuki Pep Trigger Mitt
Best Glove for Backcountry Skiing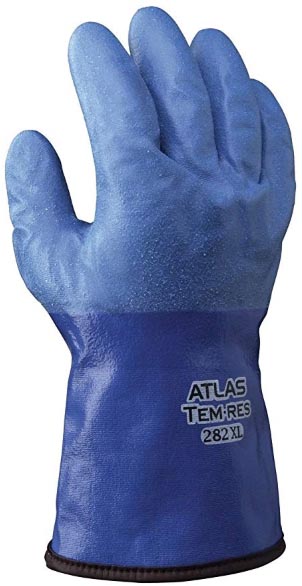 Cuff style: Undercuff
Shell: Polyurethane
Insulation: Acrylic liner
What we like: Waterproof and breathable backcountry-ready glove for $20.
What we don't: Odd looks and non-adjustable cuff.
Choosing the right backcountry ski glove can be a tricky process, but one model that's starting to separate itself from the pack is Showa's 282 TemRes. Don't let the odd name and $20 price tag fool you: this is a seriously capable glove. It's extremely waterproof yet surprisingly breathable, has a soft-touch fleecy liner, and is just warm enough to keep you comfortable on the downhill. Plus, the TemRes is quite versatile, and its excellent dexterity and grippy build have made it a popular choice for everything from ice climbing to everyday winter activities.
If you want a waterproof design for touring, the TemRes is pretty hard to beat, although don't expect to see too many of these blue gloves at your local resort. Most notably, the acrylic insulation isn't intended for low-output use and sub-freezing days, so it will run quite cold when you're sitting on a slow-moving chairlift. Further, the open cuff at the end can't be sealed or adjusted, which impacts heating efficiency and comfort (note: we're currently testing the 282-02 model, which adds a wrist cinch). And a final insight on fit: the TemRes is known to run small, so it's best to go up one size.
See the Showa 282 TemRes Glove
Best of the Rest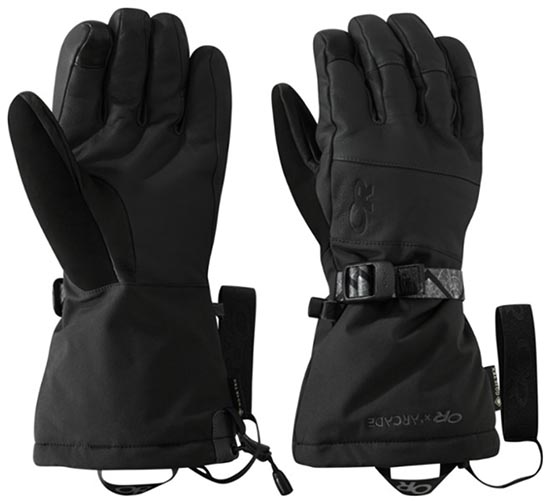 Cuff style: Gauntlet
Shell: Nylon/leather
Insulation: VerticalX synthetic
What we like: Desirable mix of price, toughness, and warmth.
What we don't: Fairly bulky, which impacts dexterity.
Notwithstanding the $359 Lucent Mittens above, Outdoor Research consistently hits a really desirable mix of price and performance. We've had a number of their gloves on this list over the years—including the Arete below—and our current favorite from their resort line is the Carbide. For $115, this glove packs a whole lot in: a supple goat leather palm, burly yet stretchy shell, and a healthy dose of warmth (200g synthetic on the back on the hand; 135g along the front). The interior is soft and impressively cozy, and it has a secure feel in general with the large gauntlet closure and tightener at the wrist. It's true the Carbide doesn't have a removable liner—the aforementioned Arete does have this feature—but otherwise it checks a lot of boxes for most skiers.
One area where the Carbide comes up a bit short is bulk. This isn't a low-profile design by any means, and dexterity does suffer as a result. You may find yourself needing to slide them off more often than some of the pricier options like Swany's X-Cell below, and it does make it a little harder to use the touchscreen-friendly fingers. Additionally, we've found our Outdoor Research gloves don't have particularly long lifespans, although there aren't any notable areas of concern with the Carbide specifically. In fact, its tough bulk is a hallmark of the glove, and one of many reasons we have it ranked so highly here.
See the Men's Outdoor Research Carbide  See the Women's Outdoor Research Carbide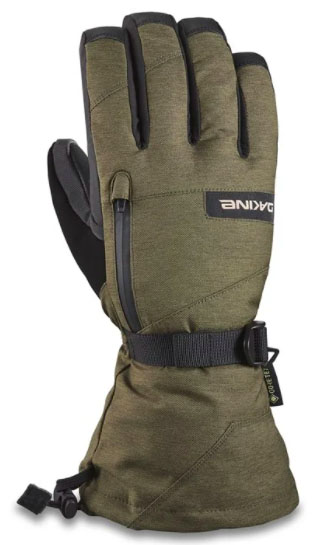 Cuff style: Gauntlet
Shell: Polyester
Insulation: High-loft synthetic
What we like: Warm, fully featured, and a great price.
What we don't: Not as tough or dexterous as the Gordini above.
Year after year, Dakine's Titan and women's-specific Sequoia are top sellers among the resort crowd. The logic is simple: they offer no-nonsense warmth, the right combination of features for season-long use, and a great price point. With substantial synthetic fill in the shell and a surprisingly thick removable liner, they're about as insulated as gloves get in the sub-$100 price range. And Dakine nailed the details with an easy-to-adjust gauntlet closure, zippered pocket on the back of the hand for adding a heat pack, and touchscreen compatibility on the liner.
What's not to like about the Dakine Titan and Sequoia? They're priced the same as the Gordini Storm Trooper above and deliver comparable warmth, yet fall a bit short in terms of material quality and dexterity. Their polyester shell is a little more prone to absorbing moisture than Gordini's burly fabric, and we prefer the grippier palm on the Storm Trooper. In addition, the Titan and Sequoia's thick liner makes it difficult to hold onto small items like a zipper, although it's still easy to maintain a solid grip on a ski pole. For even more warmth (but even less dexterity), check out the mitten versions of the Titan and Sequoia.
See the Dakine Titan Glove  See the Women's Dakine Sequoia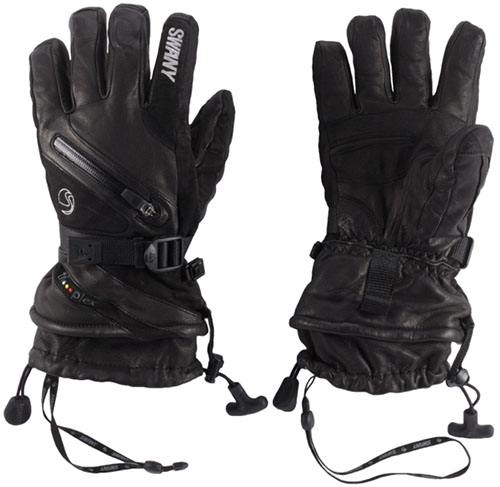 Cuff style: Gauntlet
Shell: Leather
Insulation: Synthetic
What we like: The right mix of features for resort use.
What we don't: Not as beautifully made or warm as the Hestra Heli.
Swany's X-Cell is not a new glove by any stretch, but its classic design has been lauded over the years for its resort skiing prowess. Made with tough leather covering the back of the hand and a reinforced palm, the dexterous Swany makes it easy grip a zipper pull on a jacket or keep hold of your ski poles at full tilt. The gauntlet on the X-Cell isn't as simple to operate as the Black Diamond Guide above, but it's functional and does a fine job sealing out snow and cold gusts of wind.
What pushes the Swany X-Cell down our list? For its $170 MSRP, we give the edge to the Hestra Heli and BD Guide above in warmth, plus the X-Cell's fixed liner is less adaptable and slower to dry than a removable design. The Swany will certainly do the trick for most ski days, but it's been around long enough that the price should be dropped to remain competitive (in fact, price actually went up $5 for last season). If you can find it on sale, however, the X-Cell is a fully featured glove for downhill fun.
See the Swany X-Cell 2.1 Glove  See the Women's Swany X-Cell 2.1
Cuff style: Gauntlet
Shell: Nylon
Insulation: Fleece
What we like: Very waterproof, great dexterity, and price.
What we don't: Step down in warmth.
The snow in the Pacific Northwest can be wet and heavy, so it's no surprise that Seattle-based Outdoor Research makes burly and waterproof ski gloves. Their popular Arete model is a great choice in the $100 price range with a durable nylon shell (OR beefed up the seam design even more in an update a couple winters ago), Gore-Tex insert, and lightweight feel. We have a few seasons of resort and backcountry use under our belt with the glove and have found it's a versatile option that does a nice job balancing protection and comfort.
For the price, the Arete is a strong competitor to the Marmot Randonnee below. Both offer decent warmth, good dexterity (the Marmot gets the slight edge), and are well-built. We prefer the flexible construction of the Randonnee, but its thin shell is more prone to soaking up moisture and isn't as durable as the Arete overall. In the end, both are quality options and a decision between the two may come down to style: the Randonnee's lining is plusher but fixed in place, while the Arete has a thin, removable liner glove. For the ski-touring crowd, the Arete's 3-in-1 design makes it the preferred option.
See the Outdoor Research Arete  See the Women's Outdoor Research Arete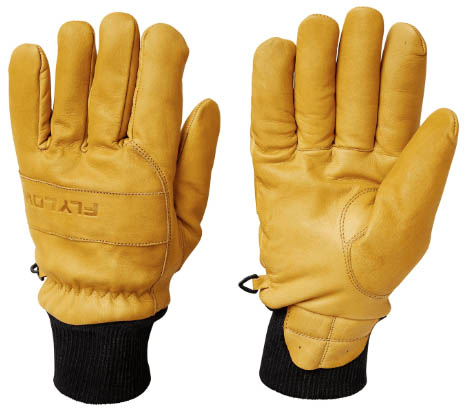 Cuff style: Undercuff
Shell: Leather
Insulation: Fleece
What we like: Warmer than Kincos and are ready to go out of the box.
What we don't: Still need treatment after some use.
We hate to say it, but unless you are a true DIYer, these Flylow leather gloves make more sense than the classic Kincos below. Instead of an intense regimen of waxing treatment, Flylow takes that pain away by doing it for you—with two applications of Sno-Seal and three trips to the oven—which helps make up for the added price difference of their glove. The Ridge also features synthetic insulation that's warmer and won't pack out as fast as the Kincos.
The Flylow Ridge are great resort and backcountry gloves for anyone on a budget, and they tend to be quite durable and breathable, all things considered. As for downsides, they're not the warmest available, and the lack of a waterproof membrane can be a problem in areas known for consistently wet snow (you'll want to make sure to refresh the coating if you notice the gloves starting to absorb moisture). But these are minor complaints considering the price. For all the leather work glove skeptics out there: don't knock it until you try it.
See the Flylow Gear Ridge Glove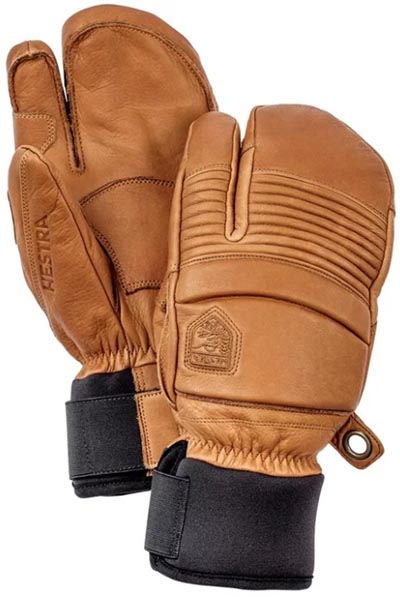 Cuff style: Undercuff
Shell: Leather
Insulation: Foam
What we like: Work glove feel and fantastic look.
What we don't: Not as warm or waterproof.
You won't find a more beautiful ski glove than the Hestra Fall Line 3-Finger. This all-leather, undercuff design with exposed stitching is a work of art. It's a great tribute to Hestra's long history of glove making, and in addition to skiing, the Fall Line 3-Finger and standard glove model are among our favorite options for everyday wear and work in the winter. It's true that the Fall Line isn't for everyone as warmth and water resistance fall noticeably short of the Oyuki Pep above (it's best for mild days or those working up some heat), but you won't find a better-made mitt. Period.
One small design oversight we've noticed is that when we cinch the cuff, there is a fair amount of excess strap hanging off the end. If you don't have small wrists this shouldn't be an issue, but the loose strap did occasionally catch on our jacket sleeve and was a minor annoyance. But that did little to dampen our enthusiasm for the Fall Line, which deftly balances comfort, dexterity, and a premium look and feel.
See the Hestra Fall Line 3-Finger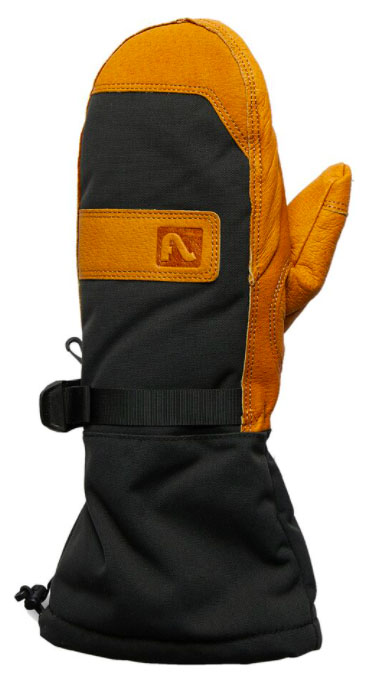 Cuff style: Gauntlet
Shell: Leather, nylon
Insulation: PrimaLoft synthetic
What we like: Great price for a warm and dexterous mitten.
What we don't: Cheaper build quality and not a standout in waterproofing.
Flylow built their reputation in the glove world around simple leather designs that came pre-coated (and baked) with Sno-Seal, but they've stepped up their game with the Super line. Offered in both glove and mitten styles, the Super is substantially warmer and more protective than their Ridge above with 240-gram PrimaLoft synthetic insulation along the back of the hand and a waterproof lining. But a lighter 100-gram PrimaLoft around the front and flexible pigskin leather combine to offer outstanding dexterity, even in the mitten version (the glove is similarly impressive). At just $90, the Super punches well above its price class in both warmth and all-around comfort.
Compromises are inevitable in keeping costs down, and some of the details on the Super fall short of our top-rated designs above. In particular, the plastic ladder buckle and webbing that cinch around the wrist have a cheap feel and can loosen during the day (it's an easy fix to re-tighten, however). And you miss out on a proven Gore-Tex liner for trusty, long-term performance in wet conditions. If you prioritize warmth and protection, we think BD's Mercury Mitt above is a better option, but the Flylow is still quite cozy, has better freedom of movement, and saves you a pretty substantial $30.
See the Flylow Super Mittens
Cuff style: Gauntlet
Shell: Nylon
Insulation: Thermal R synthetic
What we like: Dexterity and comfort at a great price.
What we don't: Not as warm as the options above.
It's the little things that make a ski glove great. The Marmot Randonnee is case in point and one of our favorite gloves at the $100 price point. Grippy leather covers the palm and bottom side of the fingers and dexterity is excellent, falling just short of the far more expensive Hestra Heli above. The nylon shell covering the back of the hand isn't as durable as our top-rated Heli, but its thin construction breathes decently well and gives you excellent mobility.
For the price and intended use, you get the expected levels of warmth, which translates to a step down from our top pick. Active and backcountry skiers will appreciate a little less insulation—hence the Randonnee name—but we'd prefer if the liner were removable to make it more adaptable to a range of temperatures like the Arete above. But back to those little things—details like a plush interior, easy to use gauntlet closure, pre-curved fingers, and comfy nose wipe make it a strong option in a crowded field.
See the Marmot Randonnee Glove  See the Women's Marmot Randonnee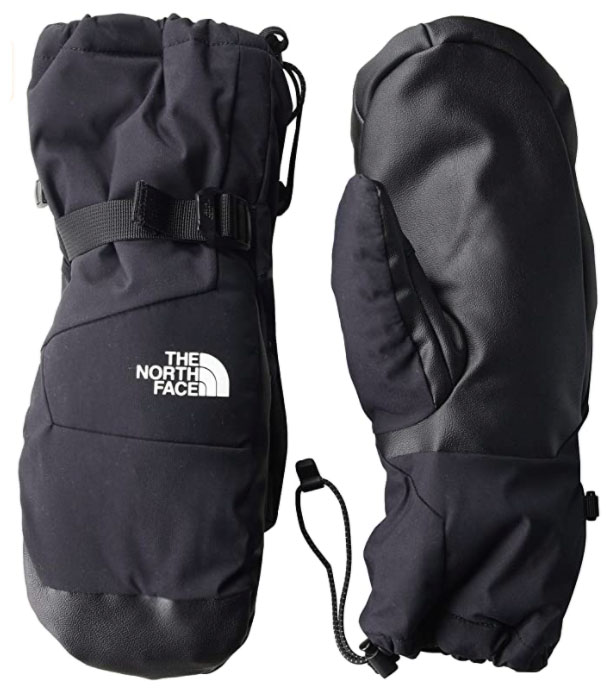 Cuff style: Gauntlet
Shell: Nylon/synthetic leather
Insulation: Heatseeker synthetic
What we like: Easy to use and flexible mittens.
What we don't: Not as warm as the Mercury Mitts.
The Montana Mittens from The North Face are a great way to stay warm in moderate temperatures on a budget. These extremely popular waterproof mittens are surprisingly dexterous, featuring a lightweight exterior that is quite flexible and grips objects like zipper pulls or boot buckles pretty well (better than the Black Diamond Mercury above). Further, it's easy to dial in the fit and seal out the cold with its gauntlet cuff and ladder lock buckle across the back of the hand. For last winter, The North Face swapped the old Gore-Tex liner for their less proven in-house Futurelight insert, but early indications are that it should still offer solid waterproofing.
The downside of The North Face Montana's dexterity is warmth. The gloves have light 100-gram insulation along the palm, and despite using much heavier 200-gram synthetic along the back of the hand, they fall short of the Mercury in total warmth. They still should be plenty comfortable for most folks as long as the temperatures don't dip too low, but those looking for maximum protection should upgrade to the BDs. The North Face also makes the Montana in a slightly less insulated, but even more popular, standard glove style.
See the TNF Montana Futurelight  See the Women's TNF Montana Futurelight
Cuff style: Undercuff
Shell: Nylon/leather
Insulation: PrimaLoft synthetic
What we like: Functional all-leather build, great dexterity.
What we don't: Leather absorbs moisture and becomes cold.
Black Diamond's Legend appeals to the touring crowd with a low-profile insulated, waterproof, and primarily leather design that fits under the cuffs of a ski jacket. The glove nicely balances protection and weight with high-quality PrimaLoft synthetic fill and a water-resistant Pertex shell along the back of the hand. Finally, fit and finish is a step up from our previous Legend gloves, which were overly stiff and fell short of the premium Hestras above.
Despite the panel of nylon along the back of the hand and a Gore-Tex liner, we've found the Legend's do not excel in wet snow. Through a season of backcountry and resort skiing in British Columbia and Washington State, the leather sections of the glove have wetted out on a number of occasions and become noticeably cold (they do much better on dry snow days). On the plus side, the Legend has a great closure system, which stretches and is easy to secure.
See the Black Diamond Legend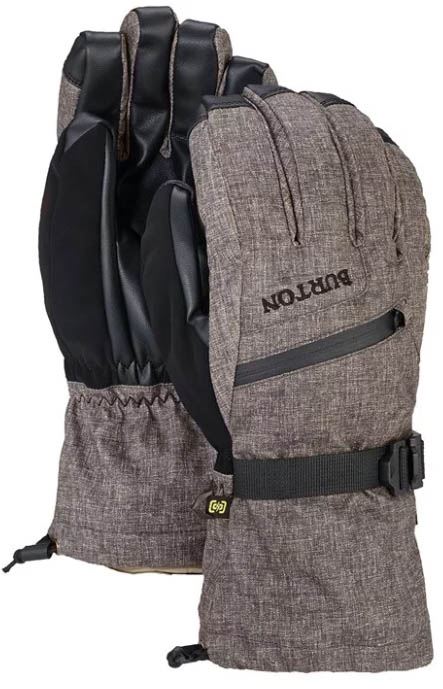 Cuff style: Gauntlet
Shell: Nylon/leather
Insulation: Thermacore synthetic
What we like: A great value choice for resort skiers.
What we don't: Not as warm and not as precise a fit.
For resort skiers that don't want to spend a ton on gloves, the Burton Gore-Tex is a nice choice. This glove does just about everything you need to stay dry and comfortable: it's reasonably warm (and includes a zippered pocket for slipping in a hand warmer), has a tough build, and a strap along the back of the hand for adjusting the fit. Burton also includes thin liners that are removable and can function independently as a shoulder-season hiking or running glove.
What do you give up by choosing a more affordable glove? For one, many of the options above are warmer and the Burton Gore-Tex can't compete in freedom of movement. And while we like the inclusion of a liner glove, it doesn't fit as nicely into the shell as the premium choices like the Hestra Heli and Black Diamond Guide. Finally, what drops the Burton towards the bottom of our list—and below the similarly priced Gordini and Dakine above—is its build quality: the gauntlet closure is prone to loosening and the palm material feels cheap and doesn't grip as well as leather.
See the Burton Gore-Tex  See the Women's Burton Gore-Tex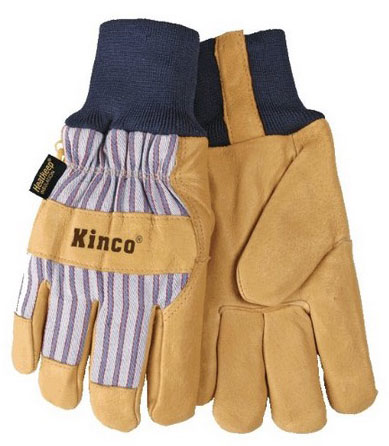 Cuff style: Undercuff
Shell: Canvas/leather
Insulation: None
What we like: Trusted performance, ultra-low price.
What we don't: Limited warmth (think hand warmers or liner gloves)
Kinco started the leather ski glove craze in the 1980s, and it wouldn't be a proper list without including them here. To follow in a long line of ski bums and resort employees, simply plunk down the $20 or so bucks these gloves were selling for at press time, buy some Sno-Seal to condition the leather and make it more water-resistant (finish the job with a hair dryer if possible), and ski until your heart's content.
You won't find a more economical glove option than the Kincos, and this system works surprisingly well if the conditions aren't too cold or wet. It's best to step up to a more waterproof design in the wet snow of the Pacific Northwest, but the gloves are a great match for areas with dry snow like Colorado and Utah. Don't forget to grab a PBR at the lodge to complete your get-up, and per tradition, retire them at the end of the season and repeat.
See the Kinco Pigskin Leather Glove
Ski Glove and Mitten Comparison Table
Ski Glove and Mitten Buying Advice 
Ski Gloves vs. Mittens
Ski gloves are the classic choice for resort and backcountry skiing and remain the most popular, but mittens can be a viable alternative. In comparing the two, gloves win by a wide margin in dexterity. If you need to grab a lift pass out of your zippered pocket, good luck pulling that off without removing your mittens. It's also easier and feels far more natural to retain a good grip on a ski pole or adjust your boots or bindings with gloves. But as we touch on in the "warmth" section below, there's simply no replacement for a heavily insulated mitten. They offer unbeatable levels of warmth.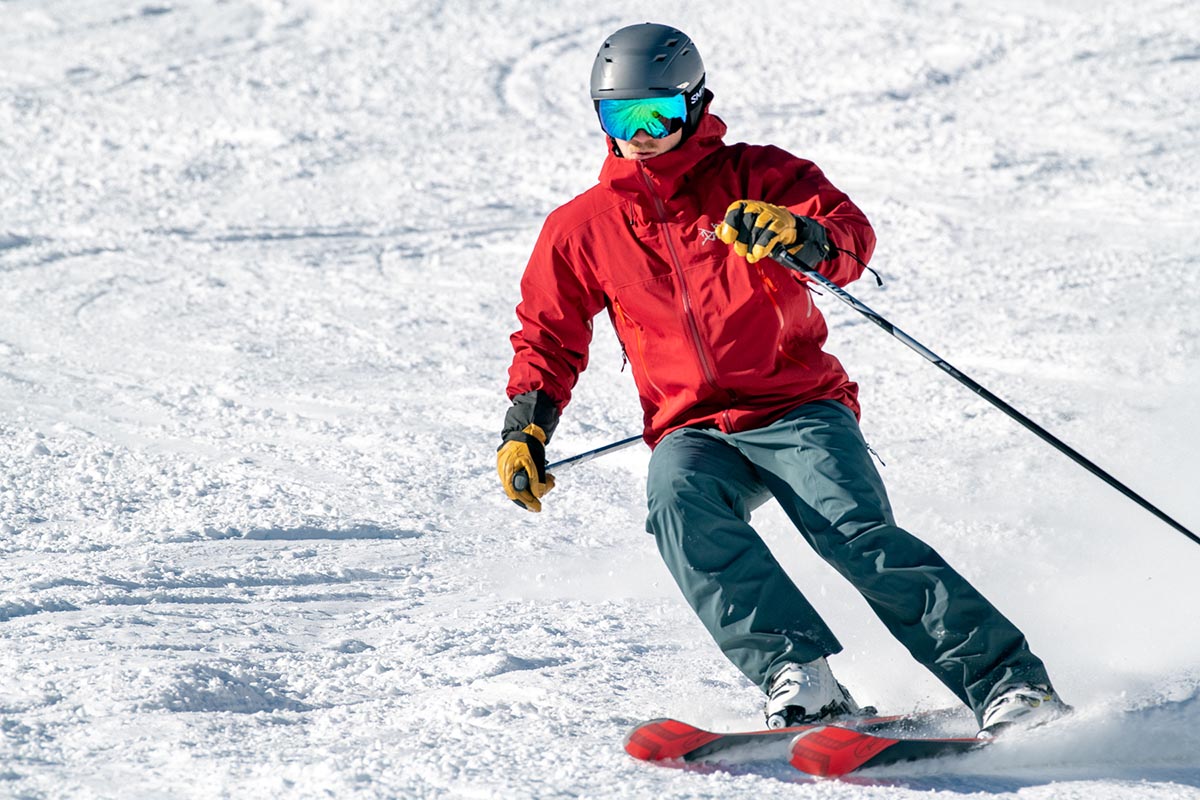 A final alternative is the 3-finger glove (also called a trigger or split-finger glove), which attempts to bring together the attributes of glove and mitten designs. In these gloves, the pointer finger and thumb have their own slots while your remaining fingers huddle together for warmth. We don't often recommend this style (the Oyuki Pep GTX above is one exception) because we've found that freeing up your pointer finger isn't a huge difference maker for dexterity, and that finger ends up just as cold as it would be in a standard glove. In this case, it doesn't truly amount to the best of both worlds.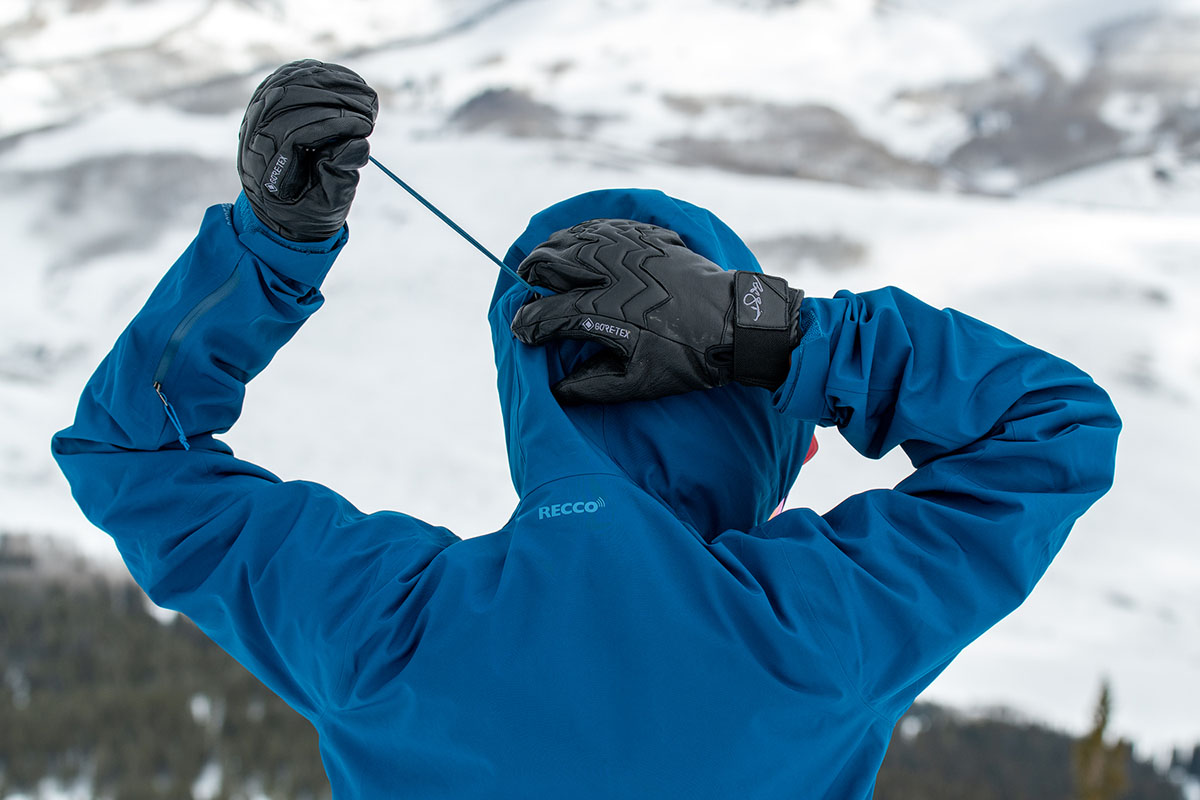 Glove and Mitten Materials: Leather vs. Synthetic
Ski gloves and mittens are constructed with two general material types: synthetic and leather. From a glance at the table above, you'll notice that many gloves utilize both materials, playing to their respective strengths, so this isn't always a question of exclusivity. But knowing what each material is best for goes a long way in finding the ideal glove.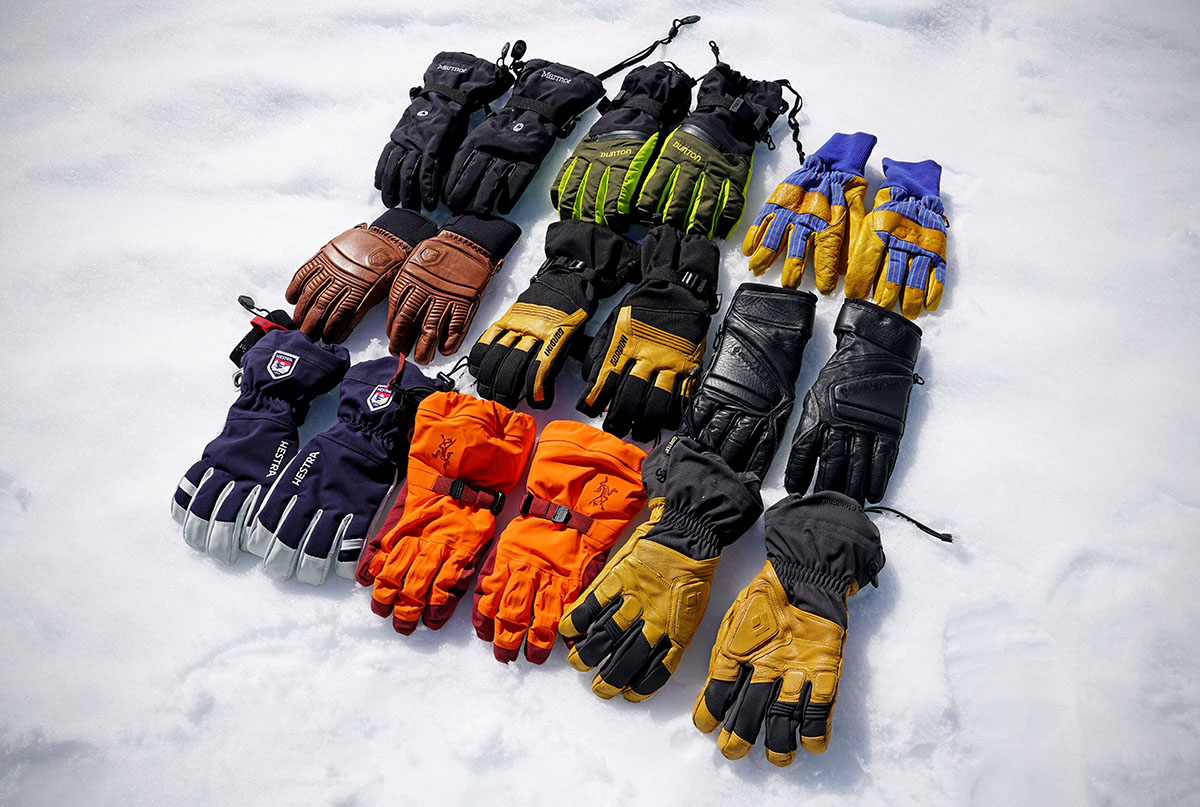 Leather
Leather ski gloves are durable, extremely comfortable, and on occasion cheaper than synthetics. From premium Hestras to budget options like the Flylow Gear Ridge, they have a much more natural feel and are usually more flexible and dexterous than a comparable synthetic. The biggest downside is moisture protection. Leather—and particularly treated leather—is water resistant and can withstand light to moderate wetness. But eventually they will soak through in wet conditions. To stay dry and extend the lifespan of your leather ski gloves, try Sno-Seal or another wax waterproofing treatment.

Synthetic (Nylon and Polyester)
Leather has had a resurgence, but the majority of ski gloves still use a synthetic shell. At the mid-range, including the Outdoor Research Arete, you'll find tough but pliant nylon shells that fend off snow, wind, and cold conditions. Cheaper synthetic gloves often use a less flexible polyester shell that doesn't hold up as well to moisture and can feel bulky. With either type of shell, a waterproof insert often is incorporated between the exterior and insulation. Leather has its advantages, but synthetic gloves offer the highest levels of waterproofing. To get the best of both worlds, many synthetic gloves add leather or synthetic leather on the palm and fingers for grip and dexterity.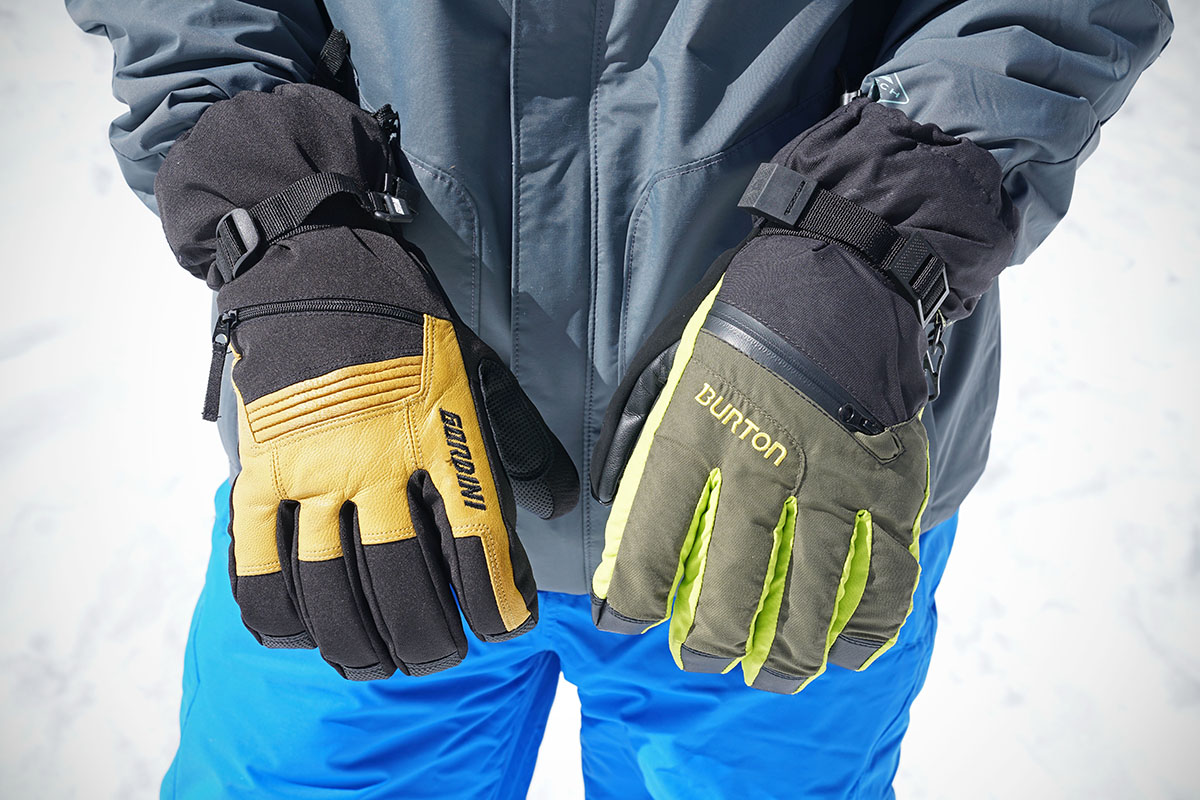 Warmth
If you're prone to cold fingers like myself, or live in an area with frigid temperatures like the Northeast, you've probably found ski glove shopping to be a bit challenging. Most ski gloves under $100 just aren't warm enough to be comfortable on the chairlift when the temperature dips below about 20°F. In the end, I've found that more expensive gloves like the Black Diamond Guide and Hestra Heli offer the warmth I need. Conversely, if you run warm or ski in mild bluebird conditions, you can save some money with a less insulated glove like the Marmot Randonnee or Burton Gore-Tex.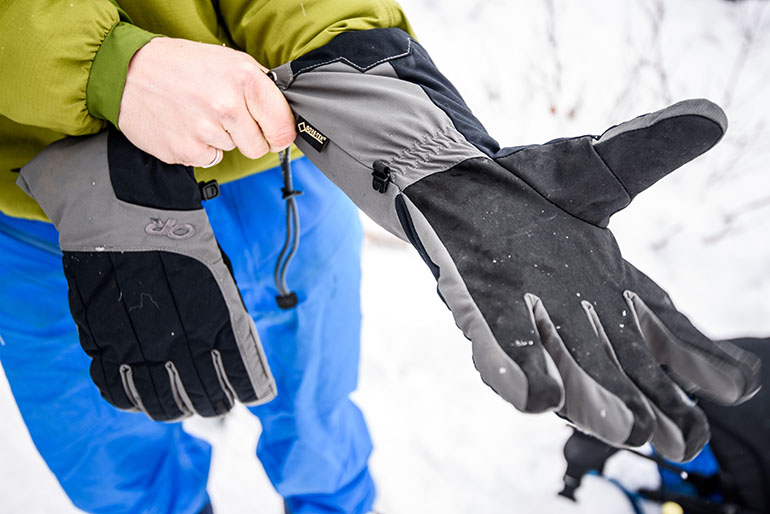 Gloves are insulated in a wide range of ways, from fleece to synthetic fill, so it's hard to establish exactly how warm a glove will be without trying it on first. Some indications include the weight of the synthetic (listed in grams) as well as the quality. PrimaLoft is the leader for lofty warmth and is popular on many high-end gloves. Some of the warmest designs use a mix of insulation: the Black Diamond Guide has 170-gram PrimaLoft fill as well as plush boiled wool in the lining. For absolute warmth, we turn to mittens, which heat more efficiently by pressing your fingers against one another. Some skiers may miss the control that you get with each finger gripping the ski pole, but it may be worth the tradeoff.
 
Waterproofness
Aside from warmth, waterproofness is the second major factor that can make or break your days on the slopes. And not only does your glove need to keep snow from entering, it needs to let perspiration out from the inside.
Located between the shell material and insulation in a fully waterproof design is a membrane or insert. Gore-Tex offers the best combination of waterproofing and breathability on the market. Cheaper gloves often use a non-Gore-Tex insert of varying names (BDry, C-Zone, Dryride, MemBrain, etc.) and degrees of efficiency. Keep in mind that if you choose a cheaper ski glove in the $50 range, you can expect decent waterproofing but it likely won't hold up as well over time or on particularly wet days. Entry-level gloves can be fine for those who ski occasional sessions at the resort, but serious skiers will want a serious glove to stay comfortable throughout the day.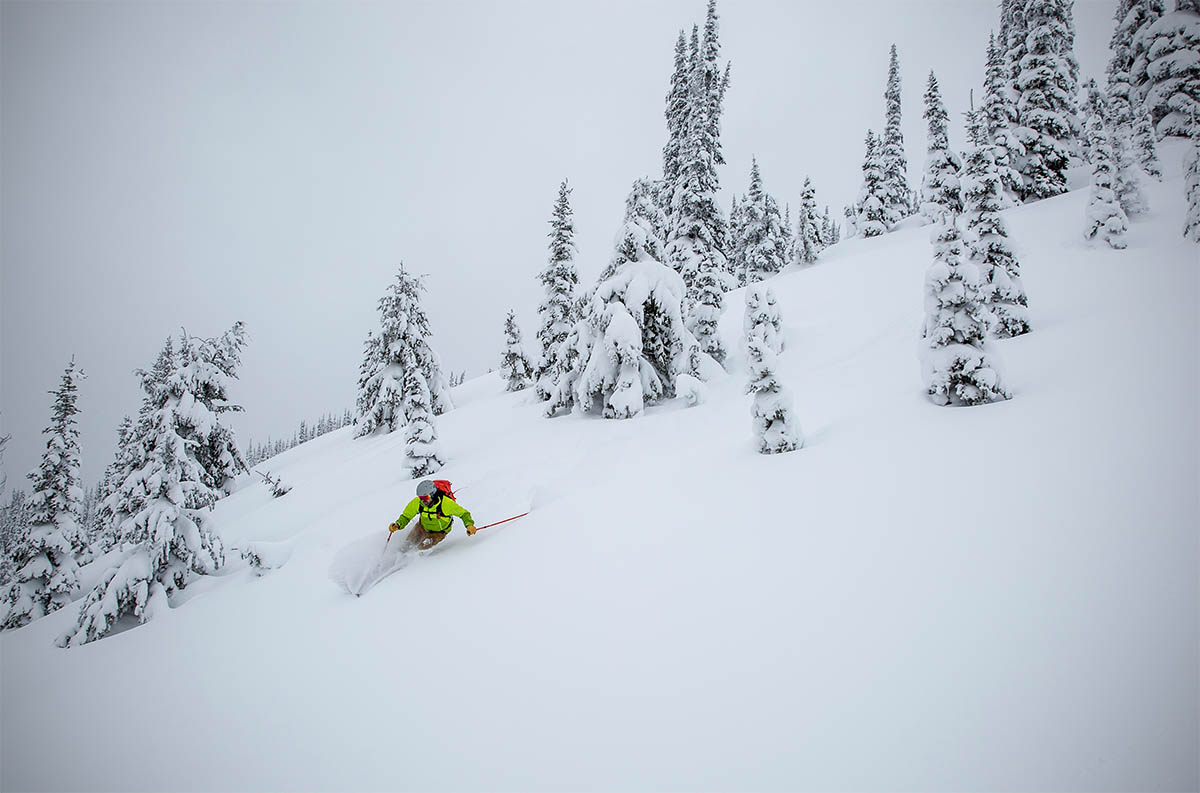 Some gloves forego the Gore-Tex insert and are merely water resistant, which can work in dry climates like Colorado and Utah or if breathability is a priority (one exception is Hestra's Heli, which doesn't include an insert but still has held up well for us in the Pacific Northwest). Usually the shell has a DWR finish and is treated with a water-resistant coating to shed snow. A non-waterproof design like the Hestra Fall Line can work just fine on clear days, and a well-maintained leather glove can definitely do the trick all season long (for more on this topic, see the care section below). But a fully waterproof design is the safer bet for most weekend warriors.
 
Caring For Leather Gloves
A good number of our favorite ski gloves above include leather in the construction. The natural material is supple and offers excellent dexterity, but it also requires occasional maintenance to avoid absorbing moisture. Most leather gloves come pre-treated, so it's not something you'll need to do right away (the Kinco above are one exception). But if you start noticing the material soaking up moisture—also known as "wetting out"—it's a good indicator that the leather needs some work. Sno-Seal is a beeswax-based solution that is a long-time favorite among skiers. It does require some effort—including baking the glove in an oven—and will darken the leather, but it's a proven formula that effectively repels moisture. Less involved treatments that still provide good protection include Nikwax's Waterproofing Wax and Hestra's Leather Balm. Finally, for gloves with a combination of leather and nylon, we recommend Nikwax's Glove Proof, which adds a solid water-resistant coating to the outer materials.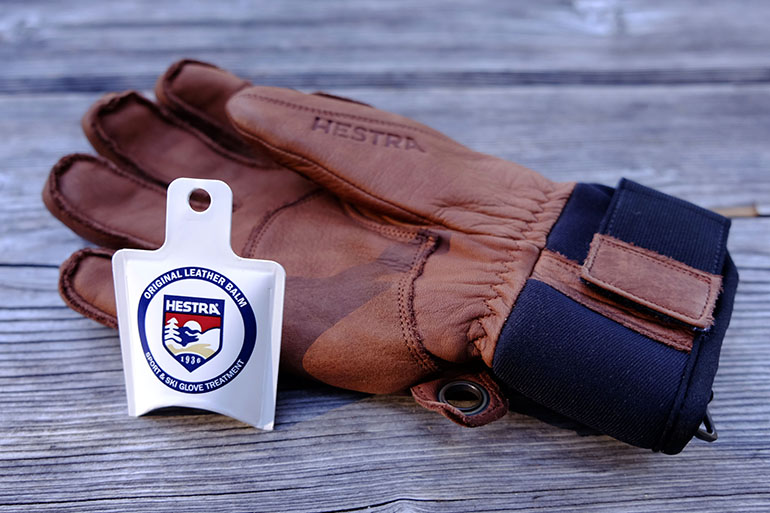 Dexterity
In general, warmth and dexterity go hand in hand. A heavily insulated glove like the Black Diamond Guide is bulkier and harder to use for tasks like unbuckling a ski boot or grabbing your phone. In addition, ease of use correlates with style: gloves are significantly more dexterous than mittens, and 3-finger mitts split the difference. A final element is the level of R&D—high-end gloves and mitts are better tailored to fit a hand and have a pre-curved shape for a natural feel.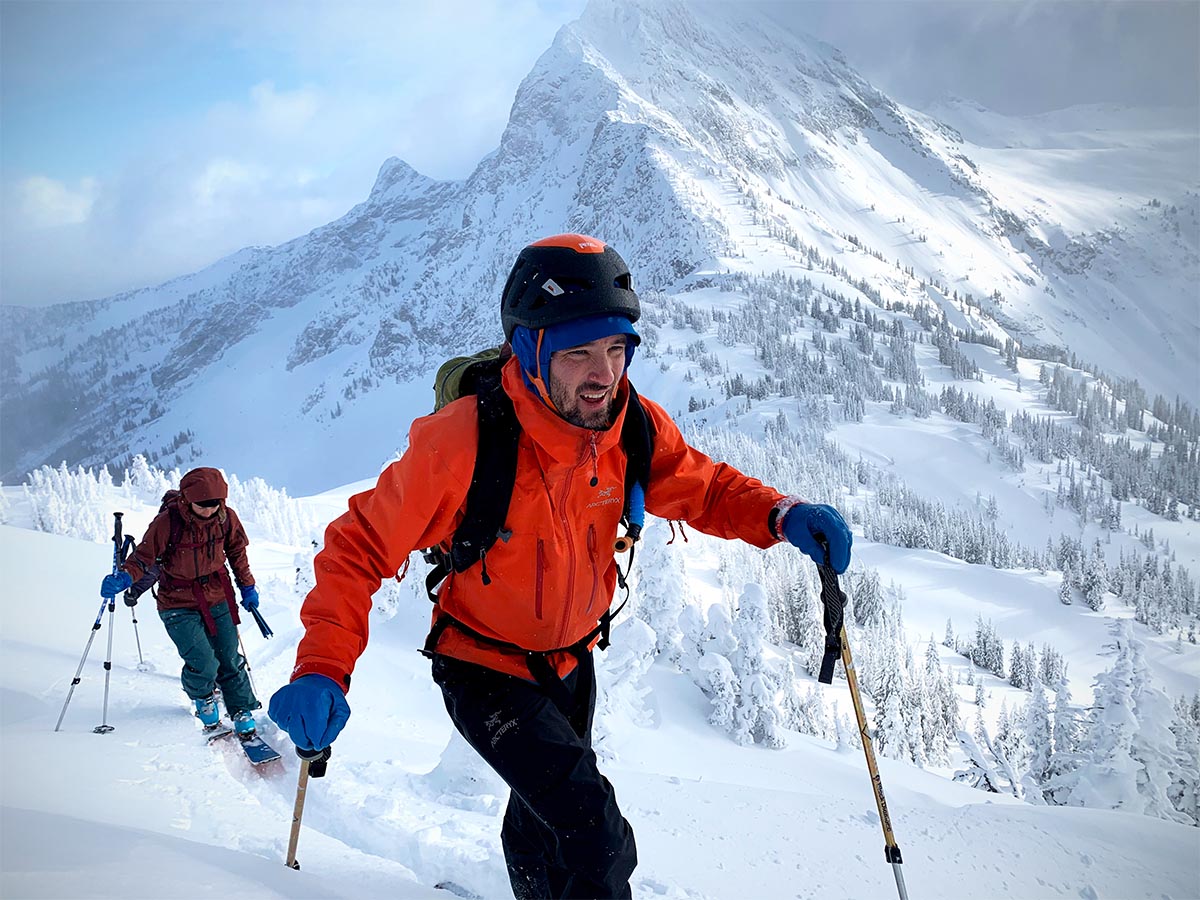 Individual needs will vary, but dexterity shouldn't be the top consideration for most resort skiers. Even a very thick glove or mitten is serviceable for gripping a ski pole for downhill use (unzipping a pocket and pulling out your phone without removing your gloves is a different story, however). We look for a good mix of freedom of movement without compromising in warmth and protection, which is why we find a glove like the Hestra Heli just about perfect. It's when you ski big mountains, venture off trail in harsh conditions, or need added dexterity for handling backcountry or ice tools that's it becomes worth it to upgrade to an optiono like the Arc'teryx Fission SV (recently removed from our list due to limited availability).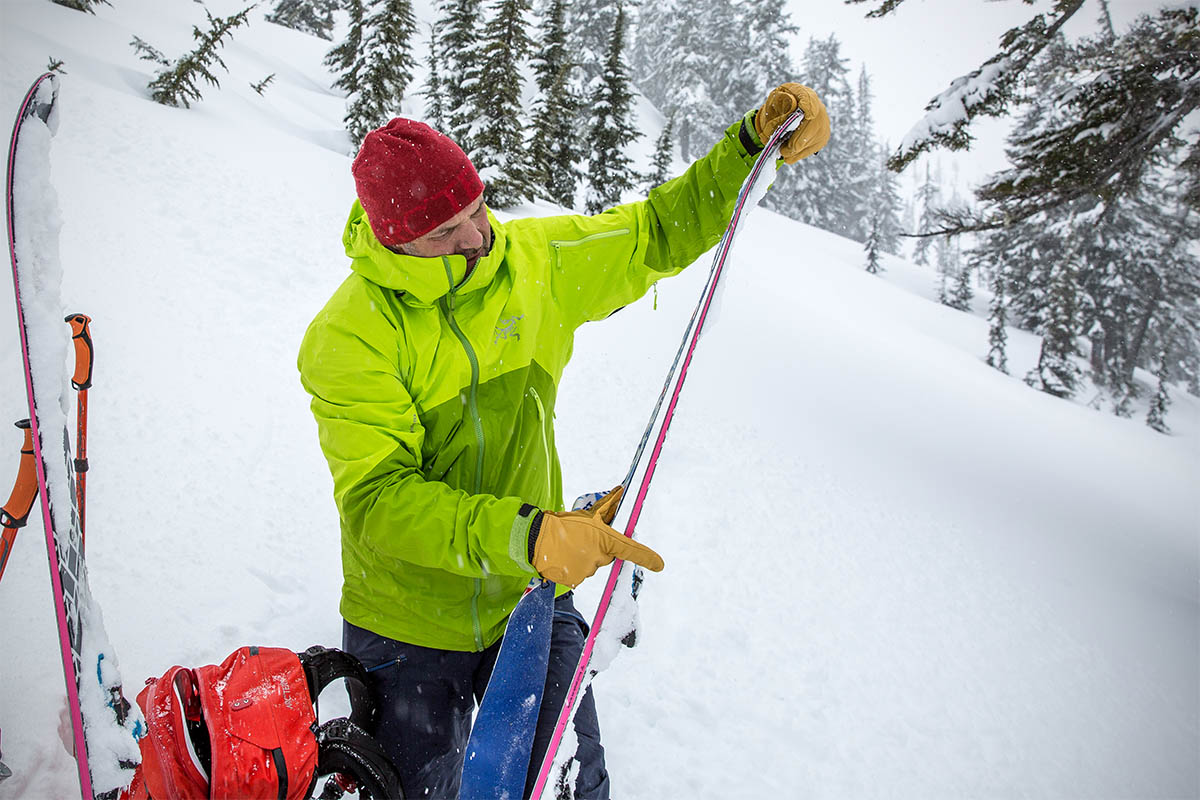 Cuff Length
Gauntlet Style
Different skiers prefer different cuff lengths, but there are some concrete concepts that can help make your decision easier. Longer gauntlet-style gloves extend well beyond your wrist covering the cuff of your ski jacket. Generally, they are warmer because they have more insulation and seal out the cold very effectively with a draw cord. They also offer slightly less range of movement in your wrist with more material in the way. Shorter gauntlet-style gloves that barely cover the cuffs on a jacket leave a pathway for moisture to enter in really wet conditions (more on wrist cinches in our features section), but this style is also the easiest to get on and off.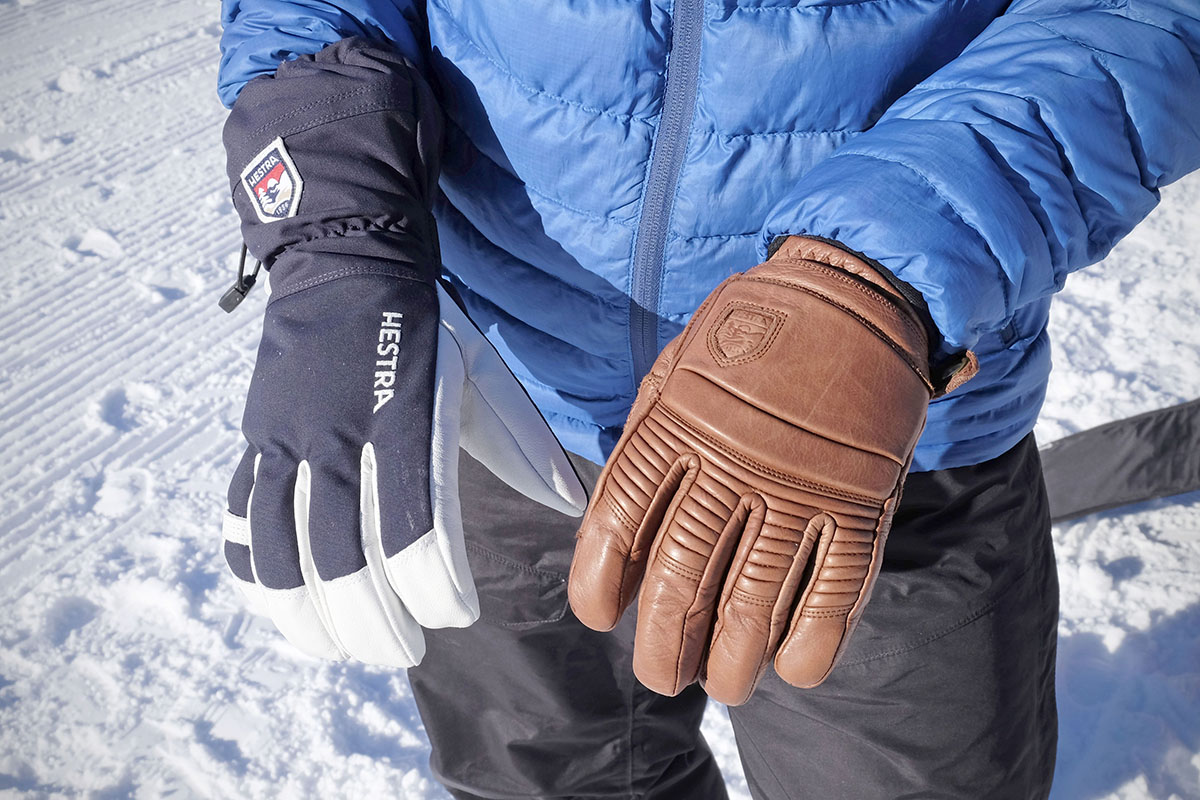 Undercuff
Shorter undercuff gloves tuck into your ski jacket, which requires more work than simply sliding on a gauntlet glove, and they don't offer quite as much warmth. Also, if your sleeves ride up when you're reaching forward, say to plant a ski pole, you can expose some skin. On the other hand, they offer more agility with less bulk getting in your way of wrist movement and are easier to ventilate. Many of Hestra's freeride gloves are undercuff, and some backcountry skiers prefer the freedom you get with this style. Gauntlets are popular for maximum protection in deep powder and cold weather (or wet) resort days.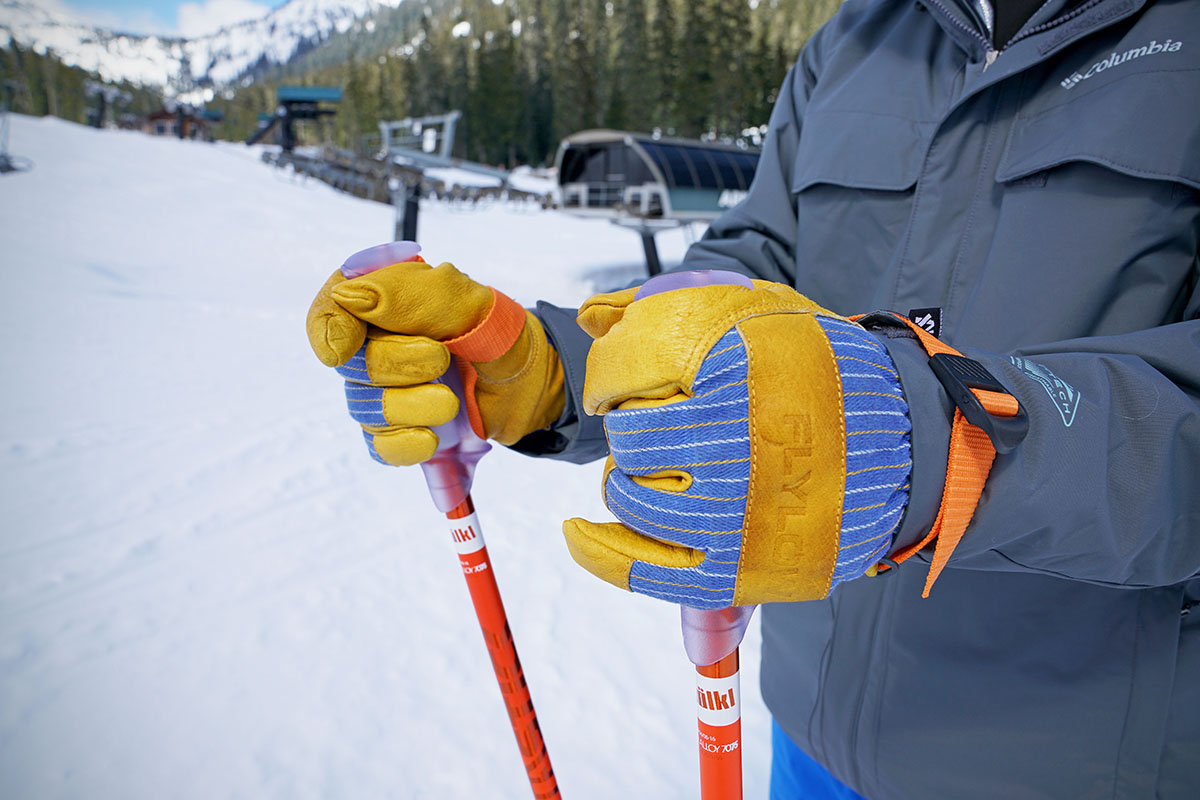 Should I Get Gloves with Removable Liners?
Across all price ranges, you'll have the choice between gloves that are made with or without removable liners. In general, gloves with removable liners will be slightly warmer but are a little bulkier and less dexterous. For us, the most compelling reason to choose a glove with a liner is that it's more adaptable to different temperatures. You can wear the shell on a warm spring day and use both (or swap out other liners you may own) for the rest of the season. Another benefit is that it's easier to dry out the gloves if they happen to get wet by separating the two pieces. And as a bonus, if you get a glove with thin liners (like the Dakine Titan), you can use them for activities like cold-weather running or driving.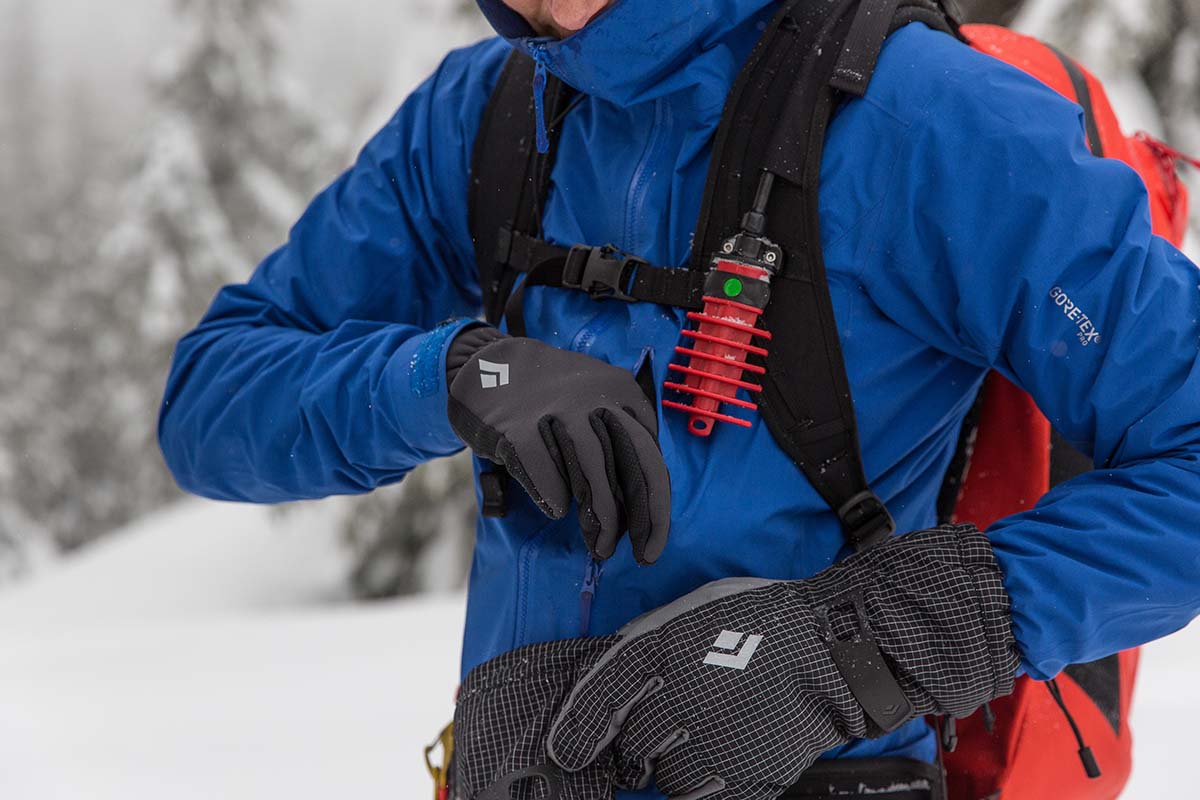 Fit and Sizing
A proper-fitting glove helps maximize everything from warmth to dexterity, so it's worth the time to nail down your ideal size. And while the market isn't consistent with how they list glove and mitten sizing—you'll see standard small, medium, and large options as well as numbers-based listings from a brand like Hestra—the good news is that most rely on a simple hand circumference measurement. To get your size, wrap a soft tape measure around the widest point of your hand (typically right behind the knuckles) and match it to the manufacturer's corresponding range. If you wind up in between sizes, it's best to go up to avoid pinch points and being overly tight (which compromises both comfort and warmth).
It's worth noting that relying on your hand circumference isn't a foolproof process, as the sizing doesn't account for finger length, so it's always ideal to try them on before purchasing. But if you need to buy online or just prefer the convenience, following the manufacturer-specific fit guidelines (avoid generic charts) and buying from a reputable ski retailer with a good return policy is a smart way to go.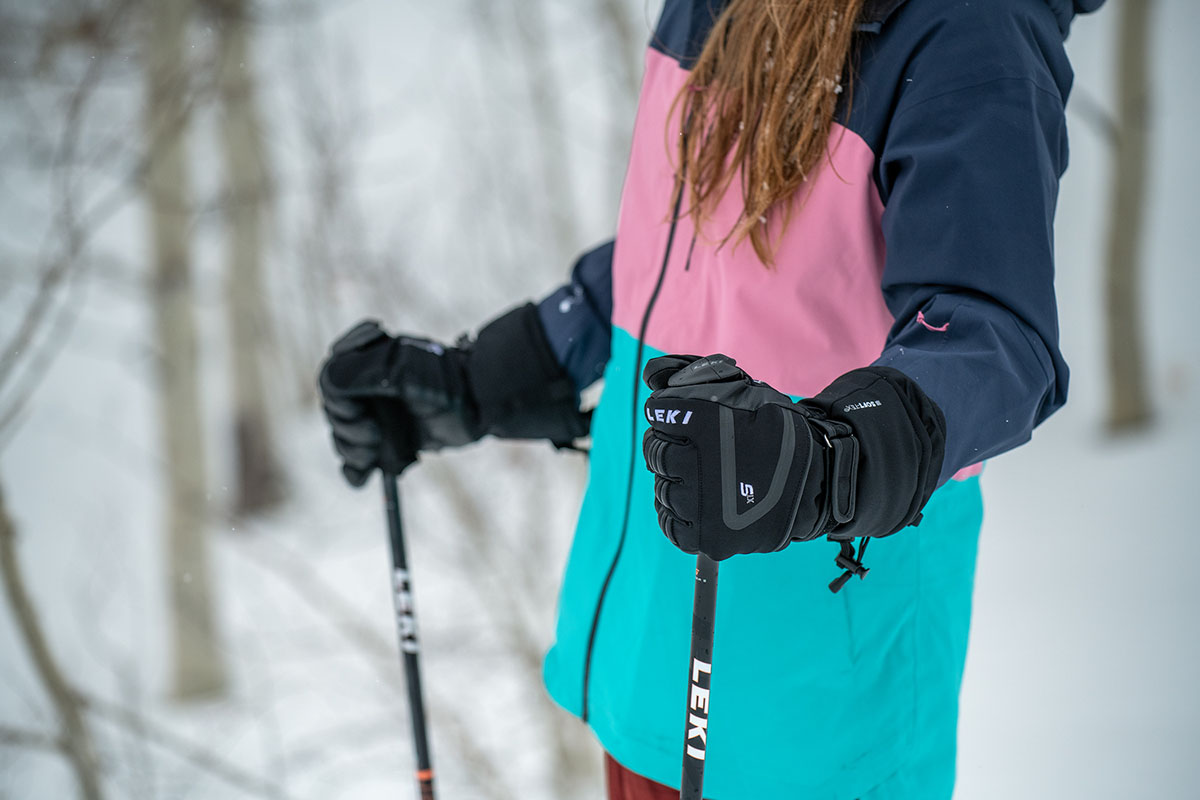 Additional Ski Glove Features
Touch-Screen Compatibility
It's 2022, so why wouldn't you want touch-screen sensitivity on your ski gloves? A number of manufacturers now offer exactly that (including the Burton Gore-Tex and The North Face Montana), so that you can snap photos or videos without taking your gloves off. You'll most often find the technology, however, on thin gloves and liners where it's easier to incorporate, plus the thinner liners are more precise when typing. On some models, only pointer fingers and thumbs are touch-screen compatible. Overall, we consider this a nice feature if a glove you like has it, but not one that we would alter our purchase for.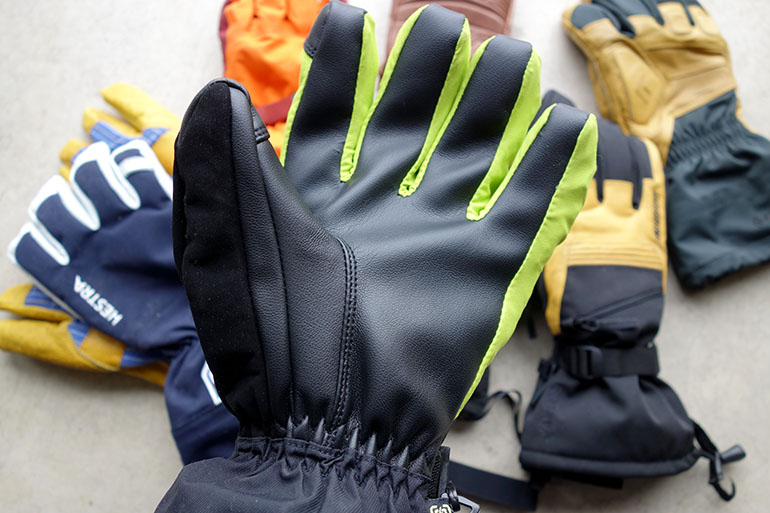 Wrist Cinches
Gauntlet-style gloves in particular often have a cinch or draw cord to tighten the opening where snow can enter (this differs from a wrist strap, which tightens the glove over the hand and wrist). By pulling the cinch or draw cord, you can effectively prevent moisture from entering your glove in all but the wettest of conditions. Much like a powder skirt on a ski jacket, this can be very effective at tightening down your gear before skiing through the deep stuff.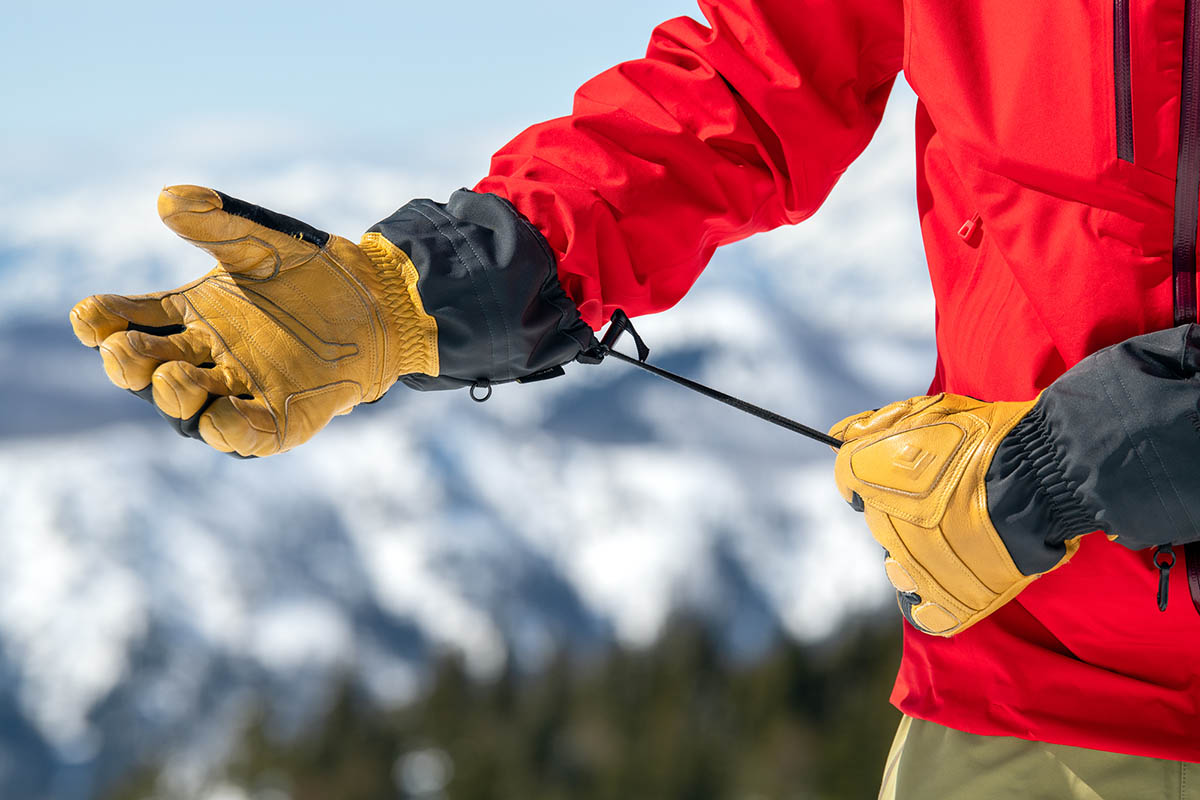 Wrist Leashes
Wrist leashes—also known as keeper cords or retention straps—are a fairly common feature among resort models as a way to keep you and your gloves together should you take a serious fall. The design is simple: you slide your wrists through the adjustable cuffs (they can be as minimalist as a piece of string), and a strap connects you to the gloves. The main advantage is not leaving them behind if you take a tumble, but the straps also provide security if you remove your gloves while riding the chairlift. It's certainly not a necessary feature, and some don't like the extra bulk, but most skiers find the tradeoff worth it for the added peace of mind on the slopes. From our picks above, wrist leashes are included on gauntlet-length designs like the Hestra Heli, Black Diamond Guide, and Gordini Storm Trooper II.
Nose Wipes
It's not easy to grab a tissue with your gloves on, so many models feature a soft patch of fabric on the thumb or pointer finger to help with your runny nose. Nose wipes are good in a pinch and the fabric helps to avoid irritation that you might get from doing the same thing with tough shell fabric. Of course, they lose their effectiveness when overused or when the temperature really drops, but they are a nice touch nevertheless.
Back to Our Top Ski Glove Picks  Back to Our Ski Glove Comparison Table
Learn More About Ski Gear