In the typical three-layer clothing system, the midlayer is given the all-important insulating duties. As such, it is the one article of clothing you're most likely to swap out depending on weather conditions. Is it bristling cold and dry? Grab your down jacket. Are temperatures mild or are you traveling at a breakneck pace? Then a lightweight fleece or synthetic jacket might do the trick. All three types have their proper applications, and below we break down the top midlayer designs of 2022. For more information, including the pros and cons of each form of insulation, see our midlayer comparison table and buying advice below the picks.
 
---
Our Team's Midlayer Picks
---

Best Overall Midlayer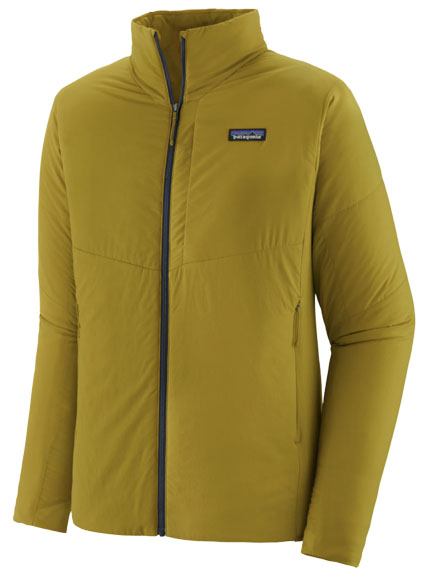 Insulation: Synthetic
Weight: 11.2 oz.
What we like: Supremely comfortable and excellent breathability.
What we don't: Not quite as warm as down.
The Patagonia Nano-Air is special: it's a super-soft, stretchy, and breathable synthetic midlayer that feels like a combination of a performance down puffy (minus the down) and your favorite sweatshirt. The result is a jacket that can be worn as a midlayer for winter sports or as an outer layer during the shoulder season or warm winter days. The stretchiness and breathability make it a favorite among backcountry skiers and climbers, and the soft feel is great for everyday use. And while previous versions of the jacket haven't aged remarkably well (the face fabric has been prone to staining and piling), we've been impressed with the latest update, which features a more durable shell that is comprised mostly of recycled materials.
The Nano-Air can be your Swiss Army Knife layering piece, but keep in mind that its warmth is solidly middle-of-the-pack. This is a lightweight synthetic jacket and doesn't offer the same warmth-to-weight as down fill. And although the latest version stuffs into its chest pocket, the Nano-Air is far from the most packable option here. However, it's competitive in terms of weight at only 11.2 ounces, and the built-in freedom of movement—via stretch fabrics and an articulated design—is hard to beat. All in all, you won't find a cozier midlayer, and we've become quite addicted to ours for everything from skiing and snowshoeing to travel... Read in-depth review
See the Men's Patagonia Nano-Air  See the Women's Patagonia Nano-Air
A Close Second (With More Weather Resistance)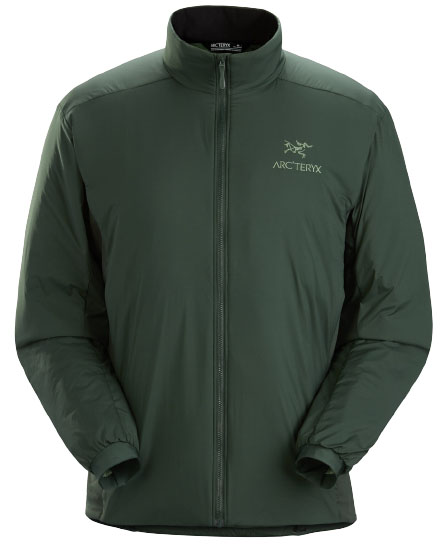 Insulation: Synthetic
Weight: 12.2 oz.
What we like: Great mix of mobility, warmth, and comfort.
What we don't: Not as breathable as some of the newer synthetic options.
Arc'teryx has built its reputation on legendary shells and insulated jackets, and one of its biggest sellers is the Atom LT. Simply put, this is a top-notch midlayer that nails the essentials. You get an excellent balance of breathability and warmth, great mobility, and a just-right cut that fits most folks really well. A redesign for last winter included a more durable face fabric and insulation, updated cuffs, and a longer hem, bringing it up to speed with modern options. And unlike many midlayers here, the Atom LT also works great as a standalone jacket with a decently tough, weather resistant shell. 
Compared to the Patagonia Nano-Air above, the Atom LT is less breathable due to its burlier shell and Coreloft Compact synthetic fill (although its stretchy fleece side panels ventilate pretty well). The Nano-Air also gets the edge in comfort thanks to the generous stretch from its shell and liner fabrics. But we do love the versatility you get with the Atom LT's wind and water-resistant exterior, and its durable shell fabric will show much less wear over time. Keep in mind that Arc'teryx also makes the Atom in superlight (SL) and all-round (AR) versions, and for a down midlayer option, see the Cerium LT below... Read in-depth review
See the Men's Arc'teryx Atom LT  See the Women's Arc'teryx Atom LT
Best Budget Midlayer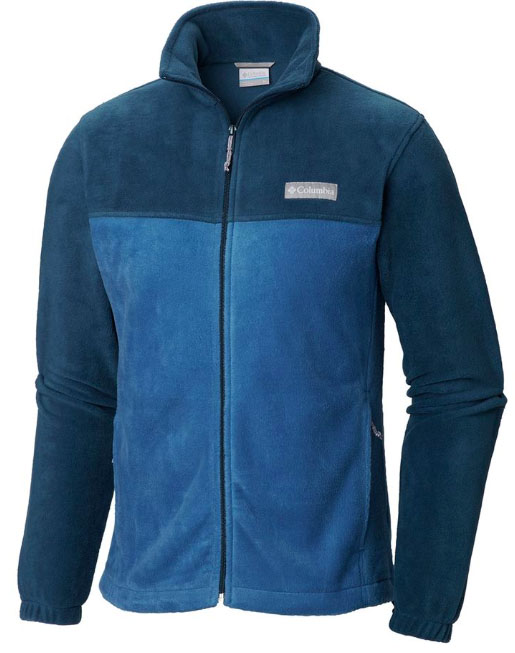 Insulation: Fleece
Weight: 16.6 oz.
What we like: Inexpensive and comfortable.
What we don't: Limited warmth and questionable durability.
Sure, you can spend $300 or more on a midlayer and get some of the fluffiest down or techiest synthetic insulation on the market, but that doesn't mean you have to. For days at the resort that aren't super cold, you often can get away with a simple fleece like the tried-and-true Columbia Steens Mountain 2.0. Soft, inexpensive, and offered in a ton of sizes and colors, this is a very popular budget option. For $60 (and less on sale, which it frequently is), you get a no-frills midlayer with a surprisingly comfortable fit.
What are the shortcomings of going so cheap? The materials on the Steens Mountain 2.0 are very basic and the jacket has few features to speak of. It also won't last as long as the higher-end fleece options on this list—the material is pretty soft and prone to pilling. Finally, the Steens is decently cozy but falls somewhere in the light to midweight category, meaning that the warmth it provides will be limited. For long and cold days at the resort, you'll certainly want to go with a pricier down or synthetic midlayer. But for mild conditions and spring skiing with a baselayer underneath, the Steens Mountain 2.0 should get the job done.
See the Men's Columbia Steens Mountain 2.0  See the Women's Columbia Benton Springs
Best Down Midlayer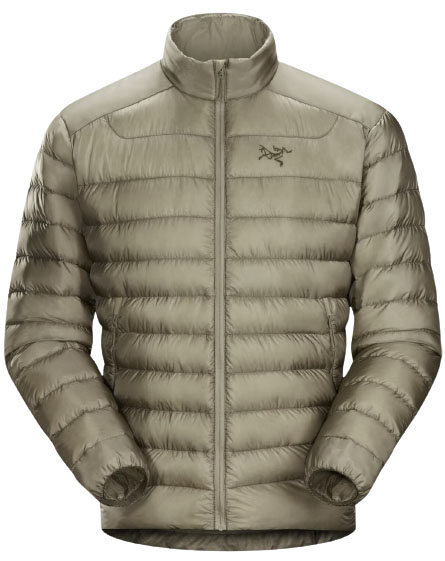 Insulation: Down and synthetic
Weight: 9.9 oz.
What we like: Super warm for the weight and added wet-weather protection.
What we don't: Pricey and won't breathe as well as a synthetic jacket.
In most cases, we recommend synthetic-insulated or fleece jackets for midlayer use: They're relatively breathable and provide warmth even when wet. But in dry conditions or for low-output activities like casual resort skiing, a down midlayer can be a really nice choice. Not only is down extremely lofty and cozy, but it's also very lightweight and packable compared to the alternatives. Among the options, Arc'teryx's Cerium LT is our top pick, thanks to its minimalist 9.9-ounce build, premium 850-fill down, and its trim, performance-oriented fit. We're also big fans of the hybrid design, which features synthetic insulation in areas most prone to moisture (the collar, shoulders, underarms, and cuffs) for a bit of wet-weather assurance.
The Cerium LT is undeniably expensive at $349 for the non-hooded version, especially considering that for over $100 less, the synthetically insulated Atom LT is almost as warm, much more breathable and durable, and more protective in inclement weather. But for weight-conscious missions in dry areas (think backpacking in the desert) or if you just like the high-end feel of down, it doesn't get much better than the Cerium LT. And it's hard to beat Arc'teryx's premium fit, which is noticeably less boxy than alternatives like the Down Sweater below and looks great for both backcountry and around-town use. Arc'teryx also makes the lighter Cerium SL and the recently released Agrium, a sustainably made down jacket that's part of the company's commitment to Fair Trade Certified products... Read in-depth review
See the Men's Arc'teryx Cerium LT  See the Women's Arc'teryx Cerium LT
Best Ultralight and Packable Midlayer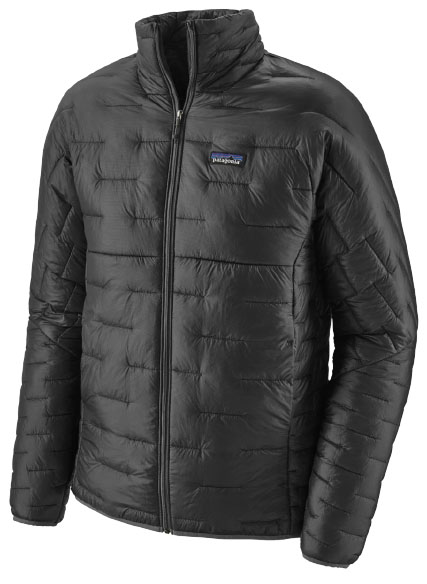 Insulation: Synthetic
Weight: 8.3 oz.
What we like: The light weight and packability of down in a synthetic jacket that insulates even when wet.
What we don't: Fragile shell and not as breathable as the Nano-Air above.
Patagonia's Nano-Air above is our top choice for resort skiing and daily wear, but at a bulky 11.2 ounces, it's far from a minimalist midlayer. Enter the Micro Puff, which combines an extremely thin (10-denier) face fabric with Patagonia's light and lofty PlumaFull insulation for a super cozy jacket that tips the scales at just 8.3 ounces. Designed for the Micro Puff, PlumaFill mimics down plumage, providing similar warmth, low weight, and packability of a down jacket in a design that still insulates when wet. The result is a high-performance midlayer ideal for weight-conscious pursuits like backcountry skiing and climbing.
Despite its technical prowess, it's important to note that the Micro Puff is not for everyone. Unlike the Nano-Air and Atom LT above, it does not excel in the breathability department, nor do you get the stretch and sweatshirt-like comfort that makes many synthetic midlayers so easy to wear. If weight is not an issue—or if you plan to keep your jacket on all day—we'd stick with the options above. And while it functions well for midlayer use, the Micro Puff's shell fabric is so fragile that we don't recommend it as a standalone outer layer. But as the lightest synthetic jacket on our list (the down-filled Mountain Hardwear Ghost Whisperer/2 clocks in at the same weight but lacks the wet-weather assurance), the Micro Puff is hard to beat when weight and space are top priorities. A final note: The Micro Puff is low on stock at the time of writing, but keep an eye out for the updated version, which will feature Patagonia's new NetPlus shell made from recycled fishing nets... Read in-depth review
See the Men's Patagonia Micro Puff  See the Women's Patagonia Micro Puff
Best Breathable Midlayer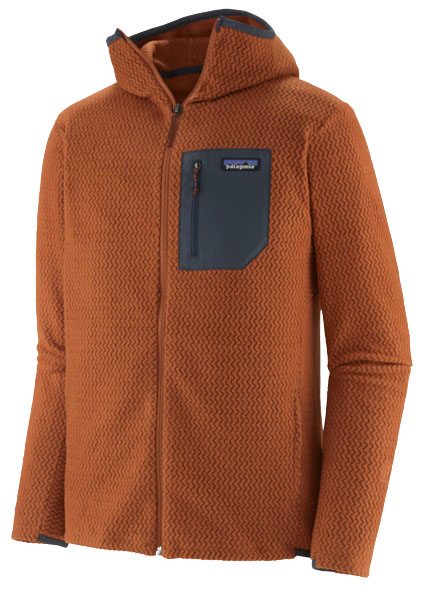 Insulation: Fleece
Weight: 12.9 oz.
What we like: The ultimate athletic fleece.
What we don't: Limited water resistance (no DWR treatment).
Lightweight performance fleeces are a growing trend, and we particularly like what Patagonia has done with their R1 Air. With an emphasis on breathable warmth in a lightweight build, this is an intriguing midlayer piece for high-output activities like backcountry skiing or climbing. Fleeces already tend to be a rather air-permeable breed (notably more so than down insulation), but the R1 Air ups the ante with hollow fiber yarns and a zig-zag patterning that work together to trap warmth and dump heat. The end result is a highly technical fleece that offers ample insulation for mild conditions but truly shines when you venture off-trail.
Along with their breathability, we also like fleeces as midlayers in terms of value. Patagonia apparel isn't cheap, but at $159 the R1 Air is a nice step down in price from the synthetic and down offerings above. The major compromise is that this jacket (and fleece in general) does not block wind or guard against light precipitation, which limits its utility as an outer layer. To complicate matters, the R1 Air Full-Zip comes with a hood (not always ideal for midlayer use), but you can also step down to the non-hooded Zip-Neck or Crew versions for less bulk under a shell. But for big efforts on the skin track or the sharp end, breathability should be high on your priority list—and it's here that the R1 Air truly delivers.
See the Men's Patagonia R1 Air Full-Zip  See the Women's Patagonia R1 Air Full-Zip
Best of the Rest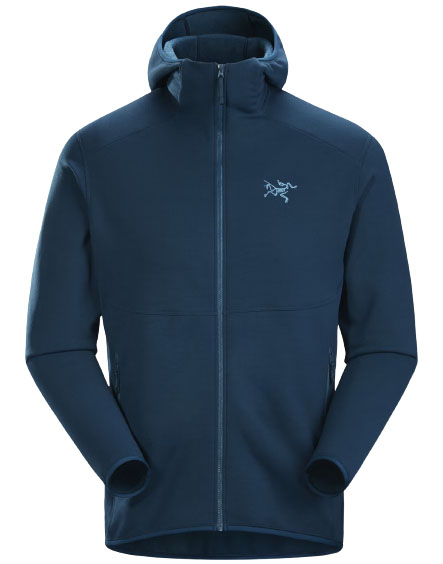 Insulation: Fleece
Weight: 14.6 oz.
What we like: Premium fleece fabric offers great comfort, range of motion, and breathability.
What we don't: A bit heavy and not as warm as a synthetic jacket.
For a serious performance fleece, we again turn to Arc'teryx and the versatile Kyanite AR. This jacket pretty much does it all: The midweight Polartec build works well as an active midlayer for backcountry skiing, yet it's thick enough to wear as a standalone piece on the uphill or for shoulder-season climbing. We also appreciate the stretch of the fabric, which offers solid range of motion, and the trim fit means you won't have much in the way of bunching under a shell. Finally, while we generally prefer a non-hooded jacket for midlayer use, the Kyanite AR Hoody's low-profile design is unobtrusive, fits under most climbing and ski helmets, and provides a little extra warmth and coverage (the jacket also comes in a non-hooded version). 
What are the shortcomings of the Arc'teryx Kyanite AR? In general, fleece jackets are less warm and packable than comparable synthetic options, although you do save a bit in terms of cost. And while the Kyanite features a durable nylon shell, it won't hold up to much more than a light breeze or sprinkle. Finally, at 14.6 ounces, it's one of the heavier midlayers on the list despite only providing moderate insulation (for comparison's sake, the non-hooded version is 13.4 oz.). But for a wildly comfortable and premium fleece that's one of our go-to jackets for both skiing and casual use, we're big fans of the AR. Arc'teryx also makes the Kyanite LT (9.9 oz.), a more breathable jacket for mild conditions or particularly high-output activities.
See the Men's Arc'teryx Kyanite AR Hoody  See the Women's Arc'teryx Kyanite AR Hoody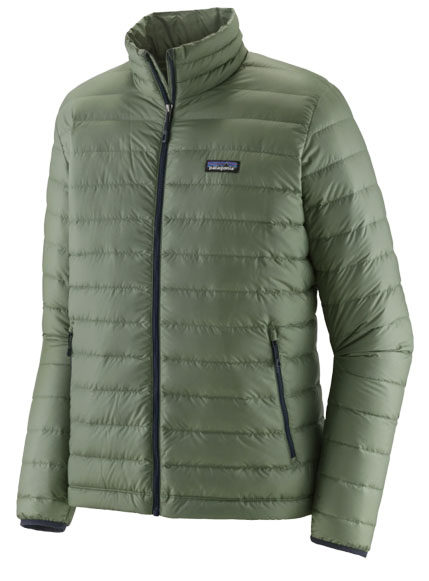 Insulation: Down
Weight: 13.1 oz.
What we like: Versatile, well-built, and relatively affordable.
What we don't: Fit is a bit boxy. 
Few jackets have stood the test of time like the Patagonia Down Sweater. Iconic both for its classic styling and lofty warmth, the Down Sweater is a versatile jacket that's equally at home in town as it is on the slopes. You get premium 800-fill down, a high-end build that should last many seasons of skiing and casual use, and a relatively durable shell that resists abrasions better than the Cerium LT above (20Dx30D vs. 10D). And for just $229, the Down Sweater is significantly cheaper than much of the competition. 
Unlike the Cerium LT, the Down Sweater features 100% down insulation, which means you'll need to be especially careful to stay dry in wet conditions. The rest of the jacket follows suit with less of a performance focus overall—the fit is fairly boxy to accommodate casual layers underneath, weight is hefty at 13.1 ounces (compared to the Cerium LT's 9.9 oz.), and the 800-fill down is slightly less premium than the Arc'teryx's 850-fill. But for a versatile midlayer for a wide variety of people and uses—and a great value, too—the Down Sweater is well worth a look... Read in-depth review
See the Men's Patagonia Down Sweater  See the Women's Patagonia Down Sweater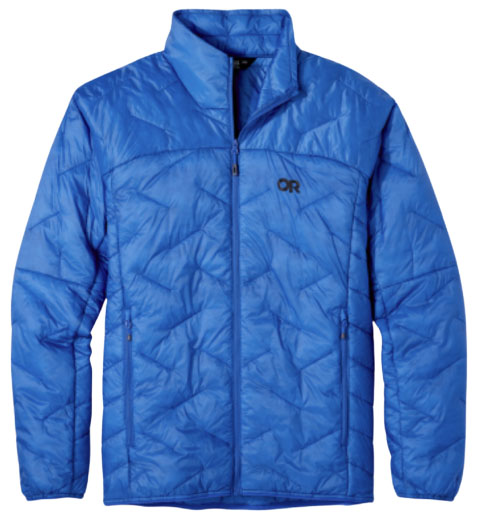 Insulation: Synthetic
Weight: 10 oz.
What we like: Affordable; impressive warmth for the weight.
What we don't: Not very breathable and shell fabric is fragile.
Outdoor Research has come out with a number of innovative synthetic jackets over the years, and the SuperStrand LT is their latest effort. Like the Micro Puff above, the SuperStrand LT aims to provide maximum warmth for minimal weight and bulk, and it delivers in spades. The jacket combines a super thin (12D) nylon ripstop shell with VerticalX's new SuperStrand technology, a down-mimicking synthetic insulation that is impressively lofty, even when wet. And unlike many of the bulkier fleece and active insulation pieces here, it stuffs down into a corner of your pack when not in use (or into its left-hand pocket). Added up, the SuperStrand LT is an intriguing new midlayer for weight-conscious backcountry skiers, alpine climbers, and mountain runners alike.
We've learned to count on Seattle-based Outdoor Research for great performance at a low cost, and—true to form—the SuperStrand LT checks in at $50 less than the aforementioned Patagonia Micro Puff. That said, it's a bit heavier and bulkier than the Micro Puff (10 oz. vs 8.3 oz.), and OR consistently falls short of Patagonia in terms of quality of materials and fit and finish. Finally, there are a couple downsides to the SuperStrand's purpose-built design: it doesn't breathe as well as active midlayers like the Nano-Air or R1 Air above, and the thin shell fabric is fragile and limits the jacket's use as a standalone piece. But as an emergency layer or for added warmth at chilly belays, the OR is a great value (and it's also available in a hooded version for $219)... Read in-depth review
See the Men's Outdoor Research SuperStrand LT  See the Women's Outdoor Research SuperStrand LT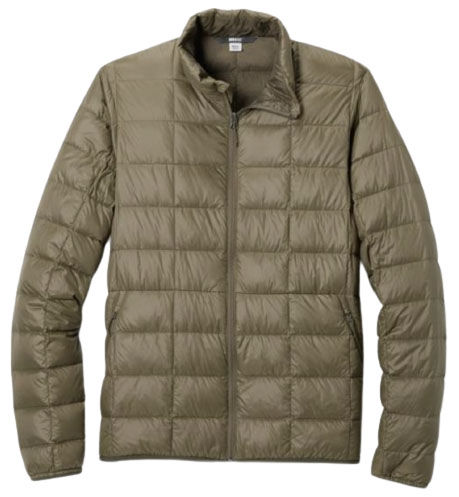 Insulation: Down
Weight: 11 oz.
What we like: Great value for a down jacket.
What we don't: Less of a performance option.
For those looking for a down jacket on a budget, we love what REI Co-op has to offer. Their original 650 Down Jacket was an undeniable value, and the "2.0" is even more impressive. Most notably, this version features soft-touch recycled nylon and reworked boxed baffling that gives it a distinctive look. It's true that the 650 Down is a relatively simple jacket overall that lacks the fit, finish, and just-right cut of a Patagonia or Arc'teryx product, but it's impossible to ignore the fantastic price of $100. In the end, the REI Down Jacket can go head-to-head in warmth and versatility with down sweaters that are double the cost from brands like Columbia and Marmot.
Keep in mind that this jacket isn't a serious performance piece and is best for causal use and layering. The 650-fill down is a lower quality than the Cerium LT's 850-fill above, and its non-ripstop nylon is more vulnerable to tears. In addition, this jacket lacks a hem adjustment, which is limiting for dialing in fit. However, for daily use, travel, and as a midlayer for resort skiing, you just won't find a better deal. As an added bonus, the Co-op stuffs down into its left hand pocket, making it easily packable... Read in-depth review
See the Men's REI 650 Down Jacket 2.0  See the Women's REI 650 Down Jacket 2.0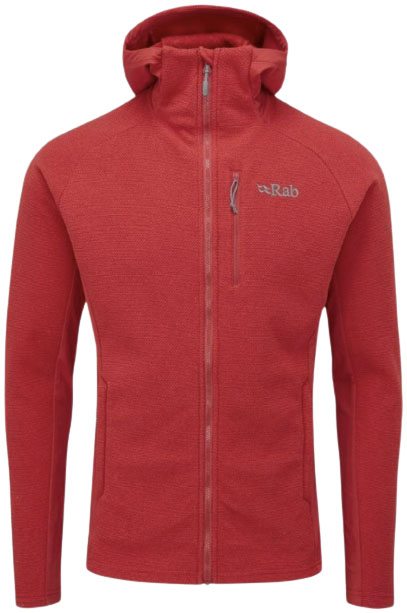 Insulation: Fleece
Weight: 14.1 oz.
What we like: Affordable; stretchy side panels add mobility and venting.
What we don't: Not versatile as an outer layer.
In a landscape dominated by techy fabrics and ultralight insulation, fleeces are the true midlayer underdog. Relatively heavy and bulky compared to down and far less weather resistant than synthetic jackets, they're not our first choice for fast-and-light objectives or standalone use. But performance fleeces have won us over in recent years, as evidenced by selections like the R1 Air and Kyanite AR above. This genre of fleece is far from the bulky, high-pile styles of yore: Modern, airy fabrics keep weight low and breathability high, and the trim-fitting designs fare well under technical shells. Joining our list of favorites is Rab's midweight Capacitor Fleece, which offers a nice balance of warmth, performance, and price.
The Capacitor Fleece features 200-weight fleece and stretchy side panels for mobility and venting, making it a suitable option for high-output days in cold conditions. We also appreciate the trim-fitting hood, which slides easily underneath a helmet (Rab also offers a hoodless pull-over version for men). In terms of the competition, the Kyanite AR is slightly warmer and offers a bit more performance as an outer layer (thanks to its durable nylon shell), while the 100-weight Patagonia R1 Air is the more breathable option (albeit not as insulative). In the end, the Capacitor is a great middle ground between the two, and it's also the most affordable at just $140.
See the Men's Rab Capacitor Fleece Hoody  See the Women's Rab Capacitor Fleece Hoody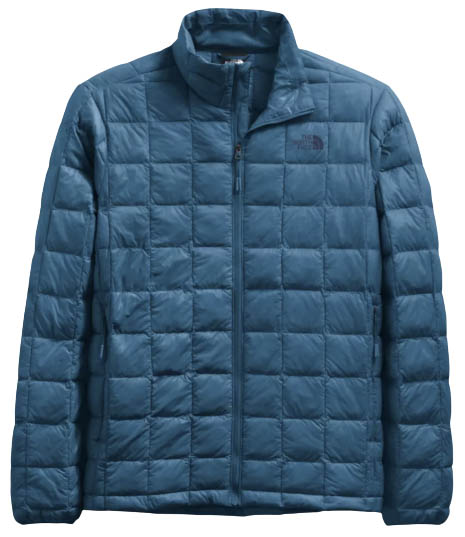 Insulation: Synthetic
Weight: 15.2 oz.
What we like: Good imitation of a lightweight down jacket.
What we don't: Boxy fit and lacks the mobility of our top picks.
The ThermoBall Jacket from The North Face is one of the most popular and heavily marketed synthetic jackets ever. Made in conjunction with synthetic insulation masters PrimaLoft, ThermoBall technology uses small round clusters of PrimaLoft thermal fibers housed inside the jacket's baffles, giving it the look and feel of a lightweight down puffy (and remember that synthetics insulate much better when wet). It still falls short in terms of warmth for the weight compared to high-quality down—just like every other synthetic out there—but is a pretty darn impressive effort overall and the jacket has been a huge success.
The North Face recently updated the ThermoBall Eco, with highlights including recycled materials and a new insulation design that traps heat more effectively. The revamped baffling pattern takes on a more casual look, too, which—along with a boxy fit, hefty weight, and middling breathability—makes the ThermoBall far from our first choice for performance-oriented endeavors like backcountry skiing or alpine rock climbing. But its smooth styling is great for daily wear under a hardshell or rain jacket, and the ThermoBall is both warm and comfortable as a midlayer while resort skiing... Read in-depth review
See the Men's The North Face ThermoBall  See the Women's The North Face ThermoBall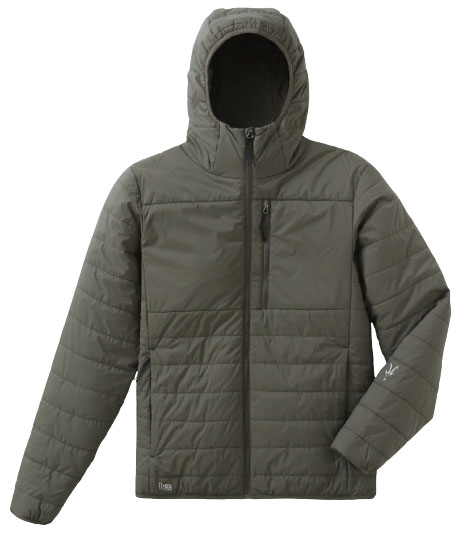 Insulation: Merino wool
Weight: 11.4 oz.
What we like: Sweatshirt-like face fabric and premium merino wool insulation.
What we don't: Expensive; not as warm or durable as the competition.
Now based in Boulder, Colo., Ibex specializes in merino wool apparel for both urban and backcountry settings. Instead of using down or synthetic insulation like most of the jackets here, their Wool Aire packs in 80-gram merino wool fill (80% merino, 20% polyester for added durability), which is known for its excellent temperature regulation and warmth when wet. The result is one of our favorite new midlayers this year: The Wool Aire Hoodie is lightweight but decently warm, breathable, and so soft to the touch that we wear it around home like a sweatshirt. 
The airy Wool Aire doesn't offer as much warmth as synthetic jackets like the Nano-Air and Atom LT above, and at $285, you're certainly paying more for the premium merino. We also think the hand pockets could use improvement—the zippers are designed to hide behind flaps, but ours often bag out (though it's not a performance issue, we do expect a more refined design for the price). But the jacket is undeniably fun to wear, and its packable design makes it a passable option for activities like climbing, too (however, be careful with the thin, 20D shell). All told, the Wool Aire is a premium and good-looking companion for mild days out, but you can get a better bang for your buck with some of the synthetic options above.
See the Men's Ibex Wool Aire Hoodie  See the Women's Ibex Wool Aire Hoodie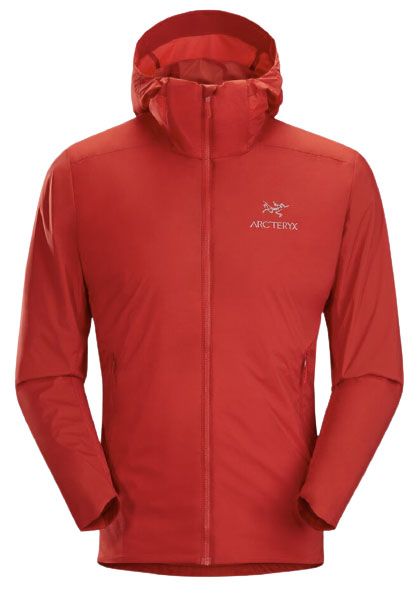 Insulation: Synthetic
Weight: 9.5 oz.
What we like: Breathable; extremely lightweight and packable.
What we don't: No insulation in arms and hood; not as warm as the competition.
Not everyone needs to be counting ounces, but for backcountry missions, weight savings is paramount. With 40-gram, breathable Coreloft Compact insulation placed only in the core, the Atom SL ("superlight") stands out as one of the lightest and most packable jackets on our list. You don't get the same amount of warmth as with other synthetic midlayers, but you do get a highly breathable design that will keep you comfortable as you move down the trail or skin track. And with a recent update, the Atom SL received a more durable face fabric (similar to the Atom LT above) and now features a button to secure the low-profile hood behind your neck when not in use.
The Atom SL is a true niche piece—keep in mind that both the arms and hood of the jacket are uninsulated, making it more akin to a vest in terms of warmth (but with the bonus of weather resistance if you choose to wear it without a shell). Unless you run very warm during activity, we don't recommend it for true winter temperatures. Further, if you're willing to compromise on breathability, a layer like the Cerium LT will provide a lot more warmth and loft for a small 0.7-ounce weight penalty. But for a lightweight insulator that's ideal for mild-weather use or high-output activities, the Atom SL deserves a look... Read in-depth review
See the Men's Arc'teryx Atom SL Hoody  See the Women's Arc'teryx Atom SL Hoody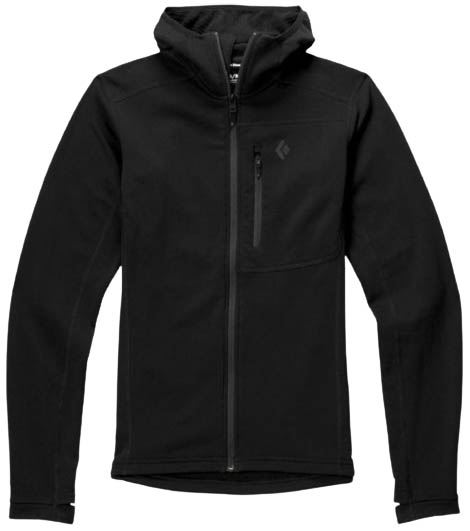 Insulation: Fleece
Weight: 10 oz.
What we like: A breathable and warm midlayer that won't impede movement.
What we don't: Expensive and doesn't double as an outer layer.
For climbers and backcountry skiers, a fleece can be a really nice midlayer choice. Not only do they breathe well and dry quickly, but many performance varieties manage to pack a lot of warmth into a fairly minimal build. The Black Diamond Coefficient is one such jacket: with gridded Polartec Power Dry fabric, the fleece traps heat inside the waffle-like construction, keeping you warm during trailside breaks or belays but letting air move around when you're on the go. And its trim fit slides easily under a hardshell or windbreaker jacket (including an under-the-helmet scuba hood), eliminating the bulk you sometimes get from an insulated design.
The Coefficient offers similar levels of warmth as the Patagonia R1 Air Hoody above. But where the Patagonia prioritizes breathability, the Black Diamond boosts protection and durability with a Polartec Power Dry shell. To be sure, the Coefficient can't match the weather resistance of synthetic jackets like the Patagonia Nano-Air or Arc'teryx Atom LT, but it's a decent outer layer in clear conditions, similar to the Kyanite AR Hoody above (for 4.6 oz. lighter and significantly less warmth). Given its limited versatility and steep price tag, the Coefficient falls toward the bottom of our list, but it's undeniably a comfy and well-built fleece option... Read in-depth review
See the Men's Black Diamond Coefficient  See the Women's Black Diamond Coefficient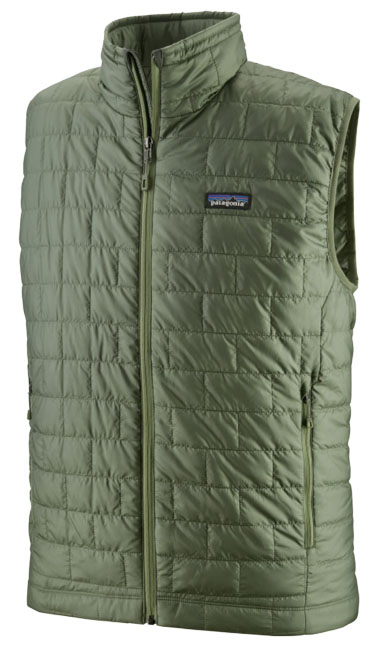 Insulation: Synthetic
Weight: 8 oz.
What we like: Warmth where you need it most.
What we don't: Less versatile as an outer layer.
For big efforts or mild conditions, there's a lot of reasons to opt for a vest over a jacket. Built to keep you warm in the core and minimize bulk and weight everywhere else, they're a minimalist choice and promote air flow better than most jackets. Vests also keep your arms free and unencumbered, which is great news for climbers, cross-country skiers, and even daily wearers. Within this category, the Patagonia Nano Puff Vest is one of our favorite designs, clocking in at just 8 ounces with a lightweight shell (20D) and 60-gram PrimaLoft Gold Eco insulation.
You can go even lighter with the vest version of the Micro Puff above (5.7 oz.), but you'll pay $50 extra for the weight savings. On the other hand, for a bump in warmth Patagonia's Down Sweater also comes in a vest, which tips the scales at 9.8 ounces and lands in between the two at $179. But if your intentions are anything more than casual, we prefer the added breathability and weather protection of synthetic models like the Micro Puff and Nano Puff here. And one final piece of advice: if you go with a vest for a midlayer, make sure to choose a warm and comfortable baselayer. Obviously it matters more with your arms exposed.
See the Men's Patagonia Nano Puff Vest  See the Women's Patagonia Nano Puff Vest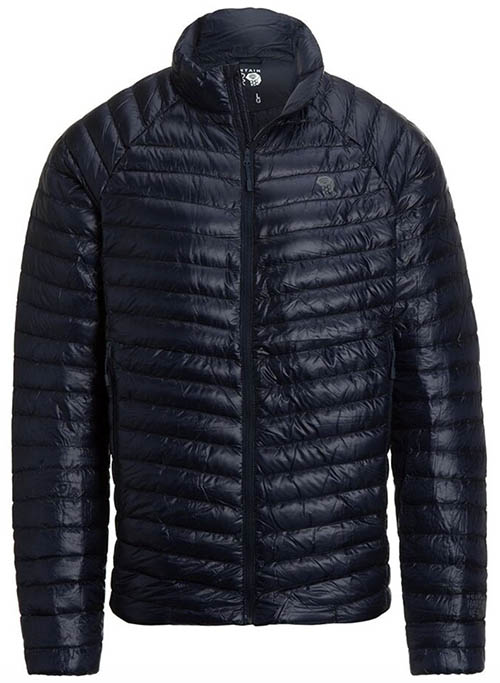 Insulation: Down
Weight: 8.3 oz.
What we like: Great warmth-to-weight ratio; premium materials and great fit and finish.
What we don't: Not as warm as the competition; thin shell lacks durability.
For years now we've turned to the down-filled Ghost Whisperer as our favorite ultralight insulator for missions when weight and space are at a premium. At only 8.3 ounces, it's the lightest jacket on our list, and touts a significantly smaller packed size than the competition. Plus, you get the longevity of down (which stands the test of time better than synthetic insulation) and a decently durable shell made of 100% recycled materials. In terms of warmth-to-weight ratio and ultralight performance, it doesn't get much more premium than the Ghost Whisperer.
But pitting the Ghost Whisperer up against other down midlayers on our list is not necessarily comparing apples to apples. The Mountain Hardwear is stuffed with only 2.65 ounces of 800-fill down, compared to the much warmer Arc'teryx Cerium LT (3.14 oz. of 850-fill down and synthetic Coreloft) and Patagonia Down Sweater (3.4 oz. of 800-fill down) above. And while durability is less of a concern with a midlayer, the Patagonia Down Sweater's 20x30-denier shell makes it much more of a versatile piece than the ultra-thin Ghost Whisperer (10D x 10D). Mountain Hardwear's revered ultralight insulator certainly has its time and place, but its lack of durability and high price point mean we recommend it only for the most discerning adventurers... Read in-depth review
See the Men's MH Ghost Whisperer/2  See the Women's MH Ghost Whisperer/2
Insulation: Synthetic (wool blend)
Weight: 15.6 oz.
What we like: Functional wool insulation and athletic fit.
What we don't: Pricey; wool insulation isn't all that warm.
Similar to a vest, the Smartwool SmartLoft 120 gives you warmth where you need it and range of movement where you don't. All in all, we really like what Smartwool has done with this design, which includes a soft merino wool liner, SmartLoft 120g recycled wool insulation around the core, and a nylon exterior. Throw in a DWR finish and the result is an active midlayer, outer layer, or even baselayer that is comfortable, agile, and regulates your body heat quite well.
If you're the type that runs cold, the SmartLoft 120 probably isn't the midlayer for you. Wool is a good insulator and does a great job at not retaining moisture or stink, but even the 120-gram fill isn't all that warm for the weight (not to mention it's only on the front of the jacket). But we still appreciate the design, which is very functional and creative compared to traditional jackets that are uniform in materials and thickness throughout. And we love the versatility: you can ski, hike, bike, and even hit the town in this jacket. For a lighter and more performance-oriented wool option, see the Ibex Wool Aire above.
See the Men's Smartwool SmartLoft 120  See the Women's Smartwool SmartLoft 60
Midlayer Comparison Table
Midlayer Buying Advice
​Midlayer Insulation Types
Fleece
A skiing midlayer classic, the fleece jacket is a comfortable and affordable way to stay warm. In spite of what the name may indicate, fleece is a wholly manmade synthetic made up of petroleum products. Many new models are made of plastics such as recycled bottles, and through a rather impressive process, out spits a cozy and soft fleece. These jackets are wonderful as a midlayer for skiing thanks to their ability to resist absorbing moisture and their fast drying time. Additionally, cost is a big reason for choosing a fleece, even if they do have a tendency to pill up over time.
As far as warmth is concerned, fleece jackets are most often measured in terms of fleece weight. A lightweight fleece—Patagonia's R1 Air, for example—is a thin and relatively packable option that breathes very well but isn't as warm. These are great for mild-weather skiing or high-exertion activities like backcountry skiing and climbing. Midweight fleeces are the most popular style due to their versatile warmth, and include models like the Rab Capacitor Fleece Hoody and Arc'teryx Kyanite AR above. These jackets are insulating enough for most cold days but don't compromise much in the way of breathability. Finally, heavyweight fleeces are the bulkiest and warmest in their class, which limits their use to casual environments or truly cold days on the slopes.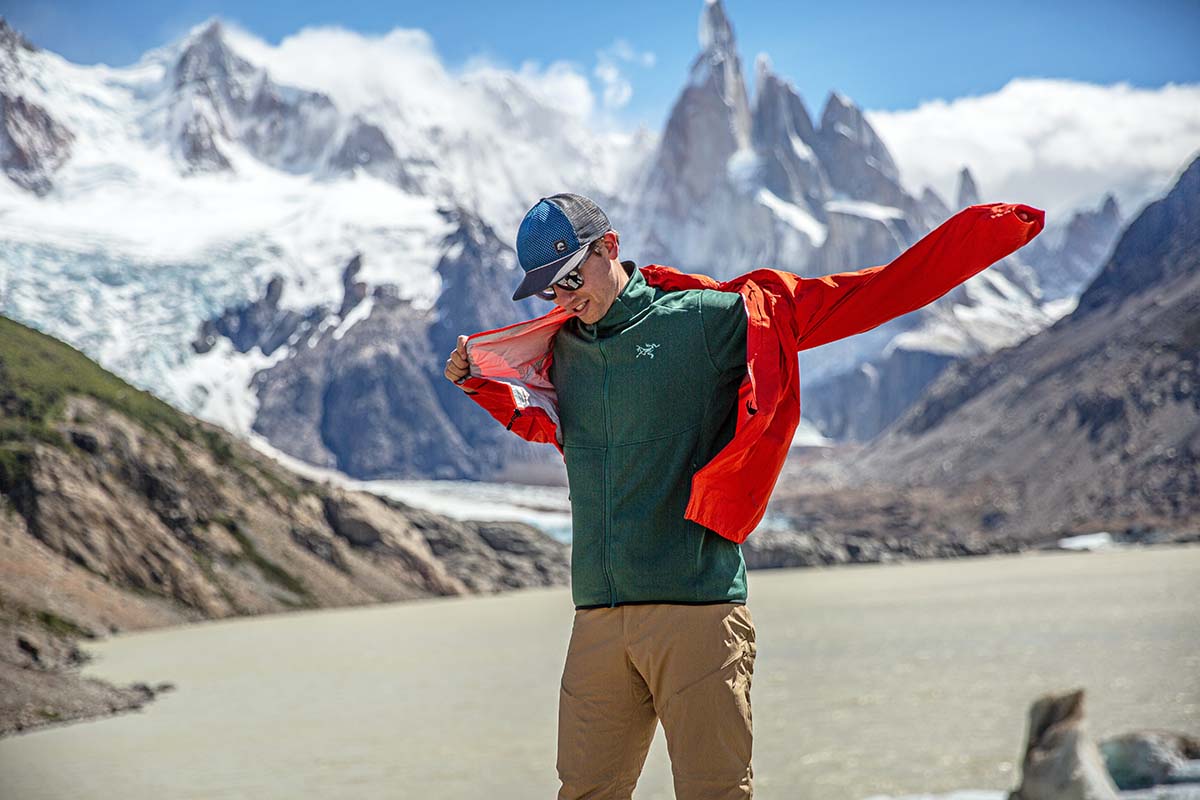 Synthetic Insulation
Opting for a synthetic jacket will most often involve a slight step up in cost from a fleece but comes with reduced bulk and often a more weather resistant shell. And as an upgrade from down fill, synthetics are more breathable and continue insulating when wet. PrimaLoft was the first big name in synthetic insulation, but in recent years we've seen a variety of new blends come to market with a range of intentions. The North Face's ThermoBall and Patagonia's PlumaFill, for example, seek to mimic the weight and compressibility of down, while other insulations prioritize breathability (like the impressive FullRange insulation used in Patagonia's Nano-Air jacket). Depending on your needs, there's likely a synthetically insulated jacket ideal for the job, and we particularly like highly breathable options for active resort or backcountry skiers.
Synthetic insulation is measured in grams, which is how much insulation a 1 x 1 meter section of the fibers weigh. Lightweight synthetics will have approximately 40 to 60 grams of insulation, and midweights are closer to 100 grams. Once you reach the midweight category, you are dealing with a very bulky jacket, which is why the 60-gram choice is so popular. It's light and easy to move in, making it perfect as an all-around ski midlayer.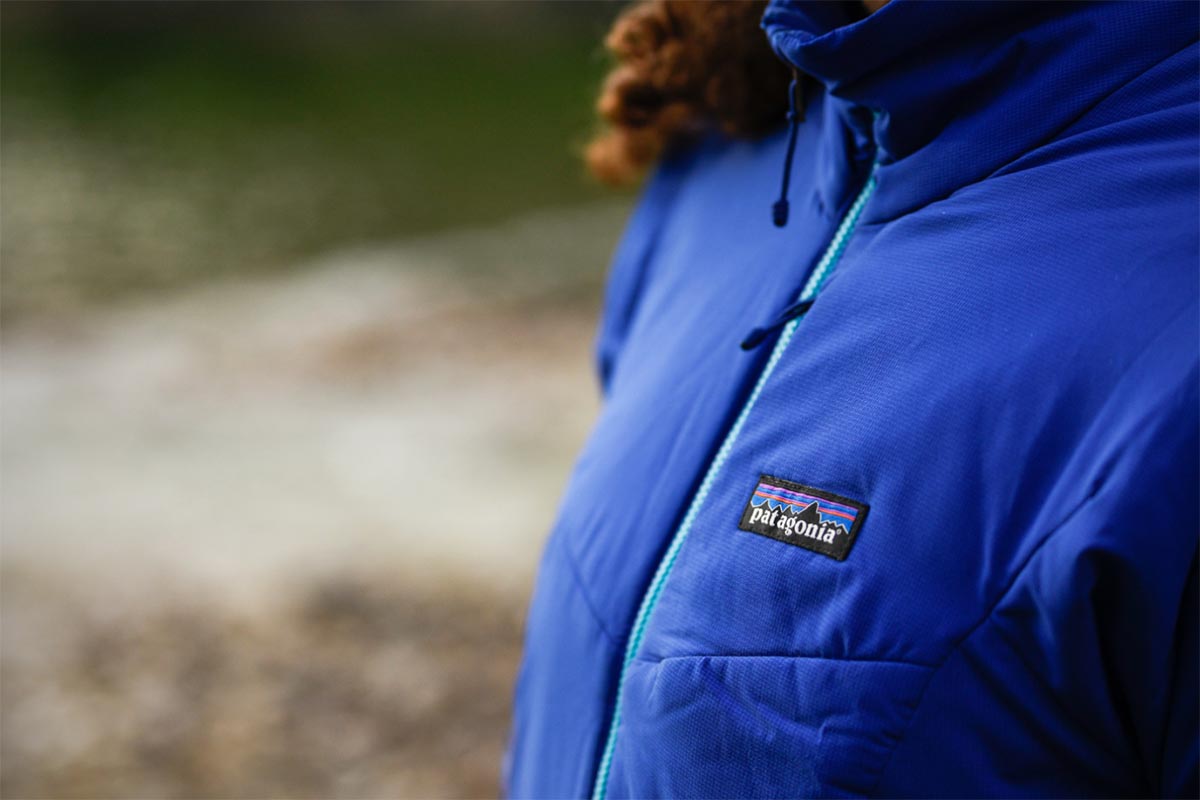 Down Insulation
Despite impressive innovation in synthetic materials, there's still no match for the warmth, lightweight, and packability of natural goose or duck plumage. There is simply no better way to stay warm than a down jacket, as long as you avoid heavy moisture—down will clump up and stop insulating when wet. If you really make an effort to stay dry with a bombproof shell, or for dry and cold conditions found in areas like Utah, Colorado, or parts of the East Coast, a down jacket is a perfect fit. On positively frigid days, an option like the venerable Patagonia Down Sweater remains a go-to choice.
In comparing down jackets, the two most important specifications are down fill power and fill weight. These are two independent measurements, but taken together they will give you an indication of how warm the jacket will be. To start, fill power is a measurement of the quality of the down clusters. Because down relies on loft to trap heat against your body, a jacket that requires fewer clusters to achieve the same amount of loft will be equally as warm but weigh less. As a result, you pay more for a higher fill power. Mid-range fill power falls in the 550-650 range, and high-end jackets will have 700+, reaching as high as 1,000 for some brands like Montbell. Fill weight is the next metric, and this is simply the total amount of down in the jacket, given in ounces. Now remember, weight isn't the only indicator and should be looked at alongside the fill power, but it remains a very helpful number in figuring out jacket warmth.
Wool
Many of our favorite baselayers are made with merino wool, due to its comfort, warmth, and ability to resist odor better than synthetic materials. And while this natural alternative isn't seen as often in midlayers, it can go head-to-head with synthetics in terms of warmth (even when wet) and temperature regulation. But this all-natural insulator does have its downsides: wool can be more of a hassle when it comes time to do the laundry, and it lacks the warmth-to-weight ratio of down. As a result, we most often see it mixed in with a hybrid insulation design, like the wool blends seen in the Ibex Wool Aire and Smartwool SmartLoft 120.
 
Important Strengths and Weaknesses
Warmth
Your preferences on warmth will depend on a number of factors, including where you ski and the conditions you're willing to go out in, as well as considerations like if you use an insulated ski jacket or just a shell. Warmth will vary no matter the choice, but the most efficient heater is the down jacket. The clusters of feathers offer unmatched warmth relative to the weight of the garment. And choosing a higher fill-power option will have the best warmth-to-weight ratio.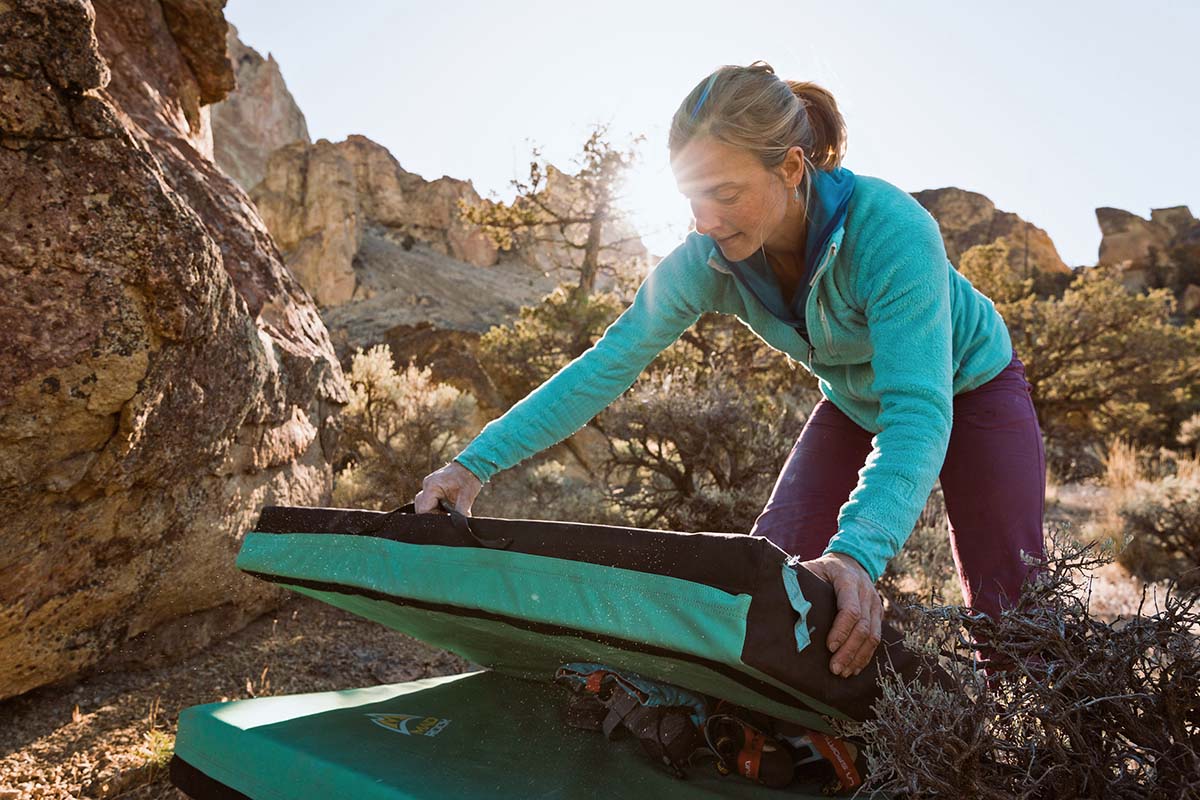 Another natural insulator, wool offers cozy warmth and comes with the benefit of resisting odors better than other materials. However, wool's warmth-to-weight ratio is less impressive, and it's often on the expensive end of the spectrum. Next in line is synthetic insulation, which is sometimes referred to as a synthetic down because it was designed to emulate the heat-capturing abilities of the duck or goose clusters. While not as efficient in heating for the weight (some designs like the Patagonia Micro Puff and Outdoor Research SuperStrand LT are getting close), synthetic jackets are still a great choice for skiing in typical resort conditions.
A fleece jacket may be at the bottom of our warmth list, but that's not to say you can't find a very warm fleece coat. It just takes a lot of fleece to get you there. And for many skiers (us included), a bulky jacket can interfere with the fun, which puts fleece at the bottom of our warmth scale.
Down: Excellent
Wool: Very good
Synthetic: Very Good
Fleece: Good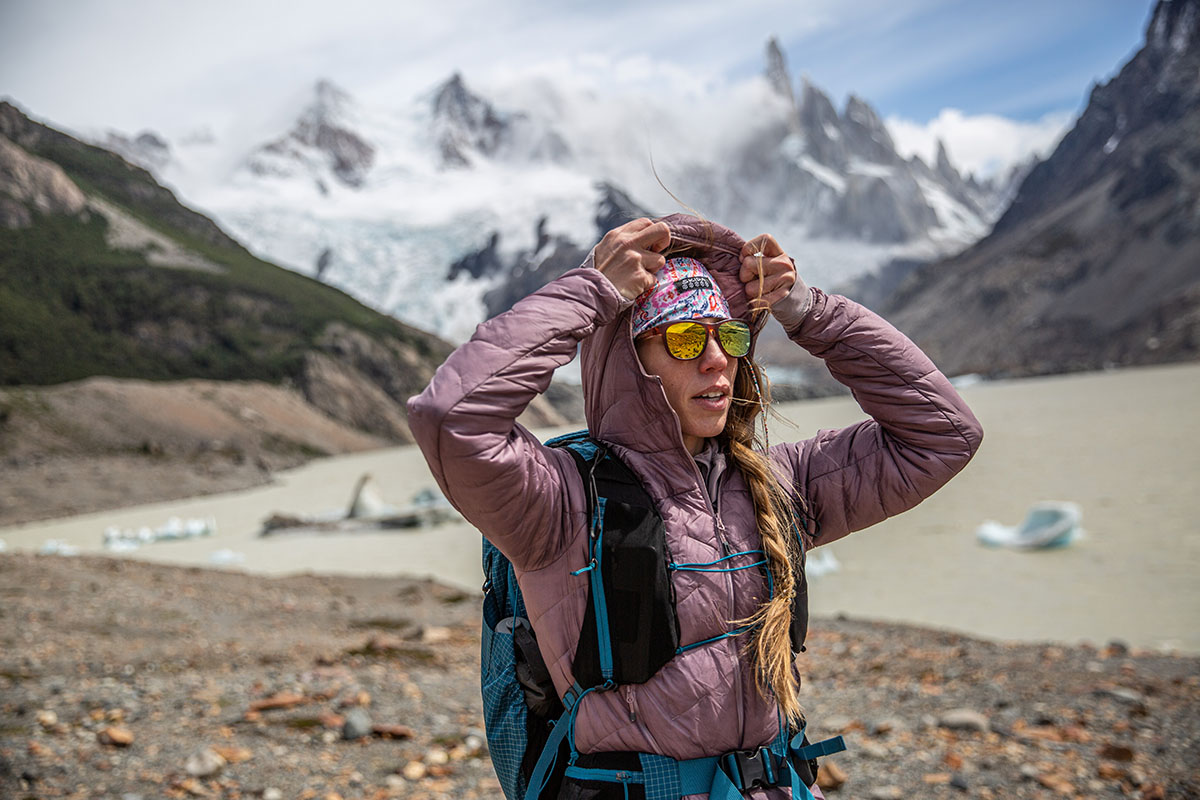 Snow and Wet-Weather Protection
This category is where the down jacket struggles in relation to the other three. If your down jacket is poking out the bottom of your shell and you plant yourself in some wet snow (the Pacific Northwest variety comes to mind), the jacket's ability to insulate will be compromised. One of the appeals in moving to synthetic, fleece, or wool insulation is the fact that they are still able to retain some insulating properties when wet (as a downside, wool can grow very heavy when saturated). Fleece is top of the class in terms of warmth when wet (due in part to the naturally hydrophobic nature of the polyester construction) and can also dry faster than synthetic fibers. However, many synthetic jackets will add a DWR coating to their shell to bead water, making them a far more suitable outer layer option than fleece. 
Synthetic: Very good
Fleece: Good
Wool: Good
Down: Not good (even hydrophobic down falls short)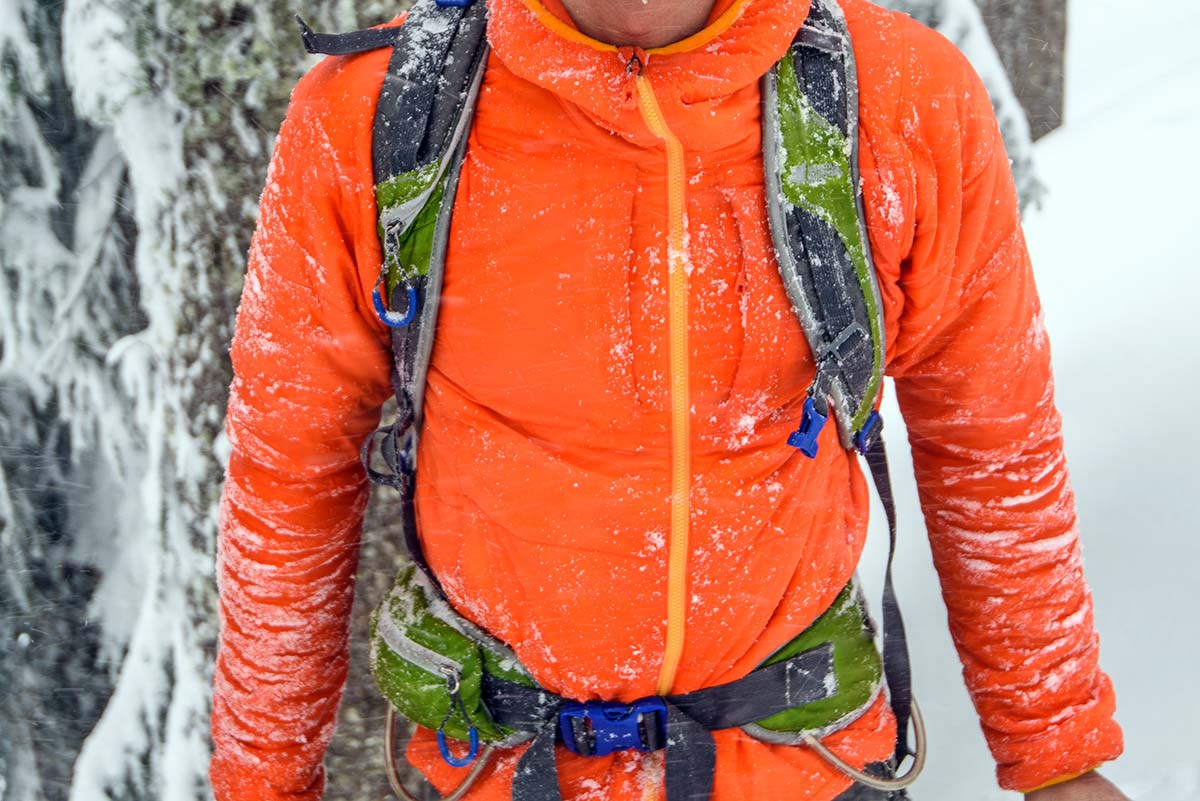 Breathability
Breathability is another strong suit of fleece, synthetic, and wool insulation. Overall, we give the edge to fleeces, which are naturally porous, and new models like the Patagonia R1 Air open up even more avenues for hot air to escape. Wool comes in a close second—this natural insulator excels at temperature regulation and, as a bonus, minimizes odor retention. Synthetic jackets like Arc'teryx's Atom LT offer great breathability for active use, but the category as a whole can be hit or miss (we often overheat in the Patagonia Micro Puff, for example). Unfortunately, down jackets are on the outside looking in here. Their supreme warmth retention doesn't breathe nearly as well as the other options (and working up a sweat can lead to the insulation getting wet and losing its ability to keep you warm).
Fleece: Excellent
Wool: Excellent
Synthetic: Varies, but can be excellent
Down: Good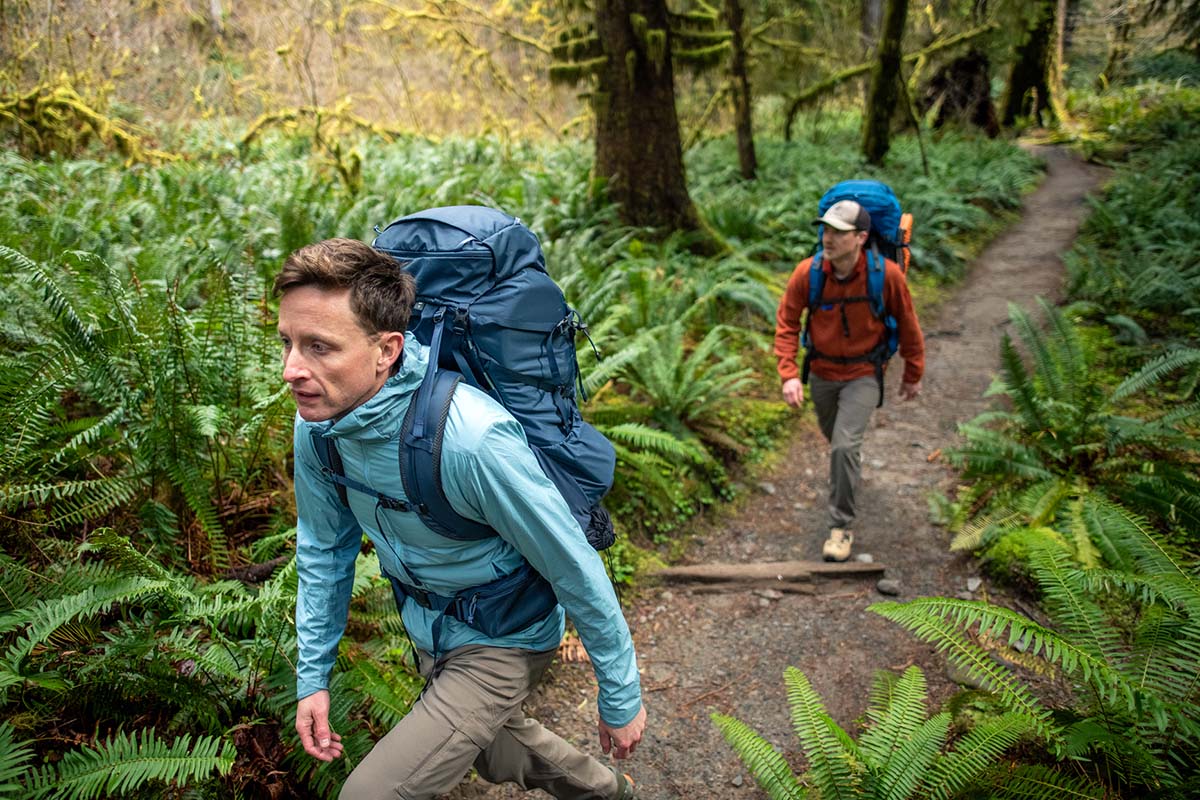 Weight and Compressibility
For the backcountry explorer that needs to throw a warm layer in their pack to stay comfortable at mealtimes, the down jacket remains the best choice. An 800-fill-power down jacket with a thin shell is capable of compressing down to the size of a grapefruit (although over-compressing for long periods can damage the feathers, so don't go too crazy). Synthetics and wools (often wool/synthetic blends) vary quite a bit in compressibility. Lighter-weight options like the Patagonia Micro Puff and Arc'teryx Atom SL are reasonably compressible, but even these thinner jackets don't stuff down as compactly as down fill. Fleece jackets aren't really all that compressible, and throwing a mid or heavyweight fleece into a pack can make for a challenging endeavor.
Down: Excellent
Synthetic: Varies, but can be very good
Wool: Varies, but can be good
Fleece: Not good
Durability
Insulated synthetic, down, and wool jackets vary from super-thin ultralight shells that are vulnerable to tears to tough jackets that you can throw on and forget about. In terms of the insulation itself, down and wool have long lifespans (and will continue to provide warmth as long as the shell of the jacket is intact), whereas synthetic materials tend to pack out. The durability of a fleece on the other hand is usually quite good. They'll pill up over time and it's possible to put a hole in a fleece by snagging it on a sharp object or catching a wayward campfire spark, but they're typically abrasion-resistant and long-lasting in general.
In addition to the insulation, it's important to consider the durability of your jacket's shell fabric. The near-constant friction between your midlayer and outer shell jacket can cause abrasions and potential tears should a zipper catch the outer shell of your midlayer. In our opinion, because a couple extra ounces of weight are rarely a cause for concern while resort skiing, it's worth it to get a more durable jacket. For insulated jackets, this means a tear-resistant fabric that is 20-denier (denier is a measurement of fabric thickness) or more. For example, a jacket like the Patagonia Down Sweater has a great combination of sufficient toughness (20x30D) and minimal bulk, while the Micro Puff's 10-denier shell is too fragile for heavy use. 
Fleece: Very good
Down, Synthetic, & Wool: Varies, but can be good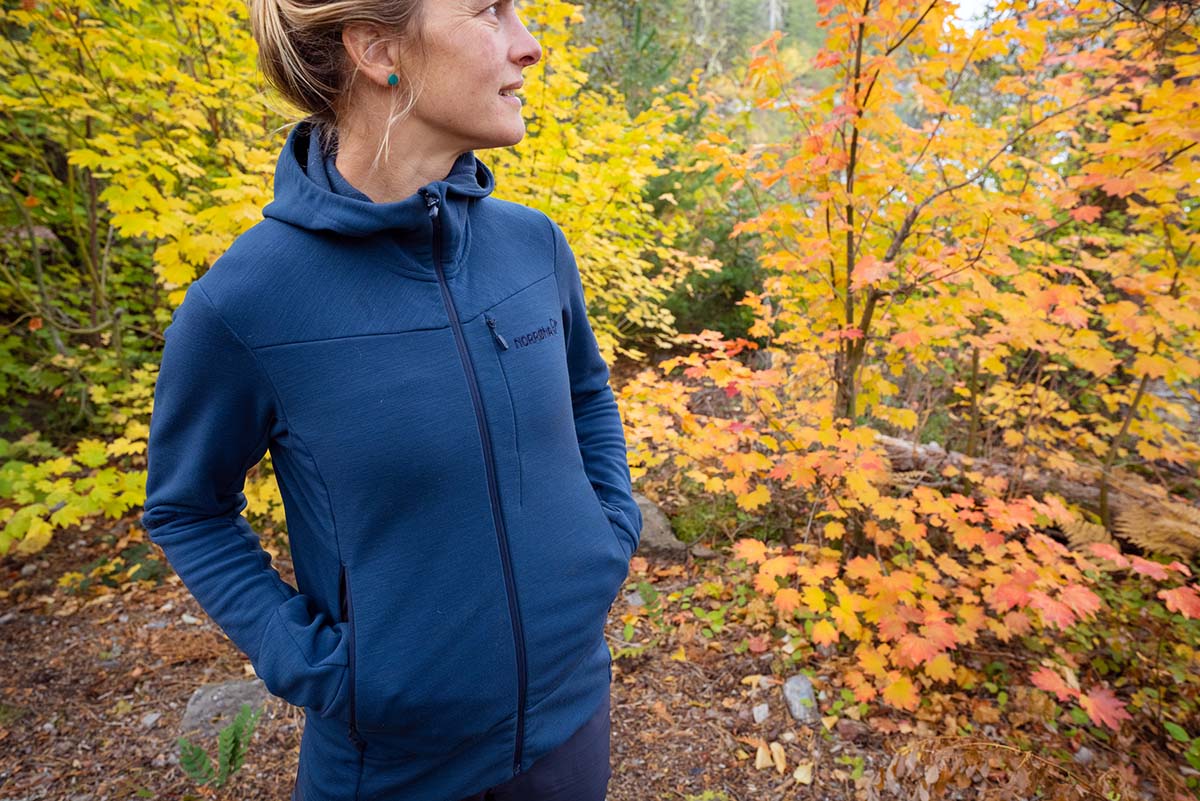 Getting a Proper Fit
Fit plays a very large role in an effective midlayer. Too much extra fabric and you will have bunching and general discomfort underneath your shell, and a jacket that's too trim will restrict your mobility. It's best to find that middle ground where you have complete freedom of movement without the jacket riding up, and no excess bulk. We prefer a jacket that has a non-boxy cut that allows us to wear a similarly athletic-fitting outer layer over the top. Arc'teryx in particular seems to consistently make jackets with this type of fit. As you're trying on midlayers, be aware of the normal pinch areas: around the waist, in the shoulders, and under the arm pits.
Hood vs. No Hood
Deciding whether or not to opt for the hooded or non-hooded version of a midlayer might seem like a relatively inconsequential decision, but it's actually deserving of some thought. For the most part, we prefer a non-hooded midlayer, particularly when we know we'll be layering it under a hardshell or ski jacket. A hood is prone to bunching up behind the neck under an outer layer, and it can be cumbersome to don both midlayer and shell hoods at the same time. Further, if you're like us and participate in activities where you wear a helmet (skiing, climbing, biking, etc.), keep in mind that most midlayer hoods are not helmet compatible.
But there are a few scenarios where we love a hooded midlayer. For one, if we are wearing a helmet, a svelte hood worn underneath can provide a good deal of warmth for both the head and neck, and will prevent snow from entering the jacket at the collar. Second, if we think we'll be wearing our midlayer as an outer layer (which we often do with jackets like the Arc'teryx Atom LT or Patagonia Down Sweater), we love the extra warmth and protection of a hood. In the end, the decision of hood vs. no hood will come down to one of personal preference, and it's important to know how you'll be using your midlayer when considering your needs.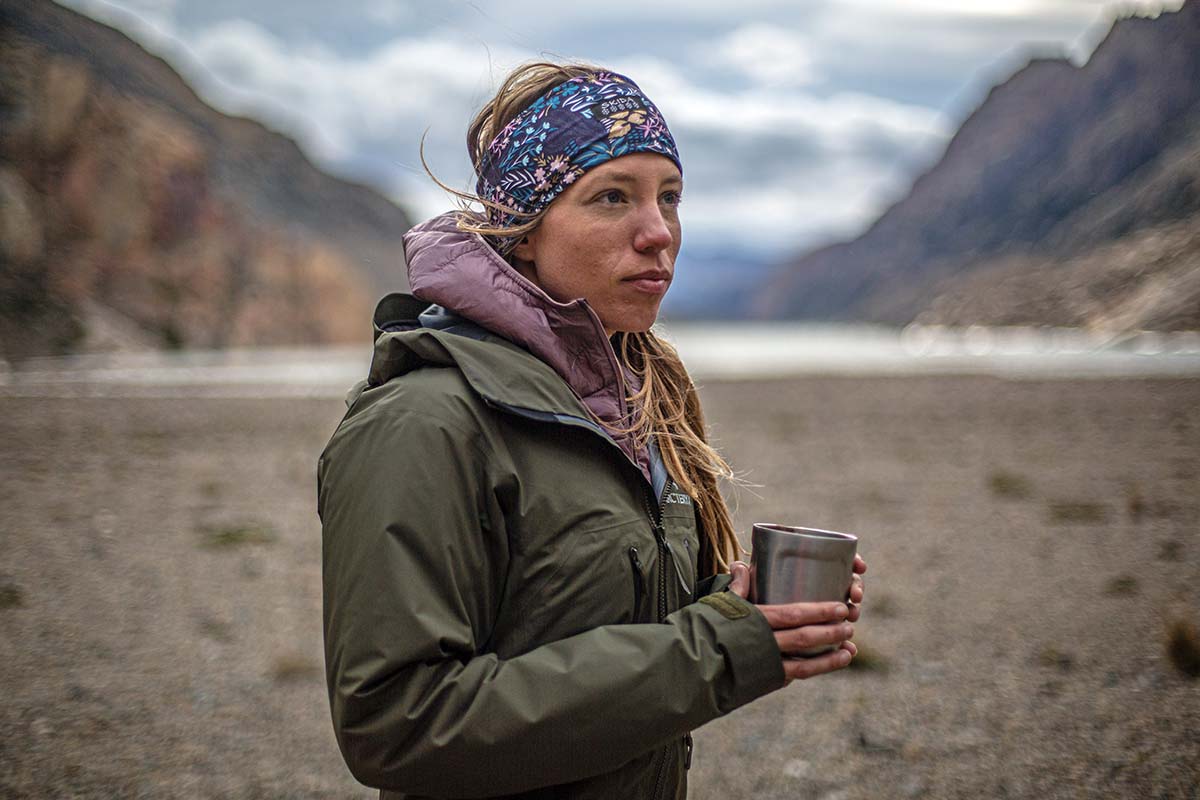 Midlayer Jacket Features
Midlayers are fairly simple pieces, especially considering they're meant to hide under your weatherproof outer layer. Feature sets are often limited to pockets, thumbholes, and hoods (which we discussed above). It's true that most folks don't use the pockets of their insulating layers on the slopes or in the backcountry all that often—it's a pain to have to unzip a couple layers. However, midlayers are a classic choice for daily use, so don't dismiss pockets completely. And if you're eying a very technical piece that goes without pockets and you plan to use it around town, you may want to reconsider. Case in point: a more all-around choice may be the Patagonia Nano-Air (which features three total pockets) as opposed to the lightweight Black Diamond Coefficient Hoody, which has only one chest pocket.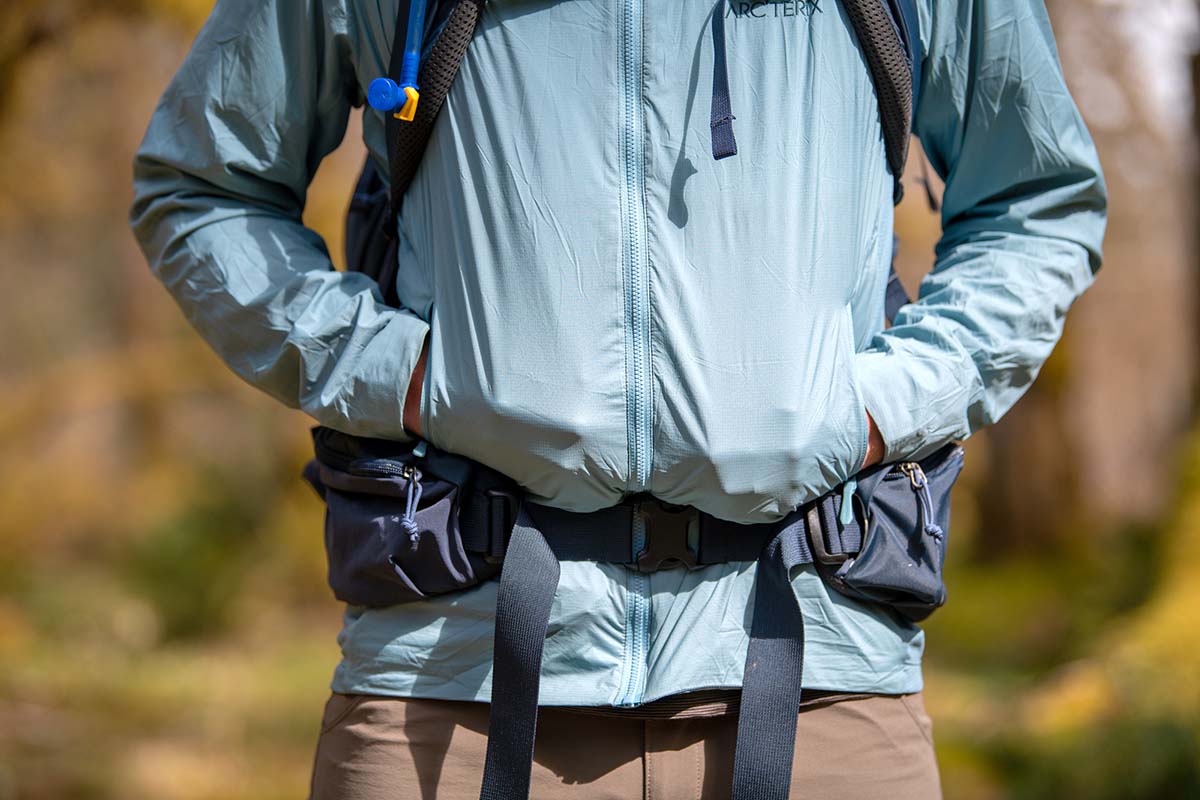 Performance midlayers occasionally will have thumbholes built into the sleeves. While serving as an opening for cold air to sneak in when not in use, the openings work well for keeping the sleeves in place during high effort activities or when taking on and off layers. User tip: if you're eyeing a jacket that has this feature, we recommend checking to make sure the fabric around the thumbhole has some stretch so it doesn't feel like your thumbs are being yanked around every time you extend your arms.
 
Don't Forget Your Baselayer
If you're like most folks, you spend a lot of time picking out the perfect shell, then move to your insulating options, and finally just grab a baselayer willy-nilly. Trust us, this is a poor methodology. As the layer that's next-to-skin, a baselayer is at the core of moisture wicking, temperature regulation, and a number of other essentials. If you have a crummy baselayer, all the fancy tech in your mid and outer layers will be nearly worthless. Top materials include merino wool for its excellent temperature regulation and odor prevention, and synthetics are quite good at drawing moisture away from your skin. Check out our top baselayer picks to see which ones stand out as best.
Back to Our Top Midlayer Picks  Back to Our Midlayer Comparison Table
Learn More About Ski Gear