As your next-to-skin article of clothing, a baselayer plays a fundamental role in pulling moisture away from the body and regulating core temperature. It's far easier to justify purchasing a nice down jacket, but a baselayer can be just as important for activities like skiing, hiking, and climbing. To start, avoid cotton (like the old adage "cotton kills"). You'll need a fabric that will keep you warm when wet and dry out quickly, and merino wool and polyester are the most common choices. Below are our picks for the best baselayers of 2022. For more information, see our baselayer comparison table and buying advice below the picks.
 
---
Our Team's Baselayer Picks
---

Best Overall Baselayer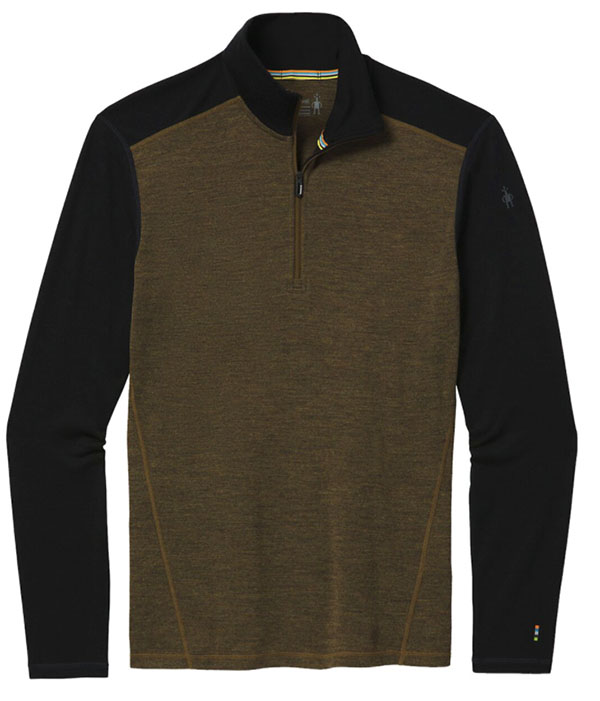 Material: 100% merino wool
Category: Midweight
Weight: 10 oz.
What we like: Extremely soft, warm, and resists water and stink.
What we don't: Pricey and requires good care to last. 
Smartwool has been the industry leader in baselayers for years, and merino wool is the most sought-after material for the job. Made with 100 percent merino (many of the baselayers below are blends or synthetics), the 250 Quarter-Zip is the whole package: It's warm, super soft against the skin, resists moisture, and doesn't hold stink like the polyester options on the list. All in all, it's a great baselayer for skiing and other winter sports, and even has a UPF 50+ rating for use as an outer layer in more mild weather. Based on the popularity of the Smartwool 250, it's made in a number of versions, including a Crew ($100) and Hoodie ($135). But when active, we appreciate the ability to lower the zip and regulate heat.
The Smartwool is the full package, but merino wool isn't cheap: You can save with one of the blends or polyester baselayers below, including Patagonia's popular Capilene. That said, we far prefer merino for its coziness, temperature regulation, ability to insulate when wet, and resistance to smell. With polyester, you'll likely have to wash and change your baselayers quite frequently, whereas wool keeps performance high over the course of a multi-day backcountry or ski trip. The primary downside to consider is merino's lack of durability—particularly if you frequently throw it in the dryer—but it's worth the tradeoff for the high levels of comfort and performance. Among the growing cadre of merino options, we think Smartwool's 250 provides the best balance of versatility, quality, and value.
See the Men's Smartwool Merino 250  See the Women's Smartwool Merino 250
Best Synthetic Baselayer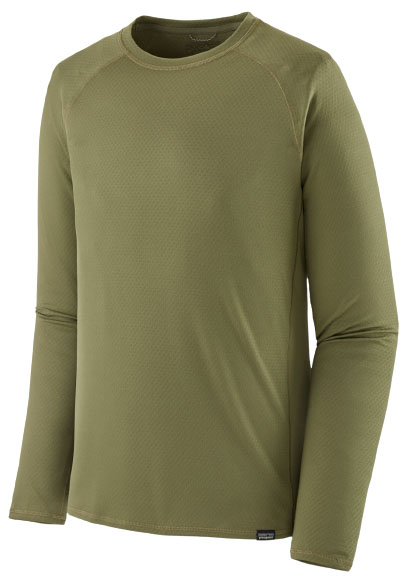 Material: 100% recycled polyester
Category: Light/midweight
Weight: 6.2 oz.
What we like: Cheaper and more durable than merino wool.
What we don't: Not quite as soft.
Choosing synthetics over merino wool has clear upsides, the most notable being cost and durability. For just over half the price of the Smartwool above, the polyester Capilene Midweight by Patagonia offers similar warmth and moisture-wicking capabilities. And it likely will last for many seasons—we have Capilene tops that are multiple years old and counting despite heavy use. And while synthetics aren't blameless when it comes to their environmental impact (they often rely on fossil fuels for production and can leach plastics into the water with each washing), it helps that Patagonia crafts the Capilene Midweight with 100-percent recycled materials.
What do you sacrifice by going with a synthetic baselayer? Polyester is decently comfortable but not as soft against the skin, and it doesn't regulate body temperature or repel odor quite as well as wool. This doesn't mean that your Capilene will get stinky super quickly—and Patagonia has made strides in this area with an anti-odor HeiQ Fresh treatment—but you will find yourself putting it through the wash more often. But wool can be finicky and not everyone wants to spend $100 or more on a baselayer, which is why we love Patagonia's Capilene line. For more warmth, try the Capilene Thermal Weight.
See the Men's Patagonia Capilene  See the Women's Patagonia Capilene
Best Budget Baselayer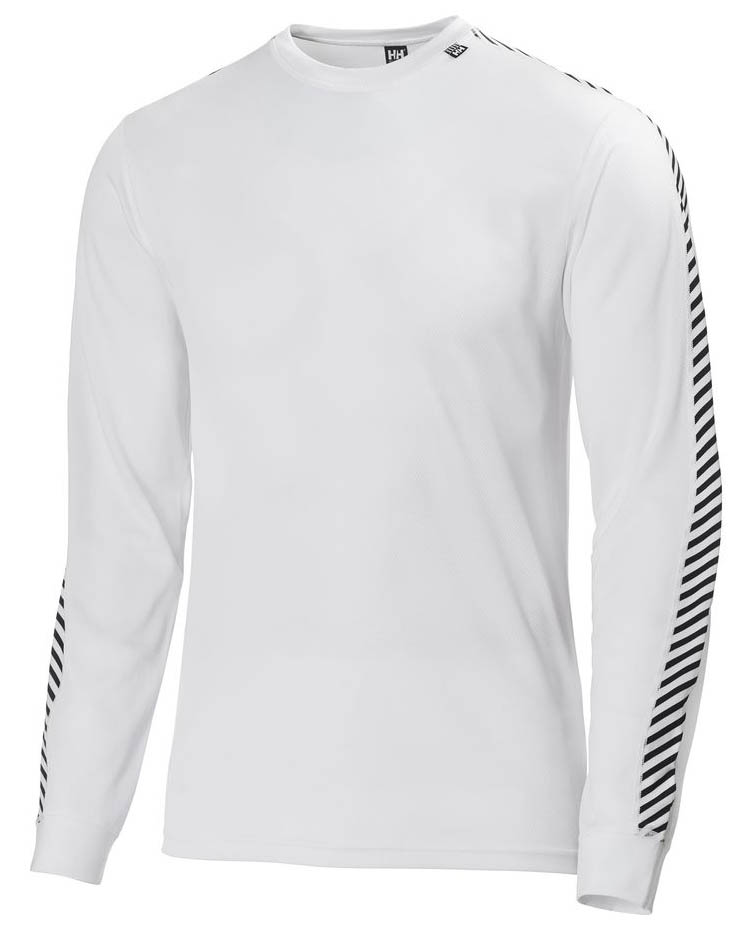 Material: 100% polypropylene
Category: Lightweight
Weight: 5.1 oz.
What we like: Wicks moisture well and a great value.
What we don't: Not as warm as other baselayers on this list.
There's a lot to like about this lightweight active baselayer from Helly Hansen. At just $45, it's one of the cheapest options on this list yet still will keep you dry and decently warm in most conditions. The headliner is the Lifa fabric, which is made from Polypropylene and specializes in wicking moisture away from the skin (it does so much better than polyester). Along with a nice athletic fit, the Lifa Stripe is great for active skiers and other high-output activities like climbing and hiking.
The downside of Polypro compared to polyester or nylon is that it isn't as warm. The Lifa Stripe Crew falls into our lightweight category, meaning that it provides some insulation but requires a good midlayer or insulated shell in cold conditions. It's worth the tradeoff for high-output use, but if you prefer warmth over breathability, check out REI's budget-oriented polyester lineup (including the $40 Lightweight Crew below). And it's worth noting that Helly Hansen now offers the midweight Lifa Merino Crew ($100), which features a merino wool exterior and Polypro lining.
See the Men's Helly Hansen Lifa Stripe  See the Women's Helly Hansen Lifa Stripe
Best Heavyweight Baselayer for the Cold
Material: 100% polyester
Category: Heavyweight
Weight: 10.2 oz.
What we like: Warm for the weight yet still breathable and quick-drying.
What we don't: Too warm for most baselayer applications.
Patagonia's R1 collection has long been a staple of their lineup, and the R1 Air more recently joined the team with a highly technical design. Using hollow-core yarns and zig-zag patterning, the 100-percent-recycled polyester fabric traps heat yet allows air to pass from the inside out, resulting in a breathable yet warm layer that's impressively lightweight. And when you do start to sweat, the polyester effectively wicks moisture and dries out quickly. Patagonia rounds out the build with a functional 1/4-zip design to trap warmth or release excess heat, sleek off-shoulder seams, and a small zippered chest pocket. It all adds up to a wildly modern, high-performance baselayer and one of the warmest offerings here.
Technically considered a fleece, the R1 Air toes the line between our baselayer and midlayer categories. As a baselayer, it's decidedly heavyweight, which means you'll want to save it for particularly cold winter days. On the other hand, it provides less warmth than the 100-percent-wool Woolx Glacier Long Sleeve Crew below, although the focus on breathability boosts its appeal for high-output pursuits (and it's around $30 cheaper to boot). Patagonia also offers its latest R1 Air in both a Crew and a Full-Zip Hoody version, the latter of which is best suited for midlayer use.
See the Men's Patagonia R1 Air Zip-Neck  See the Women's Patagonia R1 Air Zip-Neck
Best Lightweight Baselayer for Mild Weather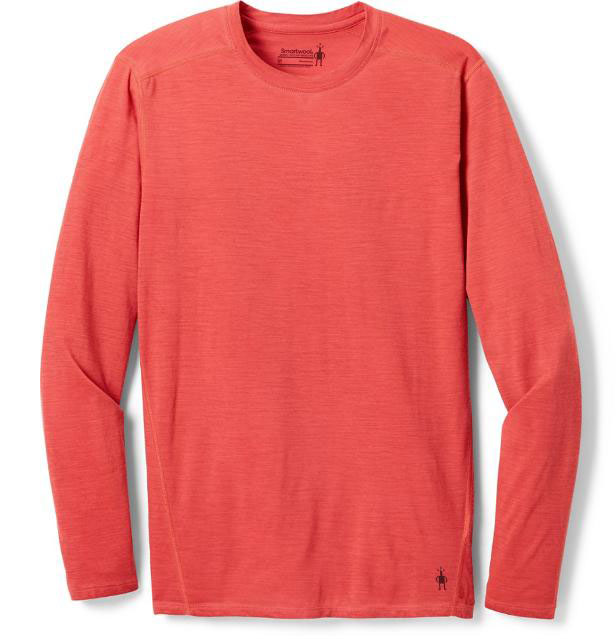 Materials: 87% merino wool, 13% nylon
Category: Lightweight
Weight: 6 oz.
What we like: A great option for cool days and summer nights. 
What we don't: Thin materials require more care. 
We've already listed the Smartwool Merino 250 as our top pick, but we'd be remiss not to include another stellar baselayer in the 150 Crew. The build quality is similar: Smartwool adds 13 percent nylon to the mix for a boost in durability, the weight goes down significantly to 6 ounces (the lack of the zipper matters here too), and you get the same minimalist seams for comfort. Compared to the warm 250 above, the 150 is lighter in weight and ideal for uses like spring skiing, shoulder season hiking, and cool summer nights. You'll feel like you are wearing much less baselayer, but the boost in coziness and moisture-wicking capabilities are still there. 
It's worth noting that Smartwool also offers its techy Intraknit Merino 200, which splits the difference between the 150 here and the 250 above. This performance piece is nearly half polyester/elastane (it's 53 percent merino), incorporates low-profile seams, and has body mapping with mesh panels throughout for improved ventilation. We haven't yet had the chance to give the Intraknit baselayer an extended test, but it's an intriguing option for high-output activities in cold weather when you want a layer that's both warm and exceptionally breathable (for a similar alternative, see Icebreaker's Zone Crew below). But for mild summer temperatures, the Merino 150 is $35 less and likely all the insulation you'll need.
See the Men's Smartwool Merino 150 Crew  See the Women's Smartwool Merino 150 Crew
Most Durable Baselayer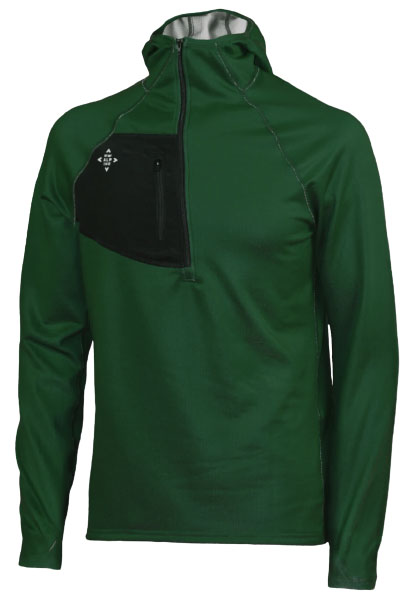 Materials: 92% polyester, 8% spandex
Category: Midweight
Weight: 11 oz.
What we like: Durable enough to be worn as an outer layer.
What we don't: Expensive for polyester.
NW Alpine certainly isn't a household name, but this small Portland, Oregon, company designs and constructs alpine climbing apparel on par with the best. Although they only make a handful of items, each of their products is a study in quality over quantity. And their Black Spider Hoody is one of our favorite baselayers: It's comfortable, warm and breathable, and has unmatched durability. In fact, we've put ours through six years of climbing abuse—much of the time without a jacket over top—and it has yet to develop any holes or tears. 
All that said, the Black Spider Hoody won't earn you too many style points: It lacks the odor resistance of merino and is available in only a few simple colors. Furthermore, $129 is a hefty price tag for a polyester baselayer, and it can often be hard to find in stock online or in stores. However, the most impressive durability of any baselayer we've worn—combined with features like an under-the-helmet hood and chest zip—set the Black Spider Hoody apart as a highly functional and long-lasting performance piece. 
See the Men's NW Alpine Black Spider  See the Women's NW Alpine Black Spider
Best of the Rest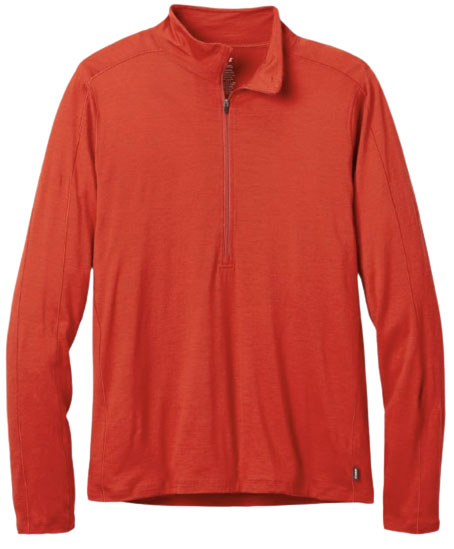 Material: 100% merino wool
Category: Midweight
What we like: A soft, stretchy, and well-made baselayer. 
What we don't: Pricey for an REI product. 
Of all of REI Co-op's in-house products, their merino baselayer is one of our favorites. It's right on the same playing field as heavy hitters like Smartwool and Icebreaker, which is quite a feat given that those companies specialize in wool layering pieces. The Co-op recently updated their Merino Midweight Half-Zip design (200g/m²) to the Merino 185. It drops a little warmth with the thinner construction, but like its predecessor, the Merino 185 is soft, has a good amount of stretch, and wicks moisture effectively. And most importantly, it can handle everything from backpacking to cross-country skiing with ease.
Unlike many REI products, the Merino 185 Half-Zip doesn't come at much of a discount, which is why we have it ranked here. The 185g/m² thickness is a noticeable step down in warmth from Icebreaker's popular 200 Oasis Crew but only $5 less, although you do get a front zip and higher collar on the REI. And for just $15 more, you can get the legendary Smartwool 250 above, our top pick, which is slightly thicker and much warmer at 250g/m². We really like the REI and have had nothing but positive experiences with it thus far, but we're not ready to dethrone the Smartwool just yet.
See the Men's REI Merino 185 Half-Zip  See the Women's REI Merino 185 Half-Zip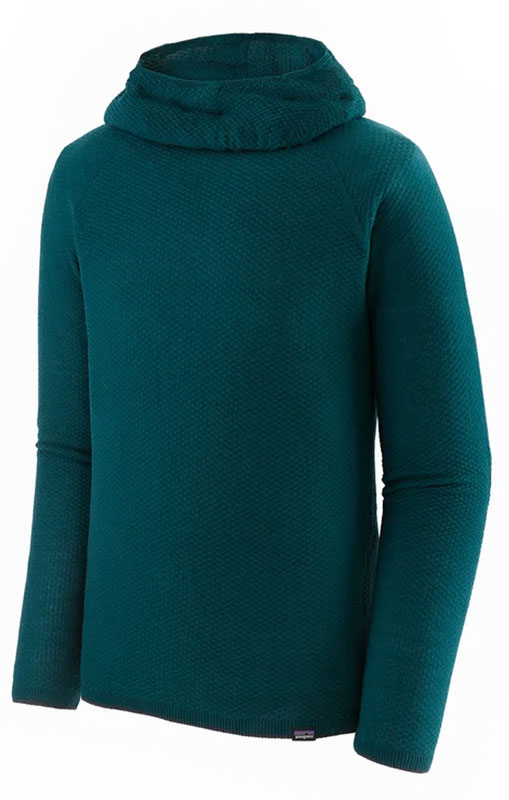 Materials: 51% merino, 49% polyester
Category: Midweight
Weight: 6.9 oz.
What we like: Amazing warmth in a tiny package; responsibly sourced wool.
What we don't: Expensive; lacks durability.
Patagonia's Capilene collection runs the gamut from thermal-weight baselayers to lightweight t-shirts and long-sleeve layers for hiking, and the midweight Capilene Air Hoody stands out as one of our favorites in the lineup. Known for leading the charge in their dedication to sustainable environmental practices, Patagonia outfitted the Capilene Air with recycled polyester (49 percent), and the net result is a responsibly made and truly innovative piece. With a balaclava-style hood, seamless construction, and a heat-trapping merino/polyester blend, the Capilene Air provides a massive amount of warmth in a relatively thin and lightweight package.
Although in theory the polyester make-up of the Capilene Air gives it a bump in durability, we developed multiple holes and runs on our hoody in a matter of weeks. Furthermore, it is noticeably permeable to wind, and the fabric tends to pill and act as catch-all for hair, fuzz, and more. For all these reasons, the Capilene Air is best worn under a layer or two, unlike a highly durable baselayer like the NW Alpine Black Spider Hoody above. But with great odor resistance, impressive wicking and drying properties, and one of the warmest, coziest hoods we know of, it makes a fantastic next-to-skin piece.
See the Men's Patagonia Capilene Air  See the Women's Patagonia Capilene Air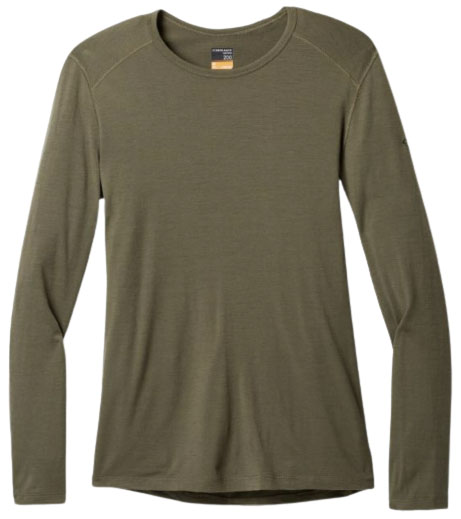 Material: 100% merino wool
Category: Midweight
Weight: 11.8 oz.
What we like: Softer against the skin than Smartwool.
What we don't: Slim fit and dense weave lags behind in breathability.
The Oasis Crew from Icebreaker is as versatile as any baselayer on this list. It's made from 100 percent merino wool, is super soft, and has a performance fit that works well for skiing and cool-weather hiking. And because of the clean styling and plethora of colorways and designs, you easily can wear it as a standalone piece.
If you're considering the Oasis, it's a head-to-head matchup with the Smartwool Merino 250 above. Both models are made from 100 percent merino, and the prices are similar (the zip-neck version of the Oasis is $105). Both are comfortable, wick moisture well, and don't trap odor like synthetics. That said, we give the slight edge to the Smartwool because the dense weave of the Icebreaker's fabric doesn't release hot air quite as efficiently. Despite having a lighter fabric weight (200 vs. 250g/m²), it can start to feel muggy when you're working up a sweat. On the flip side, the Icebreaker wins out in next-to-skin softness, making it the better option for those that prioritize comfort above all else.
See the Men's Icebreaker 200 Oasis  See the Women's Icebreaker 200 Oasis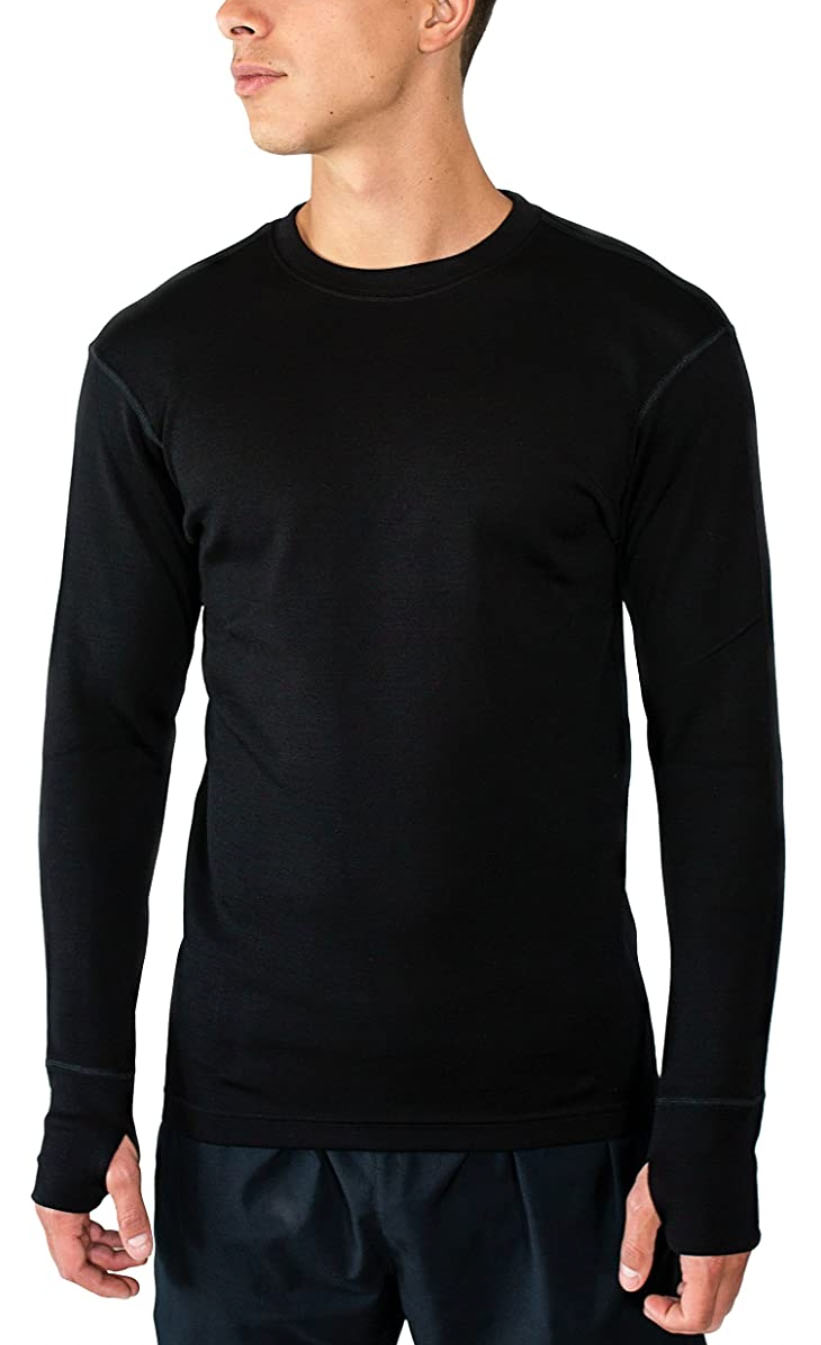 Material: 100% merino wool
Category: Heavyweight
Weight: 1 lb. 1.6 oz.
What we like: Very warm and soft; a great value for an all-merino baselayer.
What we don't: Because of the thickness and cut, it's not ideal for high-output activities.
Woolx is a small New York-based company that doesn't get the hype of a Smartwool or Icebreaker, but their thick Glacier is a cozy and well-built heavyweight baselayer. Made with 100 percent merino wool, this piece is much warmer and more substantial than the midweight and lightweight options on the list. And because it's merino, it's still soft against the skin and breathes well. We've used the Glacier for everything from skiing and snowshoeing to casual use and have come away very impressed.
Stacked up against our top heavyweight pick, the Patagonia R1 Air Zip-Neck, the Woolx Glacier Long Sleeve Crew is noticeably thicker and warmer. Unfortunately, Patagonia doesn't provide a g/m² spec for the R1, but the Glacier's 400g/m² is unmistakably best suited for the coldest winter days, which may be good or bad depending on your intended use. It also costs an additional $30 more than the Patagonia, doesn't come in a women's version, and has a decidedly relaxed fit that leaves more room for air to move around. For working hard in frigid temps, we give the edge to the R1 Air, but the Woolx has its place as a premium wool alternative for less intensive activities.
See the Men's Woolx Glacier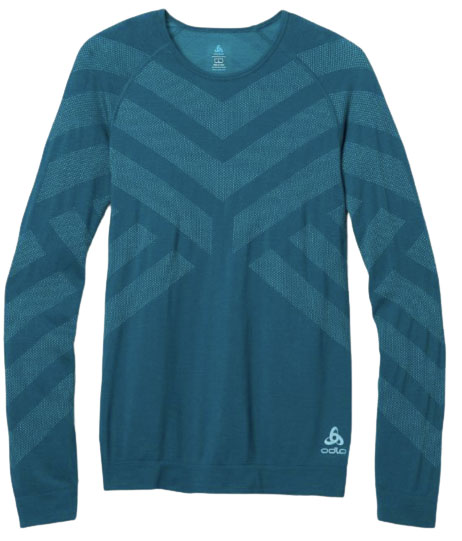 Materials: 52% merino, 41% polyester/nylon, 6% elastane
Category: Lightweight
Weight: 6.6 oz. 
What we like: Snug fit and great ventilation is ideal for active pursuits.
What we don't: Not our first choice for resort skiing.
Odlo emerges from Norway with a lineup of thoughtful baselayers built for a range of activities and conditions. Our go-to for ski touring this past winter, their Natural + Kinship Warm blends merino wool with stretchy polyester and nylon for a long sleeve that excels in mild temperatures and while building heat. You get great breathability thanks to the shirt's mapped ventilation zones, and we've found moisture wicking to be top-notch. Further, the performance-oriented fit is snug yet stretchy, and Odlo even eliminated seams along the shoulders for comfort while carrying a pack. To top it off, build quality is excellent, with both our top and bottoms holding up great after a couple months of frequent use. 
While we love the Natural + Kinship Warm for high-output activities like ski touring and cross-country skiing, it's less appealing as a resort baselayer. You can go a lot warmer with a midweight option like the Smartwool Merino 250 above, and many will appreciate a more relaxed fit for lunch or après at the lodge. On the other hand, we're big fans of the stylish patterning along the torso and sleeves (and it's also available in a half-zip version). Added up, we really like what Odlo has done with the Natural + Kinship Warm, making it one of our favorite merino blends here. For warm-weather adventuring, Odlo also makes the Kinship Light Crew, which uses soft Tencel fibers (sustainably sourced from wood) rather than wool.
See the Men's Odlo Natural + Kinship Warm  See the Women's Odlo Natural + Kinship Warm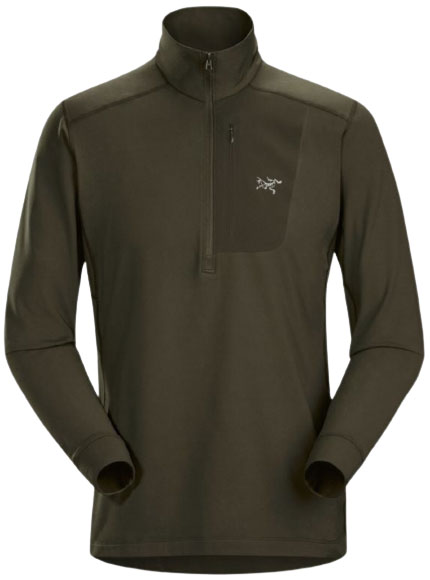 Materials: 84% polyester, 16% elastane 
Category: Light/midweight
Weight: 7.6 oz.
What we like: Soft and cozy for a polyester baselayer and features a zip pocket.
What we don't: Expensive and not versatile as an outer layer.
Arc'teryx places a premium on high performance, which shows in their baselayer collection. Their Rho series is designed to keep you warm in a variety of winter and shoulder season activities and includes the expedition-weight AR ("all-round") model and the LT ("lightweight") here. Combining polyester with a generous dose of elastane, the zip-neck LT falls between our light and midweight categories, making it an ideal layering piece under a midlayer or shell during low-output activities. We generally prefer merino baselayers for their better next-to-skin feel, but the Rho LT stands out with a soft brushed interior, and it doesn't hurt that its synthetic build is much more durable than wool.
Arc'teryx paid attention to a number of small details with the Rho LT. Gusseted underarms and a slight drop hem increase mobility, and a laminated zipper pocket on the chest for men (arm for women) are great for storing small items like chapstick or a credit card. $125 is a high price to pay for a non-merino baselayer (most synthetic options here are about half the cost), and the Rho LT's trim, technical fit means it doesn't function well as a standalone piece. That said, it's hard to go wrong with Arc'teryx's quality—the Rho is built to last. And if you have a tendency to run cold or want a winter-ready baselayer, the fleece-lined Rho AR offers a heavy dose of insulation and cozy loft at an impressively low weight—almost a half-pound less than the all-merino Woolx above. 
See the Men's Arc'teryx Rho LT  See the Women's Arc'teryx Rho LT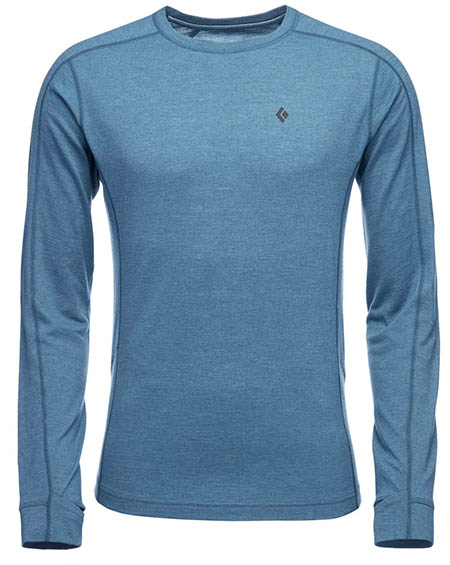 Materials: 78% merino, 22% polyester
Category: Lightweight
Weight: 6.7 oz.
What we like: The benefits of merino, plus moisture wicking and durability.
What we don't: Expensive for a lightweight baselayer.
Black Diamond's Solution Wool lineup made waves at its debut, namely for its innovative NuYarn technology. Many manufacturers weave fibers together with merino to reap the benefits of both, but NuYarn takes it to the next level, wrapping nylon with extra-fine merino fibers for a thread that exudes technical performance down to its literal core. The end result is impressive: Compared to a baselayer like the Smartwool Merino 150 above, the Solution 150 is noticeably more durable and dries out very quickly when wet (great news for those who are prone to working up a sweat). 
After wearing the Solution 150 for six days straight while hiking in Patagonia, we were impressed with how well it held its shape and resisted odor. Under a loaded backpack, the offset shoulder stitching was comfortable and mitigated pressure points, and the thumb loops are sleek and well constructed. In fact, our biggest gripe with the Solution 150 is its price—at $135, it's $50 more than Smartwool's comparable baselayer top (the Merino 150 Crew). But cost aside, the Solution 150 has solid all-around performance and will last longer than most merino baselayers.
See the Men's BD Solution 150 Merino  See the Women's BD Solution 150 Merino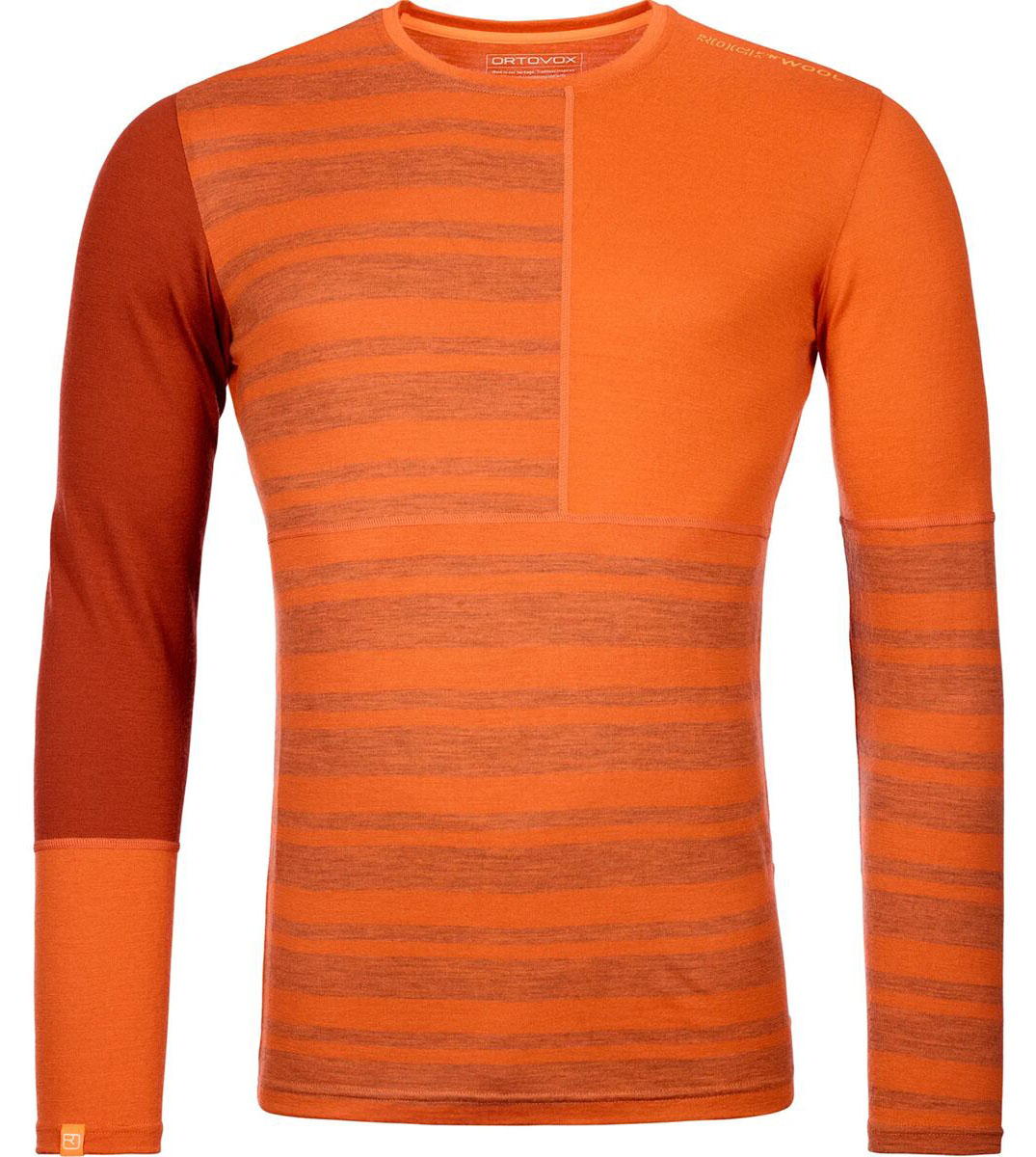 Material: 100% merino wool
Category: Light/midweight
Weight: 6.9 oz.
What we like: Great styling and super-soft hand feel.
What we don't: Expensive and lacks durability.
We'll start with the basics: The Ortovox 185 Merino long-sleeve crew is a standard merino baselayer. Much like the chart-topping Smartwool, it's made with 100 percent wool, which means you get uncompromised odor resistance, great temperature regulation, and a cozy, soft touch. At 185 g/m², it's lighter than the Smartwool 250, meaning it's more suitable for shoulder-season or high-output activities. That said, the thin fabric, paired with the fact that it's not blended with a synthetic material, does make us concerned about the Ortovox's durability (even Smartwool's 150-weight shirt features a merino/nylon blend).
But here is where the Rock'N'Wool stands out: First, the Ortovox Wool Promise ensures that their product comes from ethical and certified sheep farms. And second, we just can't get enough of the styling on the Rock'N'Wool—if you want a merino baselayer with some flair, the multi-colored designs really stand out in the conservative and largely bland baselayer market. For a versatile, breathable next-to-skin layer that can take you straight from skin track to après, the Ortovox 185 is an eye-catching but still very capable choice.
See the Men's Ortovox Rock'N'Wool LS  See the Women's Ortovox Rock'N'Wool LS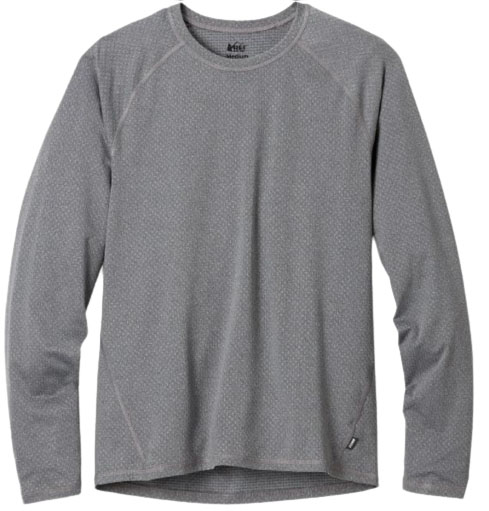 Materials: 92% polyester, 8% spandex
Category: Lightweight
Weight: 6.5 oz.
What we like: Simple yet functional.
What we don't: Not super comfortable or a high performer.
In terms of bang for your buck, it's hard to top REI baselayers. For $40, the Lightweight Crew offers most of the performance of the more expensive options above in a simple yet functional design. Additionally, REI honed things in even further with 8 percent spandex in the construction, which gives it a nice, stretchy feel. Paired with the matching bottoms, you can pick up a full long underwear set for $80 ($25 cheaper than just a merino top from Smartwool).
What are the downsides of the REI? We've found the lightweight model works well for mild resort skiing days, hiking, and casual use, but you may not be warm enough in frigid temperatures. Of note, REI does offer a warmer version (the Midweight Crew) for $50. And although the Co-op's fabric is comfortably silky, it can't compete with merino or even Patagonia's Capilene in terms of softness and comfort (and it's even more prone to holding in body odor). These issues aside, the REI Lightweight (or Midweight) Crew is a good way to kit yourself out this winter on a budget.
See the Men's REI Lightweight Crew  See the Women's REI Lightweight Crew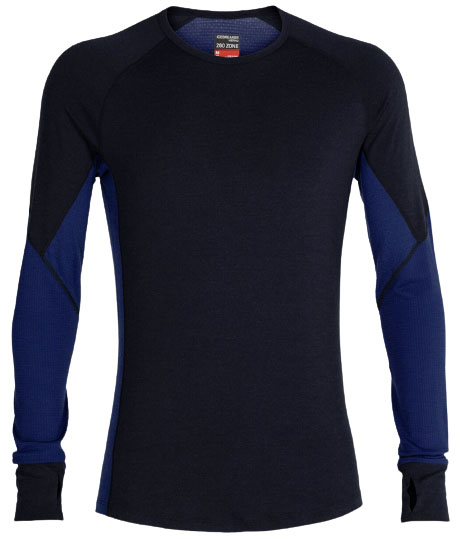 Materials: 97% merino wool, 3% elastane
Category: Midweight
Weight: 13.7 oz.
What we like: A warm yet breathable baselayer with mesh panels for extra ventilation.
What we don't: Not everyone will love the tight fit.
For working hard in cold weather, the Icebreaker 260 Zone Crew offers one of the best combinations of warmth and breathability. Using Icebreaker's BodyFitZone construction, it combines 260-weight merino (spun with elastane for durability and stretch) with strategically placed panels of airy merino mesh in moisture-prone areas like the underarms and back. The net result is a temperature-regulating baselayer that can dump serious heat but will still keep you warm where and when you need it to.
As we've come to expect from Icebreaker, everything about the 260 Zone exudes quality, from the flatlock seams to prevent friction to the well-executed thumb loops. Like the Odlo above, the stretchy 260 has a decidedly snug fit, which isn't for everyone but does add a nice performance slant. And importantly, you still get great mobility with gusseted underarms and raglan sleeves, along with a drop-tail hem for added coverage around back. The Smartwool 250 above is roughly the same warmth and costs $35 less, but the Icebreaker's more athletic fit and body-mapped mesh panels give it the edge for truly high-output use. Both are excellent midweight options, and a final decision will come down to your objectives and anticipated uses (casual vs. active wear).
See the Men's Icebreaker 260 Zone Crew  See the Women's Icebreaker 260 Zone Crew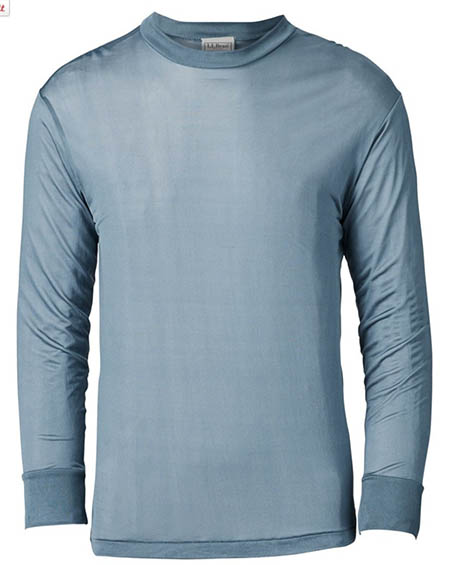 Material: 100% silk fabric
Category: Lightweight
What we like: Cozy and great for layering.
What we don't: Lacks the performance of merino or polyester.
Silk can't compete with merino or polyester in terms of warmth, moisture wicking, and durability, but it's not without its place in the baselayer world. Those who prize comfort above all else might choose silk for sleeping, around camp, and other low-output activities. Furthermore, silk is so thin that it can easily be worn underneath slim-fitting layers without creating extra bulk. And for only $50, L.L. Bean's Silk Underwear is well made and more durable than most silk options.
We don't recommend wearing the Silk Underwear Crewneck for any sort of high-output activity—it simply does not breathe as well as merino or polyester. Moreover, if you want it to last, the shirt should always be layered with a mid or outer shell. In the end, silk falls short of the wool and polyester options above in nearly every performance category. But if you prioritize comfort above all else and like the feel of silk, the L.L. Bean Crewneck is worth a look. For the same price, REI's Silk Long Underwear Crew Shirt is largely similar but with a looser fit.
See the Men's L.L. Bean Silk Crewneck  See the Women's L.L. Bean Silk Crewneck
Baselayer Comparison Table
| Baselayer | Price | Materials | Category | Weight | g/m² |
| --- | --- | --- | --- | --- | --- |
| Smartwool Merino 250 1/4-Zip | $105 | 100% merino wool | Midweight | 10 oz. | 250g/m² |
| Patagonia Capilene Midweight | $69 | 100% recycled polyester | Light/mid | 6.2 oz. | 147g/m² |
| Helly Hansen Lifa Stripe Crew | $45 | 100% polypropylene | Lightweight | 5.1 oz. | 125g/m² |
| Patagonia R1 Air Zip-Neck | $119 | 100% recycled polyester | Heavyweight | 10.2 oz. | Unavail. |
| Smartwool Merino 150 Crew | $85 | 87% merino wool, 13% nylon | Lightweight | 6 oz. | 150g/m² |
| NW Alpine Black Spider Hoody | $129 | 92% polyester, 8% spandex | Midweight | 11 oz. | 194g/m² |
| REI Co-op Merino 185 Half-Zip | $90 | 100% merino wool | Midweight | Unavailable | 185g/m² |
| Patagonia Capilene Air Hoody | $149 | 51% merino, 49% polyester | Midweight | 6.9 oz. | 190g/m² |
| Icebreaker 200 Oasis Crew | $95 | 100% merino wool | Midweight | 11.8 oz. | 200g/m² |
| Woolx Glacier LS Crew | $150 | 100% merino wool | Heavyweight | 1 lb. 1.6 oz. | 400g/m² |
| Odlo Natural + Kinship Warm LS | $100 | 52% merino, 29% polyester, 13% nylon, 6% elastane | Lightweight | 6.6 oz. | Unavail. |
| Arc'teryx Rho LT Zip-Neck | $125 | 84% polyester, 16% elastane | Light/mid | 7.6 oz. | 190g/m² |
| Black Diamond Solution 150 | $135 | 78% merino, 22% polyester | Lightweight | 6.7 oz. | 150g/m² |
| Ortovox Rock'N'Wool LS | $110 | 100% merino wool | Light/mid | 6.9 oz. | 185g/m² |
| REI Co-op Lightweight Crew | $40 | 92% polyester, 8% spandex | Lightweight | 6.5 oz. | Unavail. |
| Icebreaker 260 Zone Crew | $140 | 97% merino wool, 3% elastane | Midweight | 13.7 oz. | 260g/m² |
| L.L. Bean Silk Crewneck | $50 | 100% silk fabric | Lightweight | Unavailable | Unavail. |
Baselayer Buying Advice
Baselayer Materials
Merino Wool
Merino wool, despite a higher cost than synthetics, is our recommended baselayer material for a number of reasons. It's ultra soft and comfortable, has superior temperature regulation, and resists odor. Granted, merino wool baselayers are expensive and less durable than the polyester competition, amounting to roughly double the cost. Take good care of them, however, and you should be able to get at least a few seasons of extended use. Our top baselayer pick, the Smartwool Merino 250 ¼ Zip, is 100 percent merino. For more information about the pros and cons of the material, check out our article: Merino Wool: Is It Worth It?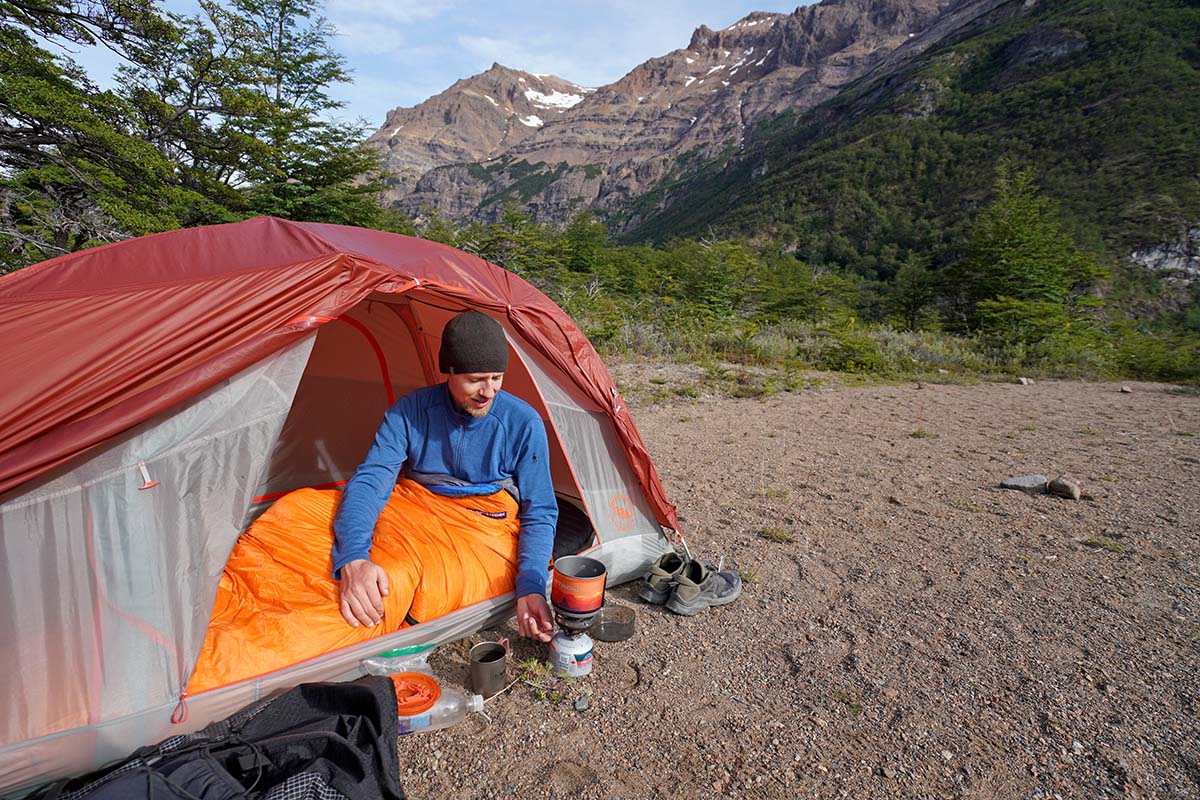 Polyester
For a cost-effective baselayer alternative, you can always turn to polyester. Led by Patagonia's legendary Capilene line, polyester fabrics can keep up in terms of moisture wicking and the comfort difference isn't that far off. The downside is stink prevention, which is an area of emphasis for many manufacturers. Thus far, odor-resistant polyesters still can't compete with the natural benefits of merino but they are improving. In addition, polyester fabrics don't regulate temperatures as well, so it's more important to match the fabric weight with intended use and conditions (more on that below). Despite the downsides, polyester fabrics are what we recommend most often for resort skiers. At approximately half the price of a comparable merino option, the cost saving is too significant to overlook.

Blends
It's not quite as simple as deciding between an all-merino or all-polyester baselayer. Some performance-oriented brands are experimenting with blends that aim to offer the comfort and performance of merino wool with the durability and moisture-wicking of polyester. The Patagonia Capilene Air, for example, weaves together 51 percent merino wool with 49 percent polyester, while Black Diamond's NuYarn (as seen in the Solution 150 Merino) actually wraps merino fibers around a nylon core, and then weaves this manufactured thread together with polyester. The commonality of these types is that they are among the highest priced items in this market, so these blends are more about performance than cost savings.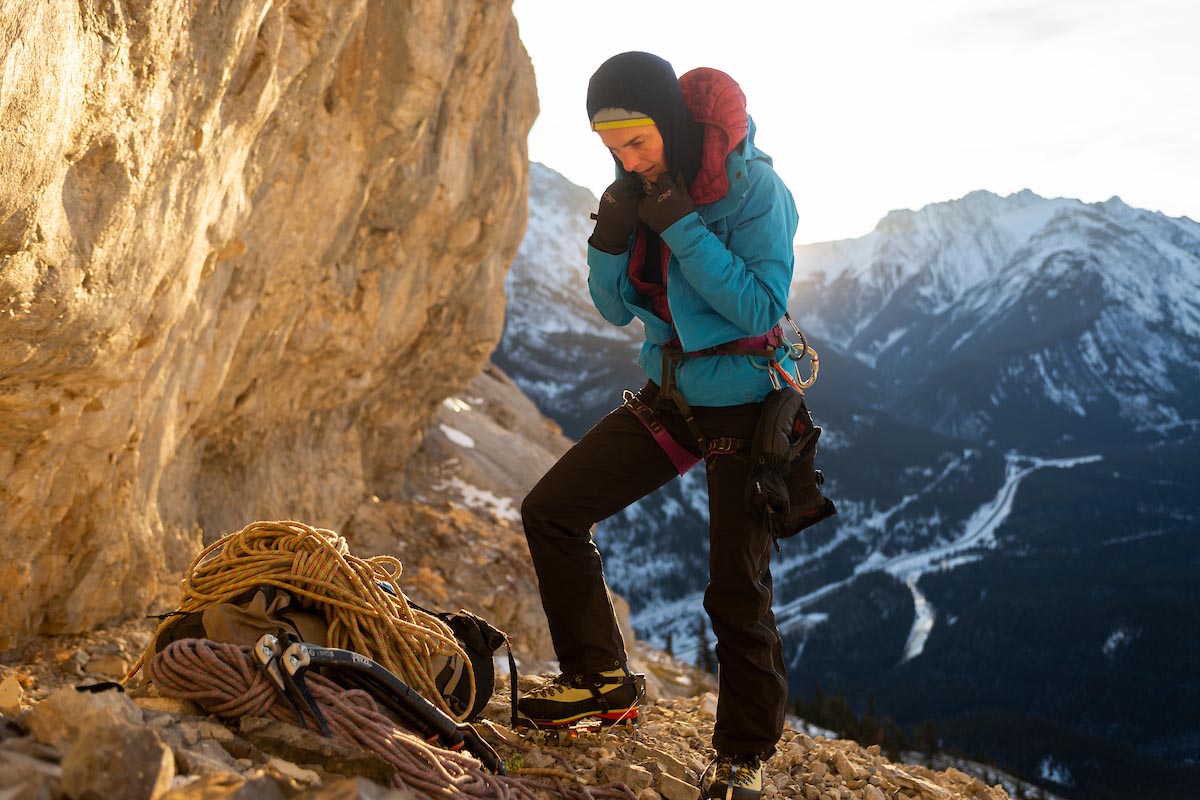 Silk
Silk is one of the softest and most comfortable of the baselayer fabrics and packs an impressive amount of warmth into a lightweight, thin design. But as the demand for temperature-regulating baselayers rises, silk is largely going out of vogue. It just can't keep up with merino or polyester in terms of moisture wicking and turns into a sweat lodge during high-output activities. Moreover, silk is far less durable than polyester and should always be worn under a mid or outer layer to protect from UV rays and abrasion. And finally, it does not resist odor like merino and should be hand-washed. We only include one silk option on our list for a reason, but it does have its advantages as a dedicated sleep shirt or extra layer in town.
 
Important Strengths and Weaknesses
Breathability
The breathability of a baselayer is dependent on a number of factors, including the type and quality of the fabric, thickness, and openness of the weave. In general, lightweight merino wool will offer the best in terms of breathability, although some high-quality lightweight synthetics are close. This means that for high-exertion activities where you will be working up a sweat (think ski touring, cross-country skiing, biking, and climbing) it's probably worth spending more to get a higher-performing baselayer like the Smartwool Intraknit 200 or Icebreaker 150 Zone. Spending less, particularly on a thick baselayer, will yield less breathability. Whether or not that's a deal-breaker is up to personal preference and your tendency to overheat.
Merino: Excellent
Blends: Excellent
Polyester: Very good 
Silk: Not good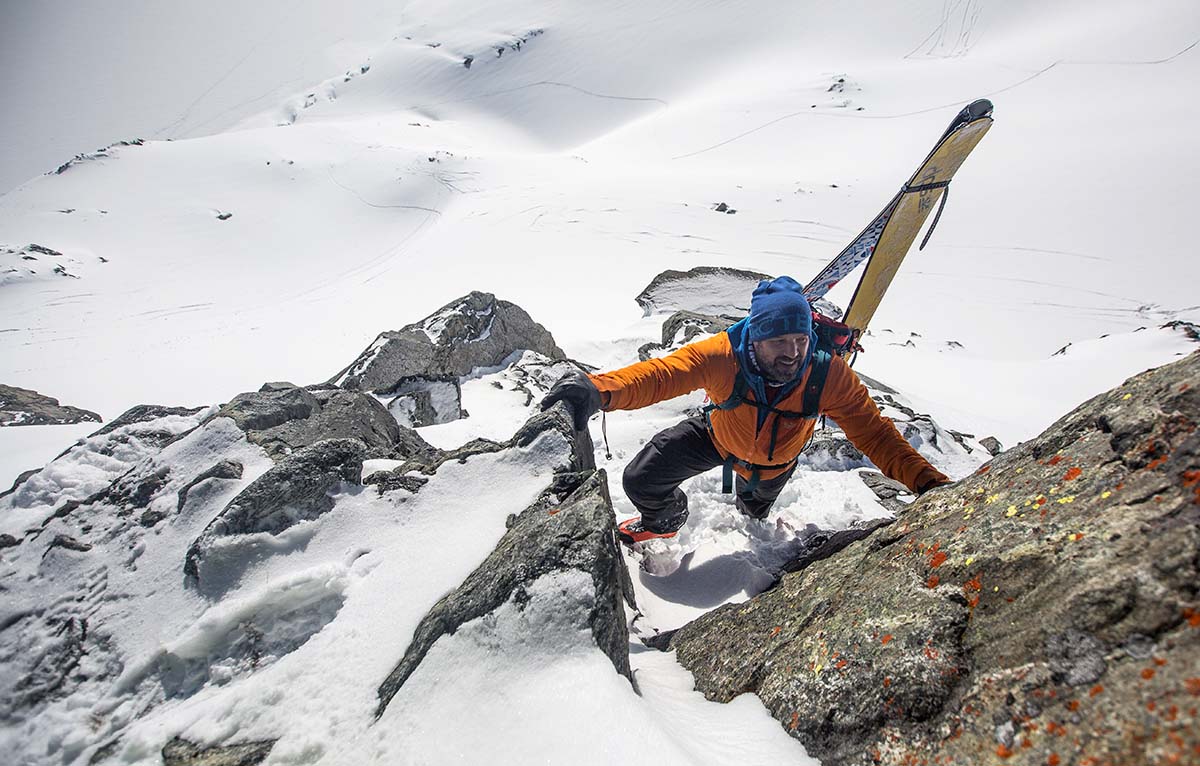 Odor Prevention
Merino wool excels at pulling moisture away from your skin, and less sweat build up means less stink build up. If you're taking an extended backcountry trip and don't want to carry multiple baselayers or rinse them each night, merino is the way to go. Some synthetics do fine for odor prevention, provided you aren't working up a huge sweat. For example, we've hiked for extended periods in Patagonia's Capilene Midweight in cool weather and have been impressed with its odor resistance. But nothing beats merino in keeping you dry and stink free.
Merino: Very good
Blends: Good
Polyester: Not good
Silk: Not good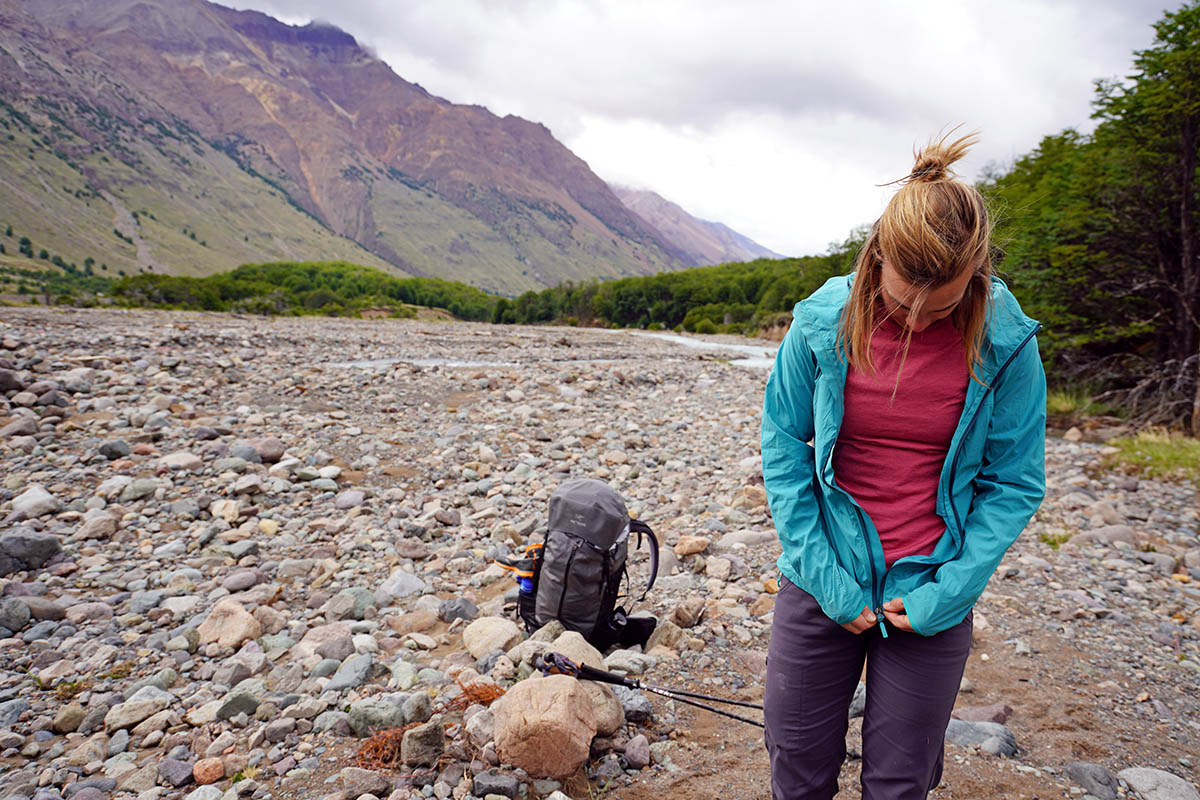 Durability
Here is where the tide changes: Merino is super soft but prone to developing small holes over time that eventually hamper the performance of the product, whereas synthetics should last for multiple seasons. To put this in perspective, we usually get a season or two out of a standard lightweight merino baselayer, even from the top brands and by following their washing instructions (cold water and line dry). Admittedly, these shirts get a lot of use, but that's still a very short lifespan. But with synthetics, one or two seasons would be on the short end of the spectrum and we would hope for more like three or four.
Some companies are blending wool and synthetics to increase the strength of the baselayer without compromising next-to-skin comfort, which is a good idea in our opinion. We haven't noticed much of a drop in terms of comfort or performance, but merino/synthetic blends are a step up in durability. Even so, if we're wearing a baselayer without anything overtop, we'll always opt for a fully synthetic piece such as the NW Alpine Black Spider Hoody.
Polyester: Excellent
Blends: Very good
Merino: Not good
Silk: Not good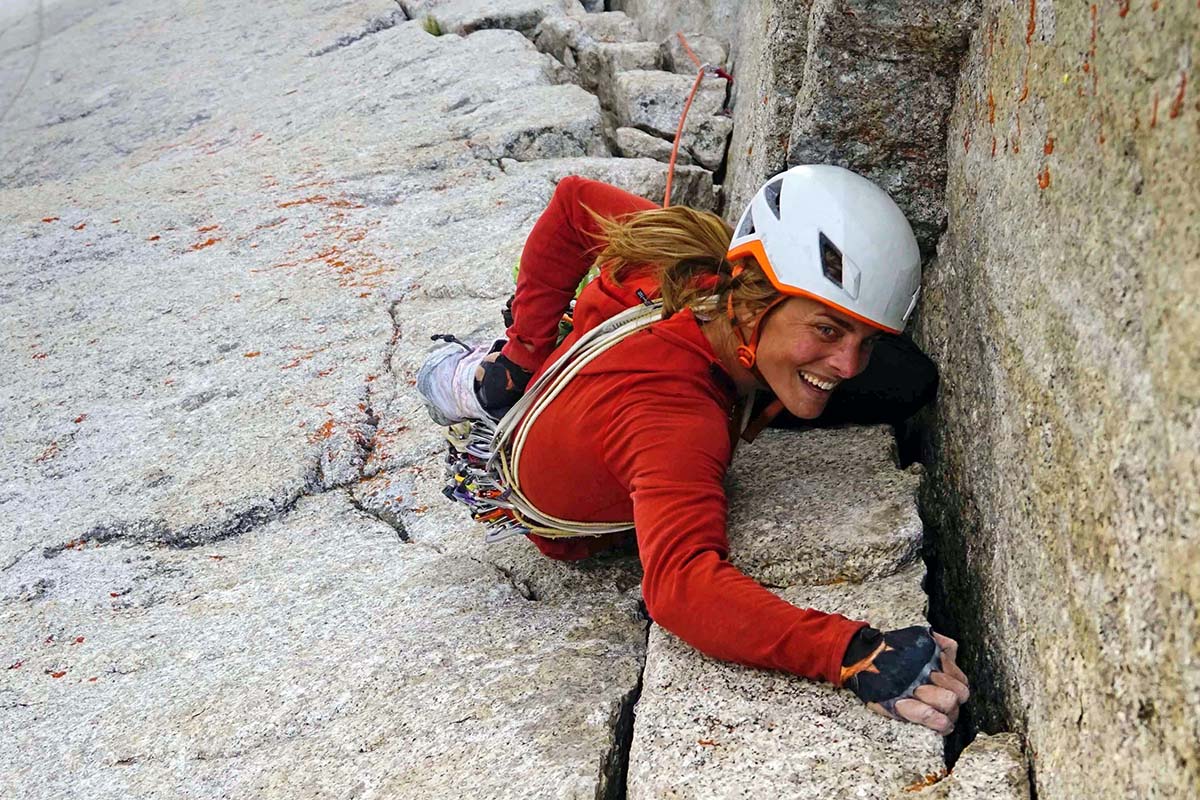 Warmth
Out of all the fabrics we've mentioned, merino has the best heat-trapping properties. In general, you get a better warmth-to-weight ratio with merino than with polyester, and it regulates temperature better too. The same shirt that keeps you warm in the winter will keep you cool when you're sweating up the skin track in the shoulder seasons. Silk, too, is noticeably warm for its thin makeup, but its lack of breathability is a strong drawback. It's also important to consider if you'll be wearing your baselayer as an outer layer—while merino doesn't do much to block wind, some polyester fabrics (such as Patagonia's Capilene) are so tightly woven that they have the ability to resist light gusts. And keep in mind that warmth is directly related to the thickness of the material too, which we discuss in the Insulation Weight section below. 
Merino: Excellent
Blends: Very good
Polyester: Good
Silk: Good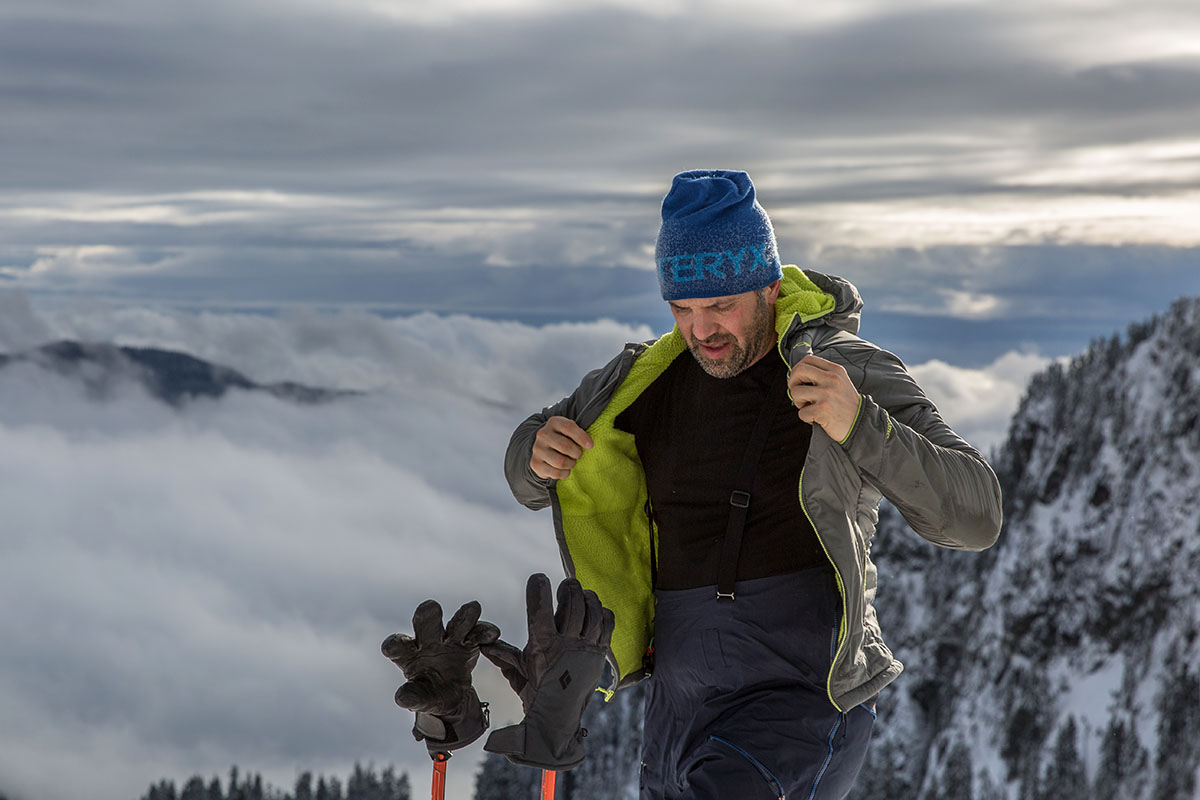 Baselayer Categories: Insulation Weight 
Lightweight 
Logically, lightweight baselayers are the best breathers but do the least in keeping you warm. This is where merino wool shines—it does an admirable job of temperature regulation for the weight and thickness. However, the thinner the merino, the less durable it becomes. For this reason, most lightweight baselayers are made of polyester. These are ideal for early season skiing, bluebird days, and high-output activities such as cross-country skiing and cold-weather running. Resort skiers and winter climbers will likely opt for a warmer and cozier midweight baselayer.

Midweight
For the widest variety of conditions, a midweight baselayer makes the most sense. It will provide the warmth you need yet still be breathable enough for physical exertion, especially when made with high-quality merino or polyester. Midweight baselayers are the most popular choice for downhill skiers: They're plenty warm for the lift ride up but you are unlikely to overheat on the descent. They are less popular than lightweight baselayers for hiking or ski touring in moderate conditions as the extra warmth corresponds with a drop in the fabric's ability to regulate temperatures (even merino can get too hot in warm temperatures). But in cool spring and fall conditions, a midweight baselayer can perform great as an outer layer and is the ideal next-to-skin layer for resort skiing on cold days.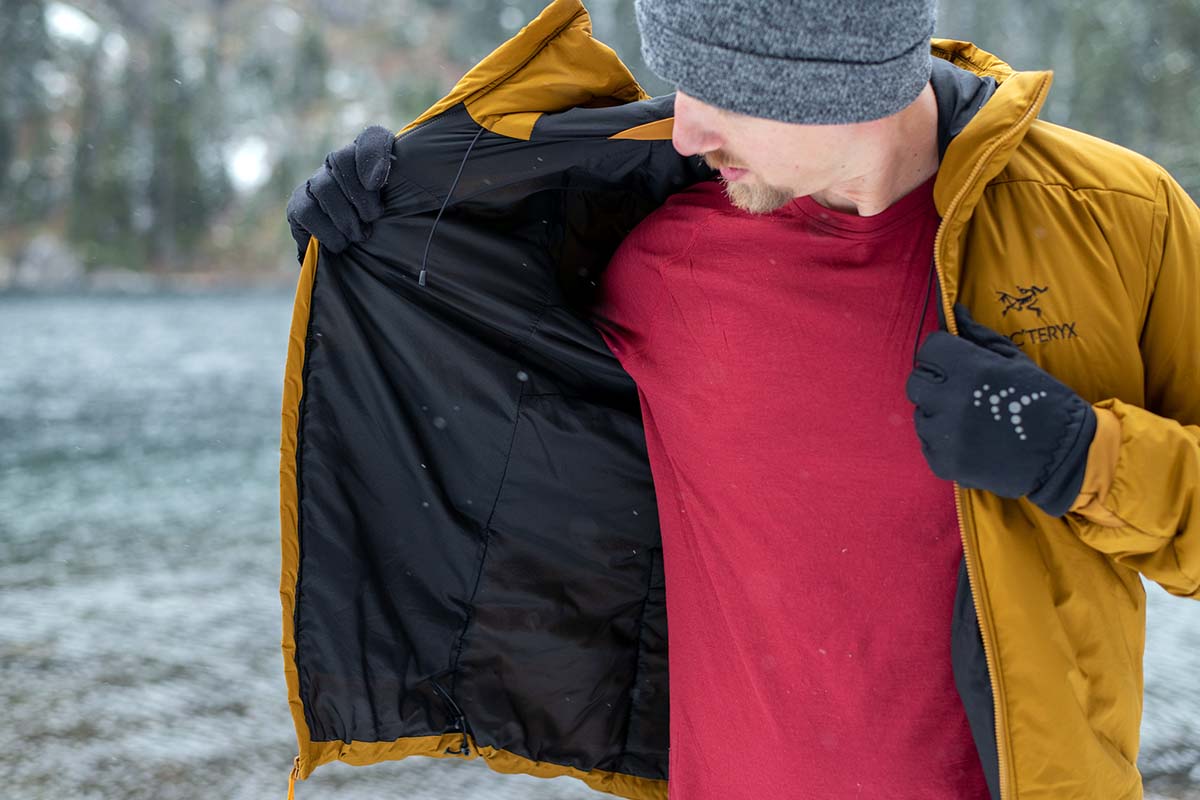 Heavyweight
Heavyweight baselayers are specialty items for cold temperatures or if you'll be relatively sedentary. The extra thickness inhibits breathability and it's easy to start sweating even on short walks. Keep in mind that you don't need all of your insulation from a single article of clothing, and as a result, you can always add warmer layers on top of a light or midweight baselayer. But for winter mountaineering, extreme cold, or low-output activities around camp, a heavyweight baselayer can be the height of coziness. If you do go this route, we love the Woolx Glacier Long Sleeve Crew, which is a 400g/m² all-merino baselayer that still breathes decently well. Patagonia's Thermal Weight Capilene can get swampy unless it's very cold.
 
Crew Neck vs. Quarter or Half Zips
Nearly every baselayer on the market is made in a number of styles, including long-sleeve crew and half/quarter-length zippered shirts. Many folks opt for a crewneck style, but there are a number of reasons to think about a zippered shirt. One upside is the ability to adapt to changing weather conditions. Zip up for added warmth at the start of the climb, and unzip as you work up a sweat. And if you want to remove the shirt altogether, it's nice not having to take off your helmet to do so. Furthermore, the extra coverage you get with the raised collar is a nice boost in warmth, and we've even found that quarter or half-zip long sleeves have a decent look for around town. The downside is the collars can flop around if you unzip the shirts while running, and having a zipper on your next-to-skin layer isn't as comfortable as the cleaner crew style.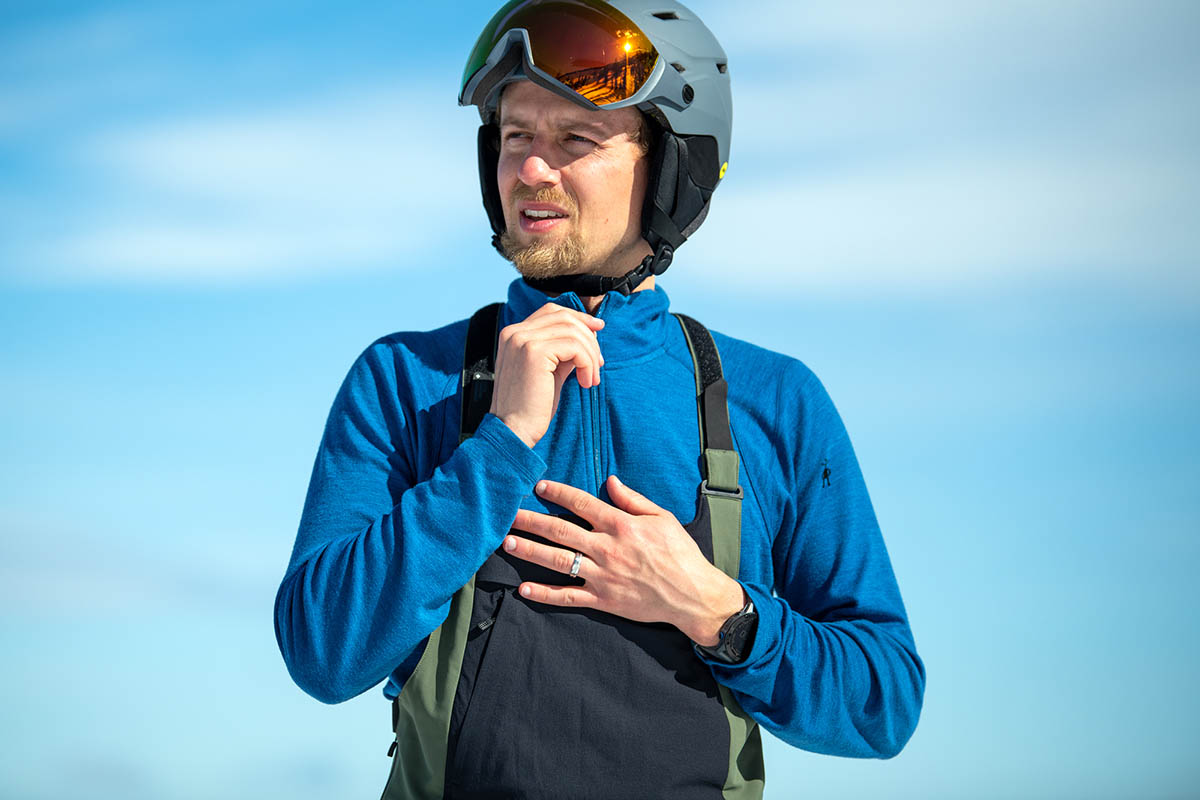 Fit
For optimal performance, baselayers need to have a snug fit. This helps the fabrics draw moisture away from your skin most efficiently. Some folks like wearing their baselayers for casual use, and that's when a dedicated performance product like Odlo Natural + Kinship Warm is less useful. The shirt conforms to your body like a performance piece should, but it's far too tight to wear anywhere else. A product like the REI Co-op Merino 185 Half-Zip is on the opposite end of the spectrum, with a roomier fit that sacrifices a little in moisture wicking and breathability. But it's a great choice for those that prefer a dual use baselayer/casual shirt. In the end, your decision is a personal one, and we recommend looking at fit based on intended use and preferences on style.

Key Baselayer Features
Baselayers can range from simple, featureless crew tops like the Patagonia Capilene Midweight Crew to hooded half-zips with a chest pocket (the NW Alpine Black Spider Hoody, for example). If you know you'll be layering a mid or outer layer over your baselayer, the simpler the better. However, those who wear their baselayer as an outer layer will appreciate zip pockets and thumb loops. And climbers and skiers will benefit from a tight hood or balaclava that fits under their helmet. Furthermore, some baselayers even have the capability of blocking sun rays (measured by the UPF rating). As usual, it will help to identify what you'll be using your baselayer for before determining what features you need.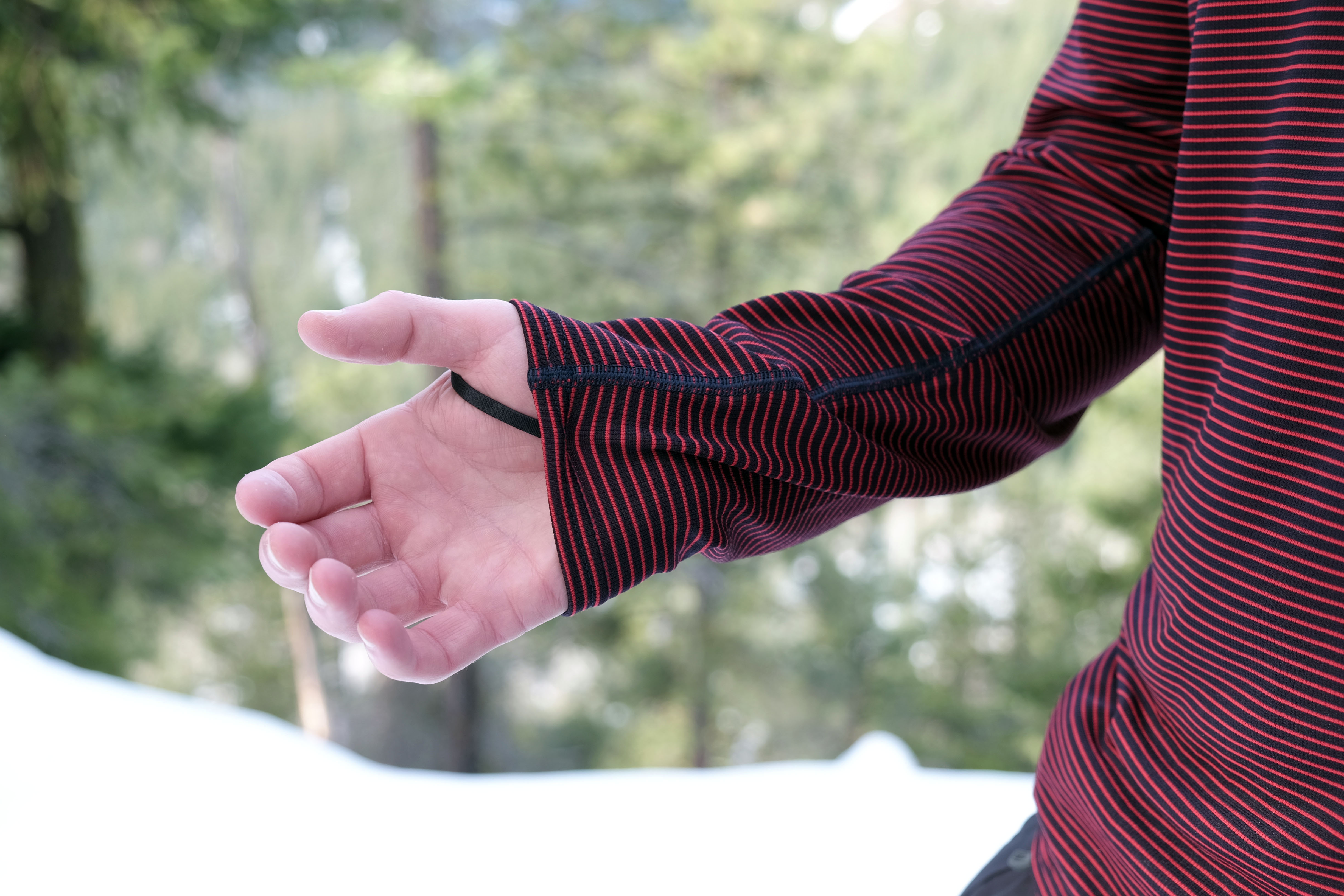 Sustainability
The focus on sustainability has been increasing in the outdoor industry over the past several years, and baselayers are no exception. In this category, there currently are two key trends: responsibly sourced wool and the use of recycled synthetic materials. The former indicates that sheep were treated humanely and in accordance with strict animal welfare and environmental standards (there are a number of certifications, including the Responsible Wool Standard and ZQ-certified wool). We've also begun to see more companies utilizing recycled materials, which cuts down on fossil fuel consumption and reduces the amount of plastics being produced overall (Patagonia's Capilene Midweight is made from 100-percent recycled polyester). All in all, we appreciate these efforts and are eager to see more brands come on board.

What About Baselayer Bottoms?
Most baselayers on this list have a matching bottom with the same construction and a similar or identical price. For organization sake, we list the tops here as they are more popular, but the bottoms are readily available and share the same pros and cons. In general though, maintaining a warm core will do much more for your entire body's comfort than keeping your legs warm. But given that there's no need to choose—and provided that almost nothing is cozier than a pair of long johns—we're huge proponents of baselayer bottoms as well.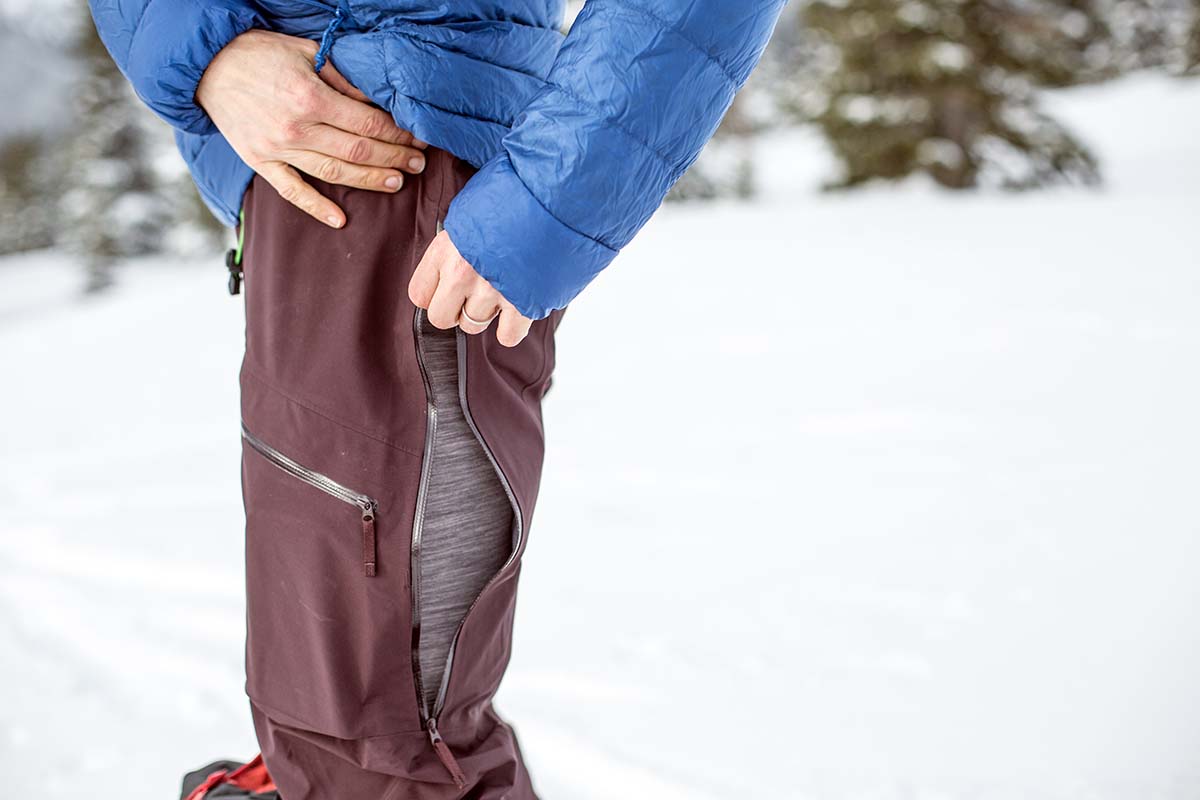 Layering Systems: Base, Mid, and Outer Layers
To get the most out of your technical clothing, it's important think of everything as a system. Each piece relies on the layers around it to perform well. As an example, if you have a baselayer that wicks moisture well, but are wearing a fully rubber mid or outer layer, it won't matter how nice of a merino fabric you have: You'll still be wet and miserable. As such, take the time to put together mid and outer layers that are as high-performing as the baselayers listed above.
Baselayers
Baselayers have two primary functions: warmth and moisture wicking. Whether constructed with silk, wool, polyester, or a blend, a baselayer is made to retain your body's heat while transporting moisture away from the skin. And these two features work together—keeping the body dry will in turn lead to more warmth. Baselayers are worn beneath a midlayer or shell during the winter months, or as an outer layer during the fall and spring for activities like hiking, biking, and climbing. The thickness and material of your baselayer will have big impacts on warmth and breathability, so make sure to keep this mind when making a purchase.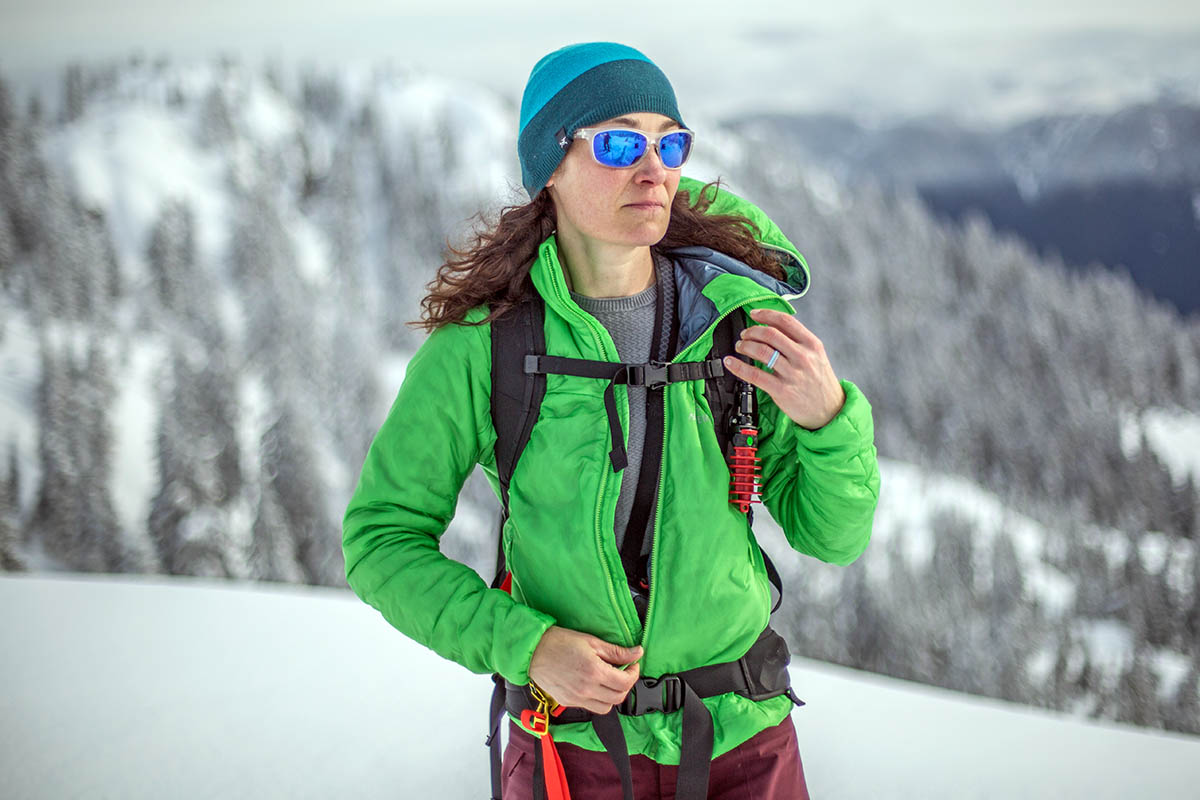 Midlayers
For high-output activities, such as hiking, backpacking and climbing, breathability is top priority. We recommend a fleece jacket or synthetic jacket for balancing warmth and ventilation. High performers include the Arc'teryx Atom LT and the R line of fleeces from Patagonia. If you only plan to grab your insulating layer during downtimes, such as hanging around camp after the sun goes down, consider a warm and super packable down jacket. Skiing is a similar story, and conditions will dictate the best midlayer for you. Options can range from a puffy down jacket to a light fleece.

Outer Layers
Outer layers are the most specialized part of the system, and their complex designs can get quite pricey. A waterproof, breathable, and packable rain jacket is needed for activities like climbing and hiking/backpacking. Winter conditions are much harsher, so durability takes precedence for ski jackets. Their designs offer more pockets for storing gear or personal effects and a longer fit to protect you from snow sneaking through. There are also hardshell jackets that blur the lines, mixing the weight of a rain jacket with the performance (and extra cost) of a ski jacket.
Back to Our Top Baselayer Picks  Back to Our Baselayer Comparison Table
Learn More About Outdoor Gear