Tasked with transmitting your location and helping you search for buried victims, an avalanche beacon (also called a transceiver) is an essential piece of gear for backcountry exploration. Whether you're a skier, snowboarder, snowshoer, or snowmobiler, having a functional and capable beacon is crucial for staying alive in the event of a slide. But with so many options on the market and a growing assortment of features to choose from, it can be difficult to know where to begin. To help, below we break down the best beacons of the 2022 season, including simple entry-level transceivers, intermediate-friendly models, and feature-rich options for guides and patrollers. For additional information, see our comparison table and buying advice below the picks.
Editor's note: There are inherent risks to traveling in avalanche terrain, and we do not condone the use of a beacon—or any avalanche safety tools—without proper education. Visit the American Avalanche Association's website to learn more and sign up for a Level 1 avalanche class.

Best Overall Avalanche Beacon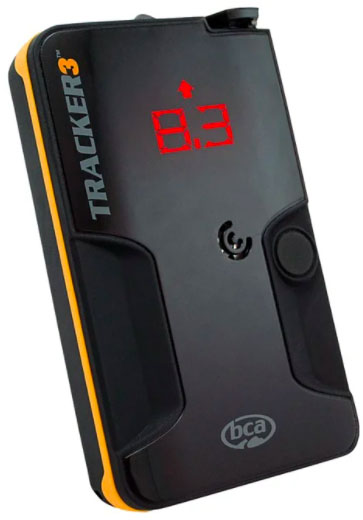 Weight: 7.6 oz.
Max range: 55m
Battery life: 250 hours
What we like: Great battery life and range in a streamlined package.
What we don't: No Bluetooth tech; avalanche professionals might want a few more features.
Backcountry Access (BCA) is one of the leading brands in avalanche safety, and their beacons are known for their straightforward interfaces and user-friendly designs. The third iteration of the popular Tracker series earns our top pick for 2022 by checking all the right boxes for recreational backcountry users. Alongside a great battery life (250 hours in transmit mode) and competitive signal range (55m), you get features like a multiple-burial indicator and optional motion-sensing auto revert, which adds an extra dose of assurance in the case of a secondary slide. Add to that a slim, pocket-friendly shape and reasonable price tag, and it's no secret why the Tracker3 is a best-selling beacon year after year.
For those in the market for their first transceiver, the Tracker3 is a really nice choice. It'll run you $90 more than the pared-down Ortovox Zoom+ below but boasts a greater range (55m vs. the Ortovox's 40m), better processing speed, and advanced functions like signal suppression (great for those who plan to continue their avalanche training and education). Patrollers and guides can certainly get an upgraded interface and better battery life and range in a model like the $500 Mammut Barryvox S below, but the Tracker3 is a nicely equipped option at a good price point. Finally, it's worth mentioning that BCA also makes the Tracker S ($300), a slimmer and lighter version of the Tracker3 with a stripped-down feature set, including no upgradable software or motion-sensing auto-revert function.
See the Backcountry Access Tracker3
Best Avalanche Beacon for Beginners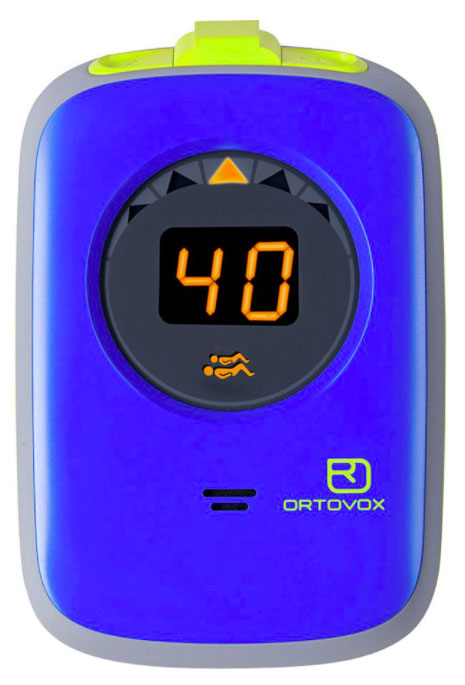 Weight: 7.1 oz.
Maximum range: 40m
Battery life: 250 hours
What we like: Simple interface reduces the chance of user error.
What we don't: No marking function and the shortest range here.
Beacons don't get much simpler than the Ortovox Zoom+, which is why we've selected it as our favorite option for beginners. Take one look at the device and you'll see what we mean: you get an intuitive on/off dial, a button to transition between send and search modes, a clear display screen, and that's about it. But don't let looks deceive you: Ortovox still packed in a functional feature set, including a multiple-burial indicator and motion-sensing auto revert, which switches the beacon back to transmit mode if no motion is detected for 2 minutes. To top it all off, the Zoom+ is compact and lightweight (7.1 oz. including the case) and runs on just one AA battery.
The Zoom+ is a well-priced and fully serviceable option for beginners, but the simplicity does come with some limitations. In search mode, the beacon can pick up more than one signal, but it does not have a marking function (also known as signal suppression) to assist with a multiple-burial search. And at only 40 meters, the Zoom+'s range is the shortest here (tied with Ortovox's 3+ below). On the plus side, the Zoom+ is incredibly intuitive, and the $260 MSRP is hard to beat. A number of guide outfits—including Oregon Ski Guides—use the Zoom+ for their rental fleet, which says a lot about the Zoom+'s ease of use and all-around capability.
See the Ortovox Zoom+
Best Beacon for Avy Professionals and Advanced Users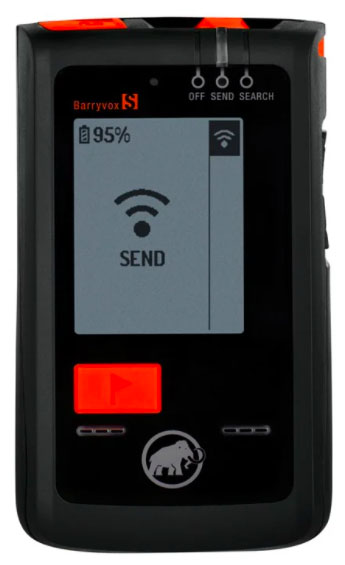 Weight: 7.4 oz.
Maximum range: 70/95m (digital/analog)
Battery life: 300/400 hours (alkaline/lithium)
What we like: Top-of-the-line search range and feature set; clear visual interface.
What we don't: Expensive and overkill for most recreational users.
Most of the beacons here appeal to recreational users, but ski guides, patrollers, and avalanche professionals need additional functionality. Specifically, this includes better search range, increased battery life and processing speed, detailed display graphics, and state-of-the-art features like a U-turn indicator to keep them searching in the right direction. Within this category, the Mammut Barryvox S is head and shoulders above the rest, with a 70-meter range (95m in analog mode), up to 400 hours of battery life, and a clear visual interface with intuitive, animated instructions. And importantly, despite all of these add-ons, it's still competitive with the Tracker3 above in both weight and size.
The Barryvox S is the priciest option on our list, but that doesn't necessarily mean it's the best match for everyone. Simple is often safer for beginners and recreational users, and many backcountry-goers will want to stick with options like the Tracker3 or Zoom+ above (or the standard Barryvox, which we outline below). But for professionals who use their beacon on a daily basis, it doesn't get much better than the Barryvox S, which really shines in complex scenarios with multiple victims. Customization is another selling point: you can configure acoustic and visual settings, adjust the auto-revert function, and personalize your home screen. For those who will utilize the features, the Barryvox is an exceptionally capable backcountry companion.
See the Mammut Barryvox S
Best of the Rest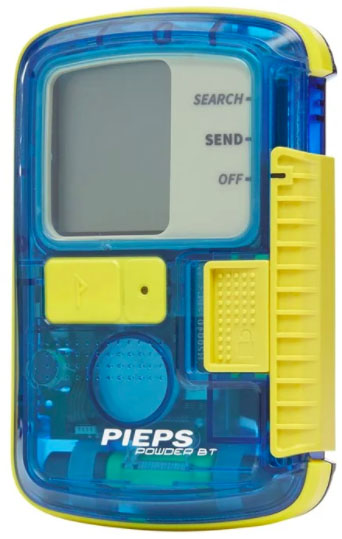 Weight: 7.8 oz.
Maximum range: 60m
Battery life: 200/300 hours (alkaline/lithium)
What we like: Cheaper than the Tracker3 and features Bluetooth connectivity.
What we don't: Battery life icon is a bit ambiguous.
Based in Austria, PIEPS has been a leader in snow safety research and development for over 50 years. Since being acquired by Black Diamond in 2012, their products—which include beacons, probes, shovels, airbags, inclinometers, and more—have become widely available in the U.S. The Powder BT (also marketed as the Black Diamond Recon BT) is an updated version of PIEPS' popular DSP Sport, with the most notable improvements being Bluetooth functionality and a new off/send/search switch (the DSP models have faced a recent recall due to issues with the switch bar). Similar to the Tracker3 above, it's a feature-rich yet easy-to-operate beacon that covers the bases for intermediate users.
This is a fairly minor nitpick, but we're not big fans of the Powder BT's battery life indicator, which is shown as a three-tiered icon rather than a percentage. We would prefer to have a better sense of exactly how much juice is remaining—as it is, we swap out our batteries once we see the symbol drop down to one bar. Compared to the Tracker3 above, the PIEPS is $10 cheaper, feels more robust, and tech-savvy users will love the addition of Bluetooth for customization and smartphone connectivity. We rank the Tracker3 higher for its slimmer profile, simple interface, and time-tested track record (the Powder BT was released in late 2018), but the PIEPS is a well-made alternative with some modern upgrades.
See the PIEPS Powder BT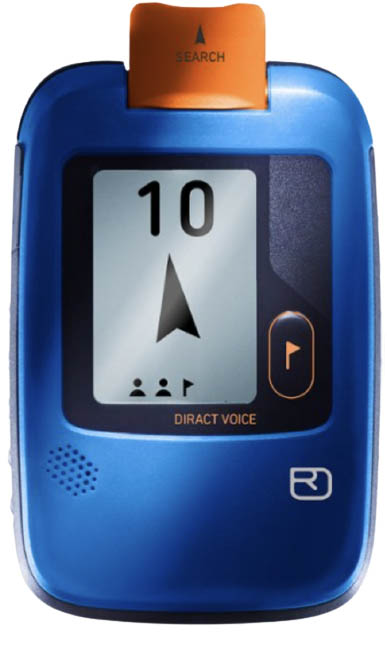 Weight: 7.4 oz.
Maximum range: 50m
Battery life: 200 hours+
What we like: Rechargeable battery and voice commands that allow you to keep your eyes on the scene.
What we don't: Middling search range and no analog mode.
Last year, we saw the highly anticipated release of Ortovox's Diract Voice: an innovative avalanche transceiver that sets itself apart from the rest of the market in a key few ways. First, as its name suggests, the Diract Voice uses verbal commands to direct your beacon search, allowing you to keep your eyes on the scene instead of fixated on the device (key commands include "run," "walk," and "go down to the snow surface"). Second, Ortovox's newest transceiver has a rechargeable lithium-ion battery, while every other beacon here runs off of alkaline batteries. In an era when most headlamps and GPS devices have already switched over to rechargeable power, we're excited to see the start of this shift in the beacon world.
For a lot of users, these unique additions make the Diract Voice a very attractive option, and it doesn't hurt that it's priced competitively at $380. Those new to avalanche rescue might find the verbal directions especially useful—studies have shown that in an emergency, voice cues can be processed more quickly than visual cues. On the other hand, experienced backcountry-goers might not want the added assistance, and the Diract Voice doesn't stand out in terms of search range or advanced capabilities. But if you're open to change, the Ortovox is an inventive new offering and comes with user-friendly features like Bluetooth connectivity and a light sensor that switches it back into send mode when darkness is detected (as in the case of a secondary avalanche).
See the Ortovox Diract Voice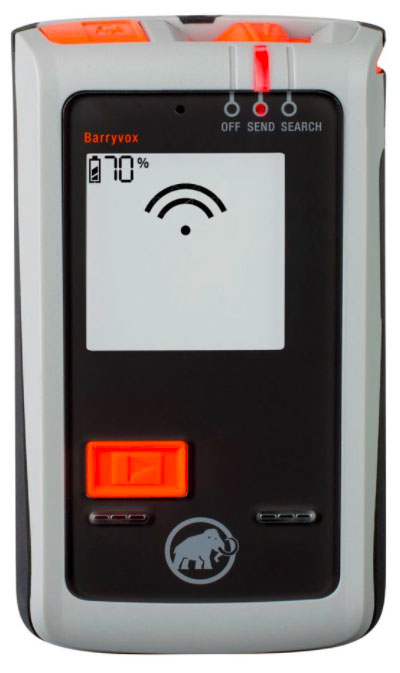 Weight: 7.4 oz.
Maximum range: 70m
Battery life: 300 hours
What we like: User-friendly display screen and impressive range.
What we don't: Some users report issues during fine search.
Mammut avalanche beacons have a solid reputation among snow sports enthusiasts and professionals, and the Barryvox is another well-made and reliable transceiver. Reaching up to 70 meters, it offers one of the broadest search widths and largest receiving ranges on the market, and the backlit screen is easy to read and interpret with a variety of helpful images (many will find this superior to the LED display of models like the Tracker3 above). And this might seem like a minor detail, but we love that the switches are large enough to operate while wearing bulky gloves or mittens. Taken together, the Barryvox offers most of the quality and usability of the high-end Barryvox S above, but in a simpler package that's competitively priced at $350 ($150 less than the "S").
A big concern about the Barryvox is its performance during fine search: some report that the beacon can grow jumbled during multiple-burial scenarios (the manual recommends users slow down their search until the beacon can separate the signals). In spite of this weakness, the Barryvox has one of the best marking functions among mid-range beacons—it's particularly better than the Tracker3 above. But with such a detailed screen, you don't get the outright simplicity of the Tracker3, and Mammut has yet to integrate Bluetooth connectivity (as seen in the $10-cheaper PIEPS Powder BT above). That said, Barryvox users are a devoted bunch, and it's a great value for budding to advanced recreationalists.
See the Mammut Barryvox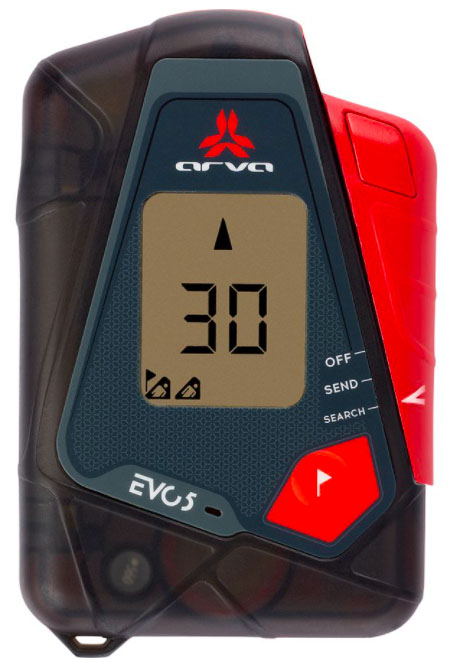 Weight: 6 oz.
Maximum range: 50m
Battery life: 200 hours
What we like: One of the most compact and lightweight models on the market.
What we don't: Automatically reverts after 8 minutes, even if the beacon is in motion.
France-based Arva has been manufacturing avalanche safety equipment for more than 30 years, and their impressive lineup includes beacons for every type of user, from novices to seasoned backcountry professionals. The small but mighty EVO5 sits right in the middle and has won us over with its lightweight, streamlined build and intuitive interface that includes a large, bright screen and centrally located flagging button. Further, you get high-end features like a U-turn alarm to make sure you're headed in the right direction (not often found in this price range). At $320, the Arva EVO5 adds up to one of the best values here.
The EVO5 would be a candidate for our top pick if it weren't for one noteworthy drawback: its 8-minute auto-revert setting, which automatically reverts the beacon to transmit after 8 minutes in search mode. We're big fans of this functionality for the safety it provides in the event of a secondary avalanche, but the EVO5's lack of motion sensing and longer time frame are problematic. On one hand, the beacon could switch back to transmit in the middle of a search; on the other, if the user were to get buried (in search mode) at the beginning of the 8-minute window, their chances of being found are slim. But that's not to say the EVO5 doesn't have a lot going for it, and it's especially appealing for skimo racers looking to shave weight and bulk. 
See the Arva EVO5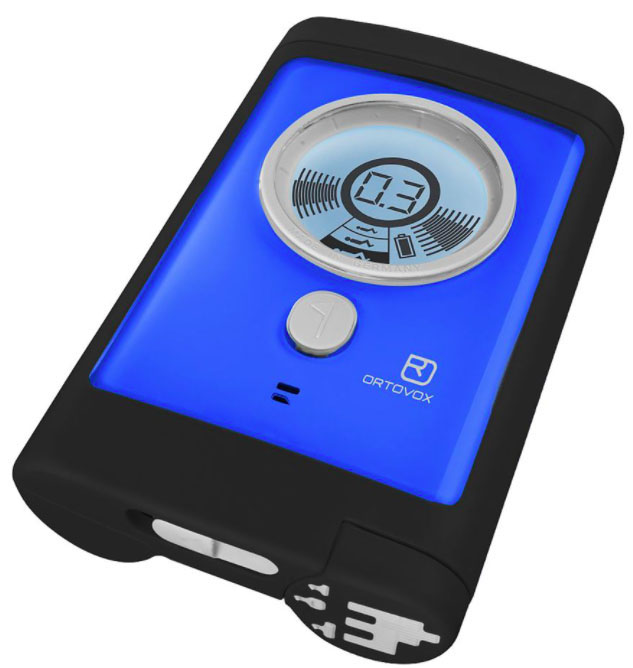 Weight: 7.4 oz.
Maximum range: 40m
Battery life: 250 hours
What we like: Great price for a well-appointed and intuitive design.
What we don't: Relatively short range and auto-revert function can't be turned off.
Ortovox's 3+ builds off our top-rated beginner pick, the Zoom+ above, making it a great choice for backcountry travelers of all experience levels. You get the same simplicity and usability that we love in the Zoom, but with added features like signal suppression (marking a victim in a multiple-burial scenario), fine-search visuals, and updatable software. The 3+ is slightly heavier and bulkier than the Zoom+, but the tradeoff is well worth it for those who plan to utilize the added functionality. We used this beacon while instructing for a season with Oregon Ski Guides and found it to be reliable, easy to operate, and accurate—three critical considerations for backcountry adventurers.
Like the Zoom+, the 3+ has a motion-sensing auto-revert that switches it back to transmit mode after 2 minutes. While we consider this an essential feature, we do wish Ortovox had built in the option to turn it on and off (the Tracker3 above prompts you to turn on the function each time you power on the beacon). And looking at comparable options like the Tracker3 and Powder BT above, the 3+ offers similar features at a lower price, but its range is the smallest of the group. That said, we appreciate Ortovox's routine software updates for correcting minor bugs (we previously found the 3+'s self-test to be overly sensitive, but this was addressed in a recent update).
See the Ortovox 3+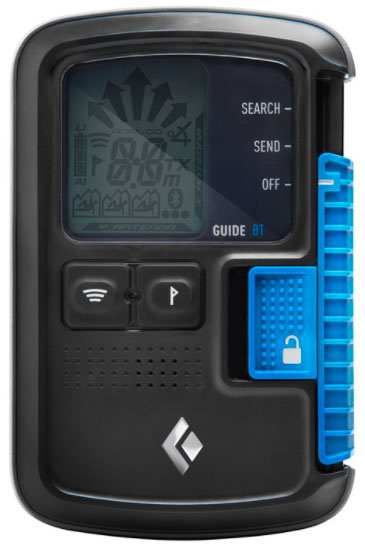 Weight: 7.9 oz.
Maximum range: 60m
Battery life: 400/600 hours (alkaline/lithium)
What we like: Lots of customizable features made easy with smartphone connectivity.
What we don't: Expensive and overkill for most.
Most riders will opt for Black Diamond's recreational-focused Recon BT (identical to the PIEPS Powder BT above), while their advanced Guide BT is tailored to avalanche professionals, ski patrollers, and guides. As with the Recon, you get a simple interface that prioritizes ease of use, but the Guide BT takes it to the next level with increased battery life and range, analog functionality, greater customization, and an integrated inclinometer. In addition, you get features like vibration upon first signal detection, which allows you to take your eyes off your beacon to look for clues like strewn poles or gloves.
The Guide BT is identical to PIEPS' Pro BT beacon, which serves as an upgrade from the old PIEPS DSP Pro. Importantly, the slider lock has been tweaked with the new model (the prior design has been criticized over concerns with its durability). And we love the Bluetooth connectivity, which makes digging into the advanced functionality a breeze. Not everyone needs this level of complexity—again, beginners will likely be better off with a simpler model—but the Guide BT is a premium and fully featured option for advanced users and pros.
See the Black Diamond Guide BT
Weight: 8.5 oz.
Maximum range: 70/80m (digital/analog)
Battery life: 250 hours
What we like: High-end features at a mid-range price point.
What we don't: Lacks modern additions like Bluetooth connectivity. 
At the premium end of Arva's lineup is the Neo Pro, a beacon purpose-built for professionals and jam-packed with features and functionality. Similar to top-shelf models like the Mammut Barryvox S, you get an impressive 80-meter search range (70m in digital) and next-level features like a U-Turn alarm and motion sensing revert-to-transmit mode. The Neo Pro also offers a neutral standby mode that keeps the beacon from both transmitting and receiving for a period of time (ideal in teaching environments), and as we alluded to above, you can easily swap between analog and digital (a useful feature for multiple burial situations). And all this performance is fairly easy to access, with the Arva's up and down buttons and intuitive interface.
At just $360, the Neo Pro is a real steal compared to other pro models like the Barryvox S and Black Diamond Guide BT. At the most basic level, you get fairly similar technologies—including a large search range and the ability to switch between analog and digital—but the Mammut and BD tack on a variety of bells and whistles: for example, the Barryvox S features an LCD screen, and the Guide BT comes with Bluetooth connectivity and an inclinometer. Further, the Arva's battery life lags far behind, and is more similar to the recreational models in its price range. Most snow travelers will want to stick with more familiar models from BCA, PIEPS, and Mammut, but the Neo Pro a nice middle-ground option for pros who want to save money or recreational users who are interested in taking their skills to the next level.
See the Arva Neo Pro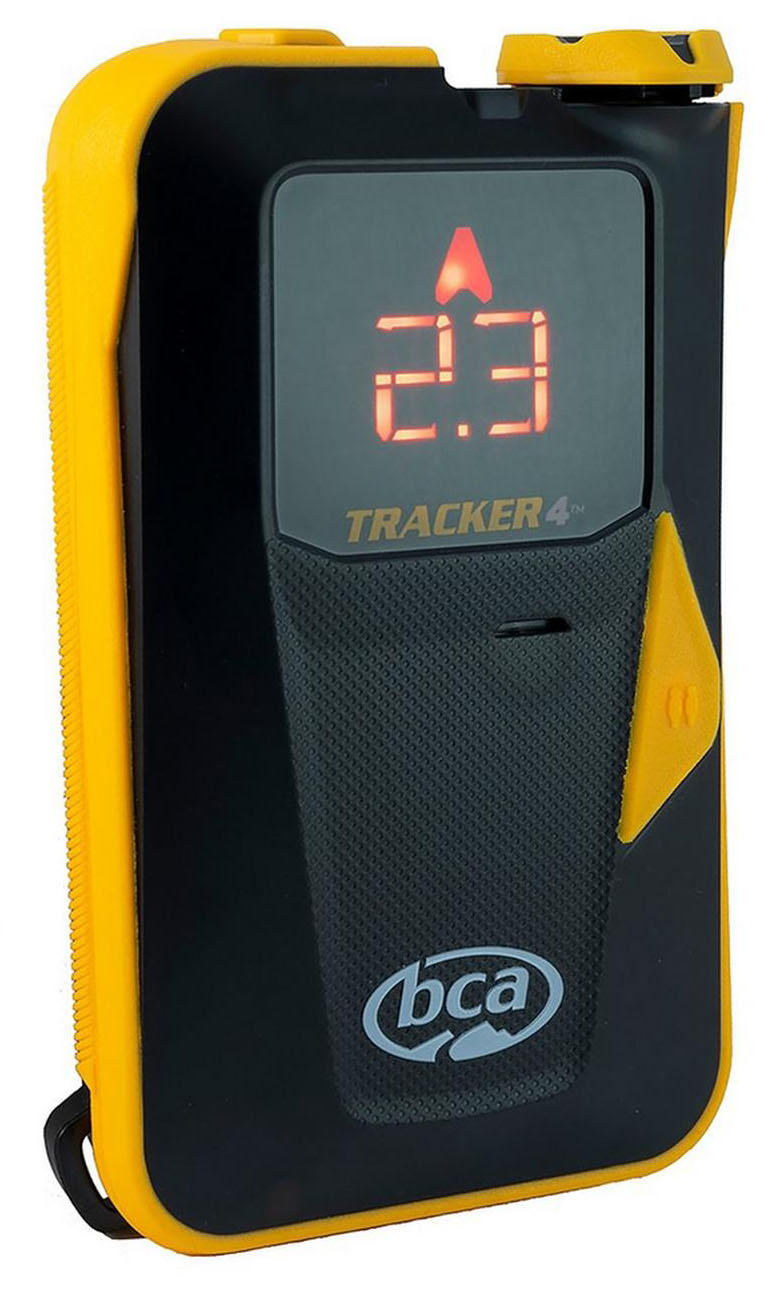 Weight: 7.6 oz.
Maximum range: 55m
Battery life: 250 hours
What we like: Our top-rated Tracker3 with a more durable case and larger LED display.
What we don't: Those couple extra features don't strike us as worth the jump in price.
BCA's Tracker3 has been one of the most popular and well-regarded beacons for years running, and the Tracker4 builds off the popular design with a few key updates. Importantly, you get all of the innards of the Tracker3—including an identical feature set, processing speed, and search range—with a revamped exterior featuring a rubberized, over-molded case and a larger and brighter LED display. We haven't personally experienced or heard of any issues with the durability or handling of the Tracker3, but the latest "4" is even more robust and easy to use.
The Tracker4's cosmetic improvements are undeniably nice, but it's up to you whether or not they're worth the extra $40. Those who appreciate the burlier case might want to check out the PIEPS Powder BT above (or the identical Black Diamond Recon BT), which costs less at $340 and includes a better flagging function that doesn't shut off after a minute, as well as Bluetooth connectivity. But we understand that beacons are a highly personal choice, and if you're partial to the Tracker design or BCA brand, the Tracker4 is a solid all-around option—and especially for those that are hard on their gear.
See the Backcountry Access Tracker4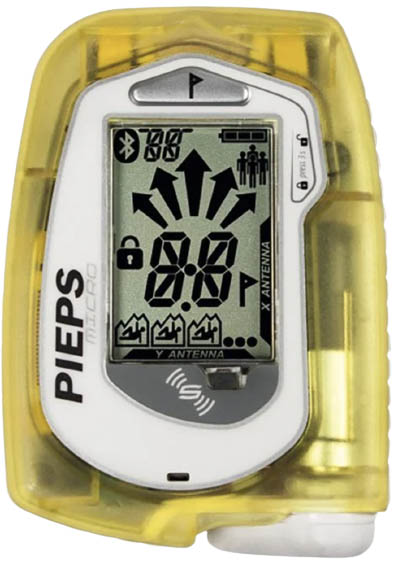 Weight: 5.3 oz.
Maximum range: 50m
Battery life: 200 hours
What we like: The smallest and lightest beacon here—great for skimo racers and fast-and-light missions.
What we don't: The weight and space savings are inconsequential for most recreational users.
Most beacons prioritize search ranges, battery life, and feature sets above all else, but not the PIEPS Micro BT Sensor. Touted as the smallest and lightest three-antenna beacon currently on the market (0.7 oz. lighter than the Arva EVO5 above), the Micro BT's main focus is minimalism, making it a great choice for ounce-counting skimo racers, ski mountaineers, and other weight-conscious backcountry-goers. But importantly, it still packs in a surprising number of features, including a flagging function, fairly large LED screen (it's even larger than that of PIEPS' Powder BT and Pro BT), and the ability to customize the auto-revert setting.
Size isn't the only thing that sets the Micro BT apart from the competition. Rather than a standard switch, it uses a proximity sensor to alternate between transmit and search modes depending on whether the beacon is in its harness or in your hand. However, while this might seem innovative at first, it does leave room for error, and toggling a switch isn't all that inconvenient (note: the "Micro BT Button" features the more traditional manual switch from search to transmit). Finally, $390 is fairly steep when you consider that top-notch beacons like the Tracker3 and Recon BT cost around $40-50 less. But the new tech is undeniably intriguing, and those focused on shaving weight will appreciate the streamlined build. 
See the PIEPS Micro BT Sensor
Avalanche Beacon Comparison Table
Avalanche Beacon Buying Advice
What is an Avalanche Beacon?
An avalanche beacon, also called a transceiver, is an essential piece of gear for backcountry travel in snow-covered terrain. In short, this battery-powered device allows you to both find and be found in the event of an avalanche by sending or receiving signals over an electromagnetic frequency (the international standard frequency is 457 kHz). All modern beacons operate digitally using three antennas (some have analog modes as well) and are powered by either AA or AAA alkaline batteries. Every member of a party must have their own beacon—stored in an easy-to-access location like a body harness or zippered pant pocket—and proper training on how to use it.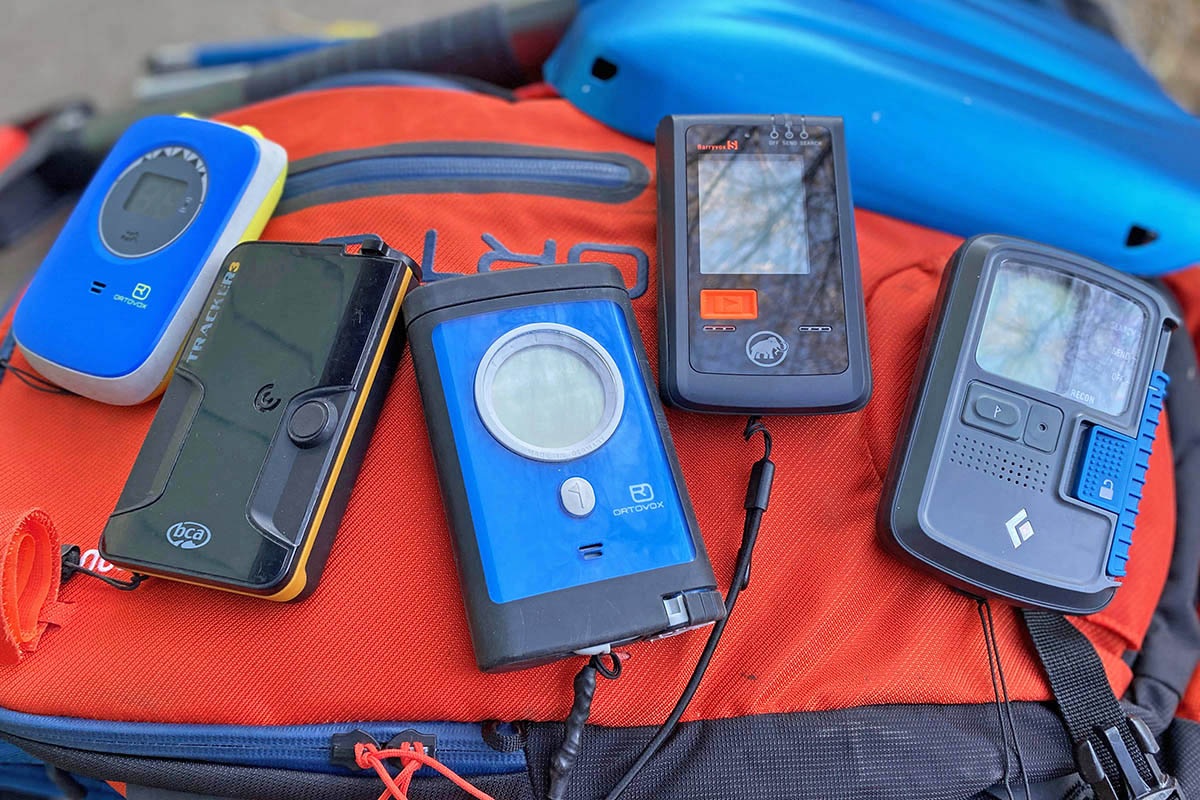 In general, beacons can be broken down into two categories: those ideal for recreational use and those geared towards professionals such as ski guides, avalanche course instructors, and pro patrollers. If you're new to backcountry travel, simpler is almost always better when it comes to your beacon. In the event of a slide, the last thing you want is to be swapping through settings and wasting time trying to find search mode. And cost almost always correlates with complexity, so those just getting into backcountry adventuring definitely don't need to spend up for the most premium model. Avalanche professionals, on the other hand, often benefit from the advanced features and functionality that come with more expensive models like the Mammut Barryvox S ($500) and Black Diamond Guide BT ($450). In either case, however, the best beacon is the one that you know how to use.

Send and Receive Modes
An avalanche beacon has two main modes: send and receive. Every beacon's default is send mode (also known as transmit mode), meaning that it is transmitting a signal outward. This is to ensure that in the event of a slide, the beacons of buried party members will continue to transmit a signal, and remaining party members and rescuers will then switch their beacons to search mode to locate their partner(s).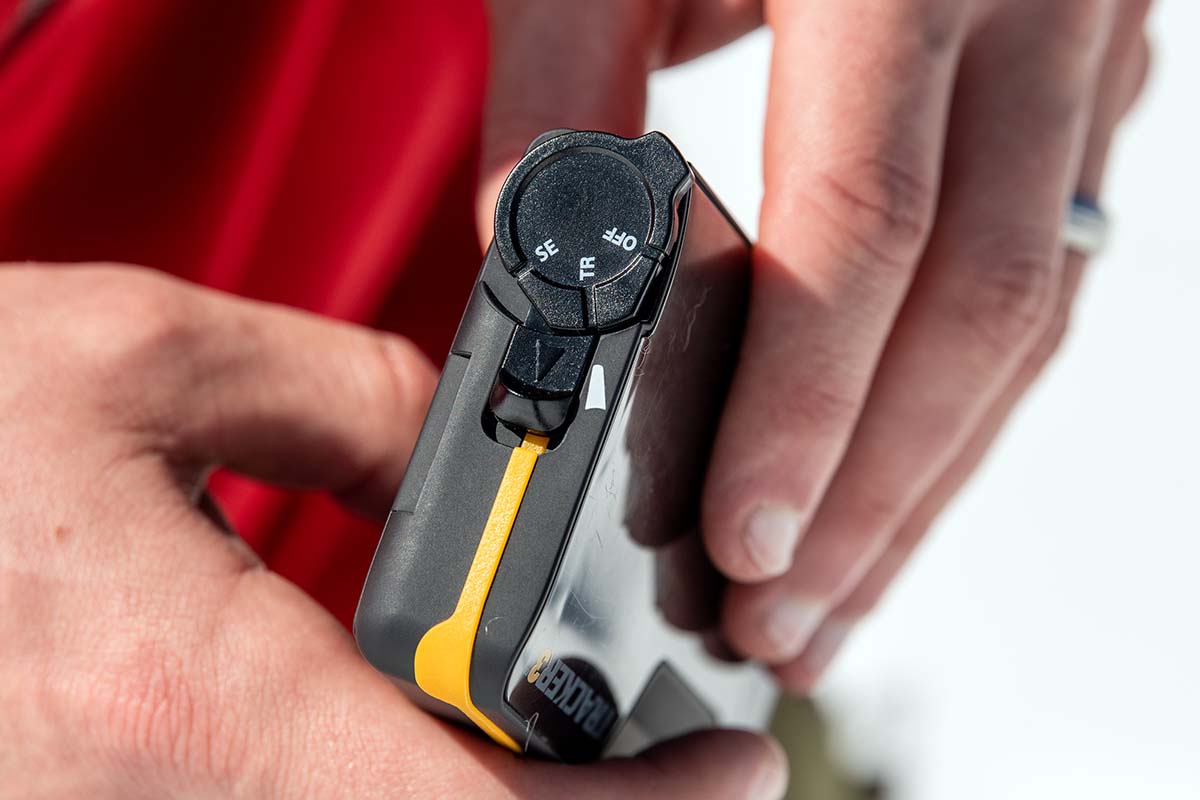 In search or receive mode, visual and audio messaging directs rescuers towards the buried victim(s). Most beacons have a legible screen that displays arrows and numbers—denoting distance and direction to the victim's transmitting signal—and a speaker that sounds alerts (that increase in cadence and often pitch) so you know when you're getting closer without constantly looking at your beacon. In the case of Ortovox's innovative Diract Voice, rescuers receive verbal cues to direct their search (such as "go down to the snow surface" and "you were closer"). Some screens are more detailed than others—the Mammut Barryvox S, for example, has a bitmapped screen that can display advanced graphics—but remember that simple often means safer. 

Search Range and Width
Most avalanche beacon manufacturers claim a search range between 40 and 70 meters. This is the maximum distance from which the beacon will be able to pick up a transmitting signal. Entry-level models like the Ortovox Zoom+ have a maximum range of 40 meters, whereas the top-of-the-line Mammut Barryvox S reaches up to 70 meters. Oftentimes, brands will distinguish between search width (side-to-side range) and maximum search range (out in front of you), although the two numbers are always within the same ballpark.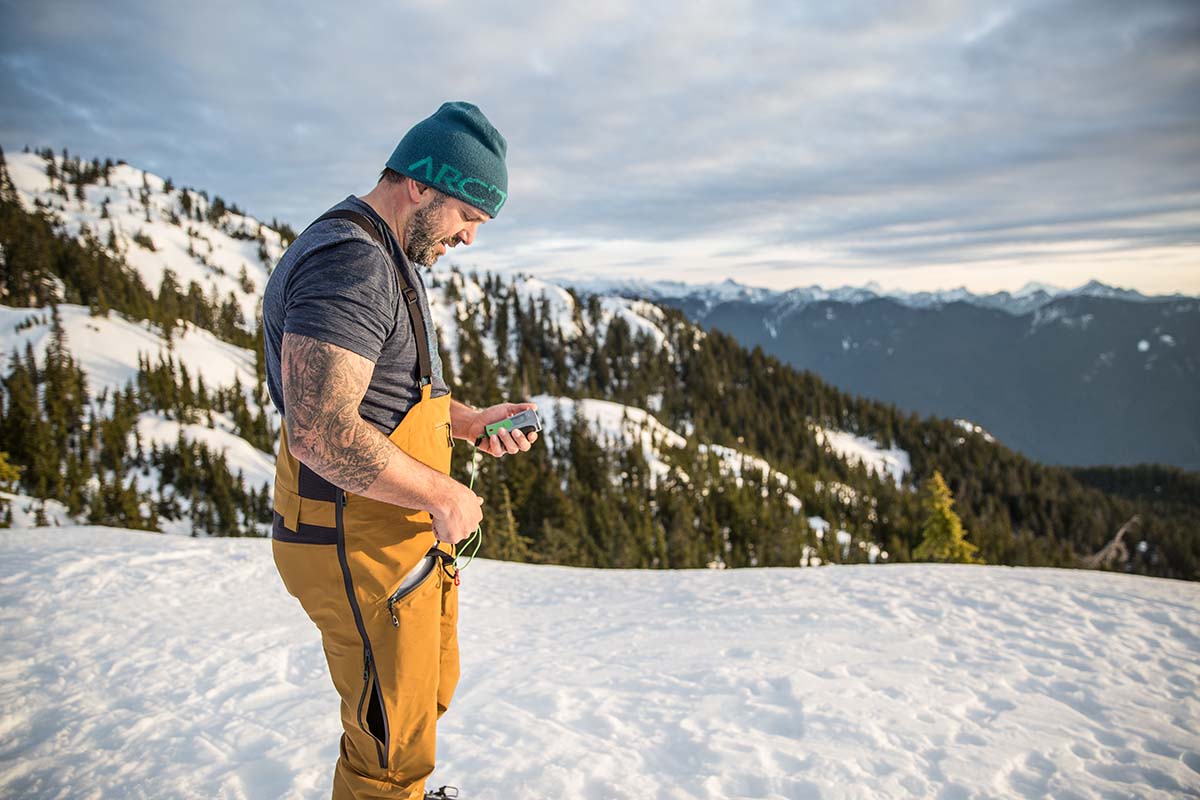 Most avalanche instructors teach search patterns based on a 40-meter radius, meaning that any beacon here is appropriate for a Level 1 or 2 course. This is also the range in which beacons become the most reliable—you might start to get a signal from 50 or 60 meters away, but it is still likely to bounce around or disappear and come back depending on which direction you're facing. In the end, it's important to get to know your beacon and familiarize yourself with its range rather than relying solely on the number you read on a label or product page. Practicing with your beacon will help you determine the range at which you can reliably pick up a signal.

Digital vs. Analog Beacons
All current avalanche beacons operate digitally, although a few high-end models—including the Mammut Barryvox S, Black Diamond Guide BT, and Arva Neo Pro—give you the option of swapping between analog and digital modes. Without going too deep into the details, the important thing to understand here is that analog beacons can pick up transmitting signals from farther away through the use of audio transmissions (most beacons with analog capability come with a headphone jack). Before a digital beacon might recognize these audio beeps as a signal, your ear can pick them up. But in the end, these are just minor details and likely won't be impactful in a stressful real-life scenario, and the good news is that digital beacons are much faster and easier to use than those of the analog variety.

Avalanche Beacon Functions
Auto Revert-to-Transmit
Most modern beacons now have auto-revert functionality, which is a safety measure in the event of a secondary avalanche. Picture this: one of your ski partners is buried in a slide. While you're searching (beacon in receive mode), another avalanche rips down from above and buries you. Now, you're trapped underneath snow and your beacon isn't transmitting a signal. With the auto-revert feature, your beacon automatically switches back to send mode after a certain number of minutes (generally 1 to 8) of inactivity, preventing a scenario in which searchers are buried and cannot be located.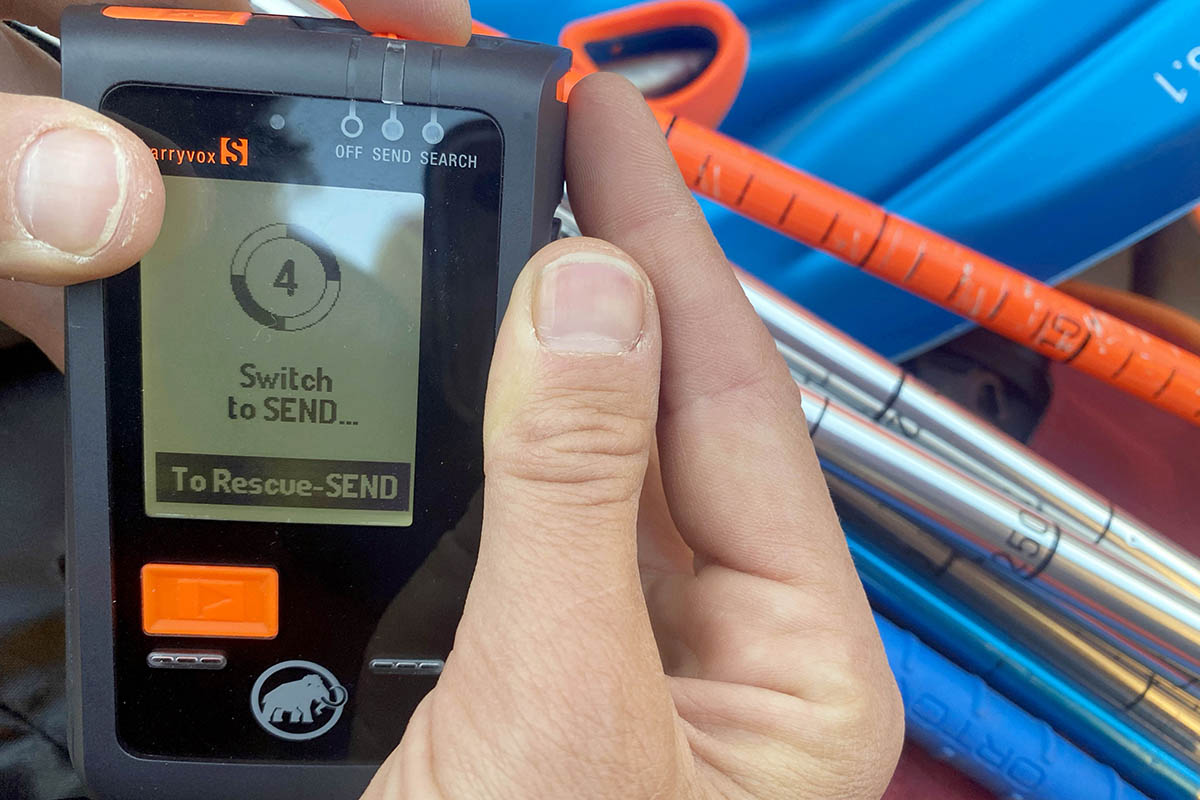 Auto-revert functionality differs considerably among beacon models and could very well be a deciding factor in which model you choose. Some are simply time-based, meaning they revert back to send mode after a number of minutes (this could potentially happen in the middle of a search, but fortunately, most sound an alert before switching). Others have a motion sensor that detects your movement: if you're not moving (i.e., potentially buried), they'll switch back to sending after a short period of time (for Ortovox beacons, this period is 2 minutes). The new Ortovox Diract Voice even has a light sensor that reverts back to transmit if it detects darkness. Many beacons, like Black Diamond/PIEPS' models and the Backcountry Access Tracker3, allow you to turn off the auto-revert function, select it upon start-up, or choose the amount of elapsed time. Given this feature's importance in keeping us safe, we like to have the option to customize (BCA does a great job of detailing reasons for this here).

Multiple Burials and Signal Suppression
Most modern avalanche beacons have a multiple-burial indicator. This means that the beacon can detect more than one transmitting signal and will show this on the display screen (some will denote 2 or 2+ signals, but advanced models like the Mammut Barryvox S can catalog up to 4). Models like the BCA Tracker3 and new Tracker4 even indicate with parentheses if the burials are in close proximity (within 6m of the searcher). This feature is not essential, but it is certainly nice to have, and especially for those who regularly adventure with larger groups.
In addition to a multiple-burial indicator, another helpful tool to have is signal suppression, also referred to as "flagging" or "marking." In the case of multiple burials and multiple searchers, the searchers can work together to locate one victim and then divide resources while continuing the search for a second victim. Once the first victim is located, the searcher will mark their transmitting beacon (thus silencing—or suppressing—it) and continue to look for the next-closest signal. Avalanche beacon models can vary quite a bit in how this function works: some of the higher-end options will show a list of all signals, and the user can select which signal to follow, while models like the Tracker3 can only suppress one signal and only for a minute (in our opinion, this is one of the Tracker3's biggest shortcomings).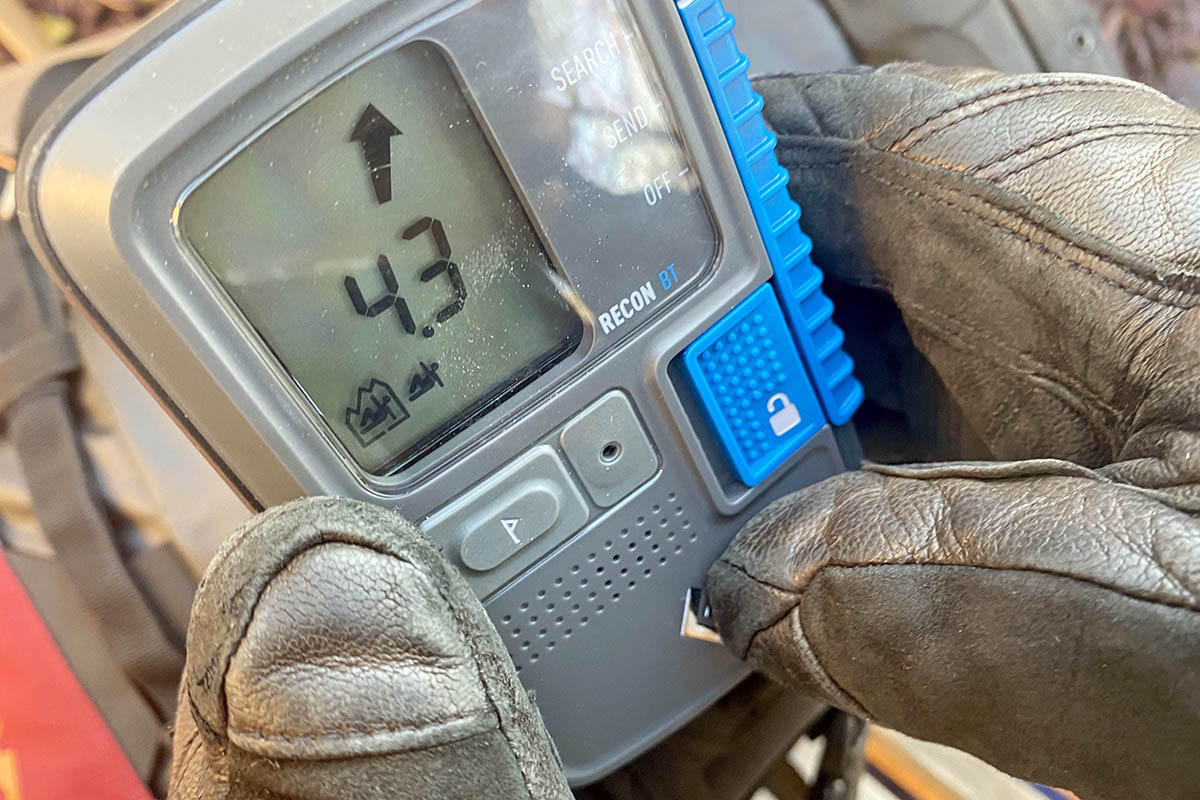 Self-Test and Group Check
Most avalanche beacons perform a self-test when turned on, checking to see that the antennae are transmitting a signal and the battery has enough charge. If your beacon fails its test, it should display an error code and/or sound an alert. Beacons will also show their battery life during the self-test (we outline batteries more in-depth below), and some models even let you know if they're picking up electronic interference (such as from a cell phone).
Many beacons also have a built-in group-check mode, which can assist with making sure all group members' beacons are sending and receiving properly. This is a helpful tool when getting organized at the trailhead but certainly not necessary. Unless you're consistently a group leader, it likely won't be a deal-breaker in selecting the right beacon for you. And if your beacon doesn't have this functionality, PIEPS sells a device called the Checker, which is an affordable ($30) and useful way to verify that all the beacons in your party are working properly.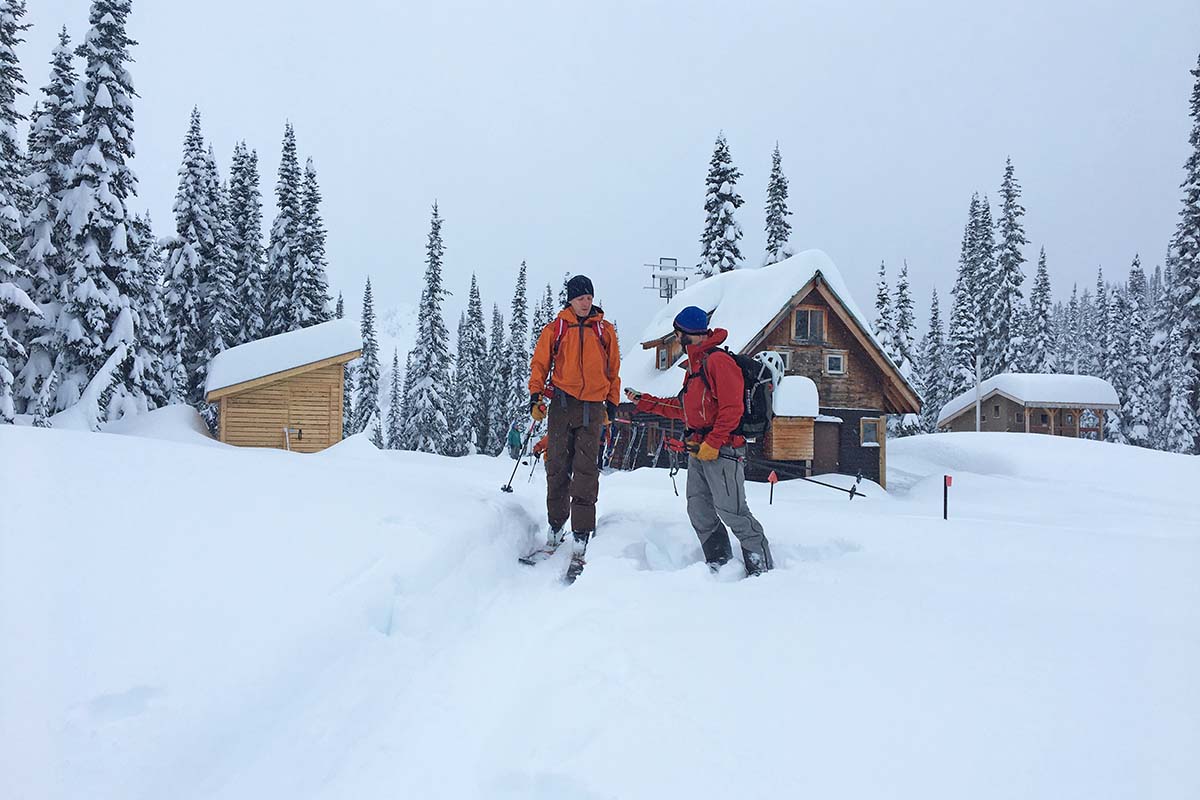 Weight and Dimensions
Avalanche beacons are small enough to fit in your hand and tip the scales at around 5 to 8 ounces. In general, weight will not be a deciding factor for most, although there are a few ultralight models—namely, the Arva EVO5, BCA Tracker S, and PIEPS Micro BT Sensor—that will appeal to skimo racers, ski mountaineers, and other ounce-counters. Often, the more important spec is a beacon's dimensions, as many prefer streamlined models that can slip into their pants pocket (our top pick, the BCA Tracker3, is well-liked for its minimalist build). On the flipside, some beacons add rubberized molds for better handling and added durability, including the new Tracker4 and Black Diamond's Recon and Guide BT. Further, some of the larger models feature big display screens and more glove-friendly toggles, which certainly makes them easier to use. Before making a purchase, be sure to weigh your priorities and preferences on weight and size versus overall usability.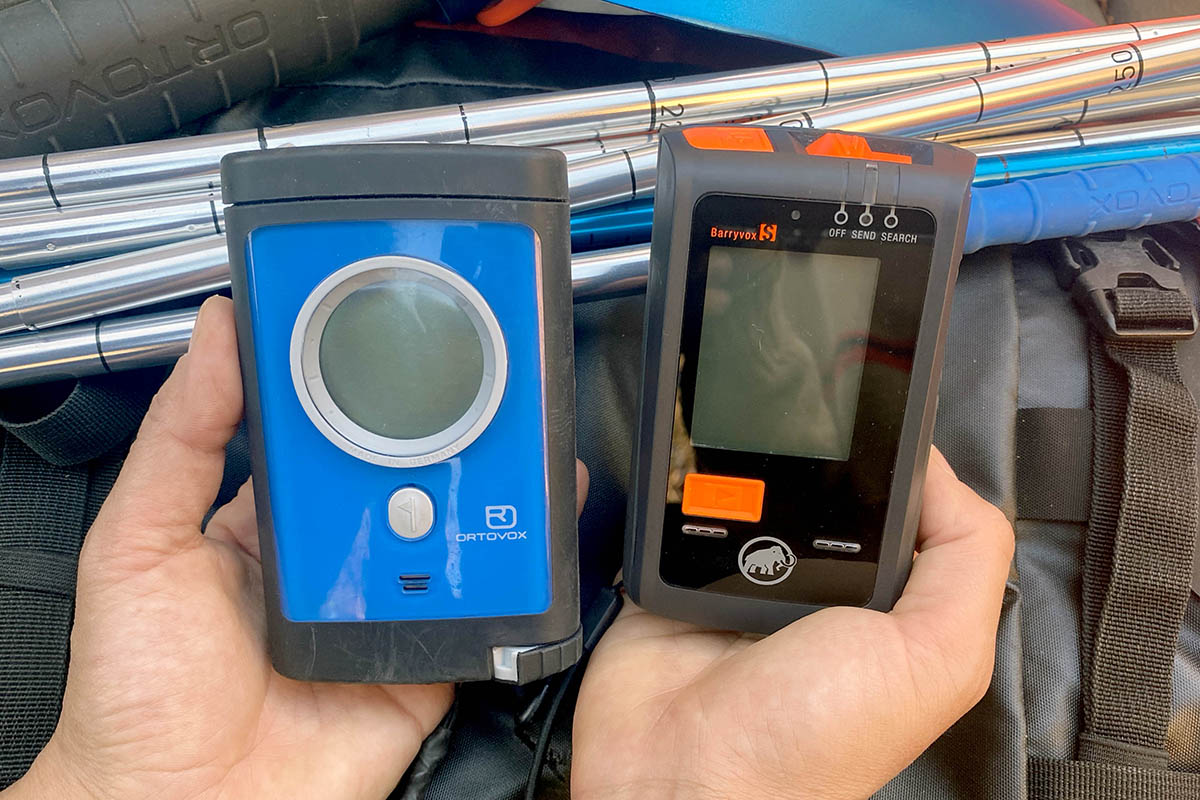 Durability and Waterproofing
Given that beacons are designed for use in winter conditions and a lifeline when buried under feet of snow, you'd assume that they're incredibly durable and highly waterproof. Unfortunately, however, that's not entirely the case. Whereas some equipment like headlamps and watches are subjected to drop testing and given industry-standard waterproof ratings, beacons have no such requirements. For this reason, we recommend limiting your beacon's exposure to the elements by keeping it safely stowed close to your body and always underneath your outer layers. Some models are slightly more robust than others, including BCA's rubber-encased Tracker4, but most forego added durability measures.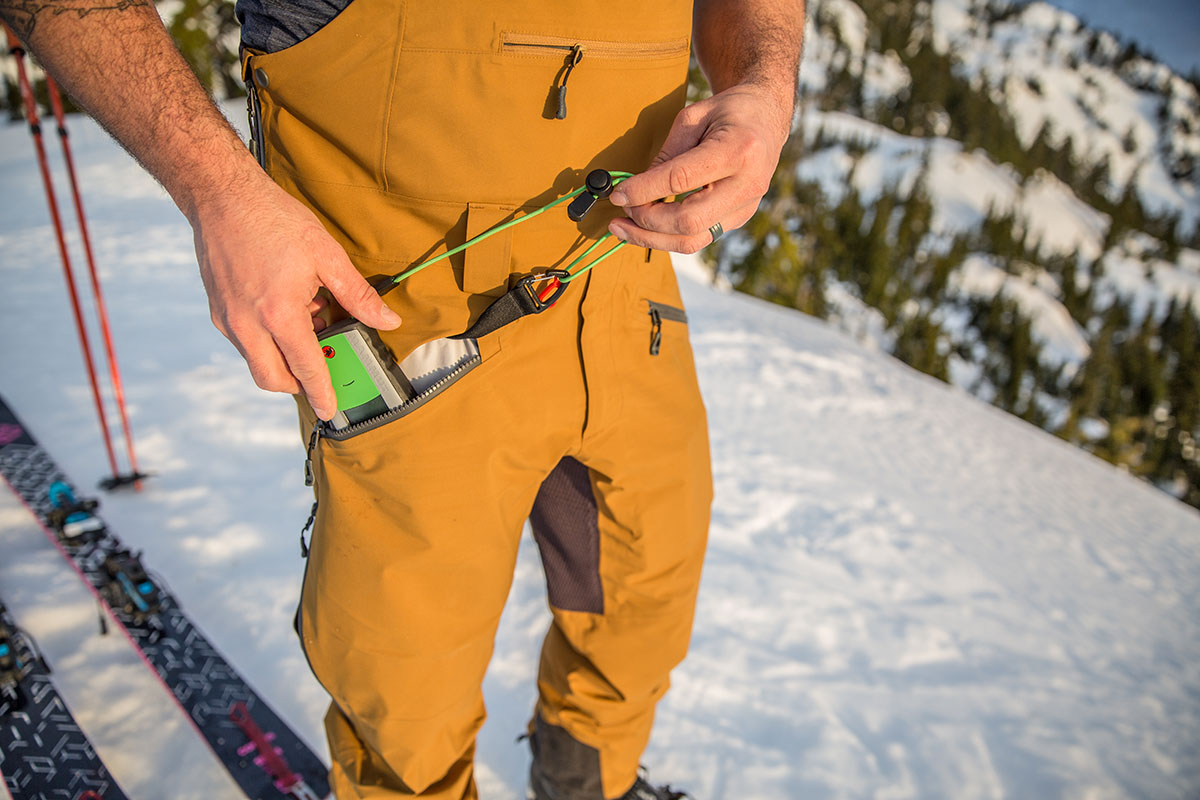 Unlike safety equipment like a rope or airbag, avalanche beacons also do not have stated lifespans. That said, it is absolutely essential that your beacon be in good working condition. Mammut, for example, recommends that you have your beacon serviced every 3,000 hours or 3 years, where their technicians will do a far more comprehensive check than the beacon is able to do in its self-test mode. In the event that your beacon does malfunction, most manufacturers offer 2- to 3-year warranties. And keep an eye out for possible recalls too—recently, PIEPS and Black Diamond issued an immediate recall for all PIEPS DSP beacons (including the DSP Sport, DSP Pro, and DSP Pro Ice) due to a faulty lock mechanism that results in the transceiver accidentally switching out of transmit mode. Finally, regardless of what manufacturers recommend, our take is that it's always better to be safe than sorry. If your beacon is having issues or you notice anything "off," don't postpone getting a replacement or sending it in for repair.

Batteries and Battery Life
Avalanche beacons typically operate using AA or AAA alkaline batteries, although some (particularly those from Mammut and PIEPS/Black Diamond) can use alkaline or lithium. If you opt for one of these latter models, you'll want to be sure that your beacon's internal settings are set to your battery of choice. Manufacturers will specify which batteries to use and approximately how long the batteries will last—in our specs above, we've noted the battery life in transmit mode. Batteries last longer in transmit mode than in search, so if you're practicing with your beacon frequently, you may notice the battery life drop more quickly. 
Beacons indicate how much battery power remains either with a percentage (our preferred method) or bars. Some beacons will show the battery power only when powered on, while others will display it on the screen at all times. Deciding when to change out the batteries is a personal choice, though 50-60 percent is a good rule of thumb to ensure you'll always have enough juice in the field. Additionally, we recommend always keeping a spare set of batteries in your repair kit, along with whatever tool you might need to open the battery case (a coin will suffice for most models). Finally, don't forget to remove the batteries at the end of the season and put in a fresh set at the start of the next.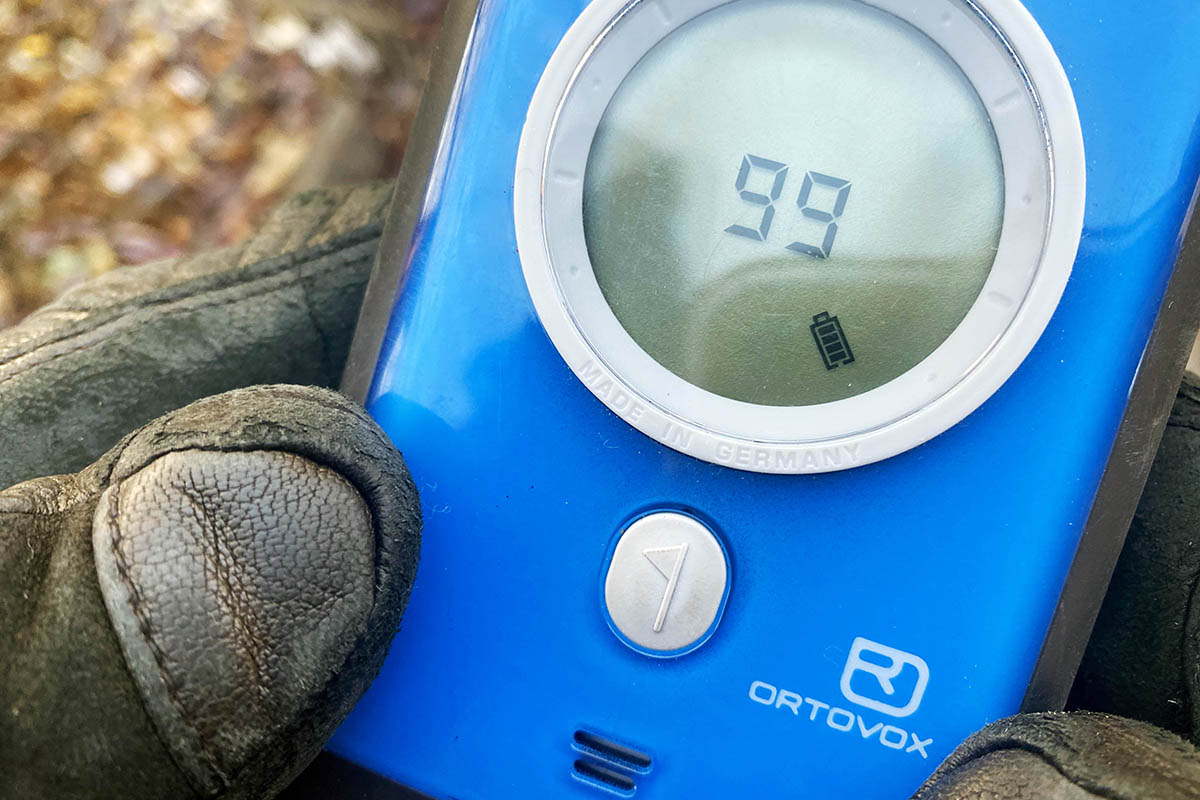 Battery life can vary a great deal between models. For example, the Arva EVO5 is said to last for 200 hours, while the Black Diamond Guide BT doubles that at 400 hours (600 with lithium batteries). But while this might seem like a crucial spec to consider, it's really not all that impactful. Think about it: if you're averaging 5-hour tours and aren't practicing all the time, you can get 30+ days on one set of batteries—and that's at the low end (of course, you'll want to change them out before the battery life is too low). In fact, we've gone for an entire season with the Tracker3 (battery life: 250 hours) and only changed the batteries once. In other words, even the lowest battery life is still decent, and you shouldn't be churning through batteries unless you're getting out there every day or instructing multiple courses in a season.

Bluetooth Connectivity
We've listed in our comparison table above which models feature Bluetooth connectivity, and a quick glance will reveal that it's not all that common among beacons (our of our 11 picks, only three sport this feature, and all are Black Diamond/PIEPS models). In short, we consider it a nice-to-have addition, but it's far from necessary. In the end, Bluetooth capability does make it easier to dig into advanced settings and play around with the functionality of your beacon, but most won't have too much trouble accomplishing the same goal on their beacon's display screen.

Carrying Case and Strap
There are two primary ways to carry an avalanche beacon: in a zippered pant pocket or in a dedicated case with a strap (usually a chest harness). Most beacons are sold with a harness included, although Arva is one exception and sells them separately. Many harnesses center the carrying case on the front center of the torso, with straps going around the waist and one shoulder. Importantly, your beacon should always be worn inside your clothing, underneath any jackets or outer layers. If you choose to store your beacon in a pocket, be sure the zipper stays closed all day (nothing else should be coming in and out of that pocket), and attach the leash to your ski pants or belt. This helps protect the beacon from getting damaged or ripped away from your body during an avalanche.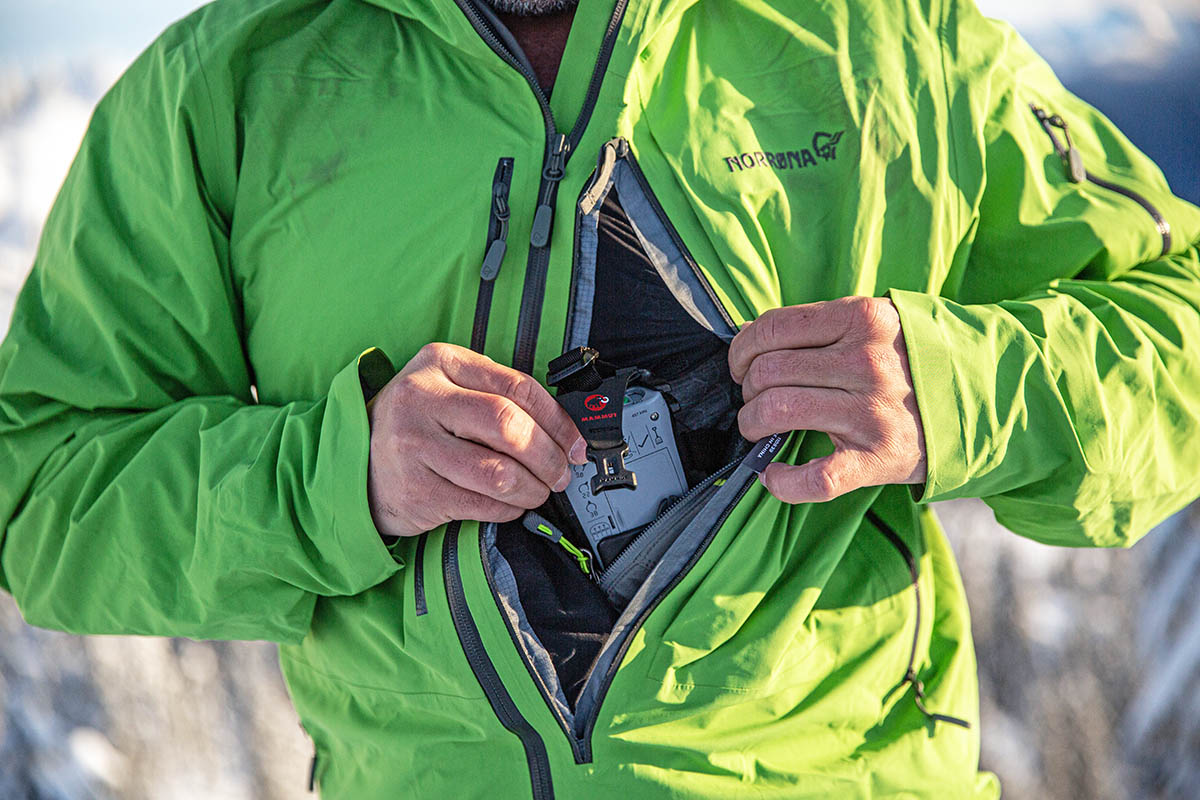 Software Updates
Many of today's avalanche beacons come with upgradable software. Some require that you take your beacon into a local shop or send it to the manufacturer for an update, while most can be upgraded via micro USB or—in the case of Black Diamond/PIEPS models—Bluetooth connectivity. Beacon manufacturers are always improving their technology, and it's a big bonus that you can get better tech without purchasing a new device (for example, our Ortovox 3+ was overly sensitive to cell signals in the self-test, but this was improved in a recent update). Just like a smartphone or computer, keeping your beacon up-to-date will help maximize its performance. 

Avalanche Safety Courses
Buying a beacon is a great first step toward realizing your backcountry goals, but it's only one of many critical factors. In addition to the gear you bring, proper avalanche safety includes learning about the intricacies of snowpack and snow conditions, being able to evaluate and safely navigate avalanche-prone terrain, and recognizing and mitigating human factors. By far, the best way to educate yourself is through an avalanche safety course, and a Level 1 course from an organization like the American Institute for Avalanche Research and Education (AIARE) or American Avalanche Institute (AAI) is where many aspiring backcountry-goers start. And keep in mind that not only is avalanche education a great investment for yourself, but it's incredibly important for your touring partners' safety as well.
Beyond these introductory courses, there are a number of resources online to help you become a safer and more experienced backcountry traveler. Avalanche.org is a great place to start, and it's also a good idea to get acquainted with your local avalanche center, where you can find the latest reports and snowpack information. Some of these organizations also provide free "Know Before You Go" talks or videos. Additionally, Backcountry Access has a number of "101" educational videos on their website, which are great for brushing up on the basics. Single-day courses like Introduction to Avalanche Safety or Avalanche Awareness Clinics are another great place to start getting familiar with the essential gear and learning the finer points of snow and weather conditions.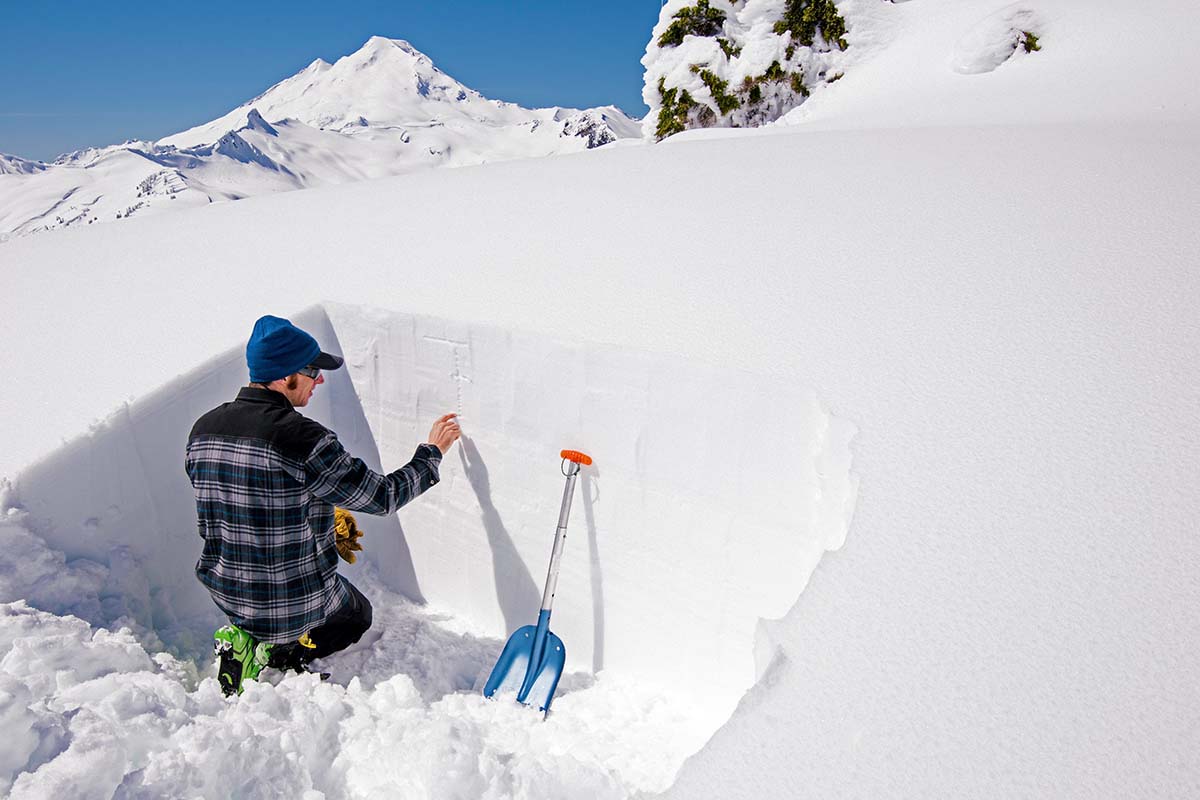 Completing Your Backcountry Kit
A beacon is just one piece of the avalanche safety puzzle and should always be accompanied by both a probe and shovel. Some skiers and riders, especially those who frequently head into avy-prone terrain, might also carry an avalanche airbag pack for extra assurance in the event of a slide. In terms of other clothing and equipment, our backcountry skiing checklist is a good place to start and details everything you need for a day on the slopes, from jackets and pants to accessories like ski socks and gloves. We've also assembled in-depth round-ups of the year's best offerings, including splitboards, backcountry skis and boots, ski helmets and goggles, climbing skins, and much more. Adventuring in the backcountry can be incredibly beautiful and rewarding, but there are a lot of inherent risks, and having the right gear is crucial to staying comfortable and safe.
Back to Our Top Avalanche Beacon Picks  Back to Our Beacon Comparison Table
Read More From Switchback Travel